Abstract
Gut bacteria face a key problem in how they capture enough energy to sustain their growth and physiology. The gut bacterium Clostridium sporogenes obtains its energy by utilizing amino acids in pairs, coupling the oxidation of one to the reduction of another—the Stickland reaction. Oxidative pathways produce ATP via substrate-level phosphorylation, whereas reductive pathways are thought to balance redox. In the present study, we investigated whether these reductive pathways are also linked to energy generation and the production of microbial metabolites that may circulate and impact host physiology. Using metabolomics, we find that, during growth in vitro, C. sporogenes produces 15 metabolites, 13 of which are present in the gut of C. sporogenes-colonized mice. Four of these compounds are reductive Stickland metabolites that circulate in the blood of gnotobiotic mice and are also detected in plasma from healthy humans. Gene clusters for reductive Stickland pathways suggest involvement of electron transfer proteins, and experiments in vitro demonstrate that reductive metabolism is coupled to ATP formation and not just redox balance. Genetic analysis points to the broadly conserved Rnf complex as a key coupling site for energy transduction. Rnf complex mutants show aberrant amino acid metabolism in a defined medium and are attenuated for growth in the mouse gut, demonstrating a role of the Rnf complex in Stickland metabolism and gut colonization. Our findings reveal that the production of circulating metabolites by a commensal bacterium within the host gut is linked to an ATP-yielding redox process.
This is a preview of subscription content
Access options
Subscribe to Nature+
Get immediate online access to the entire Nature family of 50+ journals
Subscribe to Journal
Get full journal access for 1 year
$119.00
only $9.92 per issue
All prices are NET prices.
VAT will be added later in the checkout.
Tax calculation will be finalised during checkout.
Buy article
Get time limited or full article access on ReadCube.
$32.00
All prices are NET prices.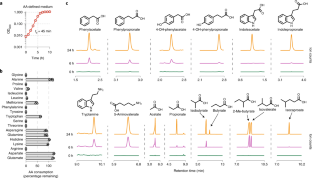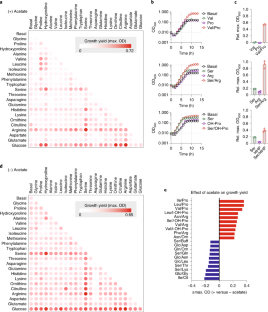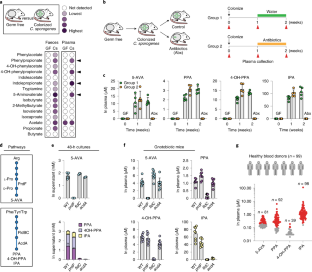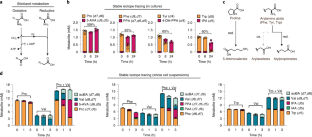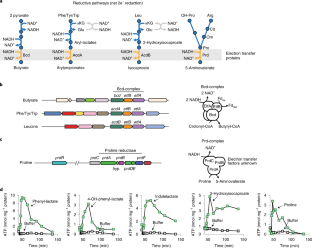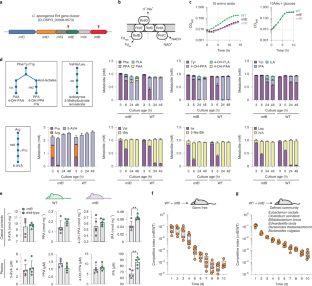 Data availability
The authors declare that the data supporting the findings of the present study are available within the paper and the Supplementary Information. Genome sequences analysed as part of the NIH Human Microbiome Project are available on NCBI GenBank under BioProject accession no. 43021.
Code availability
No customized code was used in the present study.
References
Van Treuren, W. & Dodd, D. Microbial contribution to the human metabolome: implications for health and disease. Annu. Rev. Pathol. 15, 345–369 (2020).

Russell, W. R. et al. Major phenylpropanoid-derived metabolites in the human gut can arise from microbial fermentation of protein. Mol. Nutr. Food Res. 57, 523–535 (2013).

Smith, E. A. & Macfarlane, G. T. Dissimilatory amino acid metabolism in human colonic bacteria. Anaerobe 3, 327–337 (1997).

Liu, Y., Hou, Y., Wang, G., Zheng, X. & Hao, H. Gut microbial metabolites of aromatic amino acids as signals in host–microbe interplay. Trends Endocrinol. Metab. 31, 818–834 (2020).

Allison, M. J., Bryant, M. P. & Doetsch, R. N. Volatile fatty acid growth factor for cellulolytic cocci of bovine rumen. Science 128, 474–475 (1958).

Stack, R. J., Hungate, R. E. & Opsahl, W. P. Phenylacetic acid stimulation of cellulose digestion by Ruminococcus albus 8. Appl. Environ. Microbiol. 46, 539–544 (1983).

Hungate, R. E. & Stack, R. J. Phenylpropanoic acid: growth factor for Ruminococcus albus. Appl. Environ. Microbiol. 44, 79–83 (1982).

Stickland, L. H. Studies in the metabolism of the strict anaerobes (genus Clostridium): the chemical reactions by which Cl. sporogenes obtains its energy. Biochem. J. 28, 1746–1759 (1934).

Nisman, B. The Stickland reaction. Bacteriol. Rev. 18, 16–42 (1954).

Lovitt, R. W., Kell, D. B. & Morris, J. G. Proline reduction by Clostridium sporogenes is coupled to vectorial proton ejection. FEMS Microbiol. Lett. 36, 269–273 (1986).

Bader, J. & Simon, H. ATP formation is coupled to the hydrogenation of 2-enoates in Clostridium sporogenes. FEMS Microbiol. Lett. 20, 171–175 (1983).

Dickert, S., Pierik, A. J. & Buckel, W. Molecular characterization of phenyllactate dehydratase and its initiator from Clostridium sporogenes. Mol. Microbiol. 44, 49–60 (2002).

Buckel, W. & Thauer, R. K. Flavin-based electron bifurcation, a new mechanism of biological energy coupling. Chem. Rev. 118, 3862–3886 (2018).

Kimura, R. & Liao, T. H. A new thiamine decomposing anaerobic bacterium, Clostridium thiaminolyticum Kimura et Liao. Proc. Jpn Acad. 29, 132–133 (1953).

Karu, N. et al. A review on human fecal metabolomics: methods, applications and the human fecal metabolome database. Anal. Chim. Acta 1030, 1–24 (2018).

Wildenauer, F. X. & Winter, J. Fermentation of isoleucine and arginine by pure and syntrophic cultures of Clostridium sporogenes. FEMS Microbiol. Lett. 38, 373–379 (1986).

Lovitt, R. W., Morris, J. G. & Kell, D. B. The growth and nutrition of Clostridium sporogenes NCIB 8053 in defined media. J. Appl. Bacteriol. 62, 71–80 (1987).

Levin, B. J. et al. A prominent glycyl radical enzyme in human gut microbiomes metabolizes trans-4-hydroxy-l-proline. Science https://doi.org/10.1126/science.aai8386 (2017).

Lovitt, R. W., Kell, D. B. & Morris, J. G. The physiology of Clostridium sporogenes NCIB 8053 growing in defined media. J. Appl. Bacteriol. 62, 81–92 (1987).

Neumann-Schaal, M., Hofmann, J. D., Will, S. E. & Schomburg, D. Time-resolved amino acid uptake of Clostridium difficile 630(delta)erm and concomitant fermentation product and toxin formation. BMC Microbiol. 15, 281 (2015).

Bouillaut, L., Self, W. T. & Sonenshein, A. L. Proline-dependent regulation of Clostridium difficile Stickland metabolism. J. Bacteriol. 195, 844–854 (2013).

Jackson, S., Calos, M., Myers, A. & Self, W. T. Analysis of proline reduction in the nosocomial pathogen Clostridium difficile. J. Bacteriol. 188, 8487–8895 (2006).

Ragsdale, S. W. Pyruvate ferredoxin oxidoreductase and its radical intermediate. Chem. Rev. 103, 2333–2346 (2003).

Xu, X. L. & Grant, G. A. Identification and characterization of two new types of bacterial l-serine dehydratases and assessment of the function of the ACT domain. Arch. Biochem. Biophys. 540, 62–69 (2013).

Leach, S., Harvey, P. & Wali, R. Changes with growth rate in the membrane lipid composition of and amino acid utilization by continuous cultures of Campylobacter jejuni. J. Appl. Microbiol. 82, 631–640 (1997).

Velayudhan, J., Jones, M. A., Barrow, P. A. & Kelly, D. J. l-Serine catabolism via an oxygen-labile l-serine dehydratase is essential for colonization of the avian gut by Campylobacter jejuni. Infect. Immun. 72, 260–268 (2004).

Claus, S. P. et al. Systemic multicompartmental effects of the gut microbiome on mouse metabolic phenotypes. Mol. Syst. Biol. 4, 219 (2008).

Dodd, D. et al. A gut bacterial pathway metabolizes aromatic amino acids into nine circulating metabolites. Nature 551, 648–652 (2017).

Guo, C. J. et al. Depletion of microbiome-derived molecules in the host using Clostridium genetics. Science https://doi.org/10.1126/science.aav1282 (2019).

Sharon, G. et al. Human gut microbiota from autism spectrum disorder promote behavioral symptoms in mice. Cell 177, 1600–1618.e1617 (2019).

Aronov, P. A. et al. Colonic contribution to uremic solutes. J. Am. Soc. Nephrol. 22, 1769–1776 (2011).

Fonknechten, N. et al. Clostridium sticklandii, a specialist in amino acid degradation:revisiting its metabolism through its genome sequence. BMC Genom. 11, 555 (2010).

Stadtman, T. C. & Elliott, P. Studies on the enzymic reduction of amino acids. II. Purification and properties of d-proline reductase and a proline racemase from Clostridium sticklandii. J. Biol. Chem. 228, 983–997 (1957).

Barker, H. A. Amino acid degradation by anaerobic bacteria. Annu. Rev. Biochem. 50, 23–40 (1981).

Nemet, I. et al. A cardiovascular disease-linked gut microbial metabolite acts via adrenergic receptors. Cell 180, 862–877.e822 (2020).

Seedorf, H. et al. The genome of Clostridium kluyveri, a strict anaerobe with unique metabolic features. Proc. Natl Acad.Sci. USA 105, 2128–2133 (2008).

Li, F. et al. Coupled ferredoxin and crotonyl coenzyme A (CoA) reduction with NADH catalyzed by the butyryl-CoA dehydrogenase/Etf complex from Clostridium kluyveri. J. Bacteriol. 190, 843–850 (2008).

Herrmann, G., Jayamani, E., Mai, G. & Buckel, W. Energy conservation via electron-transferring flavoprotein in anaerobic bacteria. J. Bacteriol. 190, 784–791 (2008).

Kuhns, M. et al. The Rnf complex from the acetogenic bacterium Acetobacterium woodii: purification and characterization of RnfC and RnfB. Biochim. Biophys. Acta Bioenerg. 1861, 148263 (2020).

Hreha, T. N. et al. Complete topology of the RNF complex from Vibrio cholerae. Biochemistry 54, 2443–2455 (2015).

Nayfach, S., Fischbach, M. A. & Pollard, K. S. MetaQuery: a web server for rapid annotation and quantitative analysis of specific genes in the human gut microbiome. Bioinformatics 31, 3368–3370 (2015).

Steed, A. L. et al. The microbial metabolite desaminotyrosine protects from influenza through type I interferon. Science 357, 498–502 (2017).

Venkatesh, M. et al. Symbiotic bacterial metabolites regulate gastrointestinal barrier function via the xenobiotic sensor PXR and Toll-like receptor 4. Immunity 41, 296–310 (2014).

Medema, M. H., Takano, E. & Breitling, R. Detecting sequence homology at the gene cluster level with MultiGeneBlast. Mol. Biol. Evol. 30, 1218–1223 (2013).
Acknowledgements
We thank J. Sonnenburg, M. Fischbach, C. Walsh, A. Southwick, C. Fischer and I. Cann for valuable discussions. We thank M. Wu for assistance with amino acid analysis by LC–MS, M. St. Onge with help constructing mutants, C.-J. Guo and R. De La Pena for assistance with GC–MS analysis of short-chain fatty acids and A. Dimas and D. Nguyen for assistance with gnotobiotic animal experiments. This work was funded in part by NIH grants (nos. K08-DK110335 and R35-GM142873 to D.D.).
Ethics declarations
Competing interests
The authors declare no competing interests.
Peer review
Peer review information
Nature Microbiology thanks Sam Light and the other, anonymous, reviewer(s) for their contribution to the peer review of this work.
Additional information
Publisher's note Springer Nature remains neutral with regard to jurisdictional claims in published maps and institutional affiliations.
Supplementary information
Supplementary Tables 1–27.
About this article
Cite this article
Liu, Y., Chen, H., Van Treuren, W. et al. Clostridium sporogenes uses reductive Stickland metabolism in the gut to generate ATP and produce circulating metabolites. Nat Microbiol 7, 695–706 (2022). https://doi.org/10.1038/s41564-022-01109-9
Received:

Accepted:

Published:

Issue Date:

DOI: https://doi.org/10.1038/s41564-022-01109-9