Abstract
CRISPR–Cas systems store fragments of foreign DNA, called spacers, as immunological recordings used to combat future infections. Of the many spacers stored in a CRISPR array, the most recent are known to be prioritized for immune defence. However, the underlying mechanism remains unclear. Here we show that the leader region upstream of CRISPR arrays in CRISPR–Cas9 systems enhances CRISPR RNA (crRNA) processing from the newest spacer, prioritizing defence against the matching invader. Using the CRISPR–Cas9 system from Streptococcus pyogenes as a model, we found that the transcribed leader interacts with the conserved repeats bordering the newest spacer. The resulting interaction promotes transactivating crRNA (tracrRNA) hybridization with the second of the two repeats, accelerating crRNA processing. Accordingly, disruption of this structure reduces the abundance of the associated crRNA and immune defence against targeted plasmids and bacteriophages. Beyond the S. pyogenes system, bioinformatics analyses revealed that leader-repeat structures appear across CRISPR–Cas9 systems. CRISPR–Cas systems thus possess an RNA-based mechanism to prioritize defence against the most recently encountered invaders.
Access options
Access Nature and 54 other Nature Portfolio journals
Get Nature+, our best-value online-access subscription
$29.99 per month
cancel any time
Subscribe to this journal
Receive 12 digital issues and online access to articles
$119.00 per year
only $9.92 per issue
Rent or buy this article
Get just this article for as long as you need it
$39.95
Prices may be subject to local taxes which are calculated during checkout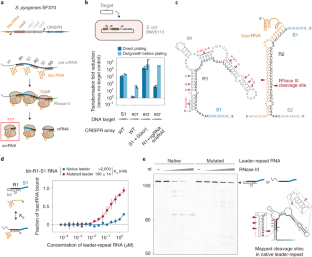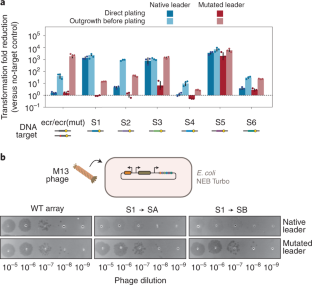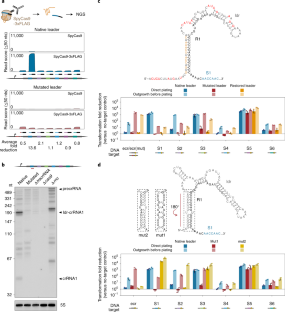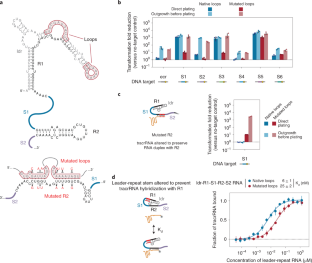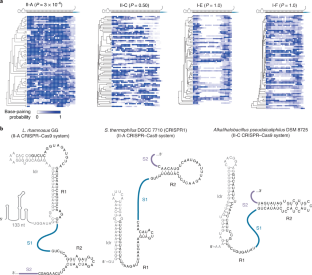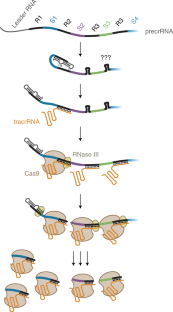 Data availability
Next-generation sequencing data for RNA immunoprecipitation sequencing are accessible through NCBI Gene Expression Omnibus accession no. GSE158637 using the link https://www.ncbi.nlm.nih.gov/geo/query/acc.cgi?acc=GSE158637 (Supplementary Table 4). Source data for Figs. 1b,d,e, 2a,b, 3b–d and 4b–d and Extended Data Figs. 1b,d, 3a,c,d, 4a–d, 5a,b,d, 6a, 7a,c, 8b,c,e,f and 9a,d are included in the Source Data files. Source data are provided with this paper.
References
Barrangou, R. et al. CRISPR provides acquired resistance against viruses in prokaryotes. Science 315, 1709–1712 (2007).

van der Oost, J., Westra, E. R., Jackson, R. N. & Wiedenheft, B. Unravelling the structural and mechanistic basis of CRISPR-Cas systems. Nat. Rev. Microbiol. 12, 479–492 (2014).

Jackson, S. A. et al. CRISPR-Cas: adapting to change. Science 356, eaal5056 (2017).

Bolotin, A., Quinquis, B., Sorokin, A. & Ehrlich, S. D. Clustered regularly interspaced short palindrome repeats (CRISPRs) have spacers of extrachromosomal origin. Microbiology 151, 2551–2561 (2005).

Mojica, F. J. M., Díez-Villaseñor, C., García-Martínez, J. & Soria, E. Intervening sequences of regularly spaced prokaryotic repeats derive from foreign genetic elements. J. Mol. Evol. 60, 174–182 (2005).

Sorek, R., Kunin, V. & Hugenholtz, P. CRISPR—a widespread system that provides acquired resistance against phages in bacteria and archaea. Nat. Rev. Microbiol. 6, 181–186 (2008).

Arslan, Z., Hermanns, V., Wurm, R., Wagner, R. & Pul, Ü. Detection and characterization of spacer integration intermediates in type I-E CRISPR–Cas system. Nucleic Acids Res. 42, 7884–7893 (2014).

Xiao, Y., Ng, S., Nam, K. H. & Ke, A. How type II CRISPR-Cas establish immunity through Cas1-Cas2-mediated spacer integration. Nature 550, 137–141 (2017).

McGinn, J. & Marraffini, L. A. Molecular mechanisms of CRISPR-Cas spacer acquisition. Nat. Rev. Microbiol. 17, 7–12 (2019).

Brouns, S. J. J. et al. Small CRISPR RNAs guide antiviral defense in prokaryotes. Science 321, 960–964 (2008).

Charpentier, E., Richter, H., van der Oost, J. & White, M. F. Biogenesis pathways of RNA guides in archaeal and bacterial CRISPR-Cas adaptive immunity. FEMS Microbiol. Rev. 39, 428–441 (2015).

Garneau, J. E. et al. The CRISPR/Cas bacterial immune system cleaves bacteriophage and plasmid DNA. Nature 468, 67–71 (2010).

Meeske, A. J., Nakandakari-Higa, S. & Marraffini, L. A. Cas13-induced cellular dormancy prevents the rise of CRISPR-resistant bacteriophage. Nature 570, 241–245 (2019).

Rostøl, J. T. et al. The Card1 nuclease provides defence during type III CRISPR immunity. Nature 590, 624–629 (2021).

Elmore, J. R. et al. Programmable plasmid interference by the CRISPR-Cas system in Thermococcus kodakarensis. RNA Biol. 10, 828–840 (2013).

Carte, J. et al. The three major types of CRISPR-Cas systems function independently in CRISPR RNA biogenesis in Streptococcus thermophilus. Mol. Microbiol. 93, 98–112 (2014).

Crawley, A. B., Henriksen, E. D., Stout, E., Brandt, K. & Barrangou, R. Characterizing the activity of abundant, diverse and active CRISPR-Cas systems in lactobacilli. Sci. Rep. 8, 11544 (2018).

Deltcheva, E. et al. CRISPR RNA maturation by trans-encoded small RNA and host factor RNase III. Nature 471, 602–607 (2011).

McGinn, J. & Marraffini, L. A. CRISPR-Cas systems optimize their immune response by specifying the site of spacer integration. Mol. Cell 64, 616–623 (2016).

Martynov, A., Severinov, K. & Ispolatov, I. Optimal number of spacers in CRISPR arrays. PLoS Comput. Biol. 13, e1005891 (2017).

Rao, C., Chin, D. & Ensminger, A. W. Priming in a permissive type I-C CRISPR-Cas system reveals distinct dynamics of spacer acquisition and loss. RNA 23, 1525–1538 (2017).

Liao, C. & Beisel, C. L. The tracrRNA in CRISPR biology and technologies. Annu. Rev. Genet. 55, 161–181 (2021).

Karvelis, T. et al. crRNA and tracrRNA guide Cas9-mediated DNA interference in Streptococcus thermophilus. RNA Biol. 10, 841–851 (2013).

Jinek, M. et al. A programmable dual-RNA-guided DNA endonuclease in adaptive bacterial immunity. Science 337, 816–821 (2012).

Pickar-Oliver, A. & Gersbach, C. A. The next generation of CRISPR–Cas technologies and applications. Nat. Rev. Mol. Cell Biol. 20, 490–507 (2019).

Bikard, D. et al. Programmable repression and activation of bacterial gene expression using an engineered CRISPR-Cas system. Nucleic Acids Res. 41, 7429–7437 (2013).

Jiang, W., Bikard, D., Cox, D., Zhang, F. & Marraffini, L. A. RNA-guided editing of bacterial genomes using CRISPR-Cas systems. Nat. Biotechnol. 31, 233–239 (2013).

Citorik, R. J., Mimee, M. & Lu, T. K. Sequence-specific antimicrobials using efficiently delivered RNA-guided nucleases. Nat. Biotechnol. 32, 1141–1145 (2014).

Leenay, R. T. & Beisel, C. L. Deciphering, communicating, and engineering the CRISPR PAM. J. Mol. Biol. 429, 177–191 (2017).

Dugar, G. et al. CRISPR RNA-dependent binding and cleavage of endogenous RNAs by the Campylobacter jejuni Cas9. Mol. Cell 69, 893–905 (2018).

Xue, C. et al. CRISPR interference and priming varies with individual spacer sequences. Nucleic Acids Res. 43, 10831–10847 (2015).

Collias, D. et al. A positive, growth-based PAM screen identifies noncanonical motifs recognized by the Cas9. Sci. Adv. 6, eabb4054 (2020).

Altuvia, Y. et al. In vivo cleavage rules and target repertoire of RNase III in Escherichia coli. Nucleic Acids Res. 46, 10530–10531 (2018).

Wei, Y., Chesne, M. T., Terns, R. M. & Terns, M. P. Sequences spanning the leader-repeat junction mediate CRISPR adaptation to phage in Streptococcus thermophilus. Nucleic Acids Res. 43, 1749–1758 (2015).

Pougach, K. et al. Transcription, processing and function of CRISPR cassettes in Escherichia coli. Mol. Microbiol. 77, 1367–1379 (2010).

Yosef, I., Goren, M. G. & Qimron, U. Proteins and DNA elements essential for the CRISPR adaptation process in Escherichia coli. Nucleic Acids Res. 40, 5569–5576 (2012).

Jiao, C. et al. Noncanonical crRNAs derived from host transcripts enable multiplexable RNA detection by Cas9. Science 372, 941–948 (2021).

Jabbari, H., Wark, I. & Montemagno, C. RNA secondary structure prediction with pseudoknots: contribution of algorithm versus energy model. PLoS ONE 13, e0194583 (2018).

Wei, Y., Terns, R. M. & Terns, M. P. Cas9 function and host genome sampling in Type II-A CRISPR-Cas adaptation. Genes Dev. 29, 356–361 (2015).

Laanto, E., Hoikkala, V., Ravantti, J. & Sundberg, L.-R. Long-term genomic coevolution of host-parasite interaction in the natural environment. Nat. Commun. 8, 111 (2017).

Zhang, Y. et al. Processing-independent CRISPR RNAs limit natural transformation in Neisseria meningitidis. Mol. Cell 50, 488–503 (2013).

Dugar, G. et al. High-resolution transcriptome maps reveal strain-specific regulatory features of multiple Campylobacter jejuni isolates. PLoS Genet. 9, e1003495 (2013).

Haurwitz, R. E., Jinek, M., Wiedenheft, B., Zhou, K. & Doudna, J. A. Sequence- and structure-specific RNA processing by a CRISPR endonuclease. Science 329, 1355–1358 (2010).

Li, R. & Bowerman, B. Symmetry breaking in biology. Cold Spring Harb. Perspect. Biol. 2, a003475 (2010).

McCarty, N. S., Graham, A. E., Studená, L. & Ledesma-Amaro, R. Multiplexed CRISPR technologies for gene editing and transcriptional regulation. Nat. Commun. 11, 1281 (2020).

Al-Hashimi, H. M. & Walter, N. G. RNA dynamics: it is about time. Curr. Opin. Struct. Biol. 18, 321–329 (2008).

Watters, K. E., Strobel, E. J., Yu, A. M., Lis, J. T. & Lucks, J. B. Cotranscriptional folding of a riboswitch at nucleotide resolution. Nat. Struct. Mol. Biol. 23, 1124–1131 (2016).

Liao, C. et al. Modular one-pot assembly of CRISPR arrays enables library generation and reveals factors influencing crRNA biogenesis. Nat. Commun. 10, 2948 (2019).

Wimmer, F. & Beisel, C. L. CRISPR-Cas systems and the paradox of self-targeting spacers. Front. Microbiol. 10, 3078 (2019).

Leenay, R. T. et al. Genome editing with CRISPR-Cas9 in Lactobacillus plantarum revealed that editing outcomes can vary across strains and between methods. Biotechnol. J. 14, e1700583 (2019).

Gruber, A. R., Lorenz, R., Bernhart, S. H., Neubock, R. & Hofacker, I. L. The Vienna RNA Websuite. Nucleic Acids Res. 36, W70–W74 (2008).

Lorenz, R. et al. ViennaRNA Package 2.0. Algorithms Mol. Biol. 6, 26 (2011).

Sharma, C. M. et al. The primary transcriptome of the major human pathogen Helicobacter pylori. Nature 464, 250–255 (2010).

Papenfort, K. et al. σE-Dependent small RNAs of Salmonella respond to membrane stress by accelerating global omp mRNA decay. Mol. Microbiol. 62, 1674–1688 (2006).

Pernitzsch, S. R., Tirier, S. M., Beier, D. & Sharma, C. M. A variable homopolymeric G-repeat defines small RNA-mediated posttranscriptional regulation of a chemotaxis receptor in Helicobacter pylori. Proc. Natl Acad. Sci. USA 111, E501–E510 (2014).

Martin, M. Cutadapt removes adapter sequences from high-throughput sequencing reads. EMBnet J. 17, 1 (2011).

Förstner, K. U., Vogel, J. & Sharma, C. M. READemption-a tool for the computational analysis of deep-sequencing-based transcriptome data. Bioinformatics 30, 3421–3423 (2014).

Hoffmann, S. et al. Fast mapping of short sequences with mismatches, insertions and deletions using index structures. PLoS Comput. Biol. 5, e1000502 (2009).

Li, H. et al. The Sequence Alignment/Map format and SAMtools. Bioinformatics 25, 2078–2079 (2009).

Lopez-Delisle, L. et al. pyGenomeTracks: reproducible plots for multivariate genomic data sets. Bioinformatics 37, 422–423 (2020).

Kent, W. J., Zweig, A. S., Barber, G., Hinrichs, A. S. & Karolchik, D. BigWig and BigBed: enabling browsing of large distributed datasets. Bioinformatics 26, 2204–2207 (2010).

Padilha, V. A., Alkhnbashi, O. S., Shah, S. A., de Carvalho, A. C. P. L. F. & Backofen, R. CRISPRcasIdentifier: machine learning for accurate identification and classification of CRISPR-Cas systems. Gigascience 9, giaa062 (2020).

Padilha, V. A. et al. Casboundary: automated definition of integral Cas cassettes. Bioinformatics 37, 1352–1359 (2020).

Mitrofanov, A. et al. CRISPRidentify: identification of CRISPR arrays using machine learning approach. Nucleic Acids Res. 49, e20 (2021).

Alkhnbashi, O. S. et al. CRISPRstrand: predicting repeat orientations to determine the crRNA-encoding strand at CRISPR loci. Bioinformatics 30, i489–i496 (2014).

Fu, L., Niu, B., Zhu, Z., Wu, S. & Li, W. CD-HIT: accelerated for clustering the next-generation sequencing data. Bioinformatics 28, 3150–3152 (2012).

Ding, Y. & Lawrence, C. E. A statistical sampling algorithm for RNA secondary structure prediction. Nucleic Acids Res. 31, 7280–7301 (2003).

Altschul, S. F. & Erickson, B. W. Significance of nucleotide sequence alignments: a method for random sequence permutation that preserves dinucleotide and codon usage. Mol. Biol. Evol. 2, 526–538 (1985).
Acknowledgements
We thank T. Achmedov for extensive assistance with RNA preparation and RNA-blotting, F. Tippel from NanoTemper Technologies (Munich) for technical support and J. Vogel and G. Storz for critical feedback on the manuscript. This work was supported by funding through the European Research Council Consolidator Award (no. 865973 to C.L.B.), Deutsche Forschungsgemeinschaft SPP 2141 (nos. BE 6703/1-1 to C.L.B., SH 580/9-1 to C.M.S. and BA 2168/23-1 to R.B.) and the Interdisciplinary Center for Clinical Research Würzburg project Z-6.
Ethics declarations
Competing interests
C.L.B. is a cofounder and member of the scientific advisory board for Locus Biosciences and is a member of the scientific advisory board for Benson Hill. C.L.B. and C.M.S. have submitted patent applications on CRISPR technologies unrelated to this work. The other authors declare no conflicts of interest.
Peer review
Peer review information
Nature Microbiology thanks the anonymous reviewers for their contribution to the peer review of this work. Peer reviewer reports are available.
Additional information
Publisher's note Springer Nature remains neutral with regard to jurisdictional claims in published maps and institutional affiliations.
Supplementary information
Supplementary Tables 1–5.
About this article
Cite this article
Liao, C., Sharma, S., Svensson, S.L. et al. Spacer prioritization in CRISPR–Cas9 immunity is enabled by the leader RNA. Nat Microbiol 7, 530–541 (2022). https://doi.org/10.1038/s41564-022-01074-3
Received:

Accepted:

Published:

Issue Date:

DOI: https://doi.org/10.1038/s41564-022-01074-3