Abstract
The caseinolytic protease (ClpP) is part of a highly conserved proteolytic complex whose disruption can lead to antibacterial activity but for which few specific inhibitors have been discovered. Specialized metabolites produced by bacteria have been shaped by evolution for specific functions, making them a potential source of selective ClpP inhibitors. Here, we describe a target-directed genome mining strategy for discovering ClpP-interacting compounds by searching for biosynthetic gene clusters that contain duplicated copies of ClpP as putative antibiotic resistance genes. We identify a widespread family of ClpP-associated clusters that are known to produce pyrrolizidine alkaloids but whose connection to ClpP has never been made. We show that previously characterized molecules do not affect ClpP function but are shunt metabolites derived from the genuine product of these gene clusters, a reactive covalent ClpP inhibitor. Focusing on one such cryptic gene cluster from Streptomyces cattleya, we identify the relevant inhibitor, which we name clipibicyclene, and show that it potently and selectively inactivates ClpP. Finally, we solve the crystal structure of clipibicyclene-modified Escherichia coli ClpP. Clipibicyclene's discovery reveals the authentic function of a family of natural products whose specificity for ClpP and abundance in nature illuminate the role of eco-evolutionary forces during bacterial competition.
Your institute does not have access to this article
Access options
Subscribe to Nature+
Get immediate online access to the entire Nature family of 50+ journals
Subscribe to Journal
Get full journal access for 1 year
$119.00
only $9.92 per issue
All prices are NET prices.
VAT will be added later in the checkout.
Tax calculation will be finalised during checkout.
Buy article
Get time limited or full article access on ReadCube.
$32.00
All prices are NET prices.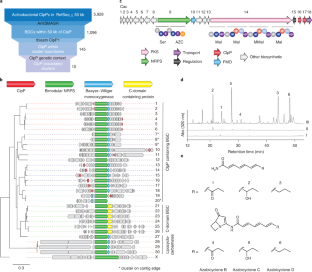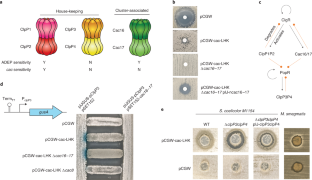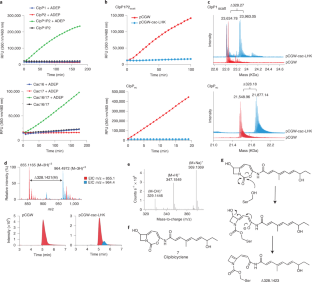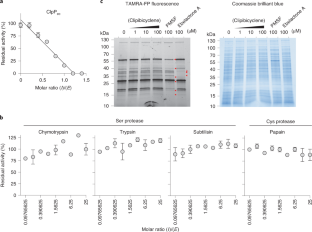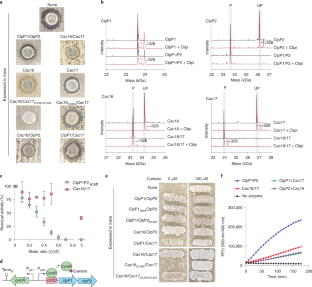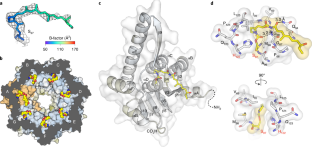 Data availability
All data generated or analysed during this study are included in this published article and its Supplementary Information. The S. cattleya DSM 46488 whole genome sequence is available in GenBank under accession number NC_017586. The structure of ClpPec in complex with clipibicyclene is available in PDB with accession number 7MK5. Source data are provided with this paper.
References
Alexopoulos, J. A., Guarné, A. & Ortega, J. ClpP: a structurally dynamic protease regulated by AAA+ proteins. J. Struct. Biol. 179, 202–210 (2012).

Culp, E. & Wright, G. D. Bacterial proteases, untapped antimicrobial drug targets. J. Antibiot. 70, 366–377 (2017).

Sauer, R. T. & Baker, T. A. AAA+ proteases: ATP-fueled machines of protein destruction. Annu. Rev. Biochem. 80, 587–612 (2011).

Compton, C. L., Schmitz, K. R., Sauer, R. T. & Sello, J. K. Antibacterial activity of and resistance to small molecule inhibitors of the ClpP peptidase. ACS Chem. Biol. 8, 2669–2677 (2013).

Ju, Y. et al. Discovery of novel peptidomimetic boronate ClpP inhibitors with noncanonical enzyme mechanism as potent virulence blockers in vitro and in vivo. J. Med. Chem. 63, 3104–3119 (2020).

Hackl, M. W. et al. Phenyl esters are potent inhibitors of caseinolytic protease P and reveal a stereogenic switch for deoligomerization. J. Am. Chem. Soc. 137, 8475–8483 (2015).

Böttcher, T. & Sieber, S. A. Structurally refined β-lactones as potent inhibitors of devastating bacterial virulence factors. ChemBioChem 10, 663–666 (2009).

Lakemeyer, M. et al. Tailored peptide phenyl esters block ClpXP proteolysis by an unusual breakdown into a heptamer–hexamer assembly. Angew. Chem. Int. Ed. 58, 7127–7132 (2019).

Li, D. H. S. et al. Acyldepsipeptide antibiotics induce the formation of a structured axial channel in ClpP: a model for the ClpX/ClpA-bound state of ClpP. Chem. Biol. 17, 959–969 (2010).

Lee, B. et al. Structures of ClpP in complex with acyldepsipeptide antibiotics reveal its activation mechanism. Nat. Struct. Mol. Biol. 17, 471–478 (2010).

Graves, P. R. et al. Mitochondrial protease ClpP is a target for the anticancer compounds ONC201 and related analogues. ACS Chem. Biol. 14, 1020–1029 (2019).

Michel, K. H. & Kastner, R. E. A54556 antibiotics and process for production thereof. US patent application 4492650 A (1985).

Thomy, D. et al. The ADEP biosynthetic gene cluster in Streptomyces hawaiiensis NRRL 15010 reveals an accessory ClpP gene as a novel antibiotic resistance factor. Appl. Environ. Microbiol. 85, e01292-19 (2019).

Sabotič, J. & Kos, J. Microbial and fungal protease inhibitors—current and potential applications. Appl. Microbiol. Biotechnol. 93, 1351 (2012).

Waglechner, N., Culp, E. J. & Wright, G. D. Ancient antibiotics, ancient resistance. EcoSal Plus https://doi.org/10.1128/ecosalplus.ESP-0027-2020 (2021).

Tang, X. et al. Identification of thiotetronic acid antibiotic biosynthetic pathways by target-directed genome mining. ACS Chem. Biol. 10, 2841–2849 (2015).

Alanjary, M. et al. The Antibiotic Resistant Target Seeker (ARTS), an exploration engine for antibiotic cluster prioritization and novel drug target discovery. Nucleic Acids Res. 45, W42–W48 (2017).

Maxson, T. et al. Targeting reactive carbonyls for identifying natural products and their biosynthetic origins. J. Am. Chem. Soc. 138, 15157 (2016).

Baltz, R. H. Marcel Faber Roundtable: is our antibiotic pipeline unproductive because of starvation, constipation or lack of inspiration? J. Ind. Microbiol. Biotechnol. 33, 507–513 (2006).

Navarro-Muñoz, J. C. et al. A computational framework to explore large-scale biosynthetic diversity. Nat. Chem. Biol. 16, 60–68 (2020).

Schmidt, Y. et al. Biosynthetic origin of the antibiotic cyclocarbamate brabantamide A (SB-253514) in plant-associated Pseudomonas. ChemBioChem 15, 259–266 (2014).

Johnston, C. W., Zvanych, R., Khyzha, N. & Magarvey, N. A. Nonribosomal assembly of natural lipocyclocarbamate lipoprotein-associated phospholipase inhibitors. ChemBioChem 14, 431–435 (2013).

Liu, L. et al. Activation and characterization of bohemamine biosynthetic gene cluster from Streptomyces sp. CB02009. Org. Lett. 22, 4614–4619 (2020).

Hong, Z. et al. Azetidine-containing alkaloids produced by a quorum-sensing regulated nonribosomal peptide synthetase pathway in Pseudomonas aeruginosa. Angew. Chem. 131, 3210–3214 (2019).

Patteson, J. B., Lescallette, A. R. & Li, B. Discovery and biosynthesis of azabicyclene, a conserved nonribosomal peptide in Pseudomonas aeruginosa. Org. Lett. 21, 4955–4959 (2019).

DE, N. et al. Antitumor agents from bohemic acid complex, III. The isolation of marcellomycin, musettamycin, rudolphomycin, mimimycin, collinemycin, alcindoromycin, and bohemamine. J. Nat. Prod. 43, 242–258 (1980).

Bugni, T. S., Woolery, M., Kauffman, C. A., Jensen, P. R. & Fenical, W. Bohemamines from a marine-derived Streptomyces sp. J. Nat. Prod. 69, 1626–1628 (2006).

Viala, J. & Mazodier, P. ClpP-dependent degradation of PopR allows tightly regulated expression of the clpP3 clpP4 operon in Streptomyces lividans. Mol. Microbiol. 44, 633–643 (2002).

Gominet, M., Seghezzi, N. & Mazodier, P. Acyl depsipeptide (ADEP) resistance in Streptomyces. Microbiology 157, 2226–2234 (2011).

Bellier, A., Gominet, M. & Mazodier, P. Post-translational control of the Streptomyces lividans ClgR regulon by ClpP. Microbiology 152, 1021–1027 (2006).

Bellier, A. & Mazodier, P. ClgR, a novel regulator of clp and lon expression in Streptomyces. Society 186, 3238–3248 (2004).

Myronovskyi, M., Welle, E., Fedorenko, V. & Luzhetskyy, A. β-Glucuronidase as a sensitive and versatile reporter in Actinomycetes. Appl. Environ. Microbiol. 77, 5370–5383 (2011).

Nagpal, J. et al. Molecular and structural insights into an asymmetric proteolytic complex (ClpP1P2) from Mycobacterium smegmatis. Sci. Rep. 9, 18019 (2019).

Wang, J., Hartling, J. A. & Flanagan, J. M. The structure of ClpP at 2.3 Å resolution suggests a model for ATP-dependent proteolysis. Cell 91, 447–456 (1997).

Bewley, M. C., Graziano, V., Griffin, K. & Flanagan, J. M. The asymmetry in the mature amino-terminus of ClpP facilitates a local symmetry match in ClpAP and ClpXP complexes. J. Struct. Biol. 153, 113–128 (2006).

Davies, J., Spiegelman, G. B. & Yim, G. The world of subinhibitory antibiotic concentrations. Curr. Opin. Microbiol. 9, 445–453 (2006).

Yim, G., Spiegelman, G. B. & Davies, J. E. Separate mechanisms are involved in rifampicin upmodulated and downmodulated gene expression in Salmonella typhimurium. Res. Microbiol. 164, 416–424 (2013).

Vázquez-Laslop, N. & Mankin, A. S. How macrolide antibiotics work. Trends Biochem. Sci. 43, 668–684 (2018).

Kieser, T., Bibb, M. J., Buttner, M. J., Chater, K. F. & Hopwood, D. A. Practical Streptomyces Genetics (John Innes Foundation, 2000).

Xu, M. et al. GPAHex-A synthetic biology platform for Type IV–V glycopeptide antibiotic production and discovery. Nat. Commun. 11, 5232 (2020).

Yamanaka, K. et al. Direct cloning and refactoring of a silent lipopeptide biosynthetic gene cluster yields the antibiotic taromycin A. Proc. Natl Acad. Sci. USA 111, 1957–1962 (2014).

Luo, Y., Zhang, L., Barton, K. W. & Zhao, H. Systematic identification of a panel of strong constitutive promoters from Streptomyces albus. ACS Synth. Biol. 4, 1001–1010 (2015).

Gietz, R. D. & Schiestl, R. H. High-efficiency yeast transformation using the LiAc/SS carrier DNA/PEG method. Nat. Protoc. 2, 31–34 (2007).

Ji, C.-H., Kim, J.-P. & Kang, H.-S. Library of synthetic Streptomyces regulatory sequences for use in promoter engineering of natural product biosynthetic gene clusters. ACS Synth. Biol. 7, 1946–1955 (2018).

Gust, B., Kieser, T. & Chater, K. PCR targeting system in Streptomyces coelicolor A3(2) http://streptomyces.org.uk/redirect/protocol_V1_4.pdf (2002).

Wang, W. et al. An engineered strong promoter for streptomycetes. Appl. Environ. Microbiol. 79, 4484–4492 (2013).

Ahsan, B. Understanding the Activation of Bacterial Protease ClpP by Acyldepsipeptide Antibiotics. MSc thesis, McMaster Univ. (2014).

Marty, M. T. et al. Bayesian deconvolution of mass and ion mobility spectra: from binary interactions to polydisperse ensembles. Anal. Chem. 87, 4370–4376 (2015).

Cobb, R. E., Wang, Y. & Zhao, H. High-efficiency multiplex genome editing of Streptomyces species using an engineered CRISPR/Cas system. ACS Synth. Biol. 4, 723–728 (2015).

Ji, C. H., Kim, H. & Kang, H. S. Synthetic inducible regulatory systems optimized for the modulation of secondary metabolite production in Streptomyces. ACS Synth. Biol. 8, 577–586 (2019).

Culp, E. J. et al. Hidden antibiotics in actinomycetes can be identified by inactivation of gene clusters for common antibiotics. Nat. Biotechnol. 37, 1149–1154 (2019).

Vonrhein, C. et al. Data processing and analysis with the autoPROC toolbox. Acta Crystallogr. D 67, 293–302 (2011).

Kabsch, W. XDS. Acta Crystallogr. D 66, 125–132 (2010).

Winn, M. D. et al. Overview of the CCP4 suite and current developments. Acta Crystallogr. D 67, 235–242 (2011).

Afonine, P. V. et al. Towards automated crystallographic structure refinement with phenix.refine. Acta Crystallogr. D 68, 352–367 (2012).

Emsley, P. & Cowtan, K. Coot: model-building tools for molecular graphics. Acta Crystallogr. D 60, 2126–2132 (2004).

Painter, J. & Merritt, E. A. TLSMD web server for the generation of multi-group TLS models. J. Appl. Crystallogr. 39, 109–111 (2006).
Acknowledgements
We thank M. Tyers for the gift of pSASS vectors and S. cerevisiae SASy31 and SASy35, W. Houry for the gift of E. coli BL21(DE3) 1146D and pET9a-EcClpP, H. Brötz-Oesterhelt for B. subtilis ΔclpP and V. Larionov for S. cerevisiae VL648N. This research was funded by a Canadian Institutes of Health Research grant (FRN-148463), the Ontario Research Fund and a Canada Research Chair to G.D.W. E.J.C. was supported by a CIHR Vanier Canada Graduate Scholarship. D.S. was supported by a CIHR Postdoctoral Fellowship. Protein structural studies were performed using beamline CMCF-BM at the Canadian Light Source at the University of Saskatchewan, which is supported by the Canada Foundation for Innovation, the Natural Sciences and Engineering Research Council (RGPIN-2018-04968), the National Research Council (NRC), the Canadian Institutes of Health Research, the Government of Saskatchewan and the University of Saskatchewan.
Ethics declarations
Competing interests
The authors declare no competing interests.
Peer review
Peer review information
Nature Microbiology thanks Herman Sintim, Kim Lewis and Lynn Silver for their contribution to the peer review of this work. Peer reviewer reports are available.
Additional information
Publisher's note Springer Nature remains neutral with regard to jurisdictional claims in published maps and institutional affiliations.
Supplementary information
About this article
Cite this article
Culp, E.J., Sychantha, D., Hobson, C. et al. ClpP inhibitors are produced by a widespread family of bacterial gene clusters. Nat Microbiol 7, 451–462 (2022). https://doi.org/10.1038/s41564-022-01073-4
Received:

Accepted:

Published:

Issue Date:

DOI: https://doi.org/10.1038/s41564-022-01073-4