Microbiological research has made important discoveries about how life responds to non-terrestrial environments, such as those found aboard the International Space Station. As human space exploration transitions to longer, deep-space missions, microorganisms will continue to play an increasingly critical role in astronaut health, habitat sustainability and mission success.
Your institute does not have access to this article
Access options
Subscribe to Nature+
Get immediate online access to the entire Nature family of 50+ journals
Subscribe to Journal
Get full journal access for 1 year
$119.00
only $9.92 per issue
All prices are NET prices.
VAT will be added later in the checkout.
Tax calculation will be finalised during checkout.
Buy article
Get time limited or full article access on ReadCube.
$32.00
All prices are NET prices.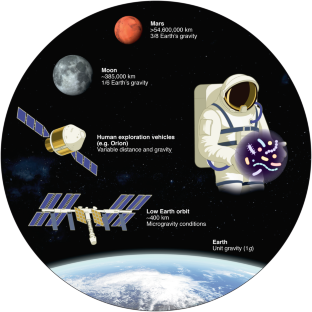 References
Yang, J. et al. in Methods in Microbiology Vol. 45 (eds Gurtler, V. & Trevors, J. T.) Ch. 1 (Academic Press, 2018).

Wilson, J. W. et al. Proc. Natl Acad. Sci. USA 104, 16299–16304 (2007).

Gilbert, R. et al. NPJ Microgravity 6, 4 (2020).

Nickerson, C. A., Pellis, N. R. & Ott, C. M. (eds) Effect of Spaceflight and Spaceflight Analogue Culture on Human and Microbial Cells: Novel Insights into Disease Mechanisms (Springer, 2016).

Nickerson, C. A., Ott, C. M., Wilson, J. W., Ramamurthy, R. & Pierson, D. L. Microbiol. Mol. Biol. Rev. 68, 345–361 (2004).

Nickerson, C. A. et al. Infect. Immun. 68, 3147–3152 (2000).

Singh, N. K., Wood, J. M., Karouia, F. & Venkateswaran, K. Microbiome 6, 204 (2018).

Wilson, J. W. et al. PLoS ONE 3, e3923 (2008).

Ott, C. M. et al. in Stress Challenges and Immunity in Space: From Mechanisms to Monitoring and Preventive Strategies (ed Choukèr, A.) 327–355 (Springer International Publishing, 2020).

Kim, W. et al. PLoS ONE 8, e62437 (2013).

Leveson-Gower, D., McLean,R. J. C. & Nickerson, C. A. Bacterial Adhesion and Corrosion (SpaceX-21) (NASA, 2020); https://www.nasa.gov/ames/research/space-biosciences/bacterial-adhesion-and-corrosion-spacex-21

Stodieck, L. S., Klaus, D. M., Moeller, R., Muecklich, F. & Zea, L. Characterization of Biofilm Formation, Growth, and Gene Expression on Different Materials and Environmental Conditions in Microgravity (NASA, 2021); https://www.nasa.gov/mission_pages/station/research/experiments/explorer/Investigation.html?#id=7955

Garrett-Bakelman, F. E. et al. Science 364, eaau8650 (2019).

Ichijo, T., Yamaguchi, N., Tanigaki, F., Shirakawa, M. & Nasu, M. NPJ Microgravity 2, 16007 (2016).

Turroni, S. et al. Front. Physiol. https://doi.org/10.3389/fphys.2020.553929 (2020).

Stahl-Rommel, S. et al. Genes 12, 106 (2021).

Oubre, C. M., Pierson, D. L. & Ott, C. M. in Space Physiology and Medicine: From Evidence to Practice (eds Nicogossian, A. E., Williams, R. S., Huntoon, C. L., Doarn, C. R., Polk, J. D. & Schneider, V. S.) 155–167 (Springer, 2016).
Acknowledgements
C.A.N., J.B. and C.M.O. were funded by NASA grants NNX15AL06G, NNX17AC79G, 80NSSC18K1478 (includes NASA PECASE funding to J.B.) and 80NSSC20K0016. Many of the topics discussed here were the focus of a Nature conference, The Microbiology of Human Spaceflight, held at the NASA Johnson Space Center in June, 2019; we thank the participants of that conference for their ideas and discussions (https://www.nasa.gov/feature/the-microbiology-of-human-spaceflight-conference-proceedings).
Ethics declarations
Competing interests
C.A.N. is the editor-in-chief for npj Microgravity, C.M.O. is deputy editor and J.B. is an editor.
About this article
Cite this article
Nickerson, C.A., Medina-Colorado, A.A., Barrila, J. et al. A vision for spaceflight microbiology to enable human health and habitat sustainability. Nat Microbiol 7, 471–474 (2022). https://doi.org/10.1038/s41564-021-01015-6
Published:

Issue Date:

DOI: https://doi.org/10.1038/s41564-021-01015-6