Abstract
Temperate bacterial viruses (phages) can transition between lysis—replicating and killing the host—and lysogeny, that is, existing as dormant prophages while keeping the host viable. Recent research showed that on invading a naïve cell, some phages communicate using a peptide signal, termed arbitrium, to control the decision of entering lysogeny. Whether communication can also serve to regulate exit from lysogeny (known as phage induction) is unclear. Here we show that arbitrium-coding prophages continue to communicate from the lysogenic state by secreting and sensing the arbitrium signal. Signalling represses DNA damage-dependent phage induction, enabling prophages to reduce the induction rate when surrounded by other lysogens. We show that in certain phages, DNA damage and communication converge to regulate the expression of the arbitrium-responsive gene aimX, while in others integration of DNA damage and communication occurs downstream of aimX expression. Additionally, signalling by prophages tilts the decision of nearby infecting phages towards lysogeny. Altogether, we find that phages use small-molecule communication throughout their entire life cycle to sense the abundance of lysogens in the population, thus avoiding lysis when they are likely to encounter established lysogens rather than permissive uninfected hosts.
Relevant articles
Open Access articles citing this article.
Xiang Tang

,

Linrui Zhong

…

Guangming Zeng

The ISME Journal Open Access 09 May 2023
Access options
Access Nature and 54 other Nature Portfolio journals
Get Nature+, our best-value online-access subscription
$29.99 / 30 days
cancel any time
Subscribe to this journal
Receive 12 digital issues and online access to articles
$119.00 per year
only $9.92 per issue
Rent or buy this article
Prices vary by article type
from$1.95
to$39.95
Prices may be subject to local taxes which are calculated during checkout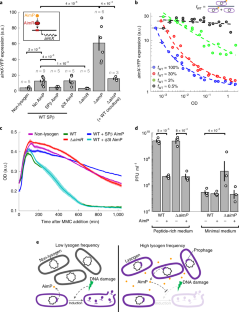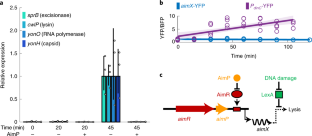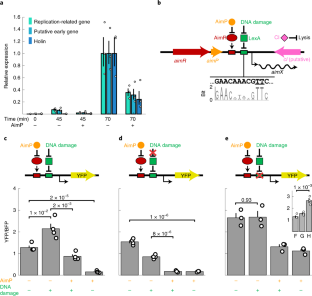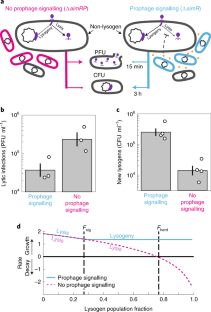 Data availability
All data generated in this study are provided as source data with this paper. The data analysed in Extended Data Fig. 3d are available from Nicolas et al.16.
References
Ptashne, M. Genetic Switch: Phage Lambda Revisited 3rd edn (Cold Spring Harbor Laboratory Press, 2004).

Kourilsky, P. & Knapp, A. Lysogenization by bacteriophage lambda: III. Multiplicity dependent phenomena occurring upon infection by lambda. Biochimie 56, 1517–1523 (1974).

Nanda, A. M., Thormann, K. & Frunzke, J. Impact of spontaneous prophage induction on the fitness of bacterial populations and host-microbe interactions. J. Bacteriol. 197, 410–419 (2015).

Węgrzyn, G. & Węgrzyn, A. Genetic switches during bacteriophage λ development. Prog. Nucleic Acid Res. Mol. Biol. 79, 1–48 (2005).

Erez, Z. et al. Communication between viruses guides lysis–lysogeny decisions. Nature 541, 488–493 (2017).

Stokar-Avihail, A., Tal, N., Erez, Z., Lopatina, A. & Sorek, R. Widespread utilization of peptide communication in phages infecting soil and pathogenic bacteria. Cell Host Microbe 25, 746–755.e5 (2019).

Aframian, N. & Eldar, A. A bacterial tower of Babel: quorum-sensing signaling diversity and its evolution. Annu. Rev. Microbiol. 74, 587–606 (2020).

Wang, Q. et al. Structural basis of the arbitrium peptide–AimR communication system in the phage lysis–lysogeny decision. Nat. Microbiol. 3, 1266–1273 (2018).

Zhen, X. et al. Structural basis of AimP signaling molecule recognition by AimR in Spbeta group of bacteriophages. Protein Cell 10, 131–136 (2019).

Trinh, J. T. & Zeng, L. Structure regulates phage lysis–lysogeny decisions. Trends Microbiol. 27, 3–4 (2019).

Guan, Z. et al. Structural insights into DNA recognition by AimR of the arbitrium communication system in the SPbeta phage. Cell Discov. 5, 29 (2019).

Abedon, S. T. Look who's talking: T-even phage lysis inhibition, the granddaddy of virus-virus intercellular communication research. Viruses 11, 951 (2019).

Abedon, S. T. Commentary: communication between viruses guides lysis–lysogeny decisions. Front. Microbiol. 8, 983 (2017).

Hynes, A. P. & Moineau, S. Phagebook: the social network. Mol. Cell 65, 963–964 (2017).

Abedon, S. T. Bacteriophage secondary infection. Virol. Sin. 30, 3–10 (2015).

Nicolas, P. et al. Condition-dependent transcriptome reveals high-level regulatory architecture in Bacillus subtilis. Science 335, 1103–1106 (2012).

Au, N. et al. Genetic composition of the Bacillus subtilis SOS system. J. Bacteriol. 187, 7655–7666 (2005).

Goranov, A. I., Kuester-Schoeck, E., Wang, J. D. & Grossman, A. D. Characterization of the global transcriptional responses to different types of DNA damage and disruption of replication in Bacillus subtilis. J. Bacteriol. 188, 5595–5605 (2006).

Gandon, S. Why be temperate: lessons from bacteriophage λ. Trends Microbiol. 24, 356–365 (2016).

Kawai, Y., Moriya, S. & Ogasawara, N. Identification of a protein, YneA, responsible for cell division suppression during the SOS response in Bacillus subtilis. Mol. Microbiol. 47, 1113–1122 (2003).

Wood, H. E., Dawson, M. T., Devine, K. M. & McConnell, D. J. Characterization of PBSX, a defective prophage of Bacillus subtilis. J. Bacteriol. 172, 2667–2674 (1990).

Babel, H. et al. Ratiometric population sensing by a pump-probe signaling system in Bacillus subtilis. Nat. Commun. 11, 1176 (2020).

Czyż, A., Zielke, R. & Wegrzyn, G. Rapid degradation of bacteriophage λ O protein by ClpP/ClpX protease influences the lysis-versus-lysogenization decision of the phage under certain growth conditions of the host cells. Arch. Virol. 146, 1487–1498 (2001).

Abe, K. et al. Developmentally-regulated excision of the SPβ prophage reconstitutes a gene required for spore envelope maturation in Bacillus subtilis. PLoS Genet. 10, e1004636 (2014).

Abe, K., Takamatsu, T. & Sato, T. Mechanism of bacterial gene rearrangement: SprA-catalyzed precise DNA recombination and its directionality control by SprB ensure the gene rearrangement and stable expression of spsM during sporulation in Bacillus subtilis. Nucleic Acids Res. 45, 6669–6683 (2017).

Sudiarta, I. P., Fukushima, T. & Sekiguchi, J. Bacillus subtilis CwlP of the SP-β prophage has two novel peptidoglycan hydrolase domains, muramidase and cross-linkage digesting DD-endopeptidase. J. Biol. Chem. 285, 41232–41243 (2010).

Forrest, D., James, K., Yuzenkova, Y. & Zenkin, N. Single-peptide DNA-dependent RNA polymerase homologous to multi-subunit RNA polymerase. Nat. Commun. 8, 15774 (2017).

Bose, B., Auchtung, J. M., Lee, C. A. & Grossman, A. D. A conserved anti-repressor controls horizontal gene transfer by proteolysis. Mol. Microbiol. 70, 570–582 (2008).

Sierro, N., Makita, Y., de Hoon, M. & Nakai, K. DBTBS: a database of transcriptional regulation in Bacillus subtilis containing upstream intergenic conservation information. Nucleic Acids Res. 36, D93–D96 (2008).

Doermann, A. H. Lysis and lysis inhibition with Escherichia coli bacteriophage. J. Bacteriol. 55, 257–276 (1948).

Hays, S. G. & Seed, K. D. Dominant Vibrio cholerae phage exhibits lysis inhibition sensitive to disruption by a defensive phage satellite. eLife 9, e53200 (2020).

Bruce, J. B., Lion, S., Buckling, A., Westra, E. R. & Gandon, S. Regulation of prophage induction and lysogenization by phage communication systems. Curr. Biol. https://doi.org/10.1016/j.cub.2021.08.073 (2021).

Brady, A. et al. The arbitrium system controls prophage induction. Curr. Biol. https://doi.org/10.1016/j.cub.2021.08.072 (2021).

Ladau, J. & Eloe-Fadrosh, E. A. Spatial, temporal, and phylogenetic scales of microbial ecology. Trends Microbiol. 27, 662–669 (2019).

van Gestel, J. et al. Short-range quorum sensing controls horizontal gene transfer at micron scale in bacterial communities. Nat. Commun. 12, 2324 (2021).

Ben-Zion, I., Pollak, S. & Eldar, A. Clonality and non-linearity drive facultative-cooperation allele diversity. ISME J. 13, 824–835 (2019).

Harwood, C. R. & Cutting, S. M. (eds) Molecular Biological Methods for Bacillus (Wiley, 1990).

McDonnell, G. E., Wood, H., Devine, K. M. & McConnell, D. J. Genetic control of bacterial suicide: regulation of the induction of PBSX in Bacillus subtilis. J. Bacteriol. 176, 5820–5830 (1994).

Westers, H. et al. Genome engineering reveals large dispensable regions in Bacillus subtilis. Mol. Biol. Evol. 20, 2076–2090 (2003).

Fink, P. S. & Zahler, S. A. Restriction fragment maps of the genome of Bacillus subtilis bacteriophage SPβ. Gene 19, 235–238 (1982).

Koo, B.-M. et al. Construction and analysis of two genome-scale deletion libraries for Bacillus subtilis. Cell Syst. 4, 291–305.e7 (2017).

Yan, X., Yu, H.-J., Hong, Q. & Li, S.-P. Cre/lox system and PCR-based genome engineering in Bacillus subtilis. Appl. Environ. Microbiol. 74, 5556–5562 (2008).

Baym, M. et al. Inexpensive multiplexed library preparation for megabase-sized genomes. PLoS ONE 10, e0128036 (2015).
Acknowledgements
We thank R. Sorek, S. Pollak, J. Jones, J. van-Gestel and I. Lev for fruitful discussions and comments on the manuscript. The Eldar lab is funded by a European Research Council grant no. 724805. The funders had no role in study design, data collection and analysis, decision to publish or preparation of the manuscript.
Ethics declarations
Competing interests
The authors declare no competing interests.
Additional information
Peer review information Nature Microbiology thanks Joseph Bondy-Denomy and the other, anonymous, reviewer(s) for their contribution to the peer review of this work. Peer reviewer reports are available.
Publisher's note Springer Nature remains neutral with regard to jurisdictional claims in published maps and institutional affiliations.
Supplementary information
Supplementary Tables 1–3, Figs. 1–3 and Text.
About this article
Cite this article
Aframian, N., Omer Bendori, S., Kabel, S. et al. Dormant phages communicate via arbitrium to control exit from lysogeny. Nat Microbiol 7, 145–153 (2022). https://doi.org/10.1038/s41564-021-01008-5
Received:

Accepted:

Published:

Issue Date:

DOI: https://doi.org/10.1038/s41564-021-01008-5
This article is cited by
Xiang Tang
Linrui Zhong
Guangming Zeng

The ISME Journal (2023)

Nature Reviews Microbiology (2022)