Abstract
CRISPR loci are composed of short DNA repeats separated by sequences, known as spacers, that match the genomes of invaders such as phages and plasmids. Spacers are transcribed and processed to generate RNA guides used by CRISPR-associated nucleases to recognize and destroy the complementary nucleic acids of invaders. To counteract this defence, phages can produce small proteins that inhibit these nucleases, termed anti-CRISPRs (Acrs). Here we demonstrate that the ΦAP1.1 temperate phage utilizes an alternative approach to antagonize the type II-A CRISPR response in Streptococcus pyogenes. Immediately after infection, this phage expresses a small anti-CRISPR protein, AcrIIA23, that prevents Cas9 function, allowing ΦAP1.1 to integrate into the direct repeats of the CRISPR locus, neutralizing immunity. However, acrIIA23 is not transcribed during lysogeny and phage integration/excision cycles can result in the deletion and/or transduction of spacers, enabling a complex modulation of the type II-A CRISPR immune response. A bioinformatic search identified prophages integrated not only in the CRISPR repeats, but also the cas genes, of diverse bacterial species, suggesting that prophage disruption of the CRISPR–cas locus is a recurrent mechanism to counteract immunity.
Relevant articles
Open Access articles citing this article.
Benjamin A. Adler

,

Tomas Hessler

…

Jennifer A. Doudna

Nature Microbiology Open Access 31 October 2022
Access options
Access Nature and 54 other Nature Portfolio journals
Get Nature+, our best-value online-access subscription
$29.99 / 30 days
cancel any time
Subscribe to this journal
Receive 12 digital issues and online access to articles
$119.00 per year
only $9.92 per issue
Rent or buy this article
Get just this article for as long as you need it
$39.95
Prices may be subject to local taxes which are calculated during checkout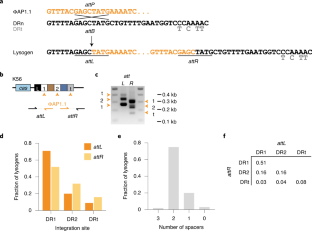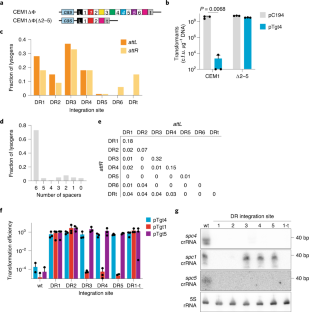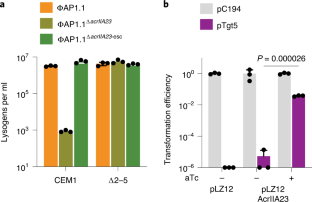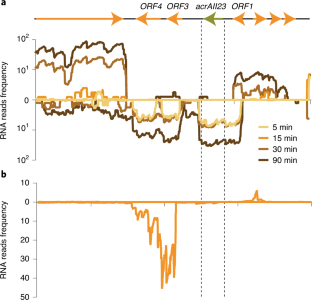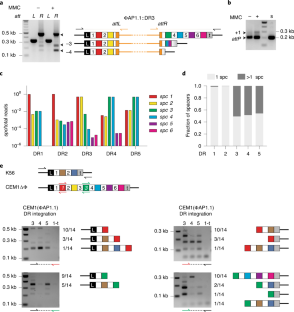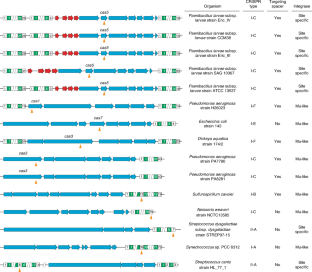 Data availability
Source data are provided with this paper. The data from this study are available from the corresponding authors upon request. The raw data for the RNA-seq experiments in Figs. 4a,b, 5c,d and the DNA reads of the ΦAP1.1-spec sequence can be found at the Sequence Read Archive (NIH), BioProject accession number PRJNA668016. The sequence of ΦAP1.1-spec is deposited under accession number MW168838. CRISPR–Cas databases were accessed from CRISPRCasFinder and the prophage database was accessed from PHASTER.
Code availability
Custom python scripts are deposited at https://github.com/Marraffini-Lab/Varble_etal_2021.git. Included are scripts that interact with PHASTER to determine CRISPR proximity to prophages (PHASTER_CRISPR.py), search deep sequencing data for spacer sequences in the phage ΦAP1.1 attB site (Phage_attb_II.py) and convert.sam files to.wig files for RNA sequencing analysis (SAM_WIG.py).
References
Barrangou, R. et al. CRISPR provides acquired resistance against viruses in prokaryotes. Science 315, 1709–1712 (2007).

Marraffini, L. A. & Sontheimer, E. J. CRISPR interference limits horizontal gene transfer in staphylococci by targeting DNA. Science 322, 1843–1845 (2008).

Jansen, R., Embden, J. D., Gaastra, W. & Schouls, L. M. Identification of genes that are associated with DNA repeats in prokaryotes. Mol. Microbiol. 43, 1565–1575 (2002).

Brouns, S. J. et al. Small CRISPR RNAs guide antiviral defense in prokaryotes. Science 321, 960–964 (2008).

Garneau, J. E. et al. The CRISPR/Cas bacterial immune system cleaves bacteriophage and plasmid DNA. Nature 468, 67–71 (2010).

Makarova, K. S. et al. Evolutionary classification of CRISPR–Cas systems: a burst of class 2 and derived variants. Nat. Rev. Microbiol. 18, 67–83 (2020).

Heler, R. et al. Cas9 specifies functional viral targets during CRISPR–Cas adaptation. Nature 519, 199–202 (2015).

Modell, J. W., Jiang, W. & Marraffini, L. A. CRISPR–Cas systems exploit viral DNA injection to establish and maintain adaptive immunity. Nature 544, 101–104 (2017).

Cong, L. et al. Multiplex genome engineering using CRISPR/Cas systems. Science 339, 819–823 (2013).

Jinek, M. et al. A programmable dual-RNA-guided DNA endonuclease in adaptive bacterial immunity. Science 337, 816–821 (2012).

Mali, P. et al. RNA-guided human genome engineering via Cas9. Science 339, 823–826 (2013).

McGinn, J. & Marraffini, L. A. CRISPR–Cas systems optimize their immune response by specifying the site of spacer integration. Mol. Cell 64, 616–623 (2016).

Wright, A. V. & Doudna, J. A. Protecting genome integrity during CRISPR immune adaptation. Nat. Struct. Mol. Biol. 23, 876–883 (2016).

Xiao, Y., Ng, S., Nam, K. H. & Ke, A. How type II CRISPR–Cas establish immunity through Cas1–Cas2-mediated spacer integration. Nature 550, 137–141 (2017).

Deltcheva, E. et al. CRISPR RNA maturation by trans-encoded small RNA and host factor RNase III. Nature 471, 602–607 (2011).

Deveau, H. et al. Phage response to CRISPR-encoded resistance in Streptococcus thermophilus. J. Bacteriol. 190, 1390–1400 (2008).

Eitzinger, S. et al. Machine learning predicts new anti-CRISPR proteins. Nucleic Acids Res. 48, 4698–4708 (2020).

Forsberg, K. J. et al. Functional metagenomics-guided discovery of potent Cas9 inhibitors in the human microbiome. Elife 8, e46540 (2019).

Hynes, A. P. et al. An anti-CRISPR from a virulent streptococcal phage inhibits Streptococcus pyogenes Cas9. Nat. Microbiol. 2, 1374–1380 (2017).

Mahendra, C. et al. Broad-spectrum anti-CRISPR proteins facilitate horizontal gene transfer. Nat. Microbiol. 5, 620–629 (2020).

Rauch, B. J. et al. Inhibition of CRISPR–Cas9 with bacteriophage proteins. Cell 168, 150–158.e10 (2017).

Uribe, R. V. et al. Discovery and characterization of Cas9 inhibitors disseminated across seven bacterial phyla. Cell Host Microbe 25, 233–241.e5 (2019).

Bondy-Denomy, J., Pawluk, A., Maxwell, K. L. & Davidson, A. R. Bacteriophage genes that inactivate the CRISPR/Cas bacterial immune system. Nature 493, 429–432 (2013).

Stanley, S. Y. et al. Anti-CRISPR-associated proteins are crucial repressors of Anti-CRISPR transcription. Cell 178, 1452–1464.e13 (2019).

Birkholz, N., Fagerlund, R. D., Smith, L. M., Jackson, S. A. & Fineran, P. C. The autoregulator Aca2 mediates anti-CRISPR repression. Nucleic Acids Res. 47, 9658–9665 (2019).

Ferretti, J. J., Stevens, D. L. & Fischetti, V. A. (eds) Streptococcus pyogenes: Basic Biology to Clinical Manifestations (University of Oklahoma Health Sciences Center, 2016).

Fischetti, V. A. In vivo acquisition of prophage in Streptococcus pyogenes. Trends Microbiol. 15, 297–300 (2007).

Howard-Varona, C., Hargreaves, K. R., Abedon, S. T. & Sullivan, M. B. Lysogeny in nature: mechanisms, impact and ecology of temperate phages. ISME J. 11, 1511–1520 (2017).

Nozawa, T. et al. CRISPR inhibition of prophage acquisition in Streptococcus pyogenes. PLoS ONE 6, e19543 (2011).

Yamada, S. et al. Phylogenetic relationship of prophages is affected by CRISPR selection in Group A Streptococcus. BMC Microbiol. 19, 24 (2019).

Fiebig, A. et al. Comparative genomics of Streptococcus pyogenes M1 isolates differing in virulence and propensity to cause systemic infection in mice. Int. J. Med. Microbiol. 305, 532–543 (2015).

Kjems, E. Studies on streptococcal bacteriophages. 2. Adsorption, lysogenization, and one-step growth experiments. Acta Pathol. Microbiol. Scand. 42, 56–66 (1958).

Euler, C. W. et al. Targeted curing of all lysogenic bacteriophage from Streptococcus pyogenes using a novel counter-selection technique. PLoS ONE 11, e0146408 (2016).

Desiere, F., McShan, W. M., van Sinderen, D., Ferretti, J. J. & Brussow, H. Comparative genomics reveals close genetic relationships between phages from dairy bacteria and pathogenic Streptococci: evolutionary implications for prophage–host interactions. Virology 288, 325–341 (2001).

Meeske, A. J. et al. A phage-encoded anti-CRISPR enables complete evasion of type VI-A CRISPR–Cas immunity. Science 369, 54–59 (2020).

Bondy-Denomy, J. et al. A unified resource for tracking Anti-CRISPR names. CRISPR J. 1, 304–305 (2018).

Perez-Casal, J., Caparon, M. G. & Scott, J. R. Mry, a trans-acting positive regulator of the M protein gene of Streptococcus pyogenes with similarity to the receptor proteins of two-component regulatory systems. J. Bacteriol. 173, 2617–2624 (1991).

Nussenzweig, P. M., McGinn, J. & Marraffini, L. A. Cas9 cleavage of viral genomes primes the acquisition of new immunological memories. Cell Host Microbe 26, 515–526.e6 (2019).

Feiner, R. et al. A new perspective on lysogeny: prophages as active regulatory switches of bacteria. Nat. Rev. Microbiol. 13, 641–650 (2015).

Shapiro, J. A. Molecular model for the transposition and replication of bacteriophage Mu and other transposable elements. Proc. Natl Acad. Sci. USA 76, 1933–1937 (1979).

Taylor, A. L. Bacteriophage-induced mutation in Escherichia coli. Proc. Natl Acad. Sci. USA 50, 1043–1051 (1963).

Davidson, A. R. et al. Anti-CRISPRs: protein inhibitors of CRISPR–Cas systems. Annu. Rev. Biochem. 89, 309–332 (2020).

Banks, D. J., Beres, S. B. & Musser, J. M. The fundamental contribution of phages to GAS evolution, genome diversification and strain emergence. Trends Microbiol. 10, 515–521 (2002).

McShan, W. M., McCullor, K. A. & Nguyen, S. V. The bacteriophages of Streptococcus pyogenes. Microbiol Spectr. 7, 7.3.8 (2019).

Osuna, B. A. et al. Critical anti-CRISPR locus repression by a bi-functional Cas9 inhibitor. Cell Host Microbe 28, 23–30.e5 (2020).

Marino, N. D. et al. Discovery of widespread type I and type V CRISPR-Cas inhibitors. Science 362, 240–242 (2018).

Yin, Y., Yang, B. & Entwistle, S. Bioinformatics identification of anti-CRISPR loci by using homology, guilt-by-association, and CRISPR self-targeting spacer approaches. mSystems 4, e00455-19 (2019).

Osuna, B. A. et al. Listeria phages induce Cas9 degradation to protect lysogenic genomes. Cell Host Microbe 28, 31–40.e9 (2020).

Varble, A., Meaden, S., Barrangou, R., Westra, E. R. & Marraffini, L. A. Recombination between phages and CRISPR-cas loci facilitates horizontal gene transfer in staphylococci. Nat. Microbiol. 4, 956–963 (2019).

Bankevich, A. et al. SPAdes: a new genome assembly algorithm and its applications to single-cell sequencing. J. Comput. Biol. 19, 455–477 (2012).

Garneau, J. R., Depardieu, F., Fortier, L. C., Bikard, D. & Monot, M. PhageTerm: a tool for fast and accurate determination of phage termini and packaging mechanism using next-generation sequencing data. Sci. Rep. 7, 8292 (2017).

Nelson, D., Schuch, R., Chahales, P., Zhu, S. & Fischetti, V. A. PlyC: a multimeric bacteriophage lysin. Proc. Natl Acad. Sci. USA 103, 10765–10770 (2006).

Goldberg, G. W., Jiang, W., Bikard, D. & Marraffini, L. A. Conditional tolerance of temperate phages via transcription-dependent CRISPR-Cas targeting. Nature 514, 633–637 (2014).

Kreiswirth, B. N. et al. The toxic shock syndrome exotoxin structural gene is not detectably transmitted by a prophage. Nature 305, 709–712 (1983).

Pall, G. S. & Hamilton, A. J. Improved northern blot method for enhanced detection of small RNA. Nat. Protoc. 3, 1077–1084 (2008).

Langmead, B. & Salzberg, S. L. Fast gapped-read alignment with Bowtie 2. Nat. Methods 9, 357–359 (2012).

Couvin, D. et al. CRISPRCasFinder, an update of CRISRFinder, includes a portable version, enhanced performance and integrates search for Cas proteins. Nucleic Acids Res. 46, W246–W251 (2018).

Arndt, D. et al. PHASTER: a better, faster version of the PHAST phage search tool. Nucleic Acids Res. 44, W16–W21 (2016).

Zimmermann, L. et al. A completely reimplemented MPI bioinformatics toolkit with a new HHpred server at its core. J. Mol. Biol. 430, 2237–2243 (2018).
Acknowledgements
We thank A. J. Meeske for bioinformatic assistance with the RNA-seq analysis. Support for this work was provided by the National Institutes of Health Director's Pioneer Award 1DP1GM128184-01 and the Burroughs Wellcome Fund PATH Award to L.A.M. L.A.M. is an Investigator of the Howard Hughes Medical Institute. A.V. was supported by the Arnold and Mabel Beckman Postdoctoral Fellowship. J.T.R. was supported by the Boehringer Ingelheim Fonds PhD fellowship. Funding for V.A.F. and E.C. was from the Rockefeller University Laboratory Support. The funders had no role in study design, data collection and analysis, decision to publish or preparation of the manuscript.
Ethics declarations
Competing interests
L.A.M. and A.V. are co-inventors on a patent application filed by The Rockefeller University relating to work in this study. L.A.M. is a founder and advisor of Intellia Therapeutics, Eligo Biosciences and CRISPR Biotechnologies. The remaining authors declare no competing interests.
Additional information
Peer review information Nature Microbiology thanks Joseph Bondy-Denomy and the other, anonymous, reviewer(s) for their contribution to the peer review of this work. Peer reviewer reports are available.
Publisher's note Springer Nature remains neutral with regard to jurisdictional claims in published maps and institutional affiliations.
Supplementary information
Supplementary Tables 1–4 and synthetic DNA.
About this article
Cite this article
Varble, A., Campisi, E., Euler, C.W. et al. Prophage integration into CRISPR loci enables evasion of antiviral immunity in Streptococcus pyogenes. Nat Microbiol 6, 1516–1525 (2021). https://doi.org/10.1038/s41564-021-00996-8
Received:

Accepted:

Published:

Issue Date:

DOI: https://doi.org/10.1038/s41564-021-00996-8
This article is cited by
Benjamin A. Adler
Tomas Hessler
Jennifer A. Doudna

Nature Microbiology (2022)

Nature Microbiology (2021)