Enveloped viruses often produce particles with varying shapes. Elongated particles are shown to be crucial for maintaining infectivity under conditions in which viral glycoprotein activity is compromised.
Access options
Subscribe to Journal
Get full journal access for 1 year
$119.00
only $9.92 per issue
All prices are NET prices.
VAT will be added later in the checkout.
Tax calculation will be finalised during checkout.
Rent or Buy article
Get time limited or full article access on ReadCube.
from$8.99
All prices are NET prices.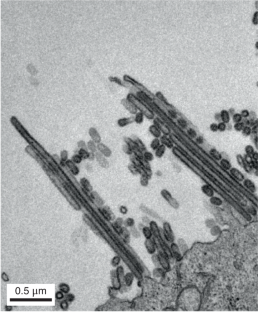 References
1.

Li, T. et al. Nat. Microbiol. https://doi.org/10.1038/s41564-021-00877-0 (2021).

2.

Mosley, V. M. & Wyckoff, R. W. G. Nature 157, 263 (1946).

3.

Choppin, P. W., Murphy, J. S. & Tamm, I. J. Exp. Med. 112, 945–952 (1960).

4.

Roberts, P. C., Lamb, R. A. & Compans, R. W. Virology 240, 127–137 (1998).

5.

Seladi-Schulman, J., Campbell, P. J., Suppiah, S., Steel, J. & Lowen, A. C. PLoS ONE 9, e112462 (2014).

6.

Dadonaite, B., Vijayakrishnan, S., Fodor, E., Bhella, D. & Hutchinson, E. C. J. Gen. Virol. 97, 1755–1764 (2016).

7.

Slatkin, M. Nature 250, 704–705 (1974).

8.

Seladi-Schulman, J., Steel, J. & Lowen, A. C. J. Virol. 24, 13343–13353 (2013).
Ethics declarations
Competing interests
The author declares no competing interests.
About this article
Cite this article
Lowen, A.C. Filamentous viruses prevail under pressure. Nat Microbiol 6, 536–537 (2021). https://doi.org/10.1038/s41564-021-00903-1