Abstract
Early events of the human immunodeficiency virus 1 (HIV-1) lifecycle, such as post-entry virus trafficking, uncoating and nuclear import, are poorly characterized because of limited understanding of virus–host interactions. Here, we used mass spectrometry-based proteomics to delineate cellular binding partners of curved HIV-1 capsid lattices and identified Sec24C as an HIV-1 host dependency factor. Gene deletion and complementation in Jurkat cells revealed that Sec24C facilitates infection and markedly enhances HIV-1 spreading infection. Downregulation of Sec24C in HeLa cells substantially reduced HIV-1 core stability and adversely affected reverse transcription, nuclear import and infectivity. Live-cell microscopy showed that Sec24C co-trafficked with HIV-1 cores in the cytoplasm during virus ingress. Biochemical assays demonstrated that Sec24C directly and specifically interacted with hexameric capsid lattices. A 2.3-Å resolution crystal structure of Sec24C228–242 in the complex with a capsid hexamer revealed that the Sec24C FG-motif bound to a pocket comprised of two adjoining capsid subunits. Combined with previous data1,2,3,4, our findings indicate that a capsid-binding FG-motif is conserved in unrelated proteins present in the cytoplasm (Sec24C), the nuclear pore (Nup153; refs. 3,4) and the nucleus (CPSF6; refs. 1,2). We propose that these virus–host interactions during HIV-1 trafficking across different cellular compartments are crucial for productive infection of target cells.
Access options
Subscribe to Journal
Get full journal access for 1 year
$59.00
only $4.92 per issue
All prices are NET prices.
VAT will be added later in the checkout.
Tax calculation will be finalised during checkout.
Rent or Buy article
Get time limited or full article access on ReadCube.
from$8.99
All prices are NET prices.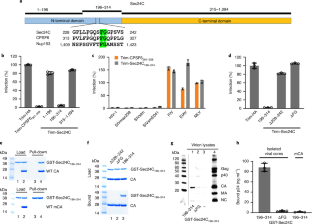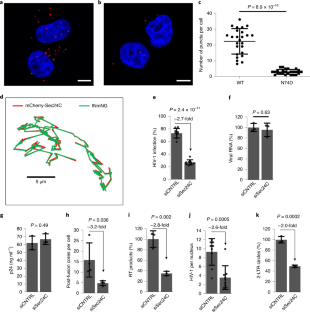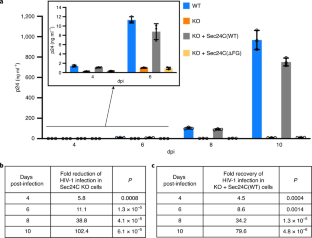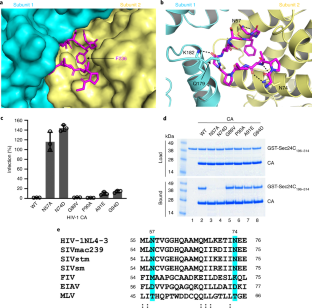 Data availability
The datasets generated and analysed during the current study are included in this article or are available in the Protein Data Bank under the accession number 6PU1 (structural data) and via ProteomeXchange with identifier PXD020970 (proteomics data). All other data are available from the corresponding author upon request. Source data are provided with this paper.
References
1.

Price, A. J. et al. CPSF6 defines a conserved capsid interface that modulates HIV-1 replication. PLoS Pathog. 8, e1002896 (2012).

2.

Lee, K. et al. Flexible use of nuclear import pathways by HIV-1. Cell Host Microbe 7, 221–233 (2010).

3.

Matreyek, K. A., Yucel, S. S., Li, X. & Engelman, A. Nucleoporin NUP153 phenylalanine-glycine motifs engage a common binding pocket within the HIV-1 capsid protein to mediate lentiviral infectivity. PLoS Pathog. 9, e1003693 (2013).

4.

Price, A. J. et al. Host cofactors and pharmacologic ligands share an essential interface in HIV-1 capsid that is lost upon disassembly. PLoS Pathog. 10, e1004459 (2014).

5.

Rasaiyaah, J. et al. HIV-1 evades innate immune recognition through specific cofactor recruitment. Nature 503, 402–405 (2013).

6.

Campbell, E. M. & Hope, T. J. HIV-1 capsid: the multifaceted key player in HIV-1 infection. Nat. Rev. Microbiol. 13, 471–483 (2015).

7.

Yamashita, M. & Engelman, A. N. Capsid-dependent host factors in HIV-1 infection. Trends Microbiol. 25, 741–755 (2017).

8.

Mattei, S., Glass, B., Hagen, W. J., Krausslich, H. G. & Briggs, J. A. The structure and flexibility of conical HIV-1 capsids determined within intact virions. Science 354, 1434–1437 (2016).

9.

Zhao, G. et al. Mature HIV-1 capsid structure by cryo-electron microscopy and all-atom molecular dynamics. Nature 497, 643–646 (2013).

10.

Brass, A. L. et al. Identification of host proteins required for HIV infection through a functional genomic screen. Science 319, 921–926 (2008).

11.

Franke, E. K., Yuan, H. E. & Luban, J. Specific incorporation of cyclophilin A into HIV-1 virions. Nature 372, 359–362 (1994).

12.

Thali, M. et al. Functional association of cyclophilin A with HIV-1 virions. Nature 372, 363–365 (1994).

13.

Goujon, C. et al. Human MX2 is an interferon-induced post-entry inhibitor of HIV-1 infection. Nature 502, 559–562 (2013).

14.

Kane, M. et al. MX2 is an interferon-induced inhibitor of HIV-1 infection. Nature 502, 563–566 (2013).

15.

Bulli, L. et al. Complex interplay between HIV-1 capsid and MX2-independent alpha interferon-induced antiviral factors. J. Virol. 90, 7469–7480 (2016).

16.

Kane, M. et al. Nuclear pore heterogeneity influences HIV-1 infection and the antiviral activity of MX2. eLife 7, e35738 (2018).

17.

Jensen, D. & Schekman, R. COPII-mediated vesicle formation at a glance. J. Cell Sci. 124, 1–4 (2011).

18.

Enninga, J., Levay, A. & Fontoura, B. M. Sec13 shuttles between the nucleus and the cytoplasm and stably interacts with Nup96 at the nuclear pore complex. Mol. Cell. Biol. 23, 7271–7284 (2003).

19.

Mancias, J. D. & Goldberg, J. Structural basis of cargo membrane protein discrimination by the human COPII coat machinery. EMBO J. 27, 2918–2928 (2008).

20.

Lee, K. et al. HIV-1 capsid-targeting domain of cleavage and polyadenylation specificity factor 6. J. Virol. 86, 3851–3860 (2012).

21.

Gamble, T. R. et al. Crystal structure of human cyclophilin A bound to the amino-terminal domain of HIV-1 capsid. Cell 87, 1285–1294 (1996).

22.

Stremlau, M., Perron, M., Welikala, S. & Sodroski, J. Species-specific variation in the B30.2(SPRY) domain of TRIM5alpha determines the potency of human immunodeficiency virus restriction. J. Virol. 79, 3139–3145 (2005).

23.

Robinson, S. B. et al. Sequence determinants of the Caenhorhabditis elegans dopamine transporter dictating in vivo axonal export and synaptic localization. Mol. Cell Neurosci. 78, 41–51 (2017).

24.

Bajaj Pahuja, K. et al. Phosphoregulatory protein 14-3-3 facilitates SAC1 transport from the endoplasmic reticulum. Proc. Natl Acad. Sci. USA 112, E3199–E3206 (2015).

25.

Ehrlich, L. S., Agresta, B. E. & Carter, C. A. Assembly of recombinant human immunodeficiency virus type 1 capsid protein in vitro. J. Virol. 66, 4874–4883 (1992).

26.

Shah, V. B. & Aiken, C. In vitro uncoating of HIV-1 cores. J. Vis. Exp. 57, e3384 (2011).

27.

Francis, A. C., Marin, M., Shi, J., Aiken, C. & Melikyan, G. B. Time-resolved imaging of single HIV-1 uncoating in vitro and in living cells. PLoS Pathog. 12, e1005709 (2016).

28.

Francis, A. C. & Melikyan, G. B. Single HIV-1 imaging reveals progression of infection through CA-dependent steps of docking at the nuclear pore, uncoating, and nuclear transport. Cell Host Microbe 23, 536–548 (2018).

29.

Dalgleish, A. G. et al. The CD4 (T4) antigen is an essential component of the receptor for the AIDS retrovirus. Nature 312, 763–767 (1984).

30.

Klatzmann, D. et al. T-lymphocyte T4 molecule behaves as the receptor for human retrovirus LAV. Nature 312, 767–768 (1984).

31.

Peng, K. et al. Quantitative microscopy of functional HIV post-entry complexes reveals association of replication with the viral capsid. eLife 3, e04114 (2014).

32.

Blair, W. S. et al. HIV capsid is a tractable target for small molecule therapeutic intervention. PLoS Pathog. 6, e1001220 (2010).

33.

Shi, J., Zhou, J., Shah, V. B., Aiken, C. & Whitby, K. Small-molecule inhibition of human immunodeficiency virus type 1 infection by virus capsid destabilization. J. Virol. 85, 542–549 (2011).

34.

Bester, S. M. et al. Structural and mechanistic bases for a potent HIV-1 capsid inhibitor. Science 370, 360–364 (2020).

35.

Link, J. O. et al. Clinical targeting of HIV capsid protein with a long-acting small molecule. Nature 584, 614–618 (2020).

36.

Adachi, A. et al. Production of acquired immunodeficiency syndrome-associated retrovirus in human and nonhuman cells transfected with an infectious molecular clone. J. Virol. 59, 284–291 (1986).

37.

Connor, R. I., Chen, B. K., Choe, S. & Landau, N. R. Vpr is required for efficient replication of human immunodeficiency virus type-1 in mononuclear phagocytes. Virology 206, 935–944 (1995).

38.

Kirmaier, A. et al. TRIM5 suppresses cross-species transmission of a primate immunodeficiency virus and selects for emergence of resistant variants in the new species. PLoS Biol. 8, e1000462 (2010).

39.

Akiyama, H. et al. HIV-1 intron-containing RNA expression induces innate immune activation and T cell dysfunction. Nat. Commun. 9, 3450 (2018).

40.

Saenz, D. T., Barraza, R., Loewen, N., Teo, W. & Poeschla, E. M. Feline immunodeficiency virus-based lentiviral vectors. Cold Spring Harb. Protoc. 2012, 71–76 (2012).

41.

Olsen, J. C. Gene transfer vectors derived from equine infectious anemia virus. Gene Ther. 5, 1481–1487 (1998).

42.

Saenz, D. T., Teo, W., Olsen, J. C. & Poeschla, E. M. Restriction of feline immunodeficiency virus by Ref1, Lv1, and primate TRIM5alpha proteins. J. Virol. 79, 15175–15188 (2005).

43.

Soneoka, Y. et al. A transient three-plasmid expression system for the production of high titer retroviral vectors. Nucleic Acids Res. 23, 628–633 (1995).

44.

Naldini, L. et al. In vivo gene delivery and stable transduction of nondividing cells by a lentiviral vector. Science 272, 263–267 (1996).

45.

Morrison, J. H. et al. Feline immunodeficiency virus envelope glycoproteins antagonize tetherin through a distinctive mechanism that requires virion incorporation. J. Virol. 88, 3255–3272 (2014).

46.

Stremlau, M. et al. The cytoplasmic body component TRIM5alpha restricts HIV-1 infection in Old World monkeys. Nature 427, 848–853 (2004).

47.

de Chaumont, F. et al. Icy: an open bioimage informatics platform for extended reproducible research. Nat. Methods 9, 690–696 (2012).

48.

Janas, A. M. & Wu, L. HIV-1 interactions with cells: from viral binding to cell–cell transmission. Curr. Protoc. Cell Biol. 43, 26.5.1–26.5.20 (2009).

49.

Palmer, S. et al. Low-level viremia persists for at least 7 years in patients on suppressive antiretroviral therapy. Proc. Natl Acad. Sci. USA 105, 3879–3884 (2008).

50.

Sharma, A. et al. A new class of multimerization selective inhibitors of HIV-1 integrase. PLoS Pathog. 10, e1004171 (2014).

51.

Livak, K. J. & Schmittgen, T. D. Analysis of relative gene expression data using real-time quantitative PCR and the 2−ΔΔCT method. Methods 25, 402–408 (2001).

52.

Hung, M. et al. Large-scale functional purification of recombinant HIV-1 capsid. PLoS ONE 8, e58035 (2013).

53.

Pornillos, O., Ganser-Pornillos, B. K., Banumathi, S., Hua, Y. & Yeager, M. Disulfide bond stabilization of the hexameric capsomer of human immunodeficiency virus. J. Mol. Biol. 401, 985–995 (2010).

54.

Perez-Riverol, Y. et al. The PRIDE database and related tools and resources in 2019: improving support for quantification data. Nucleic Acids Res. 47, D442–D450 (2019).

55.

Maldonado-Baez, L. & Wendland, B. Endocytic adaptors: recruiters, coordinators and regulators. Trends Cell Biol. 16, 505–513 (2006).

56.

Faini, M., Beck, R., Wieland, F. T. & Briggs, J. A. Vesicle coats: structure, function, and general principles of assembly. Trends Cell Biol. 23, 279–288 (2013).

57.

Bethune, J., Wieland, F. & Moelleken, J. COPI-mediated transport. J. Membr. Biol. 211, 65–79 (2006).

58.

Cvitkovic, I. & Jurica, M. S. Spliceosome database: a tool for tracking components of the spliceosome. Nucleic Acids Res. 41, D132–D141 (2013).

59.

Ibarra, A. & Hetzer, M. W. Nuclear pore proteins and the control of genome functions. Genes Dev. 29, 337–349 (2015).

60.

Ruegsegger, U., Beyer, K. & Keller, W. Purification and characterization of human cleavage factor Im involved in the 3' end processing of messenger RNA precursors. J. Biol. Chem. 271, 6107–6113 (1996).

61.

Nakagawa, S., Yamazaki, T. & Hirose, T. Molecular dissection of nuclear paraspeckles: towards understanding the emerging world of the RNP milieu. Open Biol. 8, 180150 (2018).

62.

Galganski, L., Urbanek, M. O. & Krzyzosiak, W. J. Nuclear speckles: molecular organization, biological function and role in disease. Nucleic Acids Res. 45, 10350–10368 (2017).

63.

Tanaka, K. The proteasome: overview of structure and functions. Proc. Jpn Acad. B Phys. Biol. Sci. 85, 12–36 (2009).

64.

Zhou, X., Liao, W. J., Liao, J. M., Liao, P. & Lu, H. Ribosomal proteins: functions beyond the ribosome. J. Mol. Cell. Biol. 7, 92–104 (2015).

65.

Garrod, D. & Chidgey, M. Desmosome structure, composition and function. Biochim. Biophys. Acta 1778, 572–587 (2008).

66.

Kabsch, W. XDS. Acta Crystallogr. D. 66, 125–132 (2010).

67.

McCoy, A. J. et al. Phaser crystallographic software. J. Appl. Crystallogr. 40, 658–674 (2007).

68.

Adams, P. D. et al. PHENIX: a comprehensive Python-based system for macromolecular structure solution. Acta Crystallogr. D. 66, 213–221 (2010).

69.

Afonine, P. V. et al. Towards automated crystallographic structure refinement with phenix.refine. Acta Crystallogr. D 68, 352–367 (2012).

70.

Emsley, P., Lohkamp, B., Scott, W. G. & Cowtan, K. Features and development of Coot. Acta Crystallogr. D. 66, 486–501 (2010).
Acknowledgements
Purified recombinant Sec23A/Sec24C and Sec23A/Sec24D proteins were a gift from R. Lesch, University of California Berkeley. We are grateful to M. Dzieciatkowska, University of Colorado School of Medicine Biological Mass Spectrometry Facility, for her help with proteomics studies. We thank P. Bieniasz, the Rockefeller University, for insightful discussions and advice. We are grateful to P. Koneru, S. Bester, K.-E. Lee, Y. Pan and other members of the participating laboratories for their help with data analysis, providing some reagents and valuable suggestions. This work was supported by the National Institutes of Health grant nos. R01 AI062520 and R01 AI157802 (to M.K.), U54 GM103368 (to M.K., A.C.F. and G.B.M.), R01 AI129862 (to G.B.M.), KL2 TR001068 (to R.C.L.) and R01 AI77344 (to E.M.P).
Ethics declarations
Competing interests
The authors declare no competing interests.
Additional information
Peer review information Nature Microbiology thanks Edward M. Campbell, David Melville and the other, anonymous, reviewer(s) for their contribution to the peer review of this work. Peer reviewer reports are available.
Publisher's note Springer Nature remains neutral with regard to jurisdictional claims in published maps and institutional affiliations.
Supplementary information
Source data
Unprocessed gels and western blots.
About this article
Cite this article
Rebensburg, S.V., Wei, G., Larue, R.C. et al. Sec24C is an HIV-1 host dependency factor crucial for virus replication. Nat Microbiol 6, 435–444 (2021). https://doi.org/10.1038/s41564-021-00868-1
Received:

Accepted:

Published:

Issue Date:
Further reading
Maryam Tabasi

,

Ivan Nombela

,

Julie Janssens

,

Adrien P. Lahousse

,

Frauke Christ

&

Zeger Debyser

Viruses (2021)