Meta-analysis of four human cohort studies reveals specific keystone bacteria associated with gut microbiome recovery after antibiotic exposure.
Access options
Subscribe to Journal
Get full journal access for 1 year
$59.00
only $4.92 per issue
All prices are NET prices.
VAT will be added later in the checkout.
Rent or Buy article
Get time limited or full article access on ReadCube.
from$8.99
All prices are NET prices.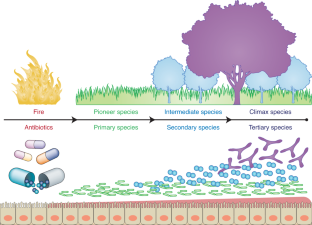 References
1.

Dethlefsen, L. & Relman, D. A. Proc. Natl Acad. Sci. USA 108 (Suppl. 1), 4554–4561 (2011).

2.

Gibbons, S. M., Kearney, S. M., Smillie, C. S. & Alm, E. J. PLoS Comput. Biol. 13, e1005364 (2017).

3.

Ng, K. M. et al. Cell Host Microbe 26, 650–665 (2019).

4.

Suez, J. et al. Cell 174, 1406–1423 (2018).

5.

Chng, K. R. et al. Nat. Ecol. Evol. https://doi.org/10.1038/s41559-020-1236-0 (2020).

6.

Paine, R. T. Conserv. Biol. 9, 962–964 (1995).

7.

Raymond, F. et al. ISME J. 10, 707–720 (2016).

8.

Zaura, E. et al. mBio 6, e01693-15 (2015).

9.

Duvallet, C., Gibbons, S. M., Gurry, T., Irizarry, R. A. & Alm, E. J. Nat. Commun. 8, 1784 (2017).

10.

Horn, H. S. Annu. Rev. Ecol. Syst. 5, 25–37 (1974).
Acknowledgements
S.M.G. was supported by a Washington Research Foundation Distinguished Investigator Award and by start-up funds from the Institute for Systems Biology.
Ethics declarations
Competing interests
The author declares no competing interests.
About this article
Cite this article
Gibbons, S.M. Keystone taxa indispensable for microbiome recovery. Nat Microbiol 5, 1067–1068 (2020). https://doi.org/10.1038/s41564-020-0783-0