Iron-scavenging molecules called siderophores that are produced by the native microbial residents of plant roots fend off plant pathogens such as Ralstonia solanacearum.
Access options
Subscribe to Journal
Get full journal access for 1 year
$59.00
only $4.92 per issue
All prices are NET prices.
VAT will be added later in the checkout.
Rent or Buy article
Get time limited or full article access on ReadCube.
from$8.99
All prices are NET prices.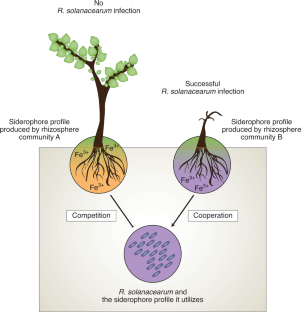 References
1.

Toruño, T. Y., Stergiopoulos, I. & Coaker, G. Annu. Rev. Phytopathol. 54, 419–441 (2016).

2.

Elphinstone, J. in Bacterial Wilt Disease and the Ralstonia solanacearum Complex (eds Allen, C. et al.) 9–28 (APS Press, 2005).

3.

Gu, S. et al. Nat. Microbiol. https://doi.org/10.1038/s41564-020-0719-8 (2020).

4.

Bossier, P., Hofte, M. & Verstraete, W. in Advances in Microbial Ecology (ed. Marshall, K. C.) 385–414 (Springer, 1988).

5.

Miethke, M. & Marahiel, M. A. Microbiol. Mol. Biol. Rev. 71, 413–451 (2007).

6.

Winkelmann, G. in Iron Transport in Bacteria (eds Crosa, J. H. et al.) 435–450 (John Wiley & Sons, 2014).

7.

Lee, W., van Baalen, M. & Jansen, V. A. A. Ecol. Lett. 15, 119–125 (2012).
Ethics declarations
Competing interests
The authors declare no competing interests.
About this article
Cite this article
Pollak, S., Cordero, O.X. Rhizobiome shields plants from infection. Nat Microbiol 5, 978–979 (2020). https://doi.org/10.1038/s41564-020-0766-1