Abstract
The interplay between host and pathogen relies heavily on rapid protein synthesis and accurate protein targeting to ensure pathogen destruction. To gain insight into this dynamic interface, we combined Click chemistry with pulsed stable isotope labelling of amino acids in cell culture to quantify the host proteome response during macrophage infection with the intracellular bacterial pathogen Salmonella enterica Typhimurium. We monitored newly synthesized proteins across different host cell compartments and infection stages. Within this rich resource, we detected aberrant trafficking of lysosomal proteases to the extracellular space and the nucleus. We verified that active cathepsins re-traffic to the nucleus and that these are linked to cell death. Pharmacological cathepsin inhibition and nuclear targeting of a cellular cathepsin inhibitor (stefin B) suppressed S. enterica Typhimurium-induced cell death. We demonstrate that cathepsin activity is required for pyroptotic cell death via the non-canonical inflammasome, and that lipopolysaccharide transfection into the host cytoplasm is sufficient to trigger active cathepsin accumulation in the host nucleus and cathepsin-dependent cell death. Finally, cathepsin inhibition reduced gasdermin D expression, thus revealing an unexpected role for cathepsin activity in non-canonical inflammasome regulation. Overall, our study illustrates how resolution of host proteome dynamics during infection can drive the discovery of biological mechanisms at the host–microbe interface.
Access options
Subscribe to Journal
Get full journal access for 1 year
$59.00
only $4.92 per issue
All prices are NET prices.
VAT will be added later in the checkout.
Tax calculation will be finalised during checkout.
Rent or Buy article
Get time limited or full article access on ReadCube.
from$8.99
All prices are NET prices.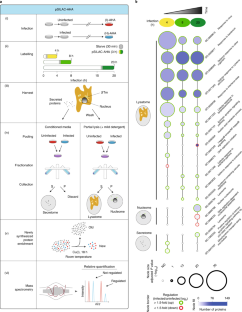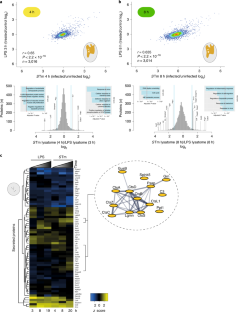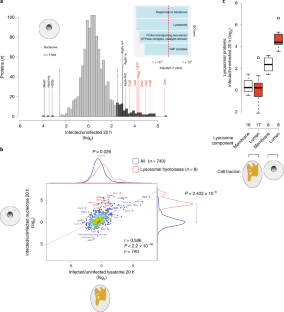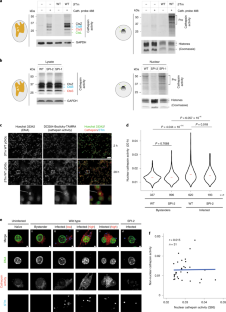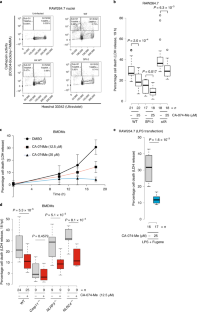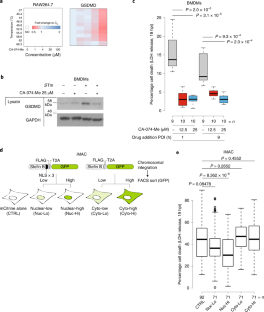 Data availability
Proteomic pSILAC-AHA data have been deposited at ProteomeXchange (http://www.proteomexchange.org/) under the identifiers PXD010179 (pSILAC-AHA) and PXD016086 (2D-TPP). Source data for Figs. 1–6 and Extended Data Figs. 1–7 and 10 are provided with the paper.
Code availability
The code and pipelines used for data analysis are available upon request.
References
1.

Broz, P. & Dixit, V. M. Inflammasomes: mechanism of assembly, regulation and signalling. Nat. Rev. Immunol. 16, 407–420 (2016).

2.

Shi, J. et al. Inflammatory caspases are innate immune receptors for intracellular LPS. Nature 514, 187–192 (2014).

3.

Kayagaki, N. et al. Caspase-11 cleaves gasdermin D for non-canonical inflammasome signalling. Nature 526, 666–671 (2015).

4.

Shi, J. et al. Cleavage of GSDMD by inflammatory caspases determines pyroptotic cell death. Nature 526, 660–665 (2015).

5.

Aachoui, Y. et al. Caspase-11 protects against bacteria that escape the vacuole. Science 339, 975–978 (2013).

6.

Eichelbaum, K., Winter, M., Berriel Diaz, M., Herzig, S. & Krijgsveld, J. Selective enrichment of newly synthesized proteins for quantitative secretome analysis. Nat. Biotechnol. 30, 984–990 (2012).

7.

Figueira, R., Watson, K. G., Holden, D. W. & Helaine, S. Identification of Salmonella pathogenicity island-2 type III secretion system effectors involved in intramacrophage replication of S. enterica serovar Typhimurium: implications for rational vaccine design. mBio 4, e00065 (2013).

8.

Eichelbaum, K. & Krijgsveld, J. Rapid temporal dynamics of transcription, protein synthesis, and secretion during macrophage activation. Mol. Cell. Proteomics 13, 792–810 (2014).

9.

McGourty, K. et al. Salmonella inhibits retrograde trafficking of mannose-6-phosphate receptors and lysosome function. Science 338, 963–967 (2012).

10.

Goulet, B. et al. A cathepsin L isoform that is devoid of a signal peptide localizes to the nucleus in S phase and processes the CDP/Cux transcription factor. Mol. Cell 14, 207–219 (2004).

11.

Tamhane, T. et al. Nuclear cathepsin L activity is required for cell cycle progression of colorectal carcinoma cells. Biochimie 122, 208–218 (2016).

12.

Goulet, B. et al. Increased expression and activity of nuclear cathepsin L in cancer cells suggests a novel mechanism of cell transformation. Mol. Cancer Res. 5, 899–907 (2007).

13.

Konjar, S., Yin, F., Bogyo, M., Turk, B. & Kopitar-Jerala, N. Increased nucleolar localization of SpiA3G in classically but not alternatively activated macrophages. FEBS Lett. 584, 2201–2206 (2010).

14.

Turk, V. et al. Cysteine cathepsins: from structure, function and regulation to new frontiers. Biochim. Biophys. Acta 1824, 68–88 (2012).

15.

Tedelind, S. et al. Nuclear cysteine cathepsin variants in thyroid carcinoma cells. Biol. Chem. 391, 923–935 (2010).

16.

Duncan, E. M. et al. Cathepsin L proteolytically processes histone H3 during mouse embryonic stem cell differentiation. Cell 135, 284–294 (2008).

17.

Brennan, M. A. & Cookson, B. T. Salmonella induces macrophage death by caspase-1-dependent necrosis. Mol. Microbiol. 38, 31–40 (2000).

18.

Fink, S. L. & Cookson, B. T. Caspase-1-dependent pore formation during pyroptosis leads to osmotic lysis of infected host macrophages. Cell. Microbiol. 8, 1812–1825 (2006).

19.

Napier, B. A. et al. Complement pathway amplifies caspase-11-dependent cell death and endotoxin-induced sepsis severity. J. Exp. Med 213, 2365–2382 (2016).

20.

Savitski, M. M. et al. Tracking cancer drugs in living cells by thermal profiling of the proteome. Science 346, 1255784 (2014).

21.

Becher, I. et al. Thermal profiling reveals phenylalanine hydroxylase as an off-target of panobinostat. Nat. Chem. Biol. 12, 908–910 (2016).

22.

Hentze, H., Lin, X. Y., Choi, M. S. K. & Porter, A. G. Critical role for cathepsin B in mediating caspase-1-dependent interleukin-18 maturation and caspase-1-independent necrosis triggered by the microbial toxin nigericin. Cell Death Differ. 10, 956–968 (2003).

23.

Pelegrin, P., Barroso-Gutierrez, C. & Surprenant, A. P2X7 receptor differentially couples to distinct release pathways for IL-1beta in mouse macrophage. J. Immunol. 180, 7147–7157 (2008).

24.

van der Velden, A. W., Lindgren, S. W., Worley, M. J. & Heffron, F. Salmonella pathogenicity island 1-independent induction of apoptosis in infected macrophages by Salmonella enterica serotype Typhimurium. Infect. Immun. 68, 5702–5709 (2000).

25.

Broz, P. et al. Caspase-11 increases susceptibility to Salmonella infection in the absence of caspase-1. Nature 490, 288–291 (2012).

26.

Monack, D. M., Detweiler, C. S. & Falkow, S. Salmonella pathogenicity island 2-dependent macrophage death is mediated in part by the host cysteine protease caspase-1. Cell. Microbiol. 3, 825–837 (2001).

27.

Shi, L. et al. Proteomic investigation of the time course responses of RAW 264.7 macrophages to infection with Salmonella enterica. Infect. Immun. 77, 3227–3233 (2009).

28.

Hui, W. W. et al. Salmonella enterica serovar Typhimurium alters the extracellular proteome of macrophages and leads to the production of proinflammatory exosomes. Infect. Immun. 86, e00386-17 (2018).

29.

Roberts, L. R. et al. Cathepsin B contributes to bile salt-induced apoptosis of rat hepatocytes. Gastroenterology 113, 1714–1726 (1997).

30.

Vancompernolle, K. et al. Atractyloside-induced release of cathepsin B, a protease with caspase-processing activity. FEBS Lett. 438, 150–158 (1998).

31.

Maher, K. et al. A role for stefin B (cystatin B) in inflammation and endotoxemia. J. Biol. Chem. 289, 31736–31750 (2014).

32.

Mateus, A., Määttä, T. A. & Savitski, M. M. Thermal proteome profiling: unbiased assessment of protein state through heat-induced stability changes. Proteome Sci. 15, 13 (2016).

33.

Szklarczyk, D. et al. The STRING database in 2017: quality-controlled protein-protein association networks, made broadly accessible. Nucleic Acids Res. 45, D362–D368 (2017).

34.

Greenbaum, D. et al. Chemical approaches for functionally probing the proteome. Mol. Cell. Proteom. 1, 60–68 (2002).

35.

Turk, B., Turk, D. & Salvesen, G. S. Regulating cysteine protease activity: essential role of protease inhibitors as guardians and regulators. Curr. Pharm. Des. 8, 1623–1637 (2002).

36.

Orlowski, G. M. et al. Multiple cathepsins promote pro-IL-1β synthesis and NLRP3-mediated IL-1β activation. J. Immunol. 195, 1685–1697 (2015).

37.

Porwollik, S. et al. Defined single-gene and multi-gene deletion mutant collections in Salmonella enterica sv Typhimurium. PLoS ONE 9, e99820 (2014).

38.

Helaine, S. et al. Dynamics of intracellular bacterial replication at the single cell level. Proc. Natl Acad. Sci. USA 107, 3746–3751 (2010).

39.

Li, P. et al. Mice deficient in IL-1 beta-converting enzyme are defective in production of mature IL-1 beta and resistant to endotoxic shock. Cell 80, 401–411 (1995).

40.

Kayagaki, N. et al. Non-canonical inflammasome activation targets caspase-11. Nature 479, 117–121 (2011).

41.

Martinon, F., Pétrilli, V., Mayor, A., Tardivel, A. & Tschopp, J. Gout-associated uric acid crystals activate the NALP3 inflammasome. Nature 440, 237–241 (2006).

42.

Mariathasan, S. et al. Differential activation of the inflammasome by caspase-1 adaptors ASC and Ipaf. Nature 430, 213–218 (2004).

43.

Beuzón, C. R. et al. Salmonella maintains the integrity of its intracellular vacuole through the action of SifA. EMBO J. 19, 3235–3249 (2000).

44.

Yang, F., Shen, Y., Camp, D. G. II & Smith, R. D. High-pH reversed-phase chromatography with fraction concatenation for 2D proteomic analysis. Expert Rev. Proteomics 9, 129–134 (2012).

45.

Vizcaíno, J. A. et al. The PRoteomics IDEntifications (PRIDE) database and associated tools: status in 2013. Nucleic Acids Res. 41, D1063–1069 (2013).

46.

Babicki, S. et al. Heatmapper: web-enabled heat mapping for all. Nucleic Acids Res. 44, W147–153 (2016).

47.

Ochoa, D. et al. An atlas of human kinase regulation. Mol. Syst. Biol. 12, 888 (2016).

48.

Hornung, V. et al. Silica crystals and aluminum salts activate the NALP3 inflammasome through phagosomal destabilization. Nat. Immunol. 9, 847–856 (2008).

49.

Stutz, A. et al. NLRP3 inflammasome assembly is regulated by phosphorylation of the pyrin domain. J. Exp. Med. 214, 1725–1736 (2017).

50.

Mateus, A. et al. Thermal proteome profiling in bacteria: probing protein state in vivo. Mol. Syst. Biol. 14, e8242 (2018).

51.

Hughes, C. S. et al. Single-pot, solid-phase-enhanced sample preparation for proteomics experiments. Nat. Protoc. 14, 68–85 (2019).

52.

Hughes, C. S. et al. Ultrasensitive proteome analysis using paramagnetic bead technology. Mol. Syst. Biol. 10, 757 (2014).

53.

Franken, H. et al. Thermal proteome profiling for unbiased identification of direct and indirect drug targets using multiplexed quantitative mass spectrometry. Nat. Protoc. 10, 1567–1593 (2015).

54.

Ross, C., Chan, A. H., Von Pein, J., Boucher, D. & Schroder, K. Dimerization and auto-processing induce caspase-11 protease activation within the non-canonical inflammasome. Life Sci. Alliance 1, e201800237 (2018).
Acknowledgements
We thank the EMBL Flow Cytometry, Proteomics and ALMF Core Facilities; N. Kurzawa for 2D-TPP data analysis; S. Helaine (Imperial College) for the pDiGc plasmid; O. Wagih (EBI) for R scripts; K.-M. Noh (EMBL) for the H3.cs1 antibody; and members of the Typas and Krijgsveld laboratories for discussions. We acknowledge funding from EMBL for this research. J.S., N.L. and H.I. were supported by Marie Skłodowska-Curie Actions COFUND grant no. 291772, and A.M. by grant no. 664726. E.L. was supported by the Deutsche Forschungsgemeinschaft (German Research Foundation) under Germany's Excellence Strategy (nos. EXC2151 and 390873048) and the ERC consolidator grant InflammAct. N.L. is now supported by the National Key Research and Development Programme of China (no. 2018YFA0902703), the Shenzhen Science and Technology Innovation Committee (no. JCYJ20170818164014753) and the National Natural Science Foundation of China (nos. 31800694 and 31971354). N.K.-J. and B.T. were supported by the Slovene Research Agency (no. P1-0140).
Ethics declarations
Competing interests
The authors declare no competing interests.
Additional information
Publisher's note Springer Nature remains neutral with regard to jurisdictional claims in published maps and institutional affiliations.
Supplementary information
Supplementary Table 1 contains replicate data of reversed pSILAC-AHA-labelled RAW264.7 cells during STm infection; Supplementary Table 2 contains GO term enrichment analysis of proteome changes during STm infection of RAW264.7 cells; and Supplementary Table 3 contains merged pSILAC-AHA proteomic data from cells stimulated with LPS or STm infection. Supplementary Table 4 contains STm-infected lysatome pSILAC-AHA-labelled RAW264.7 cell data after subtraction of LPS signal8; Supplementary Table 5 contains GO term enrichment of STm-infected lysatome, nucleome and secretome pSILAC-AHA data after subtraction of LPS signal8; and Supplementary Table 6 contains 2D-TPP of RAW264.7 cells infected with wild-type STm for 20 h and treated with CA-074-Me.
About this article
Cite this article
Selkrig, J., Li, N., Hausmann, A. et al. Spatiotemporal proteomics uncovers cathepsin-dependent macrophage cell death during Salmonella infection. Nat Microbiol 5, 1119–1133 (2020). https://doi.org/10.1038/s41564-020-0736-7
Received:

Accepted:

Published:

Issue Date: