Abstract
Despite longstanding appreciation of gene expression heterogeneity in isogenic bacterial populations, affordable and scalable technologies for studying single bacterial cells have been limited. Although single-cell RNA sequencing (scRNA-seq) has revolutionized studies of transcriptional heterogeneity in diverse eukaryotic systems1,2,3,4,5,6,7,8,9,10,11,12,13, the application of scRNA-seq to prokaryotes has been hindered by their extremely low mRNA abundance14,15,16, lack of mRNA polyadenylation and thick cell walls17. Here, we present prokaryotic expression profiling by tagging RNA in situ and sequencing (PETRI-seq)—a low-cost, high-throughput prokaryotic scRNA-seq pipeline that overcomes these technical obstacles. PETRI-seq uses in situ combinatorial indexing11,12,18 to barcode transcripts from tens of thousands of cells in a single experiment. PETRI-seq captures single-cell transcriptomes of Gram-negative and Gram-positive bacteria with high purity and low bias, with median capture rates of more than 200 mRNAs per cell for exponentially growing Escherichia coli. These characteristics enable robust discrimination of cell states corresponding to different phases of growth. When applied to wild-type Staphylococcus aureus, PETRI-seq revealed a rare subpopulation of cells undergoing prophage induction. We anticipate that PETRI-seq will have broad utility in defining single-cell states and their dynamics in complex microbial communities.
Relevant articles
Open Access articles citing this article.
Masahito Hosokawa

&

Yohei Nishikawa

Biophysical Reviews Open Access 08 September 2023

Bruce Wang

,

Aaron E. Lin

…

Zemer Gitai

Nature Microbiology Open Access 31 August 2023

Ziye Xu

,

Yuting Wang

…

Yongcheng Wang

Nature Communications Open Access 23 August 2023
Access options
Access Nature and 54 other Nature Portfolio journals
Get Nature+, our best-value online-access subscription
$29.99 / 30 days
cancel any time
Subscribe to this journal
Receive 12 digital issues and online access to articles
$119.00 per year
only $9.92 per issue
Rent or buy this article
Prices vary by article type
from$1.95
to$39.95
Prices may be subject to local taxes which are calculated during checkout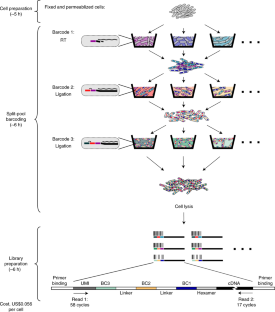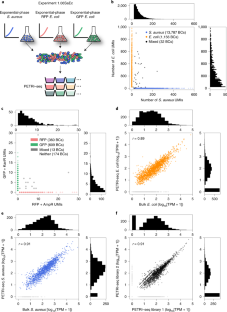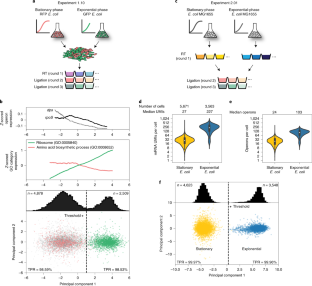 Data availability
Raw data have been submitted to the Gene Expression Omnibus under accession number GSE141018. Source data are also provided for all figures. All of the figures except for Fig. 1 include original data. An overview of all of the experiments is provided in Supplementary Table 4. A count matrix for the three primary PETRI-seq experiments is provided in Supplementary Table 6.
References
Tang, F. et al. mRNA-seq whole-transcriptome analysis of a single cell. Nat. Methods 6, 377–382 (2009).

Ramsköld, D. et al. Full-length mRNA-seq from single-cell levels of RNA and individual circulating tumor cells. Nat. Biotechnol. 30, 777–782 (2012).

Picelli, S. et al. Smart-seq2 for sensitive full-length transcriptome profiling in single cells. Nat. Methods 10, 1096–1098 (2013).

Fan, H. C., Fu, G. K. & Fodor, S. P. A. Expression profiling. Combinatorial labeling of single cells for gene expression cytometry. Science 347, 1258367 (2015).

Macosko, E. Z. et al. Highly parallel genome-wide expression profiling of individual cells using nanoliter droplets. Cell 161, 1202–1214 (2015).

Klein, A. M. et al. Droplet barcoding for single-cell transcriptomics applied to embryonic stem cells. Cell 161, 1187–1201 (2015).

Bose, S. et al. Scalable microfluidics for single-cell RNA printing and sequencing. Genome Biol. 16, 120 (2015).

Zheng, G. X. et al. Massively parallel digital transcriptional profiling of single cells. Nat. Commun. 8, 14049 (2017).

Picelli, S. Single-cell RNA-sequencing: the future of genome biology is now. RNA Biol. 14, 637–650 (2016).

Sheng, K., Cao, W., Niu, Y., Deng, Q. & Zong, C. Effective detection of variation in single-cell transcriptomes using MATQ-seq. Nat. Methods 14, 267–270 (2017).

Cao, J. et al. Comprehensive single-cell transcriptional profiling of a multicellular organism. Science 357, 661–667 (2017).

Rosenberg, A. B. et al. Single-cell profiling of the developing mouse brain and spinal cord with split-pool barcoding. Science 360, 176–182 (2018).

Cao, J. et al. The single-cell transcriptional landscape of mammalian organogenesis. Nature 566, 496–502 (2019).

Taniguchi, Y. et al. Quantifying E. coli proteome and transcriptome with single-molecule sensitivity in single cells. Science 329, 533–538 (2010).

Bartholomäus, A. et al. Bacteria differently regulate mRNA abundance to specifically respond to various stresses. Philos. Trans. R. Soc. A 374, 20150069 (2016).

Moran, M. A. et al. Sizing up metatranscriptomics. Isme J. 7, 237–243 (2013).

de Lange, N., Tran, T. M. & Abate, A. R. Electrical lysis of cells for detergent-free droplet assays. Biomicrofluidics 10, 024114 (2016).

Amini, S. et al. Haplotype-resolved whole-genome sequencing by contiguity-preserving transposition and combinatorial indexing. Nat. Genet. 46, 1343–1349 (2014).

Hodson, R. E., Dustman, W. A., Garg, R. P. & Moran, M. A. In situ PCR for visualization of microscale distribution of specific genes and gene products in prokaryotic communities. Appl. Environ. Microbiol. 61, 4074–4082 (1995).

Bloom, J. D. Estimating the frequency of multiplets in single-cell RNA sequencing from cell-mixing experiments. PeerJ 6, e5578 (2018).

Okayama, H. & Berg, P. High-efficiency cloning of full-length cDNA. Mol. Cell. Biol. 2, 161–170 (1982).

Kivioja, T. et al. Counting absolute number of molecules using unique molecular identifiers. Nat. Methods 9, 72–74 (2012).

Yang, S. et al. Decontamination of ambient RNA in single-cell RNA-seq with DecontX. Genome Biol. 21, 57 (2020).

Young, M. D. & Behjati, S. SoupX removes ambient RNA contamination from droplet based single-cell RNA sequencing data. Preprint at bioRxiv https://doi.org/10.1101/303727 (2020).

Hotelling, H. Analysis of a complex of statistical variables into principal components. J. Educ. Psychol. 24, 417–441 (1933).

Hafemeister, C. & Satija, R. Normalization and variance stabilization of single-cell RNA-seq data using regularized negative binomial regression. Genome Biol. 20, 296 (2019).

Gentry, D. R., Hernandez, V. J., Nguyen, L. H., Jensen, D. B. & Cashel, M. Synthesis of the stationary-phase sigma factor σs is positively regulated by ppGpp. J. Bacteriol. 175, 7982–7989 (1993).

Almirón, M., Link, A. J., Furlong, D. & Kolter, R. A novel DNA-binding protein with regulatory and protective roles in starved Escherichia coli. Genes Dev. 6, 2646–2654 (1992).

Traxler, M. F. et al. The global, ppGpp-mediated stringent response to amino acid starvation in Escherichia coli. Mol. Microbiol. 68, 1128–1148 (2008).

Chen, H., Shiroguchi, K., Ge, H. & Xie, X. S. Genome-wide study of mRNA degradation and transcript elongation in Escherichia coli. Mol. Syst. Biol. 11, 781 (2015).

Vargas-Garcia, C. A., Ghusinga, K. J. & Singh, A. Cell size control and gene expression homeostasis in single-cells. Curr. Opin. Syst. Biol. 8, 109–116 (2018).

Diep, B. A. et al. Complete genome sequence of USA300, an epidemic clone of community-acquired meticillin-resistant Staphylococcus aureus. Lancet 367, 731–739 (2006).

Benson, D. A., Karsch-Mizrachi, I., Lipman, D. J., Ostell, J. & Wheeler, D. L. GenBank. Nucleic Acids Res. 35, D21–D25 (2007).

Saint, M. et al. Single-cell imaging and RNA sequencing reveal patterns of gene expression heterogeneity during fission yeast growth and adaptation. Nat. Microbiol. 4, 480–491 (2019).

Grün, L., Kester, L. & Oudenaarden, A. Validation of noise models for single-cell transcriptomics. Nat. Methods 11, 637–640 (2014).

Raj, A., van den Bogaard, P., Rifkin, S. A., van den Oudenaarden, A. & Tyagi, S. Imaging individual mRNA molecules using multiple singly labeled probes. Nat. Methods 5, 877–879 (2008).

Abraham, J. M., Freitag, C. S., Clements, J. R. & Eisenstein, B. I. An invertible element of DNA controls phase variation of type 1 fimbriae of Escherichia coli. Proc. Natl Acad. Sci. USA 82, 5724–5727 (1985).

Deutsch, D. R. et al. Extra-chromosomal DNA sequencing reveals episomal prophages capable of impacting virulence factor expression in Staphylococcus aureus. Front. Microbiol. 9, 1406 (2018).

Balasubramanian, S., Osburne, M. S., BrinJones, H., Tai, A. K. & Leong, J. M. Prophage induction, but not production of phage particles, is required for lethal disease in a microbiome-replete murine model of enterohemorrhagic E. coli infection. Plos Pathog. 15, e1007494 (2019).

Blattman, S. B., Jiang, W., Oikonomou, P. & Tavazoie, S. Prokaryotic single-cell RNA sequencing by in situ combinatorial indexing. Preprint at bioRxiv https://doi.org/10.1101/866244 (2019).

Kuchina, A. et al. Microbial single-cell RNA sequencing by split-pool barcoding. Preprint at bioRxiv https://doi.org/10.1101/869248 (2019).

Brauner, A., Fridman, O., Gefen, O. & Balaban, N. Q. Distinguishing between resistance, tolerance and persistence to antibiotic treatment. Nat. Rev. Microbiol. 14, 320–330 (2016).

Girgis, H. S., Harris, K. & Tavazoie, S. Large mutational target size for rapid emergence of bacterial persistence. Proc. Natl Acad. Sci. USA 109, 12740–12745 (2012).

Franzosa, E. A. et al. Sequencing and beyond: integrating molecular 'omics' for microbial community profiling. Nat. Rev. Microbiol. 13, 360–372 (2015).

Lee, T. S. et al. BglBrick vectors and datasheets: a synthetic biology platform for gene expression. J. Biol. Eng. 5, 12 (2011).

Zaslaver, A. et al. A comprehensive library of fluorescent transcriptional reporters for Escherichia coli. Nat. Methods 3, 623–628 (2006).

Martin, M. Cutadapt removes adapter sequences from high-throughput sequencing reads. EMBNet 17, 10–12 (2011).

Smith, T., Heger, A. & Sudbery, I. UMI-tools: modelling sequencing errors in unique molecular Identifiers to improve quantification accuracy. Genome Res. 27, 491–499 (2017).

Li, H. & Durbin, R. Fast and accurate short read alignment with Burrows-Wheeler transform. Bioinformatics 25, 1754–1760 (2009).

Liao, Y., Smyth, G. K. & Shi, W. featureCounts: an efficient general purpose program for assigning sequence reads to genomic features. Bioinformatics 30, 923–930 (2014).

Santos-Zavaleta, A. et al. RegulonDB v 10.5: tackling challenges to unify classic and high throughput knowledge of gene regulation in E. coli K-12. Nucleic Acids Res. 47, D212–D220 (2019).

Taboada, B., Ciria, R., Martinez-Guerrero, C. E. & Merino, E. ProOpDB: Prokaryotic Operon DataBase. Nucleic Acids Res. 40, D627–D631 (2012).

Fu, G. K., Hu, J., Wang, P. & Fodor, S. P. A. Counting individual DNA molecules by the stochastic attachment of diverse labels. Proc. Natl Acad. Sci. USA 108, 9026–9031 (2011).

Tange, O. GNU Parallel 2018 (Ole Tange, 2018).

Bolger, A. M., Lohse, M. & Usadel, B. Trimmomatic: a flexible trimmer for Illumina sequence data. Bioinformatics 30, 2114–2120 (2014).

Butler, A., Hoffman, P., Smibert, P., Papalexi, E. & Satija, R. Integrating single-cell transcriptomic data across different conditions, technologies, and species. Nat. Biotechnol. 36, 411–420 (2018).

Benjamini, Y. & Hochberg, Y. Controlling the false discovery rate: a practical and powerful approach to multiple testing. J. R. Stat. Soc. B 57, 289–300 (1995).

Huang, Y., Sheth, R. U., Kaufman, A. & Wang, H. H. Scalable and cost-effective ribonuclease-based rRNA depletion for transcriptomics. Nucleic Acids Res. 48, e20 (2020).

Armour, C. D. et al. Digital transcriptome profiling using selective hexamer priming for cDNA synthesis. Nat. Methods 6, 647–649 (2009).

He, S. et al. Validation of two ribosomal RNA removal methods for microbial metatranscriptomics. Nat. Methods 7, 807–812 (2010).

Zhulidov, P. A. et al. Simple cDNA normalization using kamchatka crab duplex-specific nuclease. Nucleic Acids Res. 32, e37 (2004).
Acknowledgements
We thank the members of the Tavazoie laboratory for discussions and comments on early drafts of the manuscript; and P. Sims for suggestions during the early development of PETRI-seq. S.T. is supported by award no. 5R01AI077562 from the National Institutes of Health. S.B.B. is supported by a National Science Foundation Graduate Research Fellowship (no. DGE 16-44869). W.J. is supported by a fellowship from the Jane Coffin Childs Fund.
Ethics declarations
Competing interests
The authors declare no competing interests.
Additional information
Publisher's note Springer Nature remains neutral with regard to jurisdictional claims in published maps and institutional affiliations.
Supplementary information
About this article
Cite this article
Blattman, S.B., Jiang, W., Oikonomou, P. et al. Prokaryotic single-cell RNA sequencing by in situ combinatorial indexing. Nat Microbiol 5, 1192–1201 (2020). https://doi.org/10.1038/s41564-020-0729-6
Received:

Accepted:

Published:

Issue Date:

DOI: https://doi.org/10.1038/s41564-020-0729-6