Abstract
The conventional view is that high temperatures cause microorganisms to replicate slowly or die. In this view, microorganisms autonomously combat heat-induced damages. However, microorganisms co-exist with each other, which raises the underexplored and timely question of whether microorganisms can cooperatively combat heat-induced damages at high temperatures. Here, we use the budding yeast Saccharomyces cerevisiae to show that cells can help each other and their future generations to survive and replicate at high temperatures. As a consequence, even at the same temperature, a yeast population can exponentially grow, never grow or grow after unpredictable durations (hours to days) of stasis, depending on its population density. Through the same mechanism, yeasts collectively delay and can eventually stop their approach to extinction, with higher population densities stopping faster. These features arise from yeasts secreting and extracellularly accumulating glutathione—a ubiquitous heat-damage-preventing antioxidant. We show that the secretion of glutathione, which eliminates harmful extracellular chemicals, is both necessary and sufficient for yeasts to collectively survive at high temperatures. A mathematical model, which is generally applicable to any cells that cooperatively replicate by secreting molecules, recapitulates all of these features. Our study demonstrates how organisms can cooperatively define and extend the boundaries of life-permitting temperatures.
Access options
Subscribe to Journal
Get full journal access for 1 year
$59.00
only $4.92 per issue
All prices are NET prices.
VAT will be added later in the checkout.
Rent or Buy article
Get time limited or full article access on ReadCube.
from$8.99
All prices are NET prices.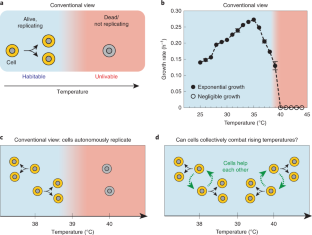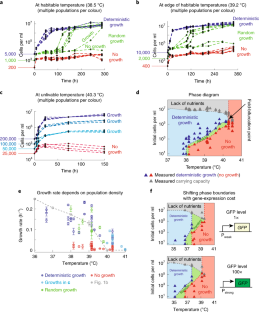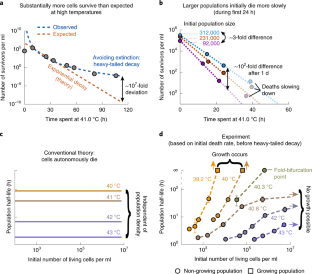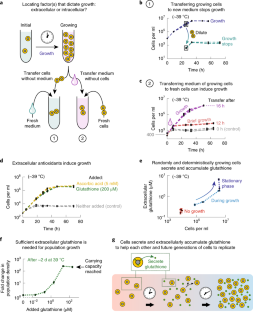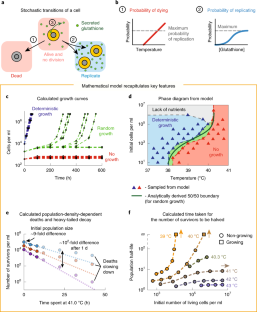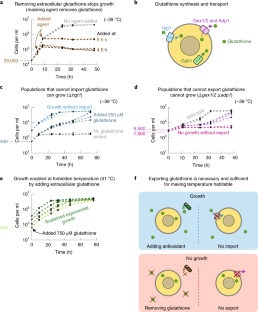 Data availability
All data supporting the findings of this study are available within the paper and its Supplementary Information. RNA-seq data are available at NCBI GEO (GSE137151). Source data for Figs. 2–4 and 6 are provided with the paper. The data that support the findings of this study are available from the corresponding author on reasonable request.
Code availability
All scripts used for simulations in this research are publicly available (GitHub diederiklt/YeastHighTemperatures).
References
1.

Madigan, M. T., Martinko, J. M., Stahl, D. A. & Clark, D. Brock Biology of Microorganisms 13th edn, 162–163 (Pearson, 2011).

2.

Milo, R. & Phillips, R. Cell Biology by the Numbers 1st edn (Garland Science, 2015).

3.

Bruslind, L. Microbiology (Open Oregon State University, 2019).

4.

Doran, P. M. Bioprocess Engineering Principles 2nd edn 653–655 (Academic, 2012).

5.

Ghosh, K. & Dill, K. Cellular proteomes have broad distributions of protein stability. Biophys. J. 99, 3996–4002 (2010).

6.

Leuenberger, P. et al. Cell-wide analysis of protein thermal unfolding reveals determinants of thermostability. Science 355, eaai7825 (2017).

7.

Verghese, J., Abrams, J., Wang, Y. & Morano, K. A. Biology of the heat shock response and protein chaperones: budding yeast (Saccharomyces cerevisiae) as a model system. Microbiol. Mol. Biol. Rev. 76, 115–158 (2012).

8.

Richter, K., Haslbeck, M. & Buchner, J. The heat shock response: life on the verge of death. Mol. Cell 40, 253–266 (2010).

9.

Miller, M. B. & Bassler, B. L. Quorum sensing in bacteria. Annu. Rev. Microbiol 55, 165–199 (2001).

10.

Gore, J., Youk, H. & van Oudenaarden, A. Snowdrift game dynamics and facultative cheating in yeast. Nature 459, 253–256 (2009).

11.

Koschwanez, J. H., Foster, K. R. & Murray, A. W. Sucrose utilization in budding yeast as a model for the origin of undifferentiated multicellularity. PLoS Biol. 9, e1001122 (2011).

12.

Koschwanez, J. H., Foster, K. R. & Murray, A. W. Improved used of a public good selects for the evolution of undifferentiated multicellularity. eLife 2, e00367 (2013).

13.

Ratzke, C., Denk, J. & Gore, J. Ecological suicide in microbes. Nat. Ecol. Evol. 2, 867–872 (2018).

14.

Postmus, J. et al. Quantitative analysis of the high temperature-induced glycolytic flux increase in Saccharomyces cerevisiae reveals dominant metabolic regulation. J. Biol. Chem. 283, 23524–23532 (2008).

15.

Walsh, R. M. & Martin, P. A. Growth of Saccharomyces cerevisiae and saccharomyces uvarum in a temperature gradient incubator. J. Inst. Brew. 83, 169–172 (1977).

16.

Ratkowsky, D. A., Lowry, R. K., McMeekin, T. A., Stokes, A. N. & Chandler, R. E. Model for bacterial culture growth rate throughout the entire biokinetic temperature range. J. Bacteriol. 154, 1222–1226 (1983).

17.

Dekel, E. & Alon, U. Optimality and evolutionary tuning of the expression level of a protein. Nature 436, 588–592 (2005).

18.

Scott, M. & Hwa, T. Bacterial growth laws and their applications. Curr. Opin. Biotechnol. 22, 559–565 (2011).

19.

Bharathi, V. et al. Use of ade1 and ade2 mutations for development of a versatile red/white colour assay of amyloid-induced oxidative stress in Saccharomyces cerevisiae. Yeast 33, 607–620 (2016).

20.

Charlebois, D. A., Hauser, K., Marshall, S. & Balázsi, G. Multiscale effects of heating and cooling on genes and gene networks. Proc. Natl Acad. Sci. USA 115, E10797–E10806 (2018).

21.

Balaban, N. Q. Persistence: mechanisms for triggering and enhancing phenotypic variability. Curr. Opin. Genet. Dev. 21, 768–775 (2011).

22.

Causton, H. C. et al. Remodeling of yeast genome expression in response to environmental changes. Mol. Biol. Cell 12, 323–337 (2001).

23.

Gasch, A. P. et al. Genomic expression programs in the response of yeast cells to environmental changes. Mol. Biol. Cell 11, 4241–4257 (2000).

24.

Sugiyama, K., Kawamura, A., Izawa, S. & Inoue, Y. Role of glutathione in heat-shock-induced cell death of Saccharomyces cerevisiae. Biochem. J. 352, 71–78 (2000).

25.

Sugiyama, K., Izawa, S. & Inoue, Y. The Yap1p-dependent induction of glutathione synthesis in heat shock response of Saccharomyces cerevisiae. J. Biol. Chem. 275, 15535–15540 (2000).

26.

Davidson, J. F., Whyte, B., Bissinger, P. H. & Schiestl, R. H. Oxidative stress is involved in heat-induced cell death in Saccharomyces cerevisiae. Proc. Natl Acad. Sci. USA 93, 5116–5121 (1996).

27.

Yakes, F. M. & van Houten, B. Mitochondrial DNA damage is more extensive and persists longer than nuclear DNA damage in human cells following oxidative stress. Proc. Natl Acad. Sci. USA 94, 514–519 (1997).

28.

Cabiscol, E., Piulats, E., Echave, P., Herrero, E. & Ros, J. Oxidative stress promotes specific protein damage in Saccharomyces cerevisiae. J. Biol. Chem. 275, 27393–27398 (2000).

29.

Bilinski, T., Litwinska, J., Blaszczynski, M. & Bajus, A. SOD deficiency and the toxicity of the products of autoxidation of polyunsaturated fatty acids in yeast. Biochim. Biophys. Acta 1001, 102–106 (1989).

30.

Jamieson, D. J. Oxidative stress responses of the yeast Saccharomyces cerevisiae. Yeast 14, 1511–1527 (1998).

31.

Zechmann, B. et al. Subcellular distribution of glutathione and its dynamic changes under oxidative stress in the yeast Saccharomyces cerevisiae. FEMS Yeast Res. 11, 631–642 (2011).

32.

Kumar, C. et al. Glutathione revisited: a vital function in iron metabolism and ancillary role in thiol-redox control. EMBO J. 30, 2044–2056 (2011).

33.

Toledano, M. B., Kumar, C., Le Moan, N., Spector, D. & Tacnet, F. The system biology of thiol redox system in Escherichia coli and yeast: differential functions in oxidative stress, iron metabolism and DNA synthesis. FEBS Lett. 581, 3598–3607 (2007).

34.

Elskens, M. T., Jaspers, C. J. & Penninckx, M. J. Glutathione as an endogenous sulfur source in the yeast Saccharomyces cerevisiae. J. Gen. Microbiol. 137, 637–644 (1991).

35.

Mehdi, K. & Penninckx, M. J. An important role for glutathione and γ-glutamyltranspeptidase in the supply of growth requirements during nitrogen starvation of the yeast Saccharomyces cerevisiae. Microbiology 143, 1885–1889 (1997).

36.

Thorsen, M. et al. Glutathione serves an extracellular defence function to decrease arsenite accumulation and toxicity in yeast. Mol. Microbiol. 84, 1177–1188 (2012).

37.

Perrone, G. G., Grant, C. M. & Dawes, I. W. Genetic and environmental factors influencing glutathione homeostasis in Saccharomyces cerevisiae. Mol. Biol. Cell 16, 218–230 (2005).

38.

Giustarini, D. et al. Pitfalls in the analysis of the physiological antioxidant glutathione (GSH) and its disulphide (GSSG) in biological samples: an elephant in the room. J. Chromatogr. B Analyt. Technol. Biomed. Life Sci. 1019, 21–28 (2016).

39.

Araujo, A. R., Saraiva, M. L. & Lima, J. L. Determination of total and oxidized glutathione in human whole blood with a sequential injection analysis system. Talanta 74, 1511–1519 (2008).

40.

Grant, C. M., MacIver, F. H. & Dawes, I. W. Glutathione is an essential metabolite required for resistance to oxidative stress in the yeast Saccharomyces cerevisiae. Curr. Genet. 29, 511–515 (1996).

41.

Bourbouloux, A., Shahi, P., Chakladar, A., Delrot, S. & Bachhawat, A. K. Hgt1p, a high affinity glutathione transporter from the yeast Saccharomyces cerevisiae. J. Biol. Chem. 275, 13259–13265 (2000).

42.

Dhaoui, M. et al. Gex1 is a yeast glutathione exchanger that interferes with pH and redox homeostasis. Mol. Biol. Cell 22, 2054–2067 (2011).

43.

Kiriyama, K., Hara, K. Y. & Kondo, A. Extracellular glutathione fermentation using engineered Saccharomyces cerevisiae expressing a novel glutathione exporter. Appl. Microbiol. Biotechnol. 96, 1021–1027 (2012).

44.

Dai, L., Vorselen, D., Korolev, K. & Gore, J. Generic indicators for loss of resilience before a tipping point leading to population collapse. Science 336, 1175–1177 (2012).

45.

Strogatz, S. H. Nonlinear Dynamics and Chaos: With Applications to Physics, Biology, Chemistry, and Engineering (Westview, 1994).

46.

Mojtahedi, M. et al. Cell fate decision as high-dimensional critical state transition. PLoS Biol. 14, e2000640 (2016).

47.

Garcia-Ojalvo, J., Sancho, J. M. & Ramirez-Piscina, L. A nonequilibrium phase transition with colored noise. Phys. Lett. A 168, 35–39 (1992).

48.

Youk, H. & Lim, W. A. Secreting and sensing the same molecule allows cells to achieve versatile social behaviors. Science 343, 1242782 (2014).

49.

Trapnell, C. et al. Differential gene and transcript expression analysis of RNA-seq experiments with TopHat and Cufflinks. Nat. Protoc. 7, 562–578 (2012).

50.

Riccardi, C. & Nicoletti, I. Analysis of apoptosis by propidium iodide staining and flow cytometry. Nat. Protoc. 1, 1458–1461 (2006).
Acknowledgements
We thank S. Itzkovitz and A. Raj for comments on our manuscript; the members of the Youk laboratory for helpful discussions; and M. Mohebbi for help with initial experiments. H.Y. was supported by the European Research Council (ERC) Starting Grant (MultiCellSysBio, no. 677972), the Netherlands Organisation for Scientific Research (NWO) Vidi award (no. 680-47-544), the CIFAR Azrieli Global Scholars Program and the EMBO Young Investigator Award.
Ethics declarations
Competing interests
The authors declare no competing interests.
Additional information
Publisher's note Springer Nature remains neutral with regard to jurisdictional claims in published maps and institutional affiliations.
Supplementary information
Supplementary Figs. 1–14 and text.
About this article
Cite this article
Laman Trip, D.S., Youk, H. Yeasts collectively extend the limits of habitable temperatures by secreting glutathione. Nat Microbiol 5, 943–954 (2020). https://doi.org/10.1038/s41564-020-0704-2
Received:

Accepted:

Published:

Issue Date:
Further reading
Lei Qin

,

Shuxin Dong

,

Jie Yu

,

Xiaoyu Ning

,

Ke Xu

,

Sen-Jia Zhang

,

Li Xu

,

Bing-Zhi Li

,

Jun Li

,

Ying-Jin Yuan

&

Chun Li

Metabolic Engineering (2020)

Kevin R. Lauterjung

,

Neydis Moreno Morales

&

Megan N. McClean

Nature Microbiology (2020)