Abstract
Toxoplasma gondii has a complex life cycle that is typified by asexual development that takes place in vertebrates, and sexual reproduction, which occurs exclusively in felids and is therefore less studied. The developmental transitions rely on changes in the patterns of gene expression, and recent studies have assigned roles for chromatin shapers, including histone modifications, in establishing specific epigenetic programs for each given stage. Here, we identified the T. gondii microrchidia (MORC) protein as an upstream transcriptional repressor of sexual commitment. MORC, in a complex with Apetala 2 (AP2) transcription factors, was shown to recruit the histone deacetylase HDAC3, thereby impeding the accessibility of chromatin at the genes that are exclusively expressed during sexual stages. We found that MORC-depleted cells underwent marked transcriptional changes, resulting in the expression of a specific repertoire of genes, and revealing a shift from asexual proliferation to sexual differentiation. MORC acts as a master regulator that directs the hierarchical expression of secondary AP2 transcription factors, and these transcription factors potentially contribute to the unidirectionality of the life cycle. Thus, MORC plays a cardinal role in the T. gondii life cycle, and its conditional depletion offers a method to study the sexual development of the parasite in vitro, and is proposed as an alternative to the requirement of T. gondii infections in cats.
This is a preview of subscription content
Access options
Subscribe to Journal
Get full journal access for 1 year
$119.00
only $9.92 per issue
All prices are NET prices.
VAT will be added later in the checkout.
Tax calculation will be finalised during checkout.
Rent or Buy article
Get time limited or full article access on ReadCube.
from$8.99
All prices are NET prices.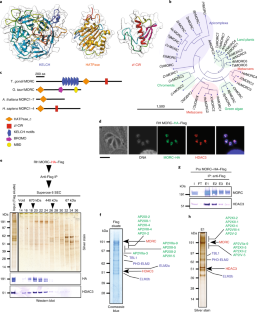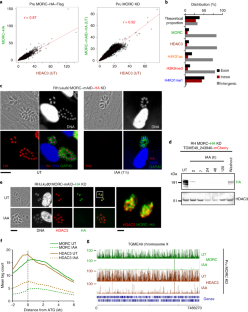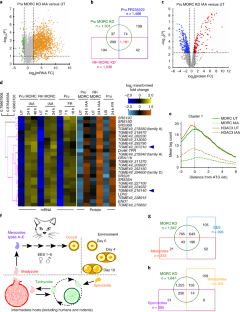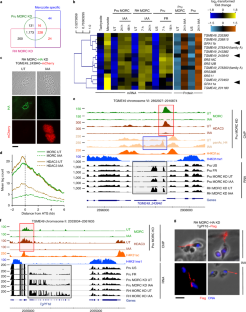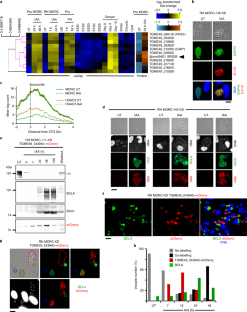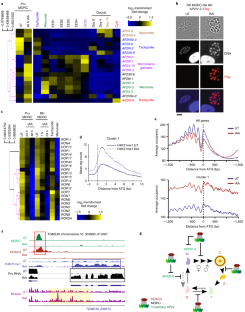 Data availability
The data supporting the findings of this study are available from the corresponding author on reasonable request. The RNA-seq demultiplexed FASTQ files and gene-wise quantifications have been deposited in the NCBI Gene Expression Omnibus (GEO) and are accessible under accession number GSE136123. The ChIP–seq data have been deposited in the GEO under accession number GSE136060. The MS proteomics data have been deposited in the ProteomeXchange Consortium through the PRIDE partner repository with the dataset identifiers PXD016846 (MORC interactome) and PXD016845 (proteome-wide analyses). Source data for Figs. 1, 2 and 5 are presented with this paper.
References
1.

Dubey, J. P., Lindsay, D. S. & Speer, C. A. Structures of Toxoplasma gondii tachyzoites, bradyzoites, and sporozoites and biology and development of tissue cysts. Clin. Microbiol. Rev. 11, 267–299 (1998).

2.

Balaji, S. Discovery of the principal specific transcription factors of Apicomplexa and their implication for the evolution of the AP2-integrase DNA binding domains. Nucleic Acids Res. 33, 3994–4006 (2005).

3.

Kim, K. The epigenome, cell cycle, and development in Toxoplasma. Annu. Rev. Microbiol. 72, 479–499 (2018).

4.

Saksouk, N. et al. Histone-modifying complexes regulate gene expression pertinent to the differentiation of the protozoan parasite Toxoplasma gondii. Mol. Cell. Biol. 25, 10301–10314 (2005).

5.

Bougdour, A. et al. Drug inhibition of HDAC3 and epigenetic control of differentiation in Apicomplexa parasites. J. Exp. Med. 206, 953–966 (2009).

6.

Moissiard, G. et al. MORC family ATPases required for heterochromatin condensation and gene silencing. Science 336, 1448–1451 (2012).

7.

Lorković, Z. J. MORC proteins and epigenetic regulation. Plant Signal. Behav. 7, 1561–1565 (2012).

8.

Harris, C. J. et al. Arabidopsis AtMORC4 and AtMORC7 form nuclear bodies and repress a large number of protein-coding genes. PLoS Genet. 12, e1005998 (2016).

9.

Weiser, N. E. et al. MORC-1 integrates nuclear RNAi and transgenerational chromatin architecture to promote germline immortality. Dev. Cell 41, 408–423 (2017).

10.

Pastor, W. A. et al. MORC1 represses transposable elements in the mouse male germline. Nat. Commun. 5, 5795 (2014).

11.

Tchasovnikarova, I. A. et al. Hyperactivation of HUSH complex function by Charcot–Marie–Tooth disease mutation in MORC2. Nat. Genet. 49, 1035–1044 (2017).

12.

Kim, H. et al. The gene-silencing protein MORC-1 topologically entraps DNA and forms multimeric assemblies to cause DNA compaction. Mol. Cell 75, 700–710 (2019).

13.

Inoue, N. New gene family defined by MORC, a nuclear protein required for mouse spermatogenesis. Hum. Mol. Genet. 8, 1201–1207 (1999).

14.

Iyer, L. M., Abhiman, S. & Aravind, L. MutL homologs in restriction-modification systems and the origin of eukaryotic MORC ATPases. Biol. Direct 3, 8 (2008).

15.

Iyer, L. M., Anantharaman, V., Wolf, M. Y. & Aravind, L. Comparative genomics of transcription factors and chromatin proteins in parasitic protists and other eukaryotes. Int. J. Parasitol. 38, 1–31 (2008).

16.

Andrews, F. H. et al. Multivalent chromatin engagement and inter-domain crosstalk regulate MORC3 ATPase. Cell Rep. 16, 3195–3207 (2016).

17.

Sindikubwabo, F. et al. Modifications at K31 on the lateral surface of histone H4 contribute to genome structure and expression in apicomplexan parasites. eLife 6, e29391 (2017).

18.

Sidik, S. M. et al. A genome-wide CRISPR screen in Toxoplasma identifies essential apicomplexan genes. Cell 166, 1423–1435 (2016).

19.

Brown, K. M., Long, S. & Sibley, L. D. Plasma membrane association by N-acylation governs PKG function in Toxoplasma gondii. mBio 8, e00375-17 (2017).

20.

Pittman, K. J., Aliota, M. T. & Knoll, L. J. Dual transcriptional profiling of mice and Toxoplasma gondii during acute and chronic infection. BMC Genom. 15, 806 (2014).

21.

Hehl, A. B. et al. Asexual expansion of Toxoplasma gondii merozoites is distinct from tachyzoites and entails expression of non-overlapping gene families to attach, invade, and replicate within feline enterocytes. BMC Genom. 16, 66 (2015).

22.

Ramakrishnan, C. et al. An experimental genetically attenuated live vaccine to prevent transmission of Toxoplasma gondii by cats. Sci. Rep. 9, 1474 (2019).

23.

Fritz, H. M. et al. Transcriptomic analysis of Toxoplasma development reveals many novel functions and structures specific to sporozoites and oocysts. PLoS ONE 7, e29998 (2012).

24.

Behnke, M. S., Zhang, T. P., Dubey, J. P. & Sibley, L. D. Toxoplasma gondii merozoite gene expression analysis with comparison to the life cycle discloses a unique expression state during enteric development. BMC Genom. 15, 350 (2014).

25.

Ramakrishnan, C., Walker, R. A., Eichenberger, R. M., Hehl, A. B. & Smith, N. C. The merozoite-specific protein, TgGRA11B, identified as a component of the Toxoplasma gondii parasitophorous vacuole in a tachyzoite expression model. Int. J. Parasitol. 47, 597–600 (2017).

26.

Smith, E. F. PF16 encodes a protein with armadillo repeats and localizes to a single microtubule of the central apparatus in Chlamydomonas flagella. J. Cell Biol. 132, 359–370 (1996).

27.

Sapiro, R. et al. Male infertility, impaired sperm motility, and hydrocephalus in mice deficient in sperm-associated antigen 6. Mol. Cell. Biol. 22, 6298–6305 (2002).

28.

Straschil, U. et al. The armadillo repeat protein PF16 is essential for flagellar structure and function in plasmodium male gametes. PLoS ONE 5, e12901 (2010).

29.

Clark, T. HAP2/GCS1: mounting evidence of our true biological EVE? PLoS Biol. 16, e3000007 (2018).

30.

Mori, T., Hirai, M., Kuroiwa, T. & Miyagishima, S. The functional domain of GCS1-based gamete fusion resides in the amino terminus in plant and parasite species. PLoS ONE 5, e15957 (2010).

31.

Liu, Y. et al. The conserved plant sterility gene HAP2 functions after attachment of fusogenic membranes in Chlamydomonas and Plasmodium gametes. Genes Dev. 22, 1051–1068 (2008).

32.

Angrisano, F. et al. Targeting the conserved fusion loop of HAP2 inhibits the transmission of Plasmodium berghei and falciparum. Cell Rep. 21, 2868–2878 (2017).

33.

Gondim, L. F. P. et al. Characterization of an IgG monoclonal antibody targeted to both tissue cyst and sporocyst walls of Toxoplasma gondii. Exp. Parasitol. 163, 46–56 (2016).

34.

Radke, J. R. et al. Identification of a sporozoite-specific member of the Toxoplasma SAG superfamily via genetic complementation: T. gondii sporozoite developmental antigens. Mol. Microbiol. 52, 93–105 (2004).

35.

Tomita, T. et al. The Toxoplasma gondii cyst wall protein CST1 is critical for cyst wall integrity and promotes bradyzoite persistence. PLoS Pathog. 9, e1003823 (2013).

36.

Radke, J. B. et al. ApiAP2 transcription factor restricts development of the Toxoplasma tissue cyst. Proc. Natl Acad. Sci. USA 110, 6871–6876 (2013).

37.

Poran, A. et al. Single-cell RNA sequencing reveals a signature of sexual commitment in malaria parasites. Nature 551, 95–99 (2017).

38.

Jiang, C. & Pugh, B. F. Nucleosome positioning and gene regulation: advances through genomics. Nat. Rev. Genet. 10, 161–172 (2009).

39.

Radman-Livaja, M. & Rando, O. J. Nucleosome positioning: how is it established, and why does it matter? Dev. Biol. 339, 258–266 (2010).

40.

Teif, V. B. et al. Genome-wide nucleosome positioning during embryonic stem cell development. Nat. Struct. Mol. Biol. 19, 1185–1192 (2012).

41.

Li, D.-Q. et al. MORC2 signaling integrates phosphorylation-dependent, ATPase-coupled chromatin remodeling during the DNA damage response. Cell Rep. 2, 1657–1669 (2012).

42.

Wadman, M. Closure of U.S. Toxoplasma lab draws ire. Science 364, 109 (2019).

43.

Bougdour, A. et al. Host cell subversion by Toxoplasma GRA16, an exported dense granule protein that targets the host cell nucleus and alters gene expression. Cell Host Microbe 13, 489–500 (2013).

44.

Sangaré, L. O. et al. Unconventional endosome-like compartment and retromer complex in Toxoplasma gondii govern parasite integrity and host infection. Nat. Commun. 7, 11191 (2016).

45.

Salvetti, A. et al. Nuclear functions of nucleolin through global proteomics and interactomic approaches. J. Proteome Res. 15, 1659–1669 (2016).

46.

Gajria, B. et al. ToxoDB: an integrated Toxoplasma gondii database resource. Nucleic Acids Res. 36, D553–D556 (2007).

47.

Tyanova, S., Temu, T. & Cox, J. The MaxQuant computational platform for mass spectrometry-based shotgun proteomics. Nat. Protoc. 11, 2301–2319 (2016).

48.

Wieczorek, S. et al. DAPAR & ProStaR: software to perform statistical analyses in quantitative discovery proteomics. Bioinformatics 33, 135–136 (2017).

49.

Chen, K. et al. DANPOS: dynamic analysis of nucleosome position and occupancy by sequencing. Genome Res. 23, 341–351 (2013).
Acknowledgements
We thank the developers of the ToxoDB.org Genome Resource. ToxoDB and EuPathDB are part of the National Institutes of Health/National Institutes of Allergy and Infectious Diseases (NIH/NIAID)-funded Bioinformatics Resource Center. We also thank G. Communie for his help computing Danpos software. This work was supported by the Laboratoire d'Excellence (LabEx) ParaFrap (grant no. ANR-11-LABX-0024), the Agence Nationale pour la Recherche (Project HostQuest, grant no. ANR-18-CE15-0023 and ProFI grant no. ANR-10-INSB-08-01), the European Research Council (ERC Consolidator grant no. 614880 Hosting TOXO to M.-A.H.) and Fondation pour la Recherche Médicale (FRM grant no. FDT201904008364 to D.C.F.).
Ethics declarations
Competing interests
The authors declare no competing interests.
Additional information
Publisher's note Springer Nature remains neutral with regard to jurisdictional claims in published maps and institutional affiliations.
Supplementary information
Source data
Unprocessed western blots and a silver-stained gel.
Unprocessed western blots.
Unprocessed western blots.
About this article
Cite this article
Farhat, D.C., Swale, C., Dard, C. et al. A MORC-driven transcriptional switch controls Toxoplasma developmental trajectories and sexual commitment. Nat Microbiol 5, 570–583 (2020). https://doi.org/10.1038/s41564-020-0674-4
Received:

Accepted:

Published:

Issue Date: