Abstract
MicroRNA miR-138, which is highly expressed in neurons, represses herpes simplex virus 1 (HSV-1) lytic cycle genes by targeting viral ICP0 messenger RNA, thereby promoting viral latency in mice. We found that overexpressed miR-138 also represses lytic processes independently of ICP0 in murine and human neuronal cells; therefore, we investigated whether miR-138 has targets besides ICP0. Using genome-wide RNA sequencing/photoactivatable ribonucleoside-enhanced crosslinking and immunoprecipitation followed by short interfering RNA knockdown of candidate targets, we identified the host Oct-1 and Foxc1 messenger mRNAs as miR-138's targets, whose gene products are transcription factors important for HSV-1 replication in neuronal cells. OCT-1 has a known role in the initiation of HSV transcription. Overexpression of FOXC1, which was not known to affect HSV-1, promoted HSV-1 replication in murine neurons and ganglia. CRISPR–Cas9 knockout of FOXC1 reduced viral replication, lytic gene expression and miR-138 repression in murine neuronal cells. FOXC1 also collaborated with ICP0 to decrease heterochromatin on viral genes and compensated for the defect of an ICP0-null virus. In summary, miR-138 targets ICP0, Oct-1 and Foxc1 to repress HSV-1 lytic cycle genes and promote epigenetic gene silencing, which together enable favourable conditions for latent infection.
This is a preview of subscription content
Access options
Subscribe to Journal
Get full journal access for 1 year
$119.00
only $9.92 per issue
All prices are NET prices.
VAT will be added later in the checkout.
Tax calculation will be finalised during checkout.
Rent or Buy article
Get time limited or full article access on ReadCube.
from$8.99
All prices are NET prices.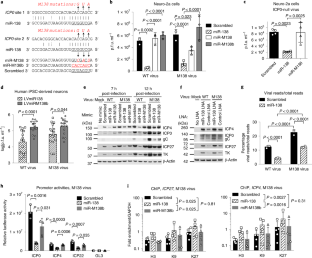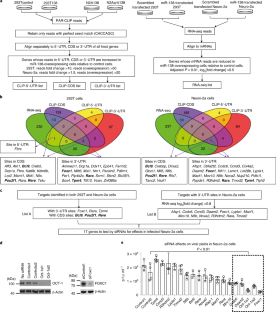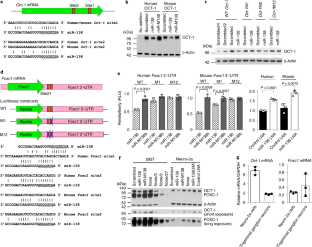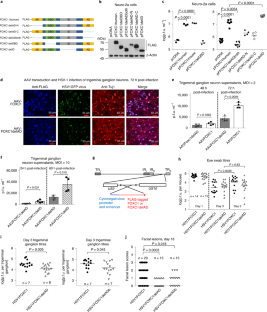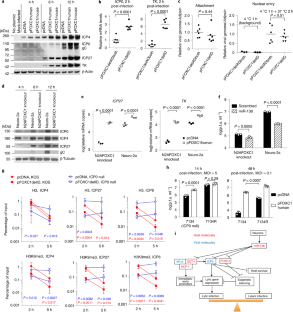 Data availability
Raw high-throughput sequencing data for RNA-seq (Figs. 1g and 3 and Extended Data Figs. 2 and 8b) and PAR-CLIP (Fig. 3 and Extended Data Fig. 5) experiments have been deposited with the Gene Expression Omnibus under accession no. GSE127504. The HSV-1 KOS strain genome sequence and annotation were obtained from GenBank with accession no. JQ673480.1. Human (hg19) and mouse (mm10) genome sequences and annotations were downloaded from the Harvard Medical School Research Computing server (https://rc.hms.harvard.edu). Source data are provided with this paper.
References
1.

Bartel, D. P. Metazoan microRNAs. Cell 173, 20–51 (2018).

2.

Ebert, M. S. & Sharp, P. A. Roles for microRNAs in conferring robustness to biological processes. Cell 149, 515–524 (2012).

3.

Guo, Y. E. & Steitz, J. A. Virus meets host microRNA: the destroyer, the booster, the hijacker. Mol. Cell. Biol. 34, 3780–3787 (2014).

4.

Bruscella, P. et al. Viruses and miRNAs: more friends than foes. Front. Microbiol. 8, 824 (2017).

5.

Girardi, E., López, P. & Pfeffer, S. On the importance of host microRNAs during viral infection. Front. Genet. 9, 439 (2018).

6.

Skalsky, R. L. & Cullen, B. R. Viruses, microRNAs, and host interactions. Annu. Rev. Microbiol. 64, 123–141 (2010).

7.

Roizman, B. et al. in Fields Virology 6th edn (eds Knipe, D.M. et al.) 1823–1897 (Lippincott Williams & Wilkins, 2013).

8.

Wysocka, J. & Herr, W. The herpes simplex virus VP16-induced complex: the makings of a regulatory switch. Trends Biochem. Sci. 28, 294–304 (2003).

9.

Nogueira, M. L., Wang, V. E. H., Tantin, D., Sharp, P. A. & Kristie, T. M. Herpes simplex virus infections are arrested in Oct-1-deficient cells. Proc. Natl Acad. Sci. USA 101, 1473–1478 (2004).

10.

Cai, W. & Schaffer, P. A. Herpes simplex virus type 1 ICP0 regulates expression of immediate-early, early, and late genes in productively infected cells. J. Virol. 66, 2904–2915 (1992).

11.

Lee, J. S., Raja, P. & Knipe, D. M. Herpesviral ICP0 protein promotes two waves of heterochromatin removal on an early viral promoter during lytic infection. mBio 7, e02007-15 (2016).

12.

Oh, J. & Fraser, N. W. Temporal association of the herpes simplex virus genome with histone proteins during a lytic infection. J. Virol. 82, 3530–3537 (2008).

13.

Cliffe, A. R. & Knipe, D. M. Herpes simplex virus ICP0 promotes both histone removal and acetylation on viral DNA during lytic infection. J. Virol. 82, 12030–12038 (2008).

14.

Herrera, F. J. & Triezenberg, S. J. VP16-dependent association of chromatin-modifying coactivators and underrepresentation of histones at immediate-early gene promoters during herpes simplex virus infection. J. Virol. 78, 9689–9696 (2004).

15.

Kwiatkowski, D. L., Thompson, H. W. & Bloom, D. C. The polycomb group protein Bmi1 binds to the herpes simplex virus 1 latent genome and maintains repressive histone marks during latency. J. Virol. 83, 8173–8181 (2009).

16.

Cliffe, A. R., Coen, D. M. & Knipe, D. M. Kinetics of facultative heterochromatin and polycomb group protein association with the herpes simplex viral genome during establishment of latent infection. mBio 4, e00590-12 (2013).

17.

Raja, P. et al. A herpesviral lytic protein regulates the structure of latent viral chromatin. mBio 7, e00633-16 (2016).

18.

Cliffe, A. R., Garber, D. A. & Knipe, D. M. Transcription of the herpes simplex virus latency-associated transcript promotes the formation of facultative heterochromatin on lytic promoters. J. Virol. 83, 8182–8190 (2009).

19.

Wang, Q.-Y. et al. Herpesviral latency-associated transcript gene promotes assembly of heterochromatin on viral lytic-gene promoters in latent infection. Proc. Natl Acad. Sci. USA 102, 16055–16059 (2005).

20.

Umbach, J. L. et al. MicroRNAs expressed by herpes simplex virus 1 during latent infection regulate viral mRNAs. Nature 454, 780–783 (2008).

21.

Jurak, I. et al. Numerous conserved and divergent microRNAs expressed by herpes simplex viruses 1 and 2. J. Virol. 84, 4659–4672 (2010).

22.

Kim, J. Y., Mandarino, A., Chao, M. V., Mohr, I. & Wilson, A. C. Transient reversal of episome silencing precedes VP16-dependent transcription during reactivation of latent HSV-1 in neurons. PLoS Pathog. 8, e1002540 (2012).

23.

Linderman, J. A. et al. Immune escape via a transient gene expression program enables productive replication of a latent pathogen. Cell Rep. 18, 1312–1323 (2017).

24.

Du, T., Zhou, G. & Roizman, B. HSV-1 gene expression from reactivated ganglia is disordered and concurrent with suppression of latency-associated transcript and miRNAs. Proc. Natl Acad. Sci. USA 108, 18820–18824 (2011).

25.

Thompson, R. L., Preston, C. M. & Sawtell, N. M. De novo synthesis of VP16 coordinates the exit from HSV latency in vivo. PLoS Pathog. 5, e1000352 (2009).

26.

Pan, D. et al. A neuron-specific host microRNA targets herpes simplex virus-1 ICP0 expression and promotes latency. Cell Host Microbe 15, 446–456 (2014).

27.

Bogerd, H. P. et al. Replication of many human viruses is refractory to inhibition by endogenous cellular microRNAs. J. Virol. 88, 8065–8076 (2014).

28.

Pan, D. & Coen, D. M. Quantification and analysis of thymidine kinase expression from acyclovir-resistant G-string insertion and deletion mutants in herpes simplex virus-infected cells. J. Virol. 86, 4518–4526 (2012).

29.

Cai, W. Z. & Schaffer, P. A. Herpes simplex virus type 1 ICP0 plays a critical role in the de novo synthesis of infectious virus following transfection of viral DNA. J. Virol. 63, 4579–4589 (1989).

30.

Pan, D. et al. Herpes simplex virus 1 lytic infection blocks microRNA (miRNA) biogenesis at the stage of nuclear export of pre-miRNAs. mBio 10, e02856-18 (2019).

31.

Haraguchi, T., Ozaki, Y. & Iba, H. Vectors expressing efficient RNA decoys achieve the long-term suppression of specific microRNA activity in mammalian cells. Nucleic Acids Res. 37, e43 (2009).

32.

Gilding, L. N. & Somervaille, T. C. P. The diverse consequences of FOXC1 deregulation in cancer. Cancers (Basel) 11, 184 (2019).

33.

Berry, F. B., Saleem, R. A. & Walter, M. A. FOXC1 transcriptional regulation is mediated by N- and C-terminal activation domains and contains a phosphorylated transcriptional inhibitory domain. J. Biol. Chem. 277, 10292–10297 (2002).

34.

Wang, W., Zhao, L.-J., Tan, Y.-X., Ren, H. & Qi, Z.-T. MiR-138 induces cell cycle arrest by targeting cyclin D3 in hepatocellular carcinoma. Carcinogenesis 33, 1113–1120 (2012).

35.

Sossey-Alaoui, K. & Plow, E. F. miR-138-mediated regulation of KINDLIN-2 expression modulates sensitivity to chemotherapeutics. Mol. Cancer Res. 14, 228–238 (2016).

36.

Huang, H. et al. MIR-138-5P inhibits the progression of prostate cancer by targeting FOXC1. Mol. Genet. Genomic Med. 8, e1193 (2020).

37.

Yu, C. et al. MicroRNA-138-5p regulates pancreatic cancer cell growth through targeting FOXC1. Cell. Oncol. (Dordr.) 38, 173–181 (2015).

38.

Bai, X. et al. Inhibition of lung cancer growth and metastasis by DHA and its metabolite, RvD1, through miR-138-5p/FOXC1 pathway. J. Exp. Clin. Cancer Res. 38, 479 (2019).

39.

Siegel, G. et al. A functional screen implicates microRNA-138-dependent regulation of the depalmitoylation enzyme APT1 in dendritic spine morphogenesis. Nat. Cell Biol. 11, 705–716 (2009).

40.

Wang, X. et al. MicroRNA-138 promotes tau phosphorylation by targeting retinoic acid receptor alpha. FEBS Lett. 589, 726–729 (2015).

41.

Yeh, Y.-M., Chuang, C.-M., Chao, K.-C. & Wang, L.-H. MicroRNA-138 suppresses ovarian cancer cell invasion and metastasis by targeting SOX4 and HIF-1α. Int. J. Cancer 133, 867–878 (2013).

42.

Acharya, M., Huang, L., Fleisch, V. C., Allison, W. T. & Walter, M. A. A complex regulatory network of transcription factors critical for ocular development and disease. Hum. Mol. Genet. 20, 1610–1624 (2011).

43.

Iwafuchi-Doi, M. et al. The pioneer transcription factor FoxA maintains an accessible nucleosome configuration at enhancers for tissue-specific gene activation. Mol. Cell 62, 79–91 (2016).

44.

O'Connor, C. M., Vanicek, J. & Murphy, E. A. Host microRNA regulation of human cytomegalovirus immediate early protein translation promotes viral latency. J. Virol. 88, 5524–5532 (2014).

45.

Trobaugh, D. W. et al. RNA viruses can hijack vertebrate microRNAs to suppress innate immunity. Nature 506, 245–248 (2014).

46.

Ruelas, D. S. et al. MicroRNA-155 reinforces HIV latency. J. Biol. Chem. 290, 13736–13748 (2015).

47.

Jopling, C. L., Yi, M., Lancaster, A. M., Lemon, S. M. & Sarnow, P. Modulation of hepatitis C virus RNA abundance by a liver-specific microRNA. Science 309, 1577–1581 (2005).

48.

Mulik, S. et al. Role of miR-132 in angiogenesis after ocular infection with herpes simplex virus. Am. J. Pathol. 181, 525–534 (2012).

49.

Bhela, S. et al. Critical role of microRNA-155 in herpes simplex encephalitis. J. Immunol. 192, 2734–2743 (2014).

50.

Ingle, H. et al. The microRNA miR-485 targets host and influenza virus transcripts to regulate antiviral immunity and restrict viral replication. Sci. Signal. 8, ra126 (2015).

51.

Sawtell, N. M. & Thompson, R. L. De novo herpes simplex virus VP16 expression gates a dynamic programmatic transition and sets the latent/lytic balance during acute infection in trigeminal ganglia. PLoS Pathog. 12, e1005877 (2016).

52.

Tal-Singer, R. et al. The transcriptional activation domain of VP16 is required for efficient infection and establishment of latency by HSV-1 in the murine peripheral and central nervous systems. Virology 259, 20–33 (1999).

53.

Stern, S., Tanaka, M. & Herr, W. The Oct-1 homoeodomain directs formation of a multiprotein-DNA complex with the HSV transactivator VP16. Nature 341, 624–630 (1989).

54.

Whitlow, Z. & Kristie, T. M. Recruitment of the transcriptional coactivator HCF-1 to viral immediate-early promoters during initiation of reactivation from latency of herpes simplex virus type 1. J. Virol. 83, 9591–9595 (2009).

55.

Kolb, G. & Kristie, T. M. Association of the cellular coactivator HCF-1 with the Golgi apparatus in sensory neurons. J. Virol. 82, 9555–9563 (2008).

56.

Elliott, G. & O'Hare, P. Equine herpesvirus 1 gene 12, the functional homologue of herpes simplex virus VP16, transactivates via octamer sequences in the equine herpesvirus IE gene promoter. Virology 213, 258–262 (1995).

57.

Katzenell, S., Cabrera, J. R., North, B. J. & Leib, D. A. Isolation, purification, and culture of primary murine sensory neurons. Methods Mol. Biol. 1656, 229–251 (2017).

58.

Ng, A. H. M. et al. A comprehensive library of human transcription factors for cell fate engineering. Nat. Biotechnol. https://doi.org/10.1038/s41587-020-0742-6 (2020).

59.

Tischer, B. K., von Einem, J., Kaufer, B. & Osterrieder, N. Two-step red-mediated recombination for versatile high-efficiency markerless DNA manipulation in Escherichia coli. Biotechniques 40, 191–197 (2006).

60.

Sen, J., Liu, X., Roller, R. & Knipe, D. M. Herpes simplex virus US3 tegument protein inhibits Toll-like receptor 2 signaling at or before TRAF6 ubiquitination. Virology 439, 65–73 (2013).

61.

Heckman, K. L. & Pease, L. R. Gene splicing and mutagenesis by PCR-driven overlap extension. Nat. Protoc. 2, 924–932 (2007).

62.

Sinani, D., Cordes, E., Workman, A., Thunuguntia, P. & Jones, C. Stress-induced cellular transcription factors expressed in trigeminal ganglionic neurons stimulate the herpes simplex virus 1 ICP0 promoter. J. Virol. 87, 13042–13047 (2013).

63.

Chen, S.-H. et al. Suppression of transcription factor early growth response 1 reduces herpes simplex virus lethality in mice. J. Clin. Invest. 118, 3470–3477 (2008).

64.

Pan, D., Pesola, J. M., Li, G., McCarron, S. & Coen, D. M. Mutations inactivating herpes simplex virus 1 microRNA miR-H2 do not detectably increase ICP0 gene expression in infected cultured cells or mouse trigeminal ganglia. J. Virol. 91, e02001-16 (2017).

65.

Gottwein, E. & Cullen, B. R. A human herpesvirus microRNA inhibits p21 expression and attenuates p21-mediated cell cycle arrest. J. Virol. 84, 5229–5237 (2010).

66.

Danan, C., Manickavel, S. & Hafner, M. PAR-CLIP: a method for transcriptome-wide identification of RNA binding protein interaction sites. Methods Mol. Biol. 1358, 153–173 (2016).

67.

Ran, F. A. et al. Genome engineering using the CRISPR-Cas9 system. Nat. Protoc. 8, 2281–2308 (2013).
Acknowledgements
We thank B. Cullen, C. Jones and S.-H. Chen for the generous provision of plasmids, K. Holton from Harvard Medical School Research Computing for help with the sequencing data analysis, and the Core Facility of Zhejiang University School of Medicine and the Biopolymers Facility at Harvard Medical School for expertise and instrument availability. This work was supported by the National Key R & D Program of China (no. 2017YFC1200204 to D.P.), National Natural Science Foundation of China (no. 81671993 to D.P.), Natural Science Foundation of Zhejiang Province, China (no. LR18H190001 to D.P.), National Institutes of Health (no. P01 AI098681 to D.M.C. and D.M.K.), a Harvard Medical School Dean's Initiative for Innovation Grant (D.M.K. and D.M.C.), a Natural Sciences and Engineering Research Council of Canada Postgraduate Fellowship and a Peter and Carolyn Lynch Foundation Fellowship (to A.H.M.N.), the National Human Genome Research Institute (no. RM1 HG008525 to G.M.C.) and the Blavatnik Biomedical Accelerator at Harvard University (to G.M.C.).
Ethics declarations
Competing interests
A.H.M.N. and G.M.C. are inventors on patent nos. WO2018049382 and WO2018204262 filed by the Presidents and Fellows of Harvard College. Full disclosure for G.M.C. is available on http://arep.med.harvard.edu/gmc/tech.html. A.H.M.N. and G.M.C. are co-founders and have equity in GC Therapeutics. Other authors declare no conflict of interest.
Additional information
Peer review information Nature Microbiology thanks the anonymous reviewers for their contribution to the peer review of this work.
Publisher's note Springer Nature remains neutral with regard to jurisdictional claims in published maps and institutional affiliations.
Supplementary information
Supplementary Tables 1–3.
About this article
Cite this article
Sun, B., Yang, X., Hou, F. et al. Regulation of host and virus genes by neuronal miR-138 favours herpes simplex virus 1 latency. Nat Microbiol 6, 682–696 (2021). https://doi.org/10.1038/s41564-020-00860-1
Received:

Accepted:

Published:

Issue Date: