The United Nations Sustainable Development Goals (SDGs) are being integrated into bioeconomy strategies around the world, including the European Green Deal. We highlight how microbiome-based innovations can contribute to policies that interface with the SDGs and argue that international cooperation in microbiome science is crucial for success.
This is a preview of subscription content
Access options
Subscribe to Journal
Get full journal access for 1 year
$119.00
only $9.92 per issue
All prices are NET prices.
VAT will be added later in the checkout.
Tax calculation will be finalised during checkout.
Rent or Buy article
Get time limited or full article access on ReadCube.
from$8.99
All prices are NET prices.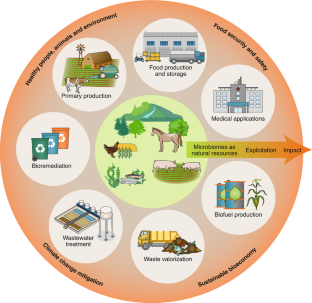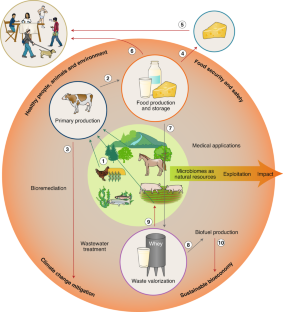 References
1.

A Sustainable Bioeconomy for Europe: Strengthening the Connection Between Economy, Society and the Environment (European Commission, 2018).

2.

Food 2030. European Commission http://go.nature.com/3b4Fs5x (accessed August 2020).

3.

Berg, G. et al. Microbiome 8, 103 (2020).

4.

Jiang, L.-L., Zhou, J.-J., Quan, C.-S. & Xiu, Z.-L. Bioresour. Bioprocess. 4, 11 (2017).

5.

Hussain, S. S., Mehnaz, S. & Siddique, K. H. M. in Plant Microbiome: Stress Response. Microorganisms for Sustainability Vol. 5 (eds Egamberdieva, D. & Ahmad, P.) 21–43 (Springer, 2018).

6.

Itelima, J., Bang, W., Sila, M., Onyimba, I. & Egbere, O. J. Microbiol. Biotechnol. Rep. 2, 22–28 (2018).

7.

Tamang, J. P. et al. Compr. Rev. Food Sci. Food Saf. 19, 184–217 (2020).

8.

Teng, Y. & Chen, W. Pedosphere 29, 283–297 (2019).

9.

Microbiome: The Missing Link? (FAO, 2019).

10.

Dittmann, K. K., Rasmussen, B. B., Castex, M., Gram, L. & Bentzon‐Tilia, M. Microb. Biotechnol. 10, 1279–1282 (2017).

11.

Martiny, J. B. H. et al. Nat. Microbiol. 5, 2–3 (2020).

12.

Małyska, A., Markakis, M. N., Pereira, C. F. & Cornelissen, M. Trends Biotechnol. 37, 1269–1272 (2019).

13.

Suneja, G., Nain, S. & Sharma, R. in Microbial Diversity in Ecosystem Sustainability and Biotechnological Applications (eds Satyanarayana, T. et al.) 615–630 (Springer, 2019).

14.

Climate Change Response (Zero Carbon) Amendment Act (Ministry for the Environment, 2019).

15.

Australia's climate change strategies. Australian Government Department of Industry, Science, Energy and Resources http://go.nature.com/38caCGo (accessed June 2020).
Acknowledgements
K.D., T.K., B.K.S., E.M., B.S. and A.S. have received funding from the European Union's H2020 Research and Innovation Programme under grant no. 818116 (MicrobiomeSupport).
Ethics declarations
Competing interests
The authors declare no competing interests.
About this article
Cite this article
D'Hondt, K., Kostic, T., McDowell, R. et al. Microbiome innovations for a sustainable future. Nat Microbiol 6, 138–142 (2021). https://doi.org/10.1038/s41564-020-00857-w
Further reading
Chao Xiong
Brajesh K. Singh
Li-Mei Zhang

Microbiome (2021)

Kjell Rune Jonassen
Live H. Hagen
Lars R. Bakken

The ISME Journal (2021)