Abstract
Highly selective gene expression is a key requirement for antigenic variation in several pathogens, allowing evasion of host immune responses and maintenance of persistent infections1. African trypanosomes—parasites that cause lethal diseases in humans and livestock—employ an antigenic variation mechanism that involves monogenic antigen expression from a pool of >2,600 antigen-coding genes2. In other eukaryotes, the expression of individual genes can be enhanced by mechanisms involving the juxtaposition of otherwise distal chromosomal loci in the three-dimensional nuclear space3,4,5. However, trypanosomes lack classical enhancer sequences or regulated transcription initiation6,7. In this context, it has remained unclear how genome architecture contributes to monogenic transcription elongation and transcript processing. Here, we show that the single expressed antigen-coding gene displays a specific inter-chromosomal interaction with a major messenger RNA splicing locus. Chromosome conformation capture (Hi-C) revealed a dynamic reconfiguration of this inter-chromosomal interaction upon activation of another antigen. Super-resolution microscopy showed the interaction to be heritable and splicing dependent. We found a specific association of the two genomic loci with the antigen exclusion complex, whereby VSG exclusion 1 (VEX1) occupied the splicing locus and VEX2 occupied the antigen-coding locus. Following VEX2 depletion, loss of monogenic antigen expression was accompanied by increased interactions between previously silent antigen genes and the splicing locus. Our results reveal a mechanism to ensure monogenic expression, where antigen transcription and messenger RNA splicing occur in a specific nuclear compartment. These findings suggest a new means of post-transcriptional gene regulation.
Relevant articles
Open Access articles citing this article.
Lara López-Escobar

,

Benjamin Hänisch

…

Keith Gull

Nature Microbiology Open Access 25 July 2022

James Budzak

,

Robert Jones

…

Gloria Rudenko

Nature Communications Open Access 10 January 2022
Access options
Subscribe to Nature+
Get immediate online access to the entire Nature family of 50+ journals
Subscribe to Journal
Get full journal access for 1 year
$119.00
only $9.92 per issue
All prices are NET prices.
VAT will be added later in the checkout.
Tax calculation will be finalised during checkout.
Buy article
Get time limited or full article access on ReadCube.
$32.00
All prices are NET prices.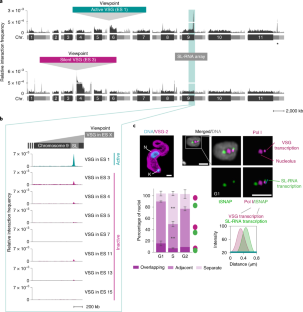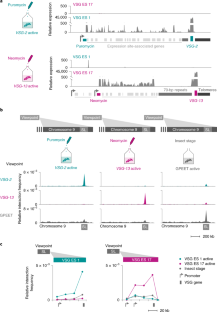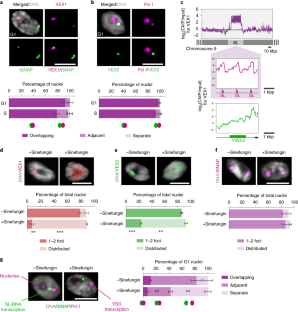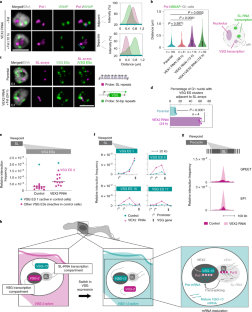 References
Deitsch, K. W., Lukehart, S. A. & Stringer, J. R. Common strategies for antigenic variation by bacterial, fungal and protozoan pathogens. Nat. Rev. Microbiol. 7, 493–503 (2009).

Horn, D. Antigenic variation in African trypanosomes. Mol. Biochem. Parasitol. 195, 123–129 (2014).

Bashkirova, E. & Lomvardas, S. Olfactory receptor genes make the case for inter-chromosomal interactions. Curr. Opin. Genet. Dev. 55, 106–113 (2019).

Dekker, J. & Mirny, L. The 3D genome as moderator of chromosomal communication. Cell 164, 1110–1121 (2016).

Schoenfelder, S. & Fraser, P. Long-range enhancer–promoter contacts in gene expression control. Nat. Rev. Genet. 20, 437–455 (2019).

Clayton, C. Regulation of gene expression in trypanosomatids: living with polycistronic transcription. Open Biol. 9, 190072 (2019).

Muller, L. S. M. et al. Genome organization and DNA accessibility control antigenic variation in trypanosomes. Nature 563, 121–125 (2018).

Aresta-Branco, F., Erben, E., Papavasiliou, F. N. & Stebbins, C. E. Mechanistic similarities between antigenic variation and antibody diversification during Trypanosoma brucei infection. Trends Parasitol. 35, 302–315 (2019).

Kassem, A., Pays, E. & Vanhamme, L. Transcription is initiated on silent variant surface glycoprotein expression sites despite monoallelic expression in Trypanosoma brucei. Proc. Natl Acad. Sci. USA 111, 8943–8948 (2014).

Vanhamme, L. et al. Differential RNA elongation controls the variant surface glycoprotein gene expression sites of Trypanosoma brucei. Mol. Microbiol. 36, 328–340 (2000).

Michaeli, S. Trans-splicing in trypanosomes: machinery and its impact on the parasite transcriptome. Future Microbiol. 6, 459–474 (2011).

Bertero, A. et al. Dynamics of genome reorganization during human cardiogenesis reveal an RBM20-dependent splicing factory. Nat. Commun. 10, 1538 (2019).

Khanna, N., Hu, Y. & Belmont, A. S. HSP70 transgene directed motion to nuclear speckles facilitates heat shock activation. Curr. Biol. 24, 1138–1144 (2014).

Navarro, M. & Gull, K. A pol I transcriptional body associated with VSG mono-allelic expression in Trypanosoma brucei. Nature 414, 759–763 (2001).

Budzak, J. et al. Dynamic colocalization of 2 simultaneously active VSG expression sites within a single expression-site body in Trypanosoma brucei. Proc. Natl Acad. Sci. USA 116, 16561–16570 (2019).

Chaves, I. et al. Subnuclear localization of the active variant surface glycoprotein gene expression site in Trypanosoma brucei. Proc. Natl Acad. Sci. USA 95, 12328–12333 (1998).

Glover, L., Hutchinson, S., Alsford, S. & Horn, D. VEX1 controls the allelic exclusion required for antigenic variation in trypanosomes. Proc. Natl Acad. Sci. USA 113, 7225–7230 (2016).

Faria, J. et al. Monoallelic expression and epigenetic inheritance sustained by a Trypanosoma brucei variant surface glycoprotein exclusion complex. Nat. Commun. 10, 3023 (2019).

Zheng, Y., Ay, F. & Keles, S. Generative modeling of multi-mapping reads with mHi-C advances analysis of Hi-C studies. eLife 8, e38070 (2019).

Hury, A., Goldshmidt, H., Tkacz, I. D. & Michaeli, S. Trypanosome spliced-leader-associated RNA (SLA1) localization and implications for spliced-leader RNA biogenesis. Eukaryot. Cell 8, 56–68 (2009).

Figueiredo, L. M., Janzen, C. J. & Cross, G. A. A histone methyltransferase modulates antigenic variation in African trypanosomes. PLoS Biol. 6, e161 (2008).

Takagi, Y., Sindkar, S., Ekonomidis, D., Hall, M. P. & Ho, C. K. Trypanosoma brucei encodes a bifunctional capping enzyme essential for cap 4 formation on the spliced leader RNA. J. Biol. Chem. 282, 15995–16005 (2007).

McNally, K. P. & Agabian, N. Trypanosoma brucei spliced-leader RNA methylations are required for trans splicing in vivo. Mol. Cell Biol. 12, 4844–4851 (1992).

Ullu, E. & Tschudi, C. Trans splicing in trypanosomes requires methylation of the 5′ end of the spliced leader RNA. Proc. Natl Acad. Sci. USA 88, 10074–10078 (1991).

Glover, L., Alsford, S. & Horn, D. DNA break site at fragile subtelomeres determines probability and mechanism of antigenic variation in African trypanosomes. PLoS Pathog. 9, e1003260 (2013).

Landeira, D., Bart, J. M., Van Tyne, D. & Navarro, M. Cohesin regulates VSG monoallelic expression in trypanosomes. J. Cell Biol. 186, 243–254 (2009).

Yang, X., Figueiredo, L. M., Espinal, A., Okubo, E. & Li, B. RAP1 is essential for silencing telomeric Variant Surface Glycoprotein genes in Trypanosoma brucei. Cell 137, 99–109 (2009).

Kornblihtt, A. R., de la Mata, M., Fededa, J. P., Munoz, M. J. & Nogues, G. Multiple links between transcription and splicing. RNA 10, 1489–1498 (2004).

Fiszbein, A., Krick, K. S., Begg, B. E. & Burge, C. B. Exon-mediated activation of transcription starts. Cell 179, 1551–1565 (2019).

De Lange, T. et al. Tandem repetition of the 5′ mini-exon of variant surface glycoprotein genes: a multiple promoter for VSG gene transcription? Cell 34, 891–900 (1983).

Hnisz, D., Shrinivas, K., Young, R. A., Chakraborty, A. K. & Sharp, P. A. A phase separation model for transcriptional control. Cell 169, 13–23 (2017).

Guo, Y. E. et al. Pol II phosphorylation regulates a switch between transcriptional and splicing condensates. Nature 572, 543–548 (2019).

Li, X. & Fu, X. D. Chromatin-associated RNAs as facilitators of functional genomic interactions. Nat. Rev. Genet. 20, 503–519 (2019).

Hondele, M. et al. DEAD-box ATPases are global regulators of phase-separated organelles. Nature 573, 144–148 (2019).

Alsford, S., Kawahara, T., Glover, L. & Horn, D. Tagging a T. brucei RRNA locus improves stable transfection efficiency and circumvents inducible expression position effects. Mol. Biochem. Parasitol. 144, 142–148 (2005).

Glover, L. et al. Genome-scale RNAi screens for high-throughput phenotyping in bloodstream-form African trypanosomes. Nat. Protoc. 10, 106–133 (2015).

Alsford, S. & Horn, D. Elongator protein 3b negatively regulates ribosomal DNA transcription in African trypanosomes. Mol. Cell Biol. 31, 1822–1832 (2011).

Berriman, M. et al. The genome of the African trypanosome Trypanosoma brucei. Science 309, 416–422 (2005).

Becker, M. et al. Isolation of the repertoire of VSG expression site containing telomeres of Trypanosoma brucei 427 using transformation-associated recombination in yeast. Genome Res. 14, 2319–2329 (2004).

Hertz-Fowler, C. et al. Telomeric expression sites are highly conserved in Trypanosoma brucei. PLoS ONE 3, e3527 (2008).

Kolev, N. G., Ramey-Butler, K., Cross, G. A., Ullu, E. & Tschudi, C. Developmental progression to infectivity in Trypanosoma brucei triggered by an RNA-binding protein. Science 338, 1352–1353 (2012).

Langmead, B. & Salzberg, S. L. Fast gapped-read alignment with Bowtie 2. Nat. Methods 9, 357–359 (2012).

Li, H. et al. The Sequence Alignment/Map format and SAMtools. Bioinformatics 25, 2078–2079 (2009).

Rutherford, K. et al. Artemis: sequence visualization and annotation. Bioinformatics 16, 944–945 (2000).

Gu, Z., Gu, L., Eils, R., Schlesner, M. & Brors, B. Circlize implements and enhances circular visualization in R. Bioinformatics 30, 2811–2812 (2014).

Ramirez, F. et al. deepTools2: a next generation web server for deep-sequencing data analysis. Nucleic Acids Res. 44, W160–W165 (2016).

Siegel, T. N., Hekstra, D. R. & Cross, G. A. Analysis of the Trypanosoma brucei cell cycle by quantitative DAPI imaging. Mol. Biochem. Parasitol. 160, 171–174 (2008).

Woodward, R. & Gull, K. Timing of nuclear and kinetoplast DNA replication and early morphological events in the cell cycle of Trypanosoma brucei. J. Cell Sci. 95, 49–57 (1990).

Park, J. H., Jensen, B. C., Kifer, C. T. & Parsons, M. A novel nucleolar G-protein conserved in eukaryotes. J. Cell Sci. 114, 173–185 (2001).

Barlow, A. L., Macleod, A., Noppen, S., Sanderson, J. & Guerin, C. J. Colocalization analysis in fluorescence micrographs: verification of a more accurate calculation of Pearson's correlation coefficient. Microsc. Microanal. 16, 710–724 (2010).

Schindelin, J. et al. Fiji: an open-source platform for biological-image analysis. Nat. Methods 9, 676–682 (2012).

Kraus, A. J., Brink, B. G. & Siegel, T. N. Efficient and specific oligo-based depletion of rRNA. Sci. Rep. 9, 12281 (2019).

Aslett, M. et al. TriTrypDB: a functional genomic resource for the Trypanosomatidae. Nucleic Acids Res. 38, D457–D462 (2010).

Li, H. & Durbin, R. Fast and accurate short read alignment with Burrows–Wheeler transform. Bioinformatics 25, 1754–1760 (2009).

Wedel, C., Forstner, K. U., Derr, R. & Siegel, T. N. GT-rich promoters can drive RNA pol II transcription and deposition of H2A.Z in African trypanosomes. EMBO J. 36, 2581–2594 (2017).

Imakaev, M. et al. Iterative correction of Hi-C data reveals hallmarks of chromosome organization. Nat. Methods 9, 999–1003 (2012).

Servant, N. et al. HiC-Pro: an optimized and flexible pipeline for Hi-C data processing. Genome Biol. 16, 259 (2015).
Acknowledgements
We thank the Dundee Imaging Facility and J. Rouse for access to the Zeiss 880 Airyscan and Leica Confocal SP8 HyVolution microscope, respectively, and S. Alsford (London School of Hygiene and Tropical Medicine) for the SNAP42 tagging construct. We thank N. Jones (Oxford Instruments) for advice on image analysis using Imaris 9.5. We thank R. Cosentino and all members of the Siegel, Ladurner, Meissner and Boshart laboratories for valuable discussion, T. Straub (Bioinformatics Core Facility, BMC) for providing server space and help with data analysis, and the Core Unit Systems Medicine, University of Würzburg for next-generation sequencing. This work was funded by a Wellcome Trust Investigator Award to D.H. (100320/Z/12/Z), the German Research Foundation (SI 1610/3-1 and 213249687—SFB 1064), the Center for Integrative Protein Science (CIPSM) and an ERC Starting Grant (3D_Tryps 715466) to T.N.S. The University of Dundee Imaging Facility is supported by the MRC Next Generation Optical Microscopy award (MR/K015869/1). L.S.M.M. was supported by a grant of the German Excellence Initiative to the Graduate School of Life Science, University of Würzburg.
Ethics declarations
Competing interests
The authors declare no competing interests.
Additional information
Peer review information Nature Microbiology thanks the anonymous reviewers for their contribution to the peer review of this work. Peer reviewer reports are available.
Publisher's note Springer Nature remains neutral with regard to jurisdictional claims in published maps and institutional affiliations.
Supplementary information
Sheet 1: ChIP-seq data for VEX1myc-expressing bloodstream-form T. brucei. Sheet 2: coordinates of the viewpoints used in the virtual 4C analyses. Sheet 3: oligos for DNA FISH probes.
About this article
Cite this article
Faria, J., Luzak, V., Müller, L.S.M. et al. Spatial integration of transcription and splicing in a dedicated compartment sustains monogenic antigen expression in African trypanosomes. Nat Microbiol 6, 289–300 (2021). https://doi.org/10.1038/s41564-020-00833-4
Received:

Accepted:

Published:

Issue Date:

DOI: https://doi.org/10.1038/s41564-020-00833-4