Commensal pneumococci convert invasive diseases to peaceful colonizers by commandeering the host nuclear KDM6B demethylase to mark NF-κB sites of the IL-11 cytokine promoter and increase epithelium repair.
Access options
Subscribe to Journal
Get full journal access for 1 year
$119.00
only $9.92 per issue
All prices are NET prices.
VAT will be added later in the checkout.
Tax calculation will be finalised during checkout.
Rent or Buy article
Get time limited or full article access on ReadCube.
from$8.99
All prices are NET prices.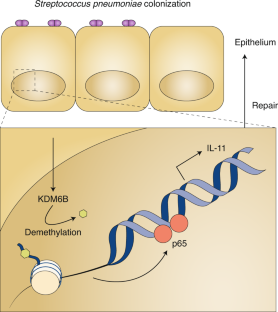 References
1.

Connor, M. G. et al. Nat. Microbiol. https://doi.org/10.1038/s41564-020-00805-8 (2020).

2.

Bierne, H. & Cossart, P. Cell. Microbiol. 14, 622–633 (2012).

3.

Rolando, M. et al. Cell. Microbiol. 17, 1098–1107 (2015).

4.

Grabiec, A. M. & Potempa, J. Crit. Rev. Microbiol. 44, 336–350 (2018).

5.

Mujtaba, S. et al. J. Biol. Chem. 288, 23458–23472 (2013).

6.

Silmon de Monerri, N. C. & Kim, K. Am. J. Pathol. 184, 897–911 (2014).

7.

Adhikari, S. & Curtis, P. D. FEMS Microbiol. Rev. 40, 575–591 (2016).

8.

Ciarlo, E., Savva, A. & Roger, T. Int. J. Antimicrob. Agents 42 (Suppl.), S8–12 (2013).
Ethics declarations
Competing interests
The author declares no competing interests.
About this article
Cite this article
Tuomanen, E.I. Commensal pneumococci go nuclear. Nat Microbiol 6, 143–144 (2021). https://doi.org/10.1038/s41564-020-00829-0