Abstract
We engineered Escherichia coli to grow on CO2 and formic acid alone by introducing the synthetic CO2 and formic acid assimilation pathway, expressing two formate dehydrogenase genes, fine-tuning metabolic fluxes and optimizing the levels of cytochrome bo3 and bd-I ubiquinol oxidase. Our engineered strain can grow to an optical density at 600 nm of 7.38 in 450 h, and shows promise as a platform strain growing on CO2 and formic acid alone.
Relevant articles
Open Access articles citing this article.
Nature Communications Open Access 11 December 2020
Access options
Subscribe to Nature+
Get immediate online access to Nature and 55 other Nature journal
Subscribe to Journal
Get full journal access for 1 year
$119.00
only $9.92 per issue
All prices are NET prices.
VAT will be added later in the checkout.
Tax calculation will be finalised during checkout.
Buy article
Get time limited or full article access on ReadCube.
$32.00
All prices are NET prices.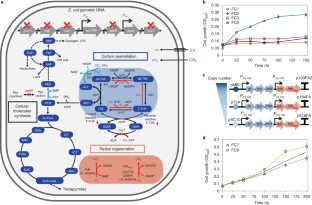 Data availability
Data supporting our work are available in the paper, Extended Data Figs. 1–8 and Supplementary Information. Further information and materials related to the findings of this study are available from the corresponding author upon reasonable request. Source data are provided with this paper.
References
Kumar, A. et al. Enhanced CO2 fixation and biofuel production via microalgae: recent developments and future directions. Trends Biotechnol. 28, 371–380 (2010).

Singh, A. K., Kishore, G. M. & Pakrasi, H. B. Emerging platforms for co-utilization of one-carbon substrates by photosynthetic organisms. Curr. Opin. Biotechnol. 53, 201–208 (2018).

Tashiro, Y., Hirano, S., Matson, M. M., Atsumi, S. & Kondo, A. Electrical-biological hybrid system for CO2 reduction. Metab. Eng. 47, 211–218 (2018).

Yishai, O., Bouzon, M., Döring, V. & Bar-Even, A. In vivo assimilation of one-carbon via a synthetic reductive glycine pathway in Escherichia coli. ACS Synth. Biol. 7, 2023–2028 (2018).

Döring, V., Darii, E., Yishai, O., Bar-Even, A. & Bouzon, M. Implementation of a reductive route of one-carbon assimilation in Escherichia coli through directed evolution. ACS Synth. Biol. 7, 2029–2036 (2018).

Innocent, B. et al. Electro-reduction of carbon dioxide to formate on lead electrode in aqueous medium. J. Appl. Electrochem. 39, 227 (2009).

Agarwal, A. S., Zhai, Y., Hill, D. & Sridhar, N. The electrochemical reduction of carbon dioxide to formate/formic acid: engineering and economic feasibility. ChemSusChem 4, 1301–1310 (2011).

Boddien, A. et al. CO2-"neutral" hydrogen storage based on bicarbonates and formates. Angew. Chem. Int. Ed. 50, 6411–6414 (2011).

Bang, J. & Lee, S. Y. Assimilation of formic acid and CO2 by engineered Escherichia coli equipped with reconstructed one-carbon assimilation pathways. Proc. Natl Acad. Sci. USA 115, E9271–E9279 (2018).

Gleizer, S. et al. Conversion of Escherichia coli to generate all biomass carbon from CO2. Cell 179, 1255–1263 (2019).

Kim, S. et al. Growth of E. coli on formate and methanol via the reductive glycine pathway. Nat. Chem. Biol. 16, 538–545 (2020).

Jeong, K. J. & Lee, S. Y. Enhanced production of recombinant proteins in Escherichia coli by filamentation suppression. Appl. Environ. Microbiol. 69, 1295–1298 (2003).

Gibson, D. G. et al. Enzymatic assembly of DNA molecules up to several hundred kilobases. Nat. Methods 6, 343–345 (2009).

Song, C. W. & Lee, S. Y. Rapid one-step inactivation of single or multiple genes in Escherichia coli. Biotechnol. J. 8, 776–784 (2013).
Acknowledgements
We thank J. S. Cho at Systems Metabolic Engineering and Systems Healthcare Cross-Generation Collaborative Laboratory of KAIST for valuable advice during manuscript preparation. This work was supported by the C1 Gas Refinery Program through the National Research Foundation of Korea (NRF) funded by the Ministry of Science and ICT (NRF-2016M3D3A1A01913250).
Ethics declarations
Competing interests
The authors declare that they have competing financial interests as the work described in this paper is covered by patents filed including, but not limited to, KR1020200086811, KR102000755, US16472876, DE112017006592.5, CN201780084543.8 and IL267579, and is of commercial interest.
Additional information
Publisher's note Springer Nature remains neutral with regard to jurisdictional claims in published maps and institutional affiliations.
Peer review information Peer reviewer reports are available.
Supplementary information
Supplementary Tables 1 and 2, Notes 1–10 and discussion.
About this article
Cite this article
Bang, J., Hwang, C.H., Ahn, J.H. et al. Escherichia coli is engineered to grow on CO2 and formic acid. Nat Microbiol 5, 1459–1463 (2020). https://doi.org/10.1038/s41564-020-00793-9
Received:

Accepted:

Published:

Issue Date:

DOI: https://doi.org/10.1038/s41564-020-00793-9