Abstract
Spatial metabolomics describes the location and chemistry of small molecules involved in metabolic phenotypes, defence molecules and chemical interactions in natural communities. Most current techniques are unable to spatially link the genotype and metabolic phenotype of microorganisms in situ at a scale relevant to microbial interactions. Here, we present a spatial metabolomics pipeline (metaFISH) that combines fluorescence in situ hybridization (FISH) microscopy and high-resolution atmospheric-pressure matrix-assisted laser desorption/ionization mass spectrometry to image host–microbe symbioses and their metabolic interactions. The metaFISH pipeline aligns and integrates metabolite and fluorescent images at the micrometre scale to provide a spatial assignment of host and symbiont metabolites on the same tissue section. To illustrate the advantages of metaFISH, we mapped the spatial metabolome of a deep-sea mussel and its intracellular symbiotic bacteria at the scale of individual epithelial host cells. Our analytical pipeline revealed metabolic adaptations of the epithelial cells to the intracellular symbionts and variation in metabolic phenotypes within a single symbiont 16S rRNA phylotype, and enabled the discovery of specialized metabolites from the host–microbe interface. metaFISH provides a culture-independent approach to link metabolic phenotypes to community members in situ and is a powerful tool for microbiologists across fields.
Relevant articles
Open Access articles citing this article.
Zhe Liu

,

Neha Parveen

…

Prashant Kesharwani

Molecular Cancer Open Access 12 January 2023

Jiwoon Park

,

Junbum Kim

…

Christopher E. Mason

Genome Biology Open Access 13 December 2022

Rebekka S. Janke

,

Filip Kaftan

…

Laura V. Flórez

The ISME Journal Open Access 02 September 2022
Access options
Subscribe to Nature+
Get immediate online access to Nature and 55 other Nature journal
Subscribe to Journal
Get full journal access for 1 year
$119.00
only $9.92 per issue
All prices are NET prices.
VAT will be added later in the checkout.
Tax calculation will be finalised during checkout.
Buy article
Get time limited or full article access on ReadCube.
$32.00
All prices are NET prices.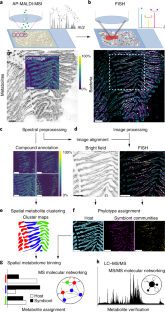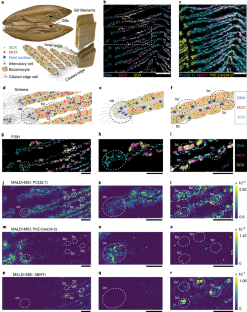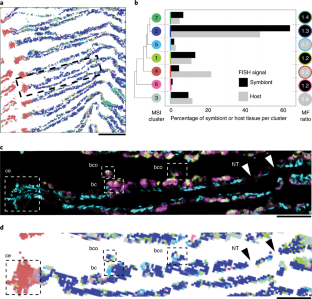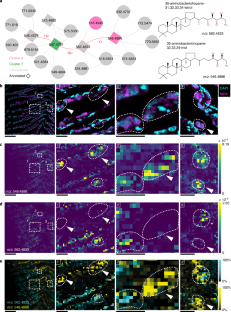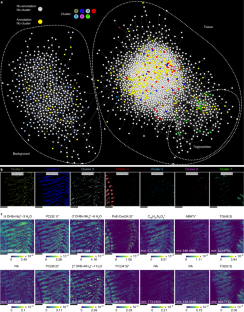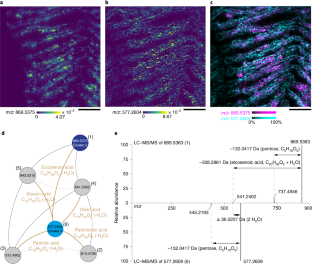 References
Cleary, J. L., Condren, A. R., Zink, K. E. & Sanchez, L. M. Calling all hosts: bacterial communication in situ. Chem. 2, 334–358 (2017).

Song, C. X. et al. Molecular and chemical dialogues in bacteria–protozoa interactions. Sci. Rep. 5, 12837 (2015).

Garg, N. et al. Spatial molecular architecture of the microbial community of a peltigera lichen. mSystems 1, e00139-16 (2016).

Chagas, F. O., Pessotti, R. D., Caraballo-Rodriguez, A. M. & Pupo, M. T. Chemical signaling involved in plant–microbe interactions. Chem. Soc. Rev. 47, 1652–1704 (2018).

Dubilier, N., Bergin, C. & Lott, C. Symbiotic diversity in marine animals: the art of harnessing chemosynthesis. Nat. Rev. Microbiol. 6, 725–740 (2008).

Belin, B. J. et al. Hopanoid lipids: from membranes to plant–bacteria interactions. Nat. Rev. Microbiol. 16, 304–315 (2018).

Kroiss, J. et al. Symbiotic streptomycetes provide antibiotic combination prophylaxis for wasp offspring. Nat. Chem. Biol. 6, 261–263 (2010).

Login, F. H. et al. Antimicrobial peptides keep insect endosymbionts under control. Science 334, 362–365 (2011).

Finlay, B. B. & McFadden, G. Anti-immunology: evasion of the host immune system by bacterial and viral pathogens. Cell 124, 767–782 (2006).

Nyholm, S. V. & Graf, J. Knowing your friends: invertebrate innate immunity fosters beneficial bacterial symbioses. Nat. Rev. Microbiol. 10, 815–827 (2012).

Dunham, S. J. B., Ellis, J. F., Li, B. & Sweedler, J. V. Mass spectrometry imaging of complex microbial communities. Accounts Chem. Res. 50, 96–104 (2017).

Watrous, J. D. & Dorrestein, P. C. Imaging mass spectrometry in microbiology. Nat. Rev. Microbiol. 9, 683–694 (2011).

Brunetti, A. E. et al. An integrative omics perspective for the analysis of chemical signals in ecological interactions. Chem. Soc. Rev. 47, 1574–1591 (2018).

Ackermann, M. A functional perspective on phenotypic heterogeneity in microorganisms. Nat. Rev. Microbiol. 13, 497–508 (2015).

Phelan, V. V., Liu, W. T., Pogliano, K. & Dorrestein, P. C. Microbial metabolic exchange—the chemotype-to-phenotype link. Nat. Chem. Biol. 8, 26–35 (2012).

Shank, E. A. Considering the lives of microbes in microbial communities. mSystems 3, e00155-17 (2018).

Kaltenpoth, M., Strupat, K. & Svatos, A. Linking metabolite production to taxonomic identity in environmental samples by (MA)LDI-FISH. ISME J. 10, 527–531 (2016).

Dorrestein, P. C., Mazmanian, S. K. & Knight, R. Finding the missing links among metabolites, microbes, and the host. Immunity 40, 824–832 (2014).

Tropini, C., Earle, K. A., Huang, K. C. & Sonnenburg, J. L. The gut microbiome: connecting spatial organization to function. Cell Host Microbe 21, 433–442 (2017).

Passarelli, M. K. et al. The 3D OrbiSIMS-label-free metabolic imaging with subcellular lateral resolution and high mass-resolving power. Nat. Methods 14, 1175–1183 (2017).

Amann, R. I. et al. Combination of 16S rRNA-targeted oligonucleotide probes with flow cytometry for analyzing mixed microbial populations. Appl. Environ. Microbiol. 56, 1919–1925 (1990).

Welch, J. L. M., Hasegawa, Y., McNulty, N. P., Gordon, J. I. & Borisy, G. G. Spatial organization of a model 15-member human gut microbiota established in gnotobiotic mice. Proc. Natl Acad. Sci. USA 114, E9105–E9114 (2017).

Musat, N. et al. A single-cell view on the ecophysiology of anaerobic phototrophic bacteria. Proc. Natl Acad. Sci. USA 105, 17861–17866 (2008).

Dekas, A. E., Poretsky, R. S. & Orphan, V. J. Deep-sea archaea fix and share nitrogen in methane-consuming microbial consortia. Science 326, 422–426 (2009).

Soltwisch, J. et al. Mass spectrometry imaging with laser-induced postionization. Science 348, 211–215 (2015).

Zavalin, A., Yang, J., Hayden, K., Vestal, M. & Caprioli, R. M. Tissue protein imaging at 1 µm laser spot diameter for high spatial resolution and high imaging speed using transmission geometry MALDI TOF MS. Anal. Bioanal. Chem. 407, 2337–2342 (2015).

Kompauer, M., Heiles, S. & Spengler, B. Atmospheric pressure MALDI mass spectrometry imaging of tissues and cells at 1.4-µm lateral resolution. Nat. Methods 14, 90–96 (2017).

Kompauer, M., Heiles, S. & Spengler, B. Autofocusing MALDI mass spectrometry imaging of tissue sections and 3D chemical topography of nonflat surfaces. Nat. Methods 14, 1156–1158 (2017).

Spengler, B., Hubert, M. & Kaufmann, R. Maldi ion imaging and biological ion imaging with a new scanning UV-laser microprobe. J. Am. Soc. Mass Spectr. 42, abstr. 1041 (1994).

Caprioli, R. M., Farmer, T. B. & Gile, J. Molecular imaging of biological samples: localization of peptides and proteins using MALDI–TOF MS. Anal. Chem. 69, 4751–4760 (1997).

Spengler, B. & Hubert, M. Scanning microprobe matrix-assisted laser desorption ionization (SMALDI) mass spectrometry: instrumentation for sub-micrometer resolved LDI and MALDI surface analysis. J. Am. Soc. Mass. Spectrom. 13, 735–748 (2002).

Lackner, G., Peters, E. E., Helfrich, E. J. N. & Piel, J. Insights into the lifestyle of uncultured bacterial natural product factories associated with marine sponges. Proc. Natl Acad. Sci. USA 114, E347–E356 (2017).

Gould, A. L. et al. Microbiome interactions shape host fitness. Proc. Natl Acad. Sci. USA 115, E11951–E11960 (2018).

Duperron, S. et al. A dual symbiosis shared by two mussel species, Bathymodiolus azoricus and Bathymodiolus puteoserpentis (Bivalvia: Mytilidae), from hydrothermal vents along the northern Mid-Atlantic ridge. Environ. Microbiol. 8, 1441–1447 (2006).

Petersen, J. M. et al. Hydrogen is an energy source for hydrothermal vent symbioses. Nature 476, 176–180 (2011).

Goodwin, R. J. A. Sample preparation for mass spectrometry imaging: small mistakes can lead to big consequences. J. Proteomics 75, 4893–4911 (2012).

Spengler, B., Kompauer, M. & Heiles, S. AP-MALDI MSI of Lipids in Mouse Brain Tissue Sections https://protocolexchange.researchsquare.com/article/nprot-5227/v1 (2017).

Geier, B. et al. Spatial metabolomics of in situ, host-microbe interactions (practical guide for combining MALDI-MSI and FISH microscopy on the same section) protocols.io https://www.protocols.io/view/spatial-metabolomics-of-in-situ-host-microbe-inter-6jchciw (2019).

Spengler, B., Kompauer, M. & Heiles, S. Chemical and Topographical 3D Surface Profiling Using Atmospheric Pressure LDI and MALDI MS Imaging. Protocol Exchange https://protocolexchange.researchsquare.com/article/nprot-6131/v1 (2017).

Bemis, K. D. et al. Probabilistic segmentation of mass spectrometry (MS) images helps select important ions and characterize confidence in the resulting segments. Mol. Cell Proteomics 15, 1761–1772 (2016).

Alexandrov, T. & Bartels, A. Testing for presence of known and unknown molecules in imaging mass spectrometry. Bioinformatics 29, 2335–2342 (2013).

Romero Picazo, D. et al. Horizontally transmitted symbiont populations in deep-sea mussels are genetically isolated. ISME J. 13, 2954–2968 (2019).

Ansorge, R. et al. Functional diversity enables multiple symbiont strains to coexist in deep-sea mussels. Nat. Microbiol. 4, 2487–2497 (2019).

Burgess, K. E. V., Borutzki, Y., Rankin, N., Daly, R. & Jourdan, F. MetaNetter 2: a cytoscape plugin for ab initio network analysis and metabolite feature classification. J. Chromatogr. B 1071, 68–74 (2017).

Kharbush, J. J., Ugalde, J. A., Hogle, S. L., Allen, E. E. & Aluwihare, L. I. Composite bacterial hopanoids and their microbial producers across oxygen gradients in the water column of the California current. Appl. Environ. Microbiol. 79, 7491–7501 (2013); erratum 80, 3283 (2014).

Szafranski, K. M., Piquet, B., Shillito, B., Lallier, F. H. & Duperron, S. Relative abundances of methane- and sulfur-oxidizing symbionts in gills of the deep-sea hydrothermal vent mussel Bathymodiolus azoricus under pressure. Deep Sea Res. Pt I 101, 7–13 (2015).

Assie, A. et al. A specific and widespread association between deep-sea Bathymodiolus mussels and a novel family of Epsilonproteobacteria. Env. Microbiol. Rep. 8, 805–813 (2016).

Alexandrov, T. et al. METASPACE: a community-populated knowledge base of spatial metabolomes in health and disease. Preprint at https://www.biorxiv.org/content/10.1101/539478v1 (2019).

Geiger, O., Lopez-Lara, I. M. & Sohlenkamp, C. Phosphatidylcholine biosynthesis and function in bacteria. Biochim. Biophys. Acta 1831, 503–513 (2013).

Alvarez, H. M. & Steinbuchel, A. Triacylglycerols in prokaryotic microorganisms. Appl. Microbiol. Biotechnol. 60, 367–376 (2002).

Yoon, K., Han, D. X., Li, Y. T., Sommerfeld, M. & Hu, Q. Phospholipid:diacylglycerol acyltransferase is a multifunctional enzyme involved in membrane lipid turnover and degradation while synthesizing triacylglycerol in the unicellular green microalga Chlamydomonas reinhardtii. Plant Cell 24, 3708–3724 (2012).

Barry, J. P. et al. Methane-based symbiosis in a mussel, Bathymodiolus platifrons, from cold seeps in Sagami Bay, Japan. Invertebr. Biol. 121, 47–54 (2002).

Villarreal-Chiu, J. F., Quinn, J. P. & McGrath, J. W. The genes and enzymes of phosphonate metabolism by bacteria, and their distribution in the marine environment. Front. Microbiol. 3, 19 (2012).

Martinez, A., Tyson, G. W. & DeLong, E. F. Widespread known and novel phosphonate utilization pathways in marine bacteria revealed by functional screening and metagenomic analyses. Environ. Microbiol. 12, 222–238 (2010).

Kellermann, M. Y. et al. Symbiont–host relationships in chemosynthetic mussels: a comprehensive lipid biomarker study. Org. Geochem. 43, 112–124 (2012).

Assie, A. et al. Horizontal acquisition of a patchwork Calvin cycle by symbiotic and free-living Campylobacterota (formerly Epsilonproteobacteria). ISME J. 14, 104–122 (2020).

Simmons, T. L. et al. Biosynthetic origin of natural products isolated from marine microorganism–invertebrate assemblages. Proc. Natl Acad. Sci. USA 105, 4587–4594 (2008).

Esquenazi, E. et al. Visualizing the spatial distribution of secondary metabolites produced by marine cyanobacteria and sponges via MALDI–TOF imaging. Mol. Biosyst. 4, 562–570 (2008).

Thubaut, J., Puillandre, N., Faure, B., Cruaud, C. & Samadi, S. The contrasted evolutionary fates of deep-sea chemosynthetic mussels (Bivalvia, Bathymodiolinae). Ecol. Evol. 3, 4748–4766 (2013).

Tavormina, P. L. et al. Methyloprofundus sedimenti gen. nov., sp nov., an obligate methanotroph from ocean sediment belonging to the 'deep sea-1' clade of marine methanotrophs. Int. J. Syst. Evol. Microbiol. 65, 251–259 (2015).

Wang, M. X. et al. Sharing and community curation of mass spectrometry data with global natural products social molecular networking. Nat. Biotechnol. 34, 828–837 (2016).

Barrero-Canosa, J., Moraru, C., Zeugner, L., Fuchs, B. M. & Amann, R. Direct-geneFISH: a simplified protocol for the simultaneous detection and quantification of genes and rRNA in microorganisms. Environ. Microbiol. 19, 70–82 (2017).

Yamaguchi, T. et al. In situ DNA-hybridization chain reaction (HCR): a facilitated in situ HCR system for the detection of environmental microorganisms. Environ. Microbiol. 17, 2532–2541 (2015).

Stewart, G. R., Robertson, B. D. & Young, D. B. Tuberculosis: a problem with persistence. Nat. Rev. Microbiol. 1, 97–105 (2003).

Folkesson, A. et al. Adaptation of Pseudomonas aeruginosa to the cystic fibrosis airway: an evolutionary perspective. Nat. Rev. Microbiol. 10, 841–851 (2012).

Duperron, S. et al. Dual symbiosis in a Bathymodiolus sp mussel from a methane seep on the Gabon continental margin (southeast Atlantic): 16S rRNA phylogeny and distribution of the symbionts in gills. Appl. Environ. Microbiol. 71, 1694–1700 (2005).

Pernthaler, A., Pernthaler, J. & Amann, R. Fluorescence in situ hybridization and catalyzed reporter deposition for the identification of marine bacteria. Appl. Environ. Microbiol. 68, 3094–3101 (2002).

Stoecker, K., Dorninger, C., Daims, H. & Wagner, M. Double labeling of oligonucleotide probes for fluorescence in situ hybridization (DOPE-FISH) improves signal intensity and increases rRNA accessibility. Appl. Environ. Microbiol. 76, 922–926 (2010).

Wallner, G., Amann, R. & Beisker, W. Optimizing fluorescent insitu hybridization with rRNA-targeted oligonucleotide probes for flow cytometric identification of microorganisms. Cytometry 14, 136–143 (1993).

Rueden, C. T. et al. ImageJ2: ImageJ for the next generation of scientific image data. BMC Bioinformatics 18, 529 (2017).

Verbeeck, N. et al. Connecting imaging mass spectrometry and magnetic resonance imaging-based anatomical atlases for automated anatomical interpretation and differential analysis. Biochim. Biophys. Acta 1865, 967–977 (2017).

Chambers, M. C. et al. A cross-platform toolkit for mass spectrometry and proteomics. Nat. Biotechnol. 30, 918–920 (2012).

Race, A. M., Styles, I. B. & Bunch, J. Inclusive sharing of mass spectrometry imaging data requires a converter for all. J. Proteomics 75, 5111–5112 (2012).

Bemis, K. D. et al. Cardinal: an R package for statistical analysis of mass spectrometry-based imaging experiments. Bioinformatics 31, 2418–2420 (2015).

Dixon, P. VEGAN, a package of R functions for community ecology. J. Veg. Sci. 14, 927–930 (2003).

Shannon, P. et al. Cytoscape: a software environment for integrated models of biomolecular interaction networks. Genome Res. 13, 2498–2504 (2003).

Breitkopf, S. B. et al. A relative quantitative positive/negative ion switching method for untargeted lipidomics via high resolution LC-MS/MS from any biological source. Metabolomics 13, 30 (2017).

Sumner, L. W. et al. Proposed minimum reporting standards for chemical analysis. Metabolomics 3, 211–221 (2007).

Viant, M. R., Kurland, I. J., Jones, M. R. & Dunn, W. B. How close are we to complete annotation of metabolomes? Curr. Opin. Chem. Biol. 36, 64–69 (2017).

Wishart, D. S. et al. HMDB 4.0: the human metabolome database for 2018. Nucleic Acids Res. 46, D608–D617 (2018).

Hastings, J. et al. ChEBI in 2016: improved services and an expanding collection of metabolites. Nucleic Acids Res. 44, D1214–D1219 (2016).

Smith, C. A. et al. METLIN: a metabolite mass spectral database. Ther. Drug Monit. 27, 747–751 (2005).

Palmer, A. et al. FDR-controlled metabolite annotation for high-resolution imaging mass spectrometry. Nat. Methods 14, 57–60 (2017).

Fernandez, R., Kvist, S., Lenihan, J., Giribet, G. & Ziegler, A. Sine systemate chaos? A versatile tool for earthworm taxonomy: non-destructive imaging of freshly fixed and museum specimens using micro-computed tomography. PLoS ONE 9, e96617 (2014).

Limaye, A. Drishti: a volume exploration and presentation tool. In Proc. of SPIE 8506, Developments in X-Ray Tomography VIII 85060X (2012).

Haug, K. et al. MetaboLights-an open-access general-purpose repository for metabolomics studies and associated meta-data. Nucleic Acids Res. 41, D781–D786 (2013).
Acknowledgements
We would like to thank the crew and captains of the scientific vessels Meteor (M64 M114 M126), Nautilus (Na 58), Sonne (SO253) and Atlantis (AT26–10, AT21-02) and their ROV pilots that helped us collect our extensive sample set of mussel species. We thank M. Á. González Porras for advice during FISH experiments, M. Ücker for support in the laboratory, C. Borowski for sample collection and S. Markert for providing the Bathymodiolus thermophilus samples used for LC–MS/MS. We thank B. Ruthensteiner for providing access to the micro computed tomography set-up at the Bavarian State Collection of Zoology in Munich, Germany. We thank M. Witt from Bruker Daltonik for the exact mass measurements using scimaX MRMS. We thank J. Tebben (University of Bremen) for help with attempts to purify the group of specialized metabolites. We thank D. Tasdemir (GEOMAR Helmholtz-Zentrum für Ozeanforschung Kiel) for searches in MarinLit and the laboratory of L. Sanchez (University of Illinois at Chicago) for constructive feedback on the preprint. We would also like to thank R. Naisbit for editing and commenting on the manuscript. This work was funded by the Max Planck Society, the DFG Cluster of Excellence 'The Ocean in the Earth System' at MARUM (University of Bremen), a Gordon and Betty Moore Foundation Marine Microbiology Initiative Investigator Award through grant GBMF3811 to N.D., and a European Research Council Advanced Grant (BathyBiome, grant 340535). For instrumental development, financial support by the Deutsche Forschungsgemeinschaft, DFG under grant Sp314/13-1, is gratefully acknowledged.
Ethics declarations
Competing interests
B.S. is a consultant at and M.K. is an employee of TransMIT GmbH, Giessen, Germany. All other authors declare no conflicts of interest.
Additional information
Publisher's note Springer Nature remains neutral with regard to jurisdictional claims in published maps and institutional affiliations.
Supplementary information
Supplementary Notes 1–3, Supplementary Figs. 1–33 and Supplementary Tables 1–9 (excluding 2, 4 and 8).
Supplementary Tables 2, 4 and 8.
About this article
Cite this article
Geier, B., Sogin, E.M., Michellod, D. et al. Spatial metabolomics of in situ host–microbe interactions at the micrometre scale. Nat Microbiol 5, 498–510 (2020). https://doi.org/10.1038/s41564-019-0664-6
Received:

Accepted:

Published:

Issue Date:

DOI: https://doi.org/10.1038/s41564-019-0664-6