Metabolic adaptation plays a key role in determining the composition of microbial ecosystems. A new study shows that in the inflamed gut, pathogenic Enterobacteriaceae can reprogramme their metabolism towards diet-derived l-serine utilization to outcompete the resident microbiota and cause disease.
This is a preview of subscription content
Access options
Subscribe to Journal
Get full journal access for 1 year
$119.00
only $9.92 per issue
All prices are NET prices.
VAT will be added later in the checkout.
Tax calculation will be finalised during checkout.
Rent or Buy article
Get time limited or full article access on ReadCube.
from$8.99
All prices are NET prices.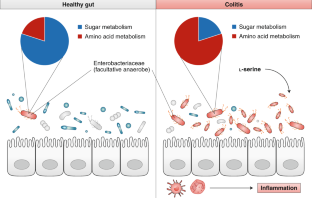 References
1.

Brestoff, J. R. & Artis, D. Nat. Immunol. 14, 767–684 (2014).

2.

Winter, S. E. & Baumler, A. J. Gut Microbes 5, 71–73 (2014).

3.

Shin, N. R., Whon, T. W. & Bae, J. W. Trends Biotechnol. 33, 496–503 (2015).

4.

Darfeuille-Michaud, A. et al. Gastroenterology 115, 1405–1413 (1998).

5.

Kitamoto, S. et al. Nat. Microbiol. https://doi.org/10.1038/s41564-019-0591-6 (2019).

6.

Chang, D. E. et al. Proc. Natl Acad. Sci. USA 101, 7427–7432 (2004).

7.

Faber, F. & Baumler, A. J. Immunol. Lett. 162, 48–53 (2014).

8.

Nuccio, S.-P. & Baumler, A. J. mBio 5, e00929-14 (2014).
Ethics declarations
Competing interests
The authors declare no competing interests.
About this article
Cite this article
Yoo, W., Byndloss, M.X. How to thrive in the inflamed gut. Nat Microbiol 5, 10–11 (2020). https://doi.org/10.1038/s41564-019-0642-z
Further reading
Digestive Diseases and Sciences (2020)