Abstract
The microbiota primes immune defences but the identity of specific commensal microorganisms that protect against infection is unclear. Conversely, how pathogens compete with the microbiota to establish their host niche is also poorly understood. In the present study, we investigate the antagonism between the microbiota and Klebsiella pneumoniae during colonization and transmission. We discover that maturation of the microbiota drives the development of distinct immune defence programmes in the upper airways and intestine to limit K. pneumoniae colonization within these niches. Immune protection in the intestine depends on the development of Bacteroidetes, interleukin (IL)-36 signalling and macrophages. This effect of Bacteroidetes requires the polysaccharide utilization locus of their conserved commensal colonization factor. Conversely, in the upper airways, Proteobacteria prime immunity through IL-17A, but K. pneumoniae overcomes these defences through encapsulation to effectively colonize this site. Ultimately, we find that host-to-host spread of K. pneumoniae occurs principally from its intestinal reservoir, and that commensal-colonization-factor-producing Bacteroidetes are sufficient to prevent transmission between hosts through IL-36. Thus, our study provides mechanistic insight into when, where and how commensal Bacteroidetes protect against K. pneumoniae colonization and contagion, providing insight into how these protective microorganisms could be harnessed to confer population-level protection against K. pneumoniae infection.
Access options
Subscribe to Journal
Get full journal access for 1 year
$62.00
only $5.17 per issue
All prices are NET prices.
VAT will be added later in the checkout.
Rent or Buy article
Get time limited or full article access on ReadCube.
from$8.99
All prices are NET prices.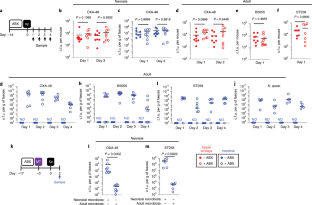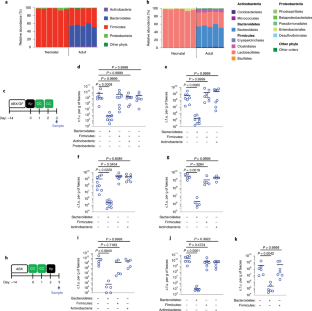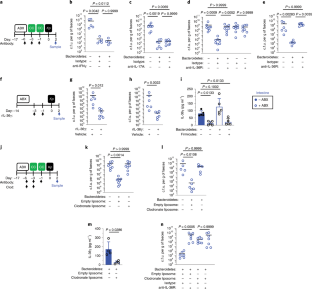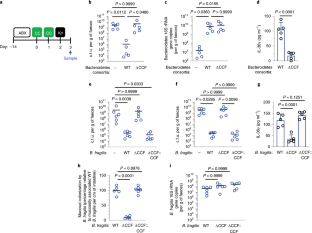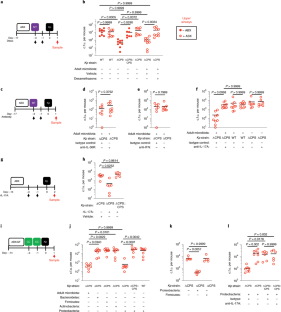 Data availability
Microbiome sequencing data have been deposited at the National Center for Biotechnology Information, Sequence Read Archive (BioProject PRJNA579139). The data supporting the findings of the study are available in this article (see Source Data) and its Supplementary Information files, or from the corresponding author upon request.
References
1.

Baumler, A. J. & Sperandio, V. Interactions between the microbiota and pathogenic bacteria in the gut. Nature 535, 85–93 (2016).

2.

Brown, R. L. & Clarke, T. B. The regulation of host defences to infection by the microbiota. Immunology 150, 1–6 (2017).

3.

Honda, K. & Littman, D. R. The microbiome in infectious disease and inflammation. Annu. Rev. Immunol. 30, 759–795 (2012).

4.

Clarke, T. B. Microbial programming of systemic innate immunity and resistance to infection. PLoS Pathog. 10, e1004506 (2014).

5.

Keith, J. W. & Pamer, E. G. Enlisting commensal microbes to resist antibiotic-resistant pathogens. J. Exp. Med. 216, 10–19 (2019).

6.

Gupta, N., Limbago, B. M., Patel, J. B. & Kallen, A. J. Carbapenem-resistant Enterobacteriaceae: epidemiology and prevention. Clin. Infect. Dis. 53, 60–67 (2011).

7.

Boucher, H. W. et al. Bad bugs, no drugs: no ESKAPE! an update from the Infectious Diseases Society of America. Clin. Infect. Dis. 48, 1–12 (2009).

8.

Munoz-Price, L. S. et al. Clinical epidemiology of the global expansion of Klebsiella pneumoniae carbapenemases. Lancet Infect. Dis. 13, 785–796 (2013).

9.

Nordmann, P., Naas, T. & Poirel, L. Global spread of carbapenemase-producing Enterobacteriaceae. Emerg. Infect. Dis. 17, 1791–1798 (2011).

10.

Martin, R. M. & Bachman, M. A. Colonization, infection, and the accessory genome of Klebsiella pneumoniae. Front. Cell Infect. Microbiol. 8, 4 (2018).

11.

Montgomerie, J. Z. Epidemiology of Klebsiella and hospital-associated infections. Rev. Infect. Dis. 1, 736–753 (1979).

12.

Paczosa, M. K. & Mecsas, J. Klebsiella pneumoniae: going on the offense with a strong defense. Microbiol. Mol. Biol. Rev. 80, 629–661 (2016).

13.

Podschun, R. & Ullmann, U. Klebsiella spp. as nosocomial pathogens: epidemiology, taxonomy, typing methods, and pathogenicity factors. Clin. Microbiol. Rev. 11, 589–603 (1998).

14.

World Health Organization. Antimicrobial resistance: global report on surveillance (World Health Organization, 2014).

15.

Bagley, S. T. Habitat association of Klebsiella species. Infect. Control 6, 52–58 (1985).

16.

Donskey, C. J. The role of the intestinal tract as a reservoir and source for transmission of nosocomial pathogens. Clin. Infect. Dis. 39, 219–226 (2004).

17.

Martin, R. M. et al. Molecular epidemiology of colonizing and infecting isolates of Klebsiella pneumoniae. mSphere 1, e00261–16 (2016).

18.

The Human Microbiome Project Consortium. Structure, function and diversity of the healthy human microbiome. Nature 486, 207–214 (2012).

19.

Rose, H. D. & Schreier, J. The effect of hospitalization and antibiotic therapy on the Gram-negative fecal flora. Am. J. Med. Sci. 255, 228–236 (1968).

20.

Bilinski, J. et al. Fecal microbiota transplantation in patients with blood disorders inhibits gut colonization with antibiotic-resistant bacteria: results of a prospective, single-center study. Clin. Infect. Dis. 65, 364–370 (2017).

21.

Caballero, S. et al. Distinct but spatially overlapping intestinal niches for vancomycin-resistant Enterococcus faecium and carbapenem-resistant Klebsiella pneumoniae. PLoS Pathog. 11, e1005132 (2015).

22.

Singh, R. et al. Fecal microbiota transplantation against intestinal colonization by extended spectrum beta-lactamase producing Enterobacteriaceae: a proof of principle study. BMC Res. Notes 11, 190 (2018).

23.

Sorbara, M. T. et al. Inhibiting antibiotic-resistant Enterobacteriaceae by microbiota-mediated intracellular acidification. J. Exp. Med. 216, 84–98 (2019).

24.

Lau, H. Y., Huffnagle, G. B. & Moore, T. A. Host and microbiota factors that control Klebsiella pneumoniae mucosal colonization in mice. Microbes Infect. 10, 1283–1290 (2008).

25.

Madueno, A. et al. Risk factors associated with carbapenemase-producing Klebsiella pneumoniae fecal carriage: a case-control study in a Spanish tertiary care hospital. Am. J. Infect. Control 45, 77–79 (2017).

26.

Mills, J. P., Talati, N. J., Alby, K. & Han, J. H. The epidemiology of carbapenem-resistant Klebsiella pneumoniae colonization and infection among long-term acute care hospital residents. Infect. Control Hosp. Epidemiol. 37, 55–60 (2016).

27.

Bhargava, A. et al. Risk factors for colonization due to carbapenem-resistant Enterobacteriaceae among patients exposed to long-term acute care and acute care facilities. Infect. Control Hosp. Epidemiol. 35, 398–405 (2014).

28.

Nelson, A. L., Barasch, J. M., Bunte, R. M. & Weiser, J. N. Bacterial colonization of nasal mucosa induces expression of siderocalin, an iron-sequestering component of innate immunity. Cell Microbiol. 7, 1404–1417 (2005).

29.

Brown, R. L., Sequeira, R. P. & Clarke, T. B. The microbiota protects against respiratory infection via GM-CSF signaling. Nat. Commun. 8, 1512 (2017).

30.

Atarashi, K. et al. Th17 cell induction by adhesion of microbes to intestinal epithelial cells. Cell 163, 367–380 (2015).

31.

Donaldson, G. P. et al. Gut microbiota utilize immunoglobulin a for mucosal colonization. Science 360, 795–800 (2018).

32.

Lee, S. M. et al. Bacterial colonization factors control specificity and stability of the gut microbiota. Nature 501, 426–429 (2013).

33.

Rendueles, O., Garcia-Garcera, M., Neron, B., Touchon, M. & Rocha, E. P. C. Abundance and co-occurrence of extracellular capsules increase environmental breadth: implications for the emergence of pathogens. PLoS Pathog. 13, e1006525 (2017).

34.

Clements, A. et al. Secondary acylation of Klebsiella pneumoniae lipopolysaccharide contributes to sensitivity to antibacterial peptides. J. Biol. Chem. 282, 15569–15577 (2007).

35.

de Steenhuijsen Piters, W. A. et al. Dysbiosis of upper respiratory tract microbiota in elderly pneumonia patients. ISME J. 10, 97–108 (2016).

36.

Yi, H., Yong, D., Lee, K., Cho, Y. J. & Chun, J. Profiling bacterial community in upper respiratory tracts. BMC Infect. Dis. 14, 583 (2014).

37.

Kaspar, U. et al. The culturome of the human nose habitats reveals individual bacterial fingerprint patterns. Environ. Microbiol. 18, 2130–2142 (2016).

38.

Pettigrew, M. M. et al. Upper respiratory tract microbial communities, acute otitis media pathogens, and antibiotic use in healthy and sick children. Appl. Environ. Microbiol. 78, 6262–6270 (2012).

39.

Bassis, C. M. et al. Analysis of the upper respiratory tract microbiotas as the source of the lung and gastric microbiotas in healthy individuals. mBio 6, e00037 (2015).

40.

de Steenhuijsen Piters, W. A., Sanders, E. A. & Bogaert, D. The role of the local microbial ecosystem in respiratory health and disease. Philos. Trans. R Soc. Lond. B Biol. Sci. 370, 20140294 (2015).

41.

Zhou, Y. et al. Biogeography of the ecosystems of the healthy human body. Genome Biol. 14, R1 (2013).

42.

Harris, A. D. et al. Patient-to-patient transmission is important in extended-spectrum beta-lactamase-producing Klebsiella pneumoniae acquisition. Clin. Infect. Dis. 45, 1347–1350 (2007).

43.

Snitkin, E. S. et al. Tracking a hospital outbreak of carbapenem-resistant Klebsiella pneumoniae with whole-genome sequencing. Sci. Transl. Med. 4, 148ra116 (2012).

44.

Ebino, K. Y. Studies on coprophagy in experimental-animals. Exp. Anim. Tokyo 42, 1–9 (1993).

45.

Schenck, L. P., Surette, M. G. & Bowdish, D. M. Composition and immunological significance of the upper respiratory tract microbiota. FEBS Lett. 590, 3705–3720 (2016).

46.

Brisse, S. et al. wzi gene sequencing, a rapid method for determination of capsular type for Klebsiella strains. J. Clin. Microbiol. 51, 4073–4078 (2013).

47.

Deshmukh, H. S. et al. The microbiota regulates neutrophil homeostasis and host resistance to Escherichia coli K1 sepsis in neonatal mice. Nat. Med. 20, 524–530 (2014).

48.

Redhu, N. S. et al. Macrophage dysfunction initiates colitis during weaning of infant mice lacking the interleukin-10 receptor. eLife 6, e27652 (2017).

49.

Clarke, T. B. Early innate immunity to bacterial infection in the lung is regulated systemically by the commensal microbiota via nod-like receptor ligands. Infect. Immun. 82, 4596–4606 (2014).

50.

Mullish, B. H. et al. Functional microbiomics: evaluation of gut microbiota-bile acid metabolism interactions in health and disease. Methods 149, 49–58 (2018).

51.

Callahan, B. J. et al. DADA2: high-resolution sample inference from illumina amplicon data. Nat. Methods 13, 581–583 (2016).
Acknowledgements
T.B.C. is a Sir Henry Dale Fellow jointly funded by the Wellcome Trust and Royal Society (grant no. 107660/Z/15Z). For J.A.K.M. and J.R.M., the Division of Integrative Systems Medicine and Digestive Disease at Imperial College London receives financial support from the National Institute for Health Research Imperial Biomedical Research Centre based at Imperial College Healthcare NHS Trust and Imperial College London. We thank Dr A. Clements (Imperial College London) for providing K. pneumoniae strains, G. Donaldson and S. Mazmanian (California Institute of Technology) for providing WT and ΔCCF B. fragilis and B. vulgatus strains, and R. Brown and M. Larkinson (Imperial College London) for providing macrophages.
Ethics declarations
Competing interests
The authors declare no competing interests.
Additional information
Publisher's note Springer Nature remains neutral with regard to jurisdictional claims in published maps and institutional affiliations.
Supplementary information
Supplementary Figs. 1–11 and Supplementary Tables 1 and 2.
About this article
Cite this article
Sequeira, R.P., McDonald, J.A.K., Marchesi, J.R. et al. Commensal Bacteroidetes protect against Klebsiella pneumoniae colonization and transmission through IL-36 signalling. Nat Microbiol 5, 304–313 (2020). https://doi.org/10.1038/s41564-019-0640-1
Received:

Accepted:

Published:

Issue Date: