Abstract
Many microorganisms exhibit nutrient preferences, exemplified by the 'hierarchical' consumption of certain carbon substrates. Here, we systematically investigate under which physiological conditions hierarchical substrate utilization occurs and its mechanisms of implementation. We show utilization hierarchy of Escherichia coli to be ordered by the carbon-uptake flux rather than the identity of the substrates. A detailed study of glycerol uptake finds that it is fully suppressed if the uptake flux of another glycolytic substrate exceeds a threshold, which is set to the influx obtained when grown on glycerol alone. Below this threshold, limited glycerol uptake is 'supplemented' such that the total carbon uptake is maintained at the threshold. This behaviour results from total-flux feedback mediated by cAMP–Crp signalling but also requires inhibition by the regulator fructose 1,6-bisphosphate, which senses the upper-glycolytic flux and ensures that glycerol uptake defers to other glycolytic substrates but not to gluconeogenic ones. A quantitative model reproduces all of the observed utilization patterns, including those of key mutants. The proposed mechanism relies on the differential regulation of uptake enzymes and requires a specific operon organization. This organization is found to be conserved across related species for several uptake systems, suggesting the deployment of similar mechanisms for hierarchical substrate utilization by a spectrum of microorganisms.
This is a preview of subscription content
Access options
Subscribe to Journal
Get full journal access for 1 year
$119.00
only $9.92 per issue
All prices are NET prices.
VAT will be added later in the checkout.
Tax calculation will be finalised during checkout.
Rent or Buy article
Get time limited or full article access on ReadCube.
from$8.99
All prices are NET prices.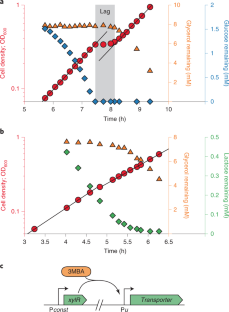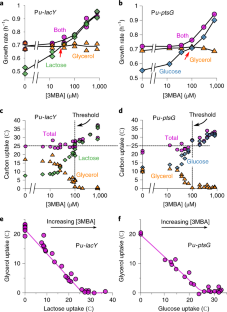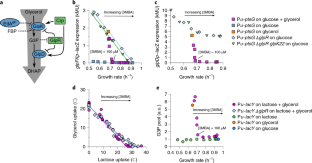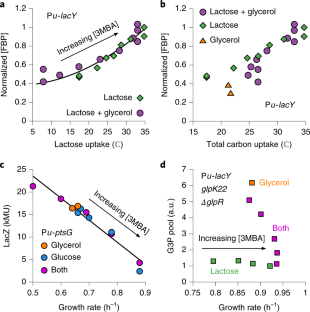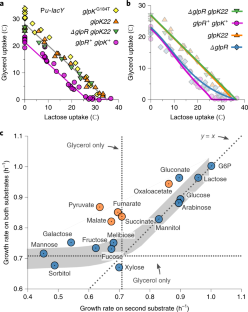 Data availability
The datasets corresponding to all figures (including the Extended Data and Supplementary figures) are available online as Source Data.
Code availability
Numerical analyses of the mathematical model were carried out using Wolfram Mathematica 11.3, gnuplot and R (v.3.5.1). A Mathematica notebook that reproduces the central modelling results has been shared at https://doi.org/10.5281/zenodo.3462129. Other code will be shared on reasonable request.
References
1.

Monod, J. Recherches sur la Croissance des Cultures Bactériennes (Hermann & Cie., 1942).

2.

Monod, J. The phenomenon of enzymatic adaptation—and its bearings on problems of genetics and cellular differentiation. Growth 11, 223–289 (1947).

3.

Müller-Hill, B. The lac Operon: a Short History of a Genetic Paradigm (Walter de Gruyter, 1996).

4.

Deutscher, J., Francke, C. & Postma, P. W. How phosphotransferase system-related protein phosphorylation regulates carbohydrate metabolism in bacteria. Microbiol. Mol. Biol. Rev. 70, 939–1031 (2006).

5.

Narang, A. & Pilyugin, S. S. Bacterial gene regulation in diauxic and non-diauxic growth. J. Theor. Biol. 244, 326–348 (2007).

6.

Loomis, W. F. & Magasanik, B. Glucose-lactose diauxie in Escherichia coli. J. Bacteriol. 93, 1397–1401 (1967).

7.

Inada, T., Kimata, K. & Aiba, H. Mechanism responsible for glucose-lactose diauxie in Escherichia coli: challenge to the cAMP model. Genes Cells 1, 293–301 (1996).

8.

Lendenmann, U., Snozzi, M. & Egli, T. Kinetics of the simultaneous utilization of sugar mixtures by Escherichia coli in continuous culture. Appl. Environ. Microbiol. 62, 1493–1499 (1996).

9.

Baidya, T. K. N., Webb, F. C. & Lilly, M. D. The utilization of mixed sugars in continuous fermentation. I. Biotechnol. Bioeng. 9, 195–204 (1967).

10.

Harte, M. J. & Webb, F. C. Utilisation of mixed sugars in continuous fermentation. II. Biotechnol. Bioeng. 9, 205–221 (1967).

11.

Harder, W. & Dijkhuizen, L. Strategies of mixed substrate utilization in microorganisms. Philos. Trans. R. Soc. Lond. B Biol. Sci. 297, 459–480 (1982).

12.

Wanner, U. & Egli, T. Dynamics of microbial growth and cell composition in batch culture. FEMS Microbiol. Rev. 6, 19–43 (1990).

13.

Egli, T., Lendenmann, U. & Snozzi, M. Kinetics of microbial growth with mixtures of carbon sources. Antonie Van Leeuwenhoek 63, 289–298 (1993).

14.

Hermsen, R., Okano, H., You, C., Werner, N. & Hwa, T. A growth-rate composition formula for the growth of E. coli on co-utilized carbon substrates. Mol. Syst. Biol. 11, 801 (2015).

15.

Lin, E. C. Glycerol dissimilation and its regulation in bacteria. Annu. Rev. Microbiol. 30, 535–578 (1976).

16.

You, C. et al. Coordination of bacterial proteome with metabolism by cyclic AMP signalling. Nature 500, 301–306 (2013).

17.

Koch, J. P., Hayashi, S. & Lin, E. C. The control of dissimilation of glycerol and l-α-glycerophosphate in Escherichia coli. J. Biol. Chem. 239, 3106–3108 (1964).

18.

Weissenborn, D. L., Wittekindt, N. & Larson, T. J. Structure and regulation of the glpFK operon encoding glycerol diffusion facilitator and glycerol kinase of Escherichia coli K-12. J. Biol. Chem. 267, 6122–6131 (1992).

19.

Zwaig, N. & Lin, E. C. Feedback inhibition of glycerol kinase, a catabolic enzyme in Escherichia coli. Science 153, 755–757 (1966).

20.

Holtman, C. K., Pawlyk, A. C., Meadow, N. D. & Pettigrew, D. W. Reverse genetics of Escherichia coli glycerol kinase allosteric regulation and glucose control of glycerol utilization in vivo. J. Bacteriol. 183, 3336–3344 (2001).

21.

Kochanowski, K. et al. Functioning of a metabolic flux sensor in Escherichia coli. Proc. Natl Acad. Sci. USA 110, 1130–1135 (2013).

22.

Hui, S. et al. Quantitative proteomic analysis reveals a simple strategy of global resource allocation in bacteria. Mol. Syst. Biol. 11, 784 (2015).

23.

Pettigrew, D. W., Liu, W. Z., Holmes, C., Meadow, N. D. & Roseman, S. A single amino acid change in Escherichia coli glycerol kinase abolishes glucose control of glycerol utilization in vivo. J. Bacteriol. 178, 2846–2852 (1996).

24.

Kochanowski, K. et al. Few regulatory metabolites coordinate expression of central metabolic genes in Escherichia coli. Mol. Syst. Biol. 13, 903 (2017).

25.

Applebee, M. K., Joyce, A. R., Conrad, T. M., Pettigrew, D. W. & Palsson, B. Functional and metabolic effects of adaptive glycerol kinase (GLPK) mutants in Escherichia coli. J. Biol. Chem. 286, 23150–23159 (2011).

26.

Bettenbrock, K. et al. Correlation between growth rates, EIIACrr phosphorylation, and intracellular cyclic AMP levels in Escherichia coli K-12. J. Bacteriol. 189, 6891–6900 (2007).

27.

Erickson, D. W. et al. A global resource allocation strategy governs growth transition kinetics of Escherichia coli. Nature 551, 119–123 (2017).

28.

Keseler, I. M. et al. The EcoCyc database: reflecting new knowledge about Escherichia coli K-12. Nucleic Acids Res. 45, D543–D550 (2017).

29.

Mandelstam, J. The repression of constitutive beta-galactosidase in Escherichia coli by glucose and other carbon sources. Biochem. J. 82, 489–493 (1962).

30.

Müller, S., Regensburger, G. & Steuer, R. Enzyme allocation problems in kinetic metabolic networks: optimal solutions are elementary flux modes. J. Theor. Biol. 347, 182–190 (2014).

31.

Wortel, M. T., Peters, H., Hulshof, J., Teusink, B. & Bruggeman, F. J. Metabolic states with maximal specific rate carry flux through an elementary flux mode. FEBS J. 281, 1547–1555 (2014).

32.

Wang, X., Xia, K., Yang, X. & Tang, C. Growth strategy of microbes on mixed carbon sources. Nat. Commun. 10, 1279 (2019).

33.

Kumar, R., Singh, S. & Singh, O. V. Bioconversion of lignocellulosic biomass: biochemical and molecular perspectives. J. Ind. Microbiol. Biotechnol. 35, 377–391 (2008).

34.

Kim, J. H., Block, D. E. & Mills, D. A. Simultaneous consumption of pentose and hexose sugars: an optimal microbial phenotype for efficient fermentation of lignocellulosic biomass. Appl. Microbiol. Biotechnol. 88, 1077–1085 (2010).

35.

Vinuselvi, P., Kim, M. K., Lee, S. K. & Ghim, C. M. Rewiring carbon catabolite repression for microbial cell factory. BMB Rep. 45, 59–70 (2012).

36.

Soupene, E. et al. Physiological studies of Escherichia coli strain MG1655: growth defects and apparent cross-regulation of gene expression. J. Bacteriol. 185, 5611–5626 (2003).

37.

Csonka, L. N., Ikeda, T. P., Fletcher, S. A. & Kustu, S. The accumulation of glutamate is necessary for optimal growth of Salmonella typhimurium in media of high osmolality but not induction of the proU operon. J. Bacteriol. 176, 6324–6333 (1994).

38.

Basan, M. et al. Inflating bacterial cells by increased protein synthesis. Mol. Syst. Biol. 11, 836 (2015).

39.

Morrissey, A. T. & Fraenkel, D. G. Suppressor of phosphofructokinase mutations of Escherichia coli. J. Bacteriol. 112, 183–187 (1972).

40.

de Lorenzo, V., Herrero, M., Metzke, M. & Timmis, K. N. An upstream XylR- and IHF-induced nucleoprotein complex regulates the sigma 54-dependent Pu promoter of TOL plasmid. EMBO J. 10, 1159–1167 (1991).

41.

Klumpp, S., Zhang, Z. & Hwa, T. Growth rate-dependent global effects on gene expression in bacteria. Cell 139, 1366–1375 (2009).

42.

Datsenko, K. A. & Wanner, B. L. One-step inactivation of chromosomal genes in Escherichia coli K-12 using PCR products. Proc. Natl Acad. Sci. USA 97, 6640–6645 (2000).

43.

Kim, M. et al. Need-based activation of ammonium uptake in Escherichia coli. Mol. Syst. Biol. 8, 616 (2012).

44.

McGowan, M. W., Artiss, J. D., Strandbergh, D. R. & Zak, B. A peroxidase-coupled method for the colorimetric determination of serum triglycerides. Clin. Chem. 29, 538–542 (1983).

45.

Sévin, D. C. & Sauer, U. Ubiquinone accumulation improves osmotic-stress tolerance in Escherichia coli. Nat. Chem. Biol. 10, 266–272 (2014).

46.

Ogata, H. et al. KEGG: Kyoto Encyclopedia of Genes and Genomes. Nucleic Acids Res. 27, 29–34 (1999).

47.

Schindelin, J. et al. Fiji: an open-source platform for biological-image analysis. Nat. Methods 9, 676–682 (2012).

48.

Gornall, A. G., Bardawill, C. J. & David, M. M. Determination of serum proteins by means of the biuret reaction. J. Biol. Chem. 177, 751–766 (1949).

49.

Saier, M. H. & Roseman, S. Sugar transport. Inducer exclusion and regulation of the melibiose, maltose, glycerol, and lactose transport systems by the phosphoenolpyruvate:sugar phosphotransferase system. J. Biol. Chem. 251, 6606–6615 (1976).

50.

Sandermann, H. Jr. β-d-Galactoside transport in Escherichia coli: substrate recognition. Eur. J. Biochem. 80, 507–515 (1977).

51.

Stock, J. B., Waygood, E. B., Meadow, N. D., Postma, P. W. & Roseman, S. Sugar transport by the bacterial phosphotransferase system. The glucose receptors of the Salmonella typhimurium phosphotransferase system. J. Biol. Chem. 257, 14543–14552 (1982).

52.

Misset, O., Blaauw, M., Postma, P. W. & Robillard, G. T. Bacterial phosphoenolpyruvate-dependent phosphotransferase system. Mechanism of the transmembrane sugar translocation and phosphorylation. Biochemistry 22, 6163–6170 (1983).
Acknowledgements
We are grateful to U. Sauer for his generous support and encouragement; T. Egli, L. Gerosa, J. Silverman and the members of the Hwa lab for their helpful discussions; K. Applebee for providing the glpKG184T strain; and L. Chao and C. U. Rang for helping with the acquisition of the single-cell GFP images. This research is supported by the National Institutes of Health (grant no. R01GM095903 to T.H.). R.H. was supported by the Dutch Research Council (grant no. VENI 680–47–419). T.H. additionally acknowledges the hospitality of the Institute for Theoretical Studies at ETH, where some of this work was carried out.
Ethics declarations
Competing interests
The authors declare no competing interests.
Additional information
Publisher's note Springer Nature remains neutral with regard to jurisdictional claims in published maps and institutional affiliations.
Supplementary information
Supplementary Figs. 1–12, Supplementary Tables 1–3 and Supplementary Discussion.
About this article
Cite this article
Okano, H., Hermsen, R., Kochanowski, K. et al. Regulation underlying hierarchical and simultaneous utilization of carbon substrates by flux sensors in Escherichia coli. Nat Microbiol 5, 206–215 (2020). https://doi.org/10.1038/s41564-019-0610-7
Received:

Accepted:

Published:

Issue Date:
Further reading
Jan Weber
Zhaopeng Li
Ursula Rinas

Microbial Cell Factories (2021)

Zihan Wang
Akshit Goyal
Sergei Maslov

Nature Communications (2021)