Abstract
Clostridioides (formerly Clostridium) difficile is a Gram-positive, spore-forming anaerobe and a leading cause of hospital-acquired infection and gastroenteritis-associated death in US hospitals1. The disease state is usually preceded by disruption of the host microbiome in response to antibiotic treatment and is characterized by mild to severe diarrhoea. C. difficile infection is dependent on the secretion of one or more AB-type toxins: toxin A (TcdA), toxin B (TcdB) and the C. difficile transferase toxin (CDT)2. Whereas TcdA and TcdB are considered the primary virulence factors, recent studies suggest that CDT increases the severity of C. difficile infection in some of the most problematic clinical strains3. To better understand how CDT functions, we used cryo-electron microscopy to define the structure of CDTb, the cell-binding component of CDT. We obtained structures of several oligomeric forms that highlight the conformational changes that enable conversion from a prepore to a β-barrel pore. The structural analysis also reveals a glycan-binding domain and residues involved in binding the host-cell receptor, lipolysis-stimulated lipoprotein receptor. Together, these results provide a framework to understand how CDT functions at the host cell interface.
Relevant articles
Open Access articles citing this article.
Akihiro Kawamoto

,

Tomohito Yamada

…

Hideaki Tsuge

Nature Communications Open Access 17 October 2022
Access options
Access Nature and 54 other Nature Portfolio journals
Get Nature+, our best-value online-access subscription
$29.99 / 30 days
cancel any time
Subscribe to this journal
Receive 12 digital issues and online access to articles
$119.00 per year
only $9.92 per issue
Rent or buy this article
Prices vary by article type
from$1.95
to$39.95
Prices may be subject to local taxes which are calculated during checkout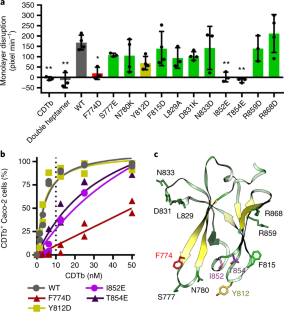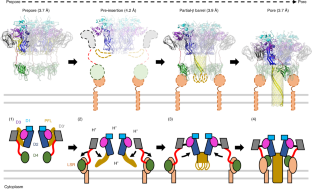 Data availability
The data that support the findings of this study are available from the corresponding author on request. Protein Data Bank accession codes for all structures shown here are: 6O2O, 6O2N, 6OKR, 6O2M, 6OKT, 6OKS and 6OKU. Maps are available at the Electron Microscopy Data Bank with accession codes EMD-0608, EMD-0609, EMD-0610, EMD-20102, EMD-20103, EMD-20104 and EMD-20105.
Code availability
The ImageJ macro scripts used in this work are available in the Supplementary Information.
References
Lessa, F. C., Winston, L. G. & McDonald, L. C. Burden of Clostridium difficile infection in the United States. N. Engl. J. Med. 372, 825–834 (2015).

Chandrasekaran, R. & Lacy, D. B. The role of toxins in Clostridium difficile infection. FEMS Microbiol. Rev. 41, 723–750 (2017).

Gerding, D. N., Johnson, S., Rupnik, M. & Aktories, K. Clostridium difficile binary toxin CDT: mechanism, epidemiology, and potential clinical importance. Gut Microbes 5, 15–27 (2013).

Aktories, K., Papatheodorou, P. & Schwan, C. Binary Clostridium difficile toxin (CDT)—a virulence factor disturbing the cytoskeleton. Anaerobe 53, 21–29 (2018).

Papatheodorou, P. et al. Lipolysis-stimulated lipoprotein receptor (LSR) is the host receptor for the binary toxin Clostridium difficile transferase (CDT). Proc. Natl Acad. Sci. USA 108, 16422–16427 (2011).

Perelle, S., Gibert, M., Bourlioux, P., Corthier, G. & Popoff, M. R. Production of a complete binary toxin (actin-specific ADP-ribosyltransferase) by Clostridium difficile CD196. Infect. Immun. 65, 1402–1407 (1997).

Schwan, C. et al. Clostridium difficile toxin CDT induces formation of microtubule-based protrusions and increases adherence of bacteria. PLoS Pathog. 5, e1000626 (2009).

Schwan, C. et al. Clostridium difficile toxin CDT hijacks microtubule organization and reroutes vesicle traffic to increase pathogen adherence. Proc. Natl Acad. Sci. USA 111, 2313–2318 (2014).

Friebe, S., van der Goot, F. G. & Bürgi, J. The ins and outs of anthrax toxin. Toxins 8, E69 (2016).

Petosa, C., Collier, R. J., Klimpel, K. R., Leppla, S. H. & Liddington, R. C. Crystal structure of the anthrax toxin protective antigen. Nature 385, 833–838 (1997).

Lacy, D. B., Wigelsworth, D. J., Melnyk, R. A., Harrison, S. C. & Collier, R. J. Structure of heptameric protective antigen bound to an anthrax toxin receptor: A role for receptor in pH-dependent pore formation. Proc. Natl Acad. Sci. USA 101, 13147–13151 (2004).

Kintzer, A. F. et al. The protective antigen component of anthrax toxin forms functional octameric complexes. J. Mol. Biol. 392, 614–629 (2009).

Jiang, J., Pentelute, B. L., Collier, R. J. & Hong Zhou, Z. Atomic structure of anthrax protective antigen pore elucidates toxin translocation. Nature 521, 545–549 (2015).

Krantz, B. A. et al. Microbiology: a phenylalanine clamp catalyzes protein translocation through the anthrax toxin pore. Science 309, 777–781 (2005).

Wynia-Smith, S. L., Brown, M. J., Chirichella, G., Kemalyan, G. & Krantz, B. A. Electrostatic ratchet in the protective antigen channel promotes anthrax toxin translocation. J. Biol. Chem. 287, 43753–43764 (2012).

Eckhardt, M., Barth, H., Blöcker, D. & Aktories, K. Binding of Clostridium botulinum C2 toxin to asparagine-linked complex and hybrid carbohydrates. J. Biol. Chem. 275, 2328–2334 (2000).

Hemmasi, S. et al. Interaction of the Clostridium difficile binary toxin CDT and its host cell receptor, lipolysis-stimulated lipoprotein receptor (LSR). J. Biol. Chem. 290, 14031–14044 (2015).

Papatheodorou, P. et al. Identification of the cellular receptor of Clostridium spiroforme toxin. Infect. Immun. 80, 1418–1423 (2012).

Pfeifer, G. et al. Cellular uptake of Clostridium difficile toxin B. Translocation of the N-terminal catalytic domain into the cytosol of eukaryotic cells. J. Biol. Chem. 278, 44535–44541 (2003).

Kaiser, E. et al. Membrane translocation of binary actin-ADP-ribosylating toxins from Clostridium difficile and Clostridium perfringens Is facilitated by cyclophilin A and Hsp90. Infect. Immun. 79, 3913–3921 (2011).

Madeira, F. et al. The EMBL–EBI search and sequence analysis tools APIs in 2019. Nucleic Acids Res. 47, W636–W641 (2019).

Stothard, P. The sequence manipulation suite: JavaScript programs for analyzing and formatting protein and DNA sequences. Biotechniques 28, 1104 (2000).

Zheng, S. Q. et al. MotionCor2: anisotropic correction of beam-induced motion for improved cryo-electron microscopy. Nat. Methods 14, 331–332 (2017).

Mindell, J. A. & Grigorieff, N. Accurate determination of local defocus and specimen tilt in electron microscopy. J. Struct. Biol. 142, 334–347 (2003).

Rohou, A. & Grigorieff, N. CTFFIND4: Fast and accurate defocus estimation from electron micrographs. J. Struct. Biol. 192, 216–221 (2015).

Zivanov, J. et al. New tools for automated high-resolution cryo-EM structure determination in RELION-3. eLife 7, e42166 (2018).

Kimanius, D., Forsberg, B. O., Scheres, S. H. W. & Lindahl, E. Accelerated cryo-EM structure determination with parallelisation using GPUs in RELION-2. eLife 5, e18722 (2016).

Afonine, P. V. et al. Real-space refinement in PHENIX for cryo-EM and crystallography. Acta Crystallogr. D 74, 531–544 (2018).

Morin, A. et al. Collaboration gets the most out of software. eLife 2013, e01456 (2013).

Emsley, P., Lohkamp, B., Scott, W. G. & Cowtan, K. Features and development of Coot. Acta Crystallogr. D 66, 486–501 (2010).

Pettersen, E. F. et al. UCSF Chimera—a visualization system for exploratory research and analysis. J. Comput. Chem. 25, 1605–1612 (2004).

Peng, T. et al. A BaSiC tool for background and shading correction of optical microscopy images. Nat. Commun. 8, 14836 (2017).

Arganda-Carreras, I. et al. Trainable Weka segmentation: a machine learning tool for microscopy pixel classification. Bioinformatics 33, 2424–2426 (2017).
Acknowledgements
The authors thank J. Fitzpatrick and M. Rau (both Washington University), and S. Collier and E. Binshtein (both Vanderbilt University) for their assistance with cryo-EM data collection, and B. Spiller and members of the Lacy laboratory for critical feedback. Flow Cytometry experiments were performed in the Vanderbilt University Medical Center Flow Cytometry Shared Resource, which is supported by the Vanderbilt Ingram Cancer Center (P30 CA68485) and the Vanderbilt Digestive Disease Research Center (DK058404). This work was supported by United States Department of Veterans Affairs Award BX002943, Public Health Service grant AI095755 from the National Institutes of Health, and Vanderbilt University. M.J.S. and J.L.J. are supported by the Training Grant in Gastroenterology (DK007673). A portion of the molecular graphics and analyses was performed with UCSF Chimera, developed by the Resource for Biocomputing, Visualization, and Informatics at University of California, San Francisco, with support from NIH P41-GM103311.
Ethics declarations
Competing interests
The authors declare no competing interests.
Additional information
Publisher's note Springer Nature remains neutral with regard to jurisdictional claims in published maps and institutional affiliations.
Supplementary information
About this article
Cite this article
Anderson, D.M., Sheedlo, M.J., Jensen, J.L. et al. Structural insights into the transition of Clostridioides difficile binary toxin from prepore to pore. Nat Microbiol 5, 102–107 (2020). https://doi.org/10.1038/s41564-019-0601-8
Received:

Accepted:

Published:

Issue Date:

DOI: https://doi.org/10.1038/s41564-019-0601-8