Abstract
Flaviviruses, including dengue virus and Zika virus, extensively remodel the cellular endomembrane network to generate replication organelles that promote viral genome replication and virus production. However, it remains unclear how these membranes and associated cellular proteins act during the virus cycle. Here, we show that atlastins (ATLs), a subset of ER resident proteins involved in neurodegenerative diseases, have dichotomous effects on flaviviruses—with ATL2 depletion leading to replication organelle defects, and ATL3 depletion to changes in virus production pathways. We characterized non-conserved functional domains in ATL paralogues and show that the ATL interactome is profoundly reprogrammed following dengue virus infection. Screen analysis confirmed non-redundant ATL functions and identified a specific role for ATL3, and its interactor ARF4, in vesicle trafficking and virion maturation. Our data identify ATLs as central hubs targeted by flaviviruses to establish their replication organelle and to achieve efficient virion maturation and secretion.
Access options
Subscribe to Journal
Get full journal access for 1 year
$119.00
only $9.92 per issue
All prices are NET prices.
VAT will be added later in the checkout.
Tax calculation will be finalised during checkout.
Rent or Buy article
Get time limited or full article access on ReadCube.
from$8.99
All prices are NET prices.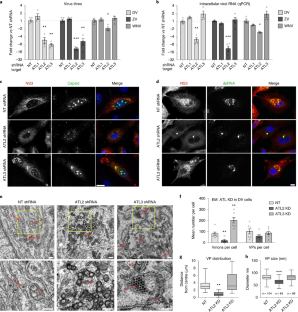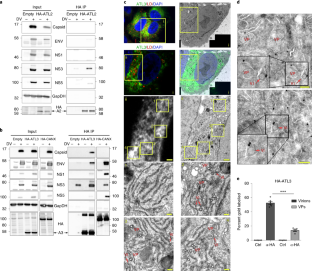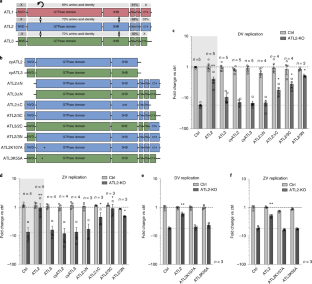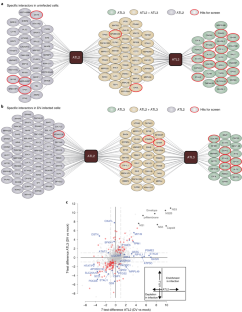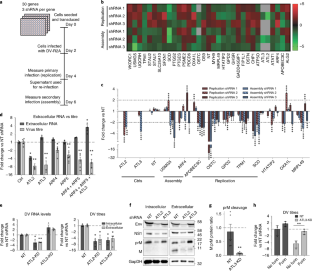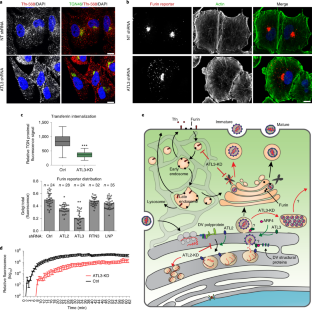 Data Availability
UniprotKB accession codes of all protein groups and proteins identified by mass spectrometry are provided in each respective Supplementary Table 8 and were extracted from UniprotKB (Human; release 2015_08 including isoforms and unreviewed sequences). Protein sequences of DV-2 16681 strain (P29990) were extracted from UniprotKB. The MS-based proteomics data were deposited at the ProteomeXchange Consortium (http://proteomecentral.proteomexchange.org) via the PRIDE partner repository with the data set identifier PXD014639 and PXD014640. For the evolutionary tree analysis, all accession codes can be found in Supplementary Table 7. The remainder of the data that support the findings of this study are available from the corresponding authors upon reasonable request.
References
1.

World Health, O. Dengue vaccine: WHO position paper, July 2016 — recommendations. Vaccine 35, 1200–1201 (2017).

2.

Wikan, N. & Smith, D. R. Zika virus: history of a newly emerging arbovirus. Lancet Infect. Dis. 16, e119–e126 (2016).

3.

Neufeldt, C. J., Cortese, M., Acosta, E. G. & Bartenschlager, R. Rewiring cellular networks by members of the Flaviviridae family. Nat. Rev. Microbiol. 16, 125–142 (2018).

4.

Cortese, M. et al. Ultrastructural characterization of zika virus replication factories. Cell Rep. 18, 2113–2123 (2017).

5.

Welsch, S. et al. Composition and three-dimensional architecture of the dengue virus replication and assembly sites. Cell Host Microbe 5, 365–375 (2009).

6.

Gillespie, L. K., Hoenen, A., Morgan, G. & Mackenzie, J. M. The endoplasmic reticulum provides the membrane platform for biogenesis of the flavivirus replication complex. J. Virol. 84, 10438–10447 (2010).

7.

Goyal, U. & Blackstone, C. Untangling the web: mechanisms underlying ER network formation. Biochim. Biophys. Acta 1833, 2492–2498 (2013).

8.

Powers, R. E., Wang, S., Liu, T. Y. & Rapoport, T. A. Reconstitution of the tubular endoplasmic reticulum network with purified components. Nature 543, 257–260 (2017).

9.

Wang, S., Tukachinsky, H., Romano, F. B. & Rapoport, T. A. Cooperation of the ER-shaping proteins atlastin, lunapark, and reticulons to generate a tubular membrane network. eLife 5, e18605 (2016).

10.

Hu, J. & Rapoport, T. A. Fusion of the endoplasmic reticulum by membrane-bound GTPases. Semin. Cell Dev. Biol. 60, 105–111 (2016).

11.

Zhang, H. & Hu, J. Shaping the endoplasmic reticulum into a social network. Trends Cell Biol. 26, 934–943 (2016).

12.

Hu, J. et al. A class of dynamin-like GTPases involved in the generation of the tubular ER network. Cell 138, 549–561 (2009).

13.

Orso, G. et al. Homotypic fusion of ER membranes requires the dynamin-like GTPase atlastin. Nature 460, 978–983 (2009).

14.

Rismanchi, N., Soderblom, C., Stadler, J., Zhu, P. P. & Blackstone, C. Atlastin GTPases are required for Golgi apparatus and ER morphogenesis. Hum. Mol. Genet. 17, 1591–1604 (2008).

15.

Zhao, G. et al. Mammalian knock out cells reveal prominent roles for atlastin GTPases in ER network morphology. Exp. Cell Res. 349, 32–44 (2016).

16.

Salinas, S., Proukakis, C., Crosby, A. & Warner, T. T. Hereditary spastic paraplegia: clinical features and pathogenetic mechanisms. Lancet Neurol. 7, 1127–1138 (2008).

17.

Fischer, D. et al. A novel missense mutation confirms ATL3 as a gene for hereditary sensory neuropathy type 1. Brain 137, e286 (2014).

18.

Kornak, U. et al. Sensory neuropathy with bone destruction due to a mutation in the membrane-shaping atlastin GTPase 3. Brain 137, 683–692 (2014).

19.

Zhao, X. et al. Mutations in a newly identified GTPase gene cause autosomal dominant hereditary spastic paraplegia. Nat. Genet. 29, 326–331 (2001).

20.

Behrendt, L., Kurth, I. & Kaether, C. A disease causing ATLASTIN 3 mutation affects multiple endoplasmic reticulum-related pathways. Cellul. Mol. Life Sci. 76, 1433–1445 (2019).

21.

Hu, X., Wu, F., Sun, S., Yu, W. & Hu, J. Human atlastin GTPases mediate differentiated fusion of endoplasmic reticulum membranes. Protein Cell 6, 307–311 (2015).

22.

Klemm, R. W. et al. A conserved role for atlastin GTPases in regulating lipid droplet size. Cell Rep. 3, 1465–1475 (2013).

23.

Ortiz Sandoval, C. & Simmen, T. Rab proteins of the endoplasmic reticulum: functions and interactors. Biochem. Soc. Trans. 40, 1426–1432 (2012).

24.

.Pawar, S., Ungricht, R., Tiefenboeck, P., Leroux, J. C. & Kutay, U. Efficient protein targeting to the inner nuclear membrane requires Atlastin-dependent maintenance of ER topology. eLife 6, e28202 (2017).

25.

Liang, J. R., Lingeman, E., Ahmed, S. & Corn, J. E. Atlastins remodel the endoplasmic reticulum for selective autophagy. J. Cell Bio.l 217, 3354–3367 (2018).

26.

Krols, M. et al. Sensory-neuropathy-causing mutations in ATL3 cause aberrant ER membrane tethering. Cell Rep. 23, 2026–2038 (2018).

27.

Leonetti, M. D., Sekine, S., Kamiyama, D., Weissman, J. S. & Huang, B. A scalable strategy for high-throughput GFP tagging of endogenous human proteins. Proc. Natl Acad. Sci. USA 113, E3501–E3508 (2016).

28.

Donaldson, J. G. & Jackson, C. L. ARF family G proteins and their regulators: roles in membrane transport, development and disease. Nat. Rev. Mol. Cell Biol. 12, 362–375 (2011).

29.

Kudelko, M. et al. Class II ADP-ribosylation factors are required for efficient secretion of dengue viruses. J. Biol. Chem. 287, 767–777 (2012).

30.

Volpicelli-Daley, L. A., Li, Y., Zhang, C. J. & Kahn, R. A. Isoform-selective effects of the depletion of ADP-ribosylation factors 1-5 on membrane traffic. Mol. Biol. Cell 16, 4495–4508 (2005).

31.

Mazelova, J. et al. Ciliary targeting motif VxPx directs assembly of a trafficking module through Arf4. Embo J. 28, 183–192 (2009).

32.

Chun, J., Shapovalova, Z., Dejgaard, S. Y., Presley, J. F. & Melancon, P. Characterization of class I and II ADP-ribosylation factors (Arfs) in live cells: GDP-bound class II Arfs associate with the ER-Golgi intermediate compartment independently of GBF1. Mol. Biol. Cell 19, 3488–3500 (2008).

33.

Cortese, M. et al. Reciprocal effects of fibroblast growth factor receptor signaling on dengue virus replication and virion production. Cell Rep. 27, 2579–2592 (2019).

34.

Yu, I. M. et al. Association of the pr peptides with dengue virus at acidic pH blocks membrane fusion. J. Virol. 83, 12101–12107 (2009).

35.

Nakai, W. et al. ARF1 and ARF4 regulate recycling endosomal morphology and retrograde transport from endosomes to the Golgi apparatus. Mol. Biol. Cell 24, 2570–2581 (2013).

36.

Moravec, R., Conger, K. K., D'Souza, R., Allison, A. B. & Casanova, J. E. BRAG2/GEP100/IQSec1 interacts with clathrin and regulates alpha5beta1 integrin endocytosis through activation of ADP ribosylation factor 5 (Arf5). J. Biol. Chem. 287, 31138–31147 (2012).

37.

Chia, P. Z., Gasnereau, I., Lieu, Z. Z. & Gleeson, P. A. Rab9-dependent retrograde transport and endosomal sorting of the endopeptidase furin. J. Cell Sci. 124, 2401–2413 (2011).

38.

Mallet, W. G. & Maxfield, F. R. Chimeric forms of furin and TGN38 are transported with the plasma membrane in the trans-Golgi network via distinct endosomal pathways. J Cell. Biol. 146, 345–359 (1999).

39.

Lennemann, N. J. & Coyne, C. B. Dengue and Zika viruses subvert reticulophagy by NS2B3-mediated cleavage of FAM134B. Autophagy 13, 322–332 (2017).

40.

Khaminets, A. et al. Regulation of endoplasmic reticulum turnover by selective autophagy. Nature 522, 354–358 (2015).

41.

Friedman, J. R., Dibenedetto, J. R., West, M., Rowland, A. A. & Voeltz, G. K. Endoplasmic reticulum-endosome contact increases as endosomes traffic and mature. Mol. Biol. Cell 24, 1030–1040 (2013).

42.

Di Mattia, T., Tomasetto, C. & Alpy, F. Faraway, so close! Functions of endoplasmic reticulum-endosome contacts. Biochim. Biophys. Acta Mol. Cell Biol. Lipids https://doi.org/10.1016/j.bbalip.2019.06.016 (2019).

43.

Iglesias, N. G. et al. Dengue virus uses a non-canonical function of the host GBF1-Arf-COPI system for capsid protein accumulation on lipid droplets. Traffic 16, 962–977 (2015).

44.

Faust, J. E. et al. The Atlastin C-terminal tail is an amphipathic helix that perturbs the bilayer structure during endoplasmic reticulum homotypic fusion. J. Biol. Chem. 290, 4772–4783 (2015).

45.

Wu, F., Hu, X., Bian, X., Liu, X. & Hu, J. Comparison of human and Drosophila atlastin GTPases. Protein Cell 6, 139–146 (2015).

46.

Friebe, P., Boudet, J., Simorre, J. P. & Bartenschlager, R. Kissing-loop interaction in the 3′ end of the hepatitis C virus genome essential for RNA replication. J. Virol. 79, 380–392 (2005).

47.

Fischl, W. & Bartenschlager, R. High-throughput screening using dengue virus reporter genomes. Methods Mol. Biol. 1030, 205–219 (2013).

48.

Munster, M. et al. A reverse genetics system for zika virus based on a simple molecular cloning strategy. Viruses 10, E368 (2018).

49.

Kuri, T., Habjan, M., Penski, N. & Weber, F. Species-independent bioassay for sensitive quantification of antiviral type I interferons. Virol. J. 7, 50 (2010).

50.

Vermeire, J. et al. Quantification of reverse transcriptase activity by real-time PCR as a fast and accurate method for titration of HIV, lenti- and retroviral vectors. PLoS ONE 7, e50859 (2012).

51.

Pizzato, M. et al. A one-step SYBR Green I-based product-enhanced reverse transcriptase assay for the quantitation of retroviruses in cell culture supernatants. J. Virol. Methods 156, 1–7 (2009).

52.

Shalem, O. et al. Genome-scale CRISPR-Cas9 knockout screening in human cells. Science 343, 84–87 (2014).

53.

Edgar, R. C. MUSCLE: a multiple sequence alignment method with reduced time and space complexity. BMC Bioinform. 5, 113 (2004).

54.

Ronquist, F. & Huelsenbeck, J. P. MrBayes 3: Bayesian phylogenetic inference under mixed models. Bioinformatics 19, 1572–1574 (2003).

55.

Stamatakis, A. RAxML-VI-HPC: maximum likelihood-based phylogenetic analyses with thousands of taxa and mixed models. Bioinformatics 22, 2688–2690 (2006).

56.

Le, S. Q. & Gascuel, O. An improved general amino acid replacement matrix. Mol. Biol. Evol. 25, 1307–1320 (2008).

57.

Doerflinger, S. Y. et al. Membrane alterations induced by nonstructural proteins of human norovirus. PLoS Pathog. 13, e1006705 (2017).

58.

Lee, J. Y. et al. Spatiotemporal coupling of the hepatitis C virus replication cycle by creating a lipid droplet-proximal membranous replication compartment. Cell Rep. 27, 3602–3617 (2019).

59.

Griffiths, G., Simons, K., Warren, G. & Tokuyasu, K. T. Immunoelectron microscopy using thin, frozen sections: application to studies of the intracellular transport of Semliki Forest virus spike glycoproteins. Methods Enzymol. 96, 466–485 (1983).

60.

Scaturro, P., Cortese, M., Chatel-Chaix, L., Fischl, W. & Bartenschlager, R. Dengue virus non-structural protein 1 modulates infectious particle production via interaction with the structural proteins. PLoS Pathog. 11, e1005277 (2015).

61.

Scaturro, P. et al. An orthogonal proteomic survey uncovers novel Zika virus host factors. Nature 561, 253–257 (2018).

62.

Tyanova, S., Temu, T. & Cox, J. The MaxQuant computational platform for mass spectrometry-based shotgun proteomics. Nat. Protoc. 11, 2301–2319 (2016).

63.

Holze, C. et al. Oxeiptosis, a ROS-induced caspase-independent apoptosis-like cell-death pathway. Nat. Immunol. 19, 130–140 (2018).

64.

Tyanova, S. et al. The Perseus computational platform for comprehensive analysis of (prote)omics data. Nat. Meth. 13, 731–740 (2016).

65.

Shannon, P. et al. Cytoscape: a software environment for integrated models of biomolecular interaction networks. Genome Res. 13, 2498–2504 (2003).
Acknowledgements
We thank A. Ruggieri, L. Chatel-Chaix and M. Joyce for constructive scientific discussions and valuable comments. We also thank U. Haselmann, M. Bartenschlager, I. Paron, A. Piras and S. Kallis for excellent technical support. We acknowledge the Electron Microscopy Core Facility at Heidelberg University and the Infectious Diseases Imaging Platform (IDIP) at the Center for Integrative Infectious Disease Research, Heidelberg, Germany, for expert assistance and access to their equipment as well as the Department of Proteomics and Signal Transduction of the Max-Planck Institute of Biochemistry for continuous and generous support. We thank the European Virus Archive (EVAg, France) for provision of ZV strains, J. Schmidt-Chanasit for providing WNV strains, F. Weber for providing the RVFV isolate, D. Trono for providing the lentiviral transduction system and M. Stanifer for providing the VSVg constructs. This work was supported by grants from the Deutsche Forschungsgemeinschaft (SFB1129, TP11 and BA1505/8-1, both to R.B., and TRR179 and TP11 to A.P.) and the ERC (StG iVIP 331339, CoG ProDAP 817798) to A.P. C.J.N. was supported in part by a European Molecular Biology Organization (EMBO) Long-Term Fellowship (ALTF 466-2016).
Ethics declarations
Competing interests
The authors declare no competing interests.
Additional information
Publisher's note Springer Nature remains neutral with regard to jurisdictional claims in published maps and institutional affiliations.
Supplementary information
About this article
Cite this article
Neufeldt, C.J., Cortese, M., Scaturro, P. et al. ER-shaping atlastin proteins act as central hubs to promote flavivirus replication and virion assembly. Nat Microbiol 4, 2416–2429 (2019). https://doi.org/10.1038/s41564-019-0586-3
Received:

Accepted:

Published:

Issue Date: