Since the emergence of methicillin-resistant Staphylococcus aureus 60 years ago, scientists have been trying to engineer β-lactam antibiotics to restore drug susceptibility. Genomic data now shows that clavulanic acid (a β-lactamase inhibitor) can restore susceptibility in many strains, but only if they carry key mutations.
Access options
Subscribe to Journal
Get full journal access for 1 year
$62.00
only $5.17 per issue
All prices are NET prices.
VAT will be added later in the checkout.
Rent or Buy article
Get time limited or full article access on ReadCube.
from$8.99
All prices are NET prices.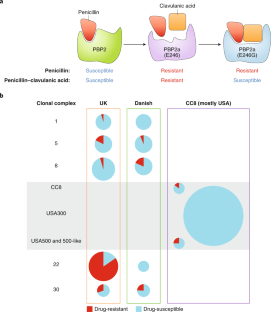 References
1.

Kourtis, A. P. et al. MMWR-Morbid. Mortal. W. 68, 214–219 (2019).

2.

Harrison, E. M. et al. Nat. Microbiol. https://doi.org/10.1038/s41564-019-0471-0 (2019).

3.

Cantoni, L., Wenger, A., Glauser, M. P. & Bille, J. J. Infect. Dis. 159, 989–993 (1989).

4.

Nicolas, M. H., Kitzis, M. D. & Karim, A. Med. Maladies Infect. 23, 82–94 (1993).

5.

Andreoni, M., Raillard, P., Concia, E. & Wang, Y. Curr. Ther. Res. Clin. E. 50, 386–395 (1991).

6.

Chambers, H. F., Sachdeva, M. & Kennedy, S. J. Infect. Dis. 162, 705–710 (1990).

7.

Chambers, H. F., Kartalija, M. & Sande, M. J. Infect. Dis. 171, 897–902 (1995).