Bacterial biofilms fabricate an extracellular amyloid fibre network that intimately links cells together and inhibits the ability of bacteriophages to penetrate the biofilm.
Access options
Subscribe to Journal
Get full journal access for 1 year
$59.00
only $4.92 per issue
All prices are NET prices.
VAT will be added later in the checkout.
Rent or Buy article
Get time limited or full article access on ReadCube.
from$8.99
All prices are NET prices.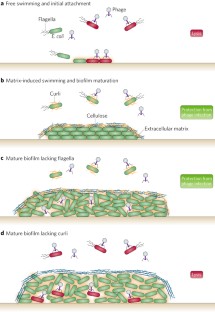 References
1.

Chauret, C. Virulence 6, 593–601 (2011).

2.

Kackar, S., Suman, E. & Kotian, M. S. Indian J. Med. Microbiol. 35, 80–84 (2017).

3.

Hara, S., Koike, I., Terauchi, K., Kamiya, H. & Tanoue, E. Mar. Ecol. Prog. Ser. 145, 269–277 (1996).

4.

Vidakovic, L., Singh, P. K., Hartmann, R., Nadell, C. D. & Drescher, K. Nat. Microbiol. https://doi.org/10.1038/s41564-017-0050-1 (2017)

5.

Kostakioti, M., Hadjifrangiskou, M. & Hultgren, S. J. Cold Spring Harb. Perspect. Med. 4, a010306 (2013).

6.

Zhou, Y. et al. J. Biol. Chem. 287, 35092–35103 (2012).

7.

DePas, W. H. et al. Proc. Natl Acad. Sci. USA 7, 2629–2634 (2012).

8.

Serra, D. O., Richter, A. M. & Hengge, R. J. Bacteriol. 24, 5540–5554 (2013).
Ethics declarations
Competing interests
The authors declare no competing financial interests.
About this article
Cite this article
Price, J.E., Chapman, M.R. Phaged and confused by biofilm matrix. Nat Microbiol 3, 2–3 (2018). https://doi.org/10.1038/s41564-017-0078-2
Further reading
Fatemeh Safari

,

Mehrdad Sharifi

,

Safar Farajnia

,

Bahman Akbari

,

Mohammad Karimi Baba Ahmadi

,

Manica Negahdaripour

&

Younes Ghasemi

Critical Reviews in Biotechnology (2020)

Eva Asp

,

Ming Proschitsky

,

Michal Lulu

,

Cassandra Rockwell-Postel

,

Haim Tsubery

&

Rajaraman Krishnan

Journal of Molecular Biology (2019)