The incorporation of additional gene circuits into hosts can often lead to unpredicted and undesirable behaviours. Recent work has developed a modelling framework that accounts for host–circuit interactions and can predict a variety of phenotypes at both single-cell and population levels.
Access options
Subscribe to Journal
Get full journal access for 1 year
$62.00
only $5.17 per issue
All prices are NET prices.
VAT will be added later in the checkout.
Rent or Buy article
Get time limited or full article access on ReadCube.
from$8.99
All prices are NET prices.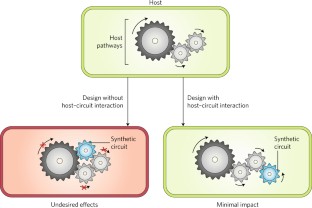 References
1.

Liao, C., Blanchard, A. E. & Lu, T. Nat. Microbiol. https://doi.org/10.1038/s41564-017-0022-5 (2017).

2.

Chandran, D., Bergmann, F. T., Sauro, H. M. & Densmore D. in Design and Analysis of Biomolecular Circuits (eds Koeppl, H. et al.) 203–224 (Springer, New York, 2011).

3.

Registry of Standard Biological Parts (iGEM); http://parts.igem.org/

4.

Ajikumar, P. K. Science 330, 70–74 (2010).

5.

Karr, J. R. et al. Cell 150, 389–401 (2012).

6.

Weiße, A. Y. et al. Proc. Natl Acad. Sci. USA 112, E1038–E1047 (2015).

7.

Potrykus, K. & Cashel, M. Annu. Rev. Microbiol. 62, 35–51 (2008).

8.

Zah, E. et al. Cancer Immunol. Res. 4, 498–508 (2016).

9.

Weinberg, B. H. et al. Nat. Biotech. 35, 453–462 (2017).

10.

Galanie, S. et al. Science 349, 1095–1100 (2015).
Ethics declarations
Competing interests
The authors declare no competing financial interests.
About this article
Cite this article
Aedo, S.J., Gelderman, G. & Brynildsen, M.P. Tackling host–circuit give and take. Nat Microbiol 2, 1584–1585 (2017). https://doi.org/10.1038/s41564-017-0058-6
Further reading
Jordan J. Sickle

,

Congjian Ni

,

Daniel Shen

,

Zewei Wang

,

Matthew Jin

&

Ting Lu

Scientific Reports (2020)