Abstract
Materials that possess the ability to self-heal cracks at room temperature, akin to living organisms, are highly sought after. However, achieving crack self-healing in inorganic materials, particularly with covalent bonds, presents a great challenge and often necessitates high temperatures and considerable atomic diffusion. Here we conducted a quantitative evaluation of the room-temperature self-healing behaviour of a fractured nanotwinned diamond composite, revealing that the self-healing properties of the composite stem from both the formation of nanoscale diamond osteoblasts comprising sp2- and sp3-hybridized carbon atoms at the fractured surfaces, and the atomic interaction transition from repulsion to attraction when the two fractured surfaces come into close proximity. The self-healing process resulted in a remarkable recovery of approximately 34% in tensile strength for the nanotwinned diamond composite. This discovery sheds light on the self-healing capability of nanostructured diamond, offering valuable insights for future research endeavours aimed at enhancing the toughness and durability of brittle ceramic materials.
Access options
Access Nature and 54 other Nature Portfolio journals
Get Nature+, our best-value online-access subscription
$29.99 / 30 days
cancel any time
Subscribe to this journal
Receive 12 print issues and online access
$259.00 per year
only $21.58 per issue
Rent or buy this article
Prices vary by article type
from$1.95
to$39.95
Prices may be subject to local taxes which are calculated during checkout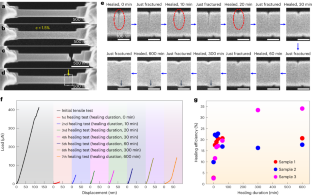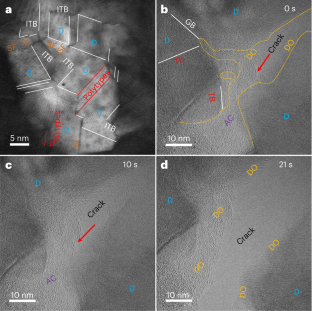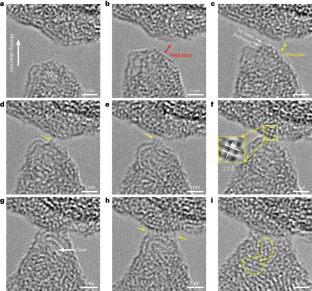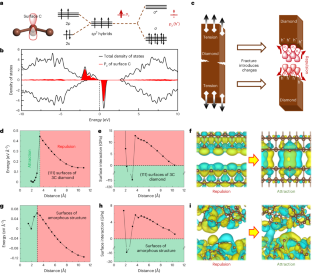 References
Dry, C. Procedures developed for self-repair of polymer matrix composite materials. Compos. Struct. 35, 263–269 (1996).

White, S. R. et al. Autonomic healing of polymer composites. Nature 409, 794–797 (2001).

Urban, M. W. et al. Key-and-lock commodity self-healing copolymers. Science 362, 220–225 (2018).

Liu, J. et al. Tough supramolecular polymer networks with extreme stretchability and fast room-temperature self-healing. Adv. Mater. 29, 1605325 (2017).

Li, C. H. et al. A highly stretchable autonomous self-healing elastomer. Nat. Chem. 8, 618–624 (2016).

Hu, K. & Olsen, B. R. Osteoblast-derived VEGF regulates osteoblast differentiation and bone formation during bone repair. J. Clin. Invest. 126, 509–526 (2016).

Willenborg, S. & Eming, S. A. Cellular networks in wound healing. Science 362, 891–892 (2018).

Yang, H. J., Pei, Y. T. & De Hosson, J. T. M. Oxide-scale growth on Cr2AlC ceramic and its consequence for self-healing. Scr. Mater. 69, 203–206 (2013).

Chen, G., Zhang, R., Zhang, X., Zhao, L. & Han, W. Oxidation-induced crack healing in Zr2Al4C5 ceramic. Mater. Des. 30, 3602–3607 (2009).

Burnworth, M. et al. Optically healable supramolecular polymers. Nature 472, 334–337 (2011).

Corten, C. C. & Urban, M. W. Repairing polymers using oscillating magnetic field. Adv. Mater. 21, 5011–5015 (2009).

Li, B., Cao, P. F., Saito, T. & Sokolov, A. P. Intrinsically self-healing polymers: from mechanistic insight to current challenges. Chem. Rev. 123, 701–735 (2023).

Lange, F. F. & Radford, K. C. Healing of surface cracks in polycrystalline Al2O3. J. Am. Ceram. Soc. 53, 420–421 (1970).

Osada, T., Nakao, W., Takahashi, K., Ando, K. & Saito, S. Strength recovery behavior of machined Al2O3/SiC nano-composite ceramics by crack-healing. J. Eur. Ceram. Soc. 27, 3261–3267 (2007).

Zhang, L., Bailey, J. B., Subramanian, R. H., Groisman, A. & Tezcan, F. A. Hyperexpandable, self-healing macromolecular crystals with integrated polymer networks. Nature 557, 86–91 (2018).

Yanagisawa, Y., Nan, Y., Okuro, K. & Aida, T. Mechanically robust, readily repairable polymers via tailored noncovalent cross-linking. Science 359, 72–76 (2018).

Ying, H., Zhang, Y. & Cheng, J. Dynamic urea bond for the design of reversible and self-healing polymers. Nat. Commun. 5, 3218 (2014).

Wang, B. et al. Mechanically assisted self-healing of ultrathin gold nanowires. Small 14, 1704085 (2018).

Nakao, W. et al. Self-crack-healing behavior of mullite/SiC particle/SiC whisker multi-composites and potential use for ceramic springs. J. Am. Ceram. Soc. 89, 1352–1357 (2006).

Jin, T. et al. Mechanical polishing of ultrahard nanotwinned diamond via transition into hard sp2-sp3 amorphous carbon. Carbon 161, 1–6 (2020).

Zeng, Z. et al. Preservation of high-pressure volatiles in nanostructured diamond capsules. Nature 608, 513–517 (2022).

Sumant, A. V., Auciello, O., Liao, M. & Williams, O. A. MEMS/NEMS based on mono-, nano-, and ultrananocrystalline diamond films. MRS Bull. 39, 511–516 (2014).

Bilal, M., Cheng, H., González-González, R. B., Parra-Saldívar, R. & Iqbal, H. M. N. Bio-applications and biotechnological applications of nanodiamonds. J. Mater. Res. Technol. 15, 6175–6189 (2021).

Handschuh-Wang, S. et al. Corrosion resistant functional diamond coatings for reliable interfacing of liquid metal with solid metals. ACS Appl. Mater. Interfaces 12, 40891–40900 (2020).

Field, J. E. & Freeman, C. J. Strength and fracture properties of diamond. Philos. Mag. A 43, 595–618 (1981).

Dang, C. et al. Achieving large uniform tensile elasticity in microfabricated diamond. Science 371, 76–78 (2021).

Nie, A. et al. Direct observation of room-temperature dislocation plasticity in diamond. Matter 2, 1222–1232 (2020).

Regan, B. et al. Plastic deformation of single-crystal diamond nanopillars. Adv. Mater. 32, 1906458 (2020).

Bu, Y., Wang, P., Nie, A. & Wang, H. Room-temperature plasticity in diamond. Sci. China Technol. Sci. 64, 32–36 (2021).

Yue, Y. et al. Hierarchically structured diamond composite with exceptional toughness. Nature 582, 370–374 (2020).

Fuller, J. & An, Q. Room-temperature plastic deformation in diamond nanopillars. Matter 2, 1082–1084 (2020).

Leonesio, R. B. Fracture and healing effects in mica crystals. J. Am. Ceram. Soc. 55, 437–439 (1972).

Gaines, G. L. & Tabor, D. Surface adhesion and elastic properties of mica. Nature 178, 1304–1305 (1956).

Li, F. et al. Dual-phase super-strong and elastic ceramic. ACS Nano 13, 4191–4198 (2019).

Yoon, J. K. et al. Enhanced bone repair by guided osteoblast recruitment using topographically defined implant. Tissue Eng. A 22, 654–664 (2016).

Chou, C. T., Gaur, U. & Miller, B. Fracture mechanisms during fiber pull-out for carbon-fiber-reinforced thermosetting composites. Compos. Sci. Technol. 48, 307–316 (1993).

Bruley, J., Williams, D. B., Cuomo, J. J. & Pappas, D. P. Quantitative near-edge structure analysis of diamond-like carbon in the electron microscope using a two-window method. J. Microsc. 180, 22–32 (1995).

Hu, M. et al. Compressed glassy carbon: an ultrastrong and elastic interpenetrating graphene network. Sci. Adv. 3, e1603213 (2017).

Shang, Y. et al. Ultrahard bulk amorphous carbon from collapsed fullerene. Nature 599, 599–604 (2021).

Tang, H. et al. Synthesis of paracrystalline diamond. Nature 599, 605–610 (2021).

Zhang, S. et al. Discovery of carbon-based strongest and hardest amorphous material. Natl Sci. Rev. 9, nwab140 (2022).

Gressus, C. L. et al. Charging phenomena on insulating materials: mechanisms and applications. Scanning 12, 203–210 (1990).

Liu, L. et al. Controllable reversibility of an sp2 to sp3 transition of a single wall nanotube under the manipulation of an AFM tip: a nanoscale electromechanical switch? Phys. Rev. Lett. 84, 4950–4953 (2000).

Kresse, G. & Furthmüller, J. Efficiency of ab-initio total energy calculations for metals and semiconductors using a plane-wave basis set. Comp. Mater. Sci. 6, 15–50 (1996).

Kresse, G. & Furthmüller, J. Efficient iterative schemes for ab initio total-energy calculations using a plane-wave basis set. Phys. Rev. B 54, 11169–11186 (1996).

Perdew, J. P. et al. Atoms, molecules, solids, and surfaces: applications of the generalized gradient approximation for exchange and correlation. Phys. Rev. B 46, 6671–6687 (1992).

Chadi, D. J. Special points for Brillouin-zone integrations. Phys. Rev. B 16, 1746–1747 (1977).

Grimme, S., Antony, J., Ehrlich, S. & Krieg, H. A consistent and accurate ab initio parametrization of density functional dispersion correction (DFT-D) for the 94 elements H-Pu. J. Chem. Phys. 132, 154104 (2010).

Macmillan, N. H. & Kelly, A. On the relationship between ideal tensile strength and surface energy. Mater. Sci. Eng. 10, 139–143 (1972).

Hill, R. The elastic behaviour of a crystalline aggregate. Proc. Phys. Soc. A 65, 349–354 (1952).
Acknowledgements
This work was supported by the National Natural Science Foundation of China (52288102 to Y.T.; 51922017 and 51972009 to Y.Y.; 51532001 to L.G.; 52090020 to Y.T.; 52103322 to Y.G.) and the Natural Science Foundation of Hebei Province of China (E2022203109 to B.X.).
Ethics declarations
Competing interests
The authors declare no competing interests.
Peer review
Peer review information
Nature Materials thanks Derek Warner, Ming Dao and the other, anonymous, reviewer(s) for their contribution to the peer review of this work.
Additional information
Publisher's note Springer Nature remains neutral with regard to jurisdictional claims in published maps and institutional affiliations.
Supplementary information
Rights and permissions
Springer Nature or its licensor (e.g. a society or other partner) holds exclusive rights to this article under a publishing agreement with the author(s) or other rightsholder(s); author self-archiving of the accepted manuscript version of this article is solely governed by the terms of such publishing agreement and applicable law.
About this article
Cite this article
Qiu, K., Hou, J., Chen, S. et al. Self-healing of fractured diamond. Nat. Mater. 22, 1317–1323 (2023). https://doi.org/10.1038/s41563-023-01656-4
Received:

Accepted:

Published:

Issue Date:

DOI: https://doi.org/10.1038/s41563-023-01656-4