Abstract
Hydrogel materials show promise for diverse applications, particular as biocompatible materials due to their high water content. Despite advances in hydrogel technology in recent years, their application is often severely limited by inadequate mechanical properties and time-consuming fabrication processes. Here we report a rapid hydrogel preparation strategy that achieves the simultaneous photo-crosslinking and establishment of biomimetic soft–hard material interface microstructures. These biomimetic interfacial-bonding nanocomposite hydrogels are prepared within seconds and feature clearly separated phases but have a strongly bonded interface. Due to effective interphase load transfer, biomimetic interfacial-bonding nanocomposite gels achieve an ultrahigh toughness (138 MJ m−3) and exceptional tensile strength (15.31 MPa) while maintaining a structural stability that rivals or surpasses that of commonly used elastomer (non-hydrated) materials. Biomimetic interfacial-bonding nanocomposite gels can be fabricated into arbitrarily complex structures via three-dimensional printing with micrometre-level precision. Overall, this work presents a generalizable preparation strategy for hydrogel materials and acrylic elastomers that will foster potential advances in soft materials.
Access options
Access Nature and 54 other Nature Portfolio journals
Get Nature+, our best-value online-access subscription
$29.99 / 30 days
cancel any time
Subscribe to this journal
Receive 12 print issues and online access
$259.00 per year
only $21.58 per issue
Rent or buy this article
Prices vary by article type
from$1.95
to$39.95
Prices may be subject to local taxes which are calculated during checkout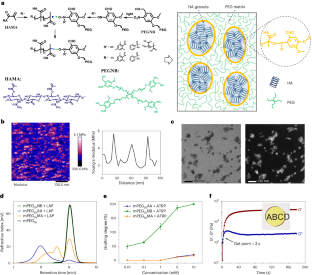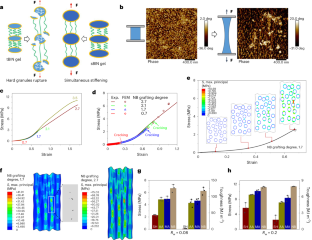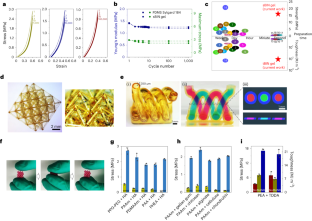 Data availability
All the data and relevant information are available within the Article and its Supplementary Information. Additional raw data generated in this study are available from the corresponding authors upon request. Source data are provided with this paper.
References
Zhang, Y. S. & Khademhosseini, A. Advances in engineering hydrogels. Science 356, eaaf3627 (2017).

Li, J. et al. Tough adhesives for diverse wet surfaces. Science 357, 378–381 (2017).

Lutolf, M. P. et al. Synthetic matrix metalloproteinase-sensitive hydrogels for the conduction of tissue regeneration: engineering cell-invasion characteristics. Proc. Natl Acad. Sci. USA 100, 5413–5418 (2003).

Zhao, X. Multi-scale multi-mechanism design of tough hydrogels: building dissipation into stretchy networks. Soft Matter 10, 672–687 (2014).

Rauner, N. et al. Enzymatic mineralization generates ultrastiff and tough hydrogels with tunable mechanics. Nature 543, 407–410 (2017).

Gong, J. P., Katsuyama, Y., Kurokawa, T. & Osada, Y. Double-network hydrogels with extremely high mechanical strength. Adv. Mater. 15, 1155–1158 (2003).

Sun, J. Y. et al. Highly stretchable and tough hydrogels. Nature 489, 133–136 (2012).

Gong, J. P. Why are double network hydrogels so tough? Soft Matter 6, 2583–2590 (2010).

Ritchie, R. O. The conflicts between strength and toughness. Nat. Mater. 10, 817–822 (2011).

Sun, T. L. et al. Physical hydrogels composed of polyampholytes demonstrate high toughness and viscoelasticity. Nat. Mater. 12, 932–937 (2013).

Mredha, M. T. I. et al. A facile method to fabricate anisotropic hydrogels with perfectly aligned hierarchical fibrous structures. Adv. Mater. 30, 1704937 (2018).

Means, A. K. & Grunlan, M. A. Modern strategies to achieve tissue-mimetic, mechanically robust hydrogels. ACS Macro Lett. 8, 705–713 (2019).

Nakajima, T. et al. Synthesis and fracture process analysis of double network hydrogels with a well-defined first network. ACS Macro Lett. 2, 518–521 (2013).

Hua, M. et al. Strong tough hydrogels via the synergy of freeze-casting and salting out. Nature 590, 594–599 (2021).

Lin, S. et al. Anti-fatigue-fracture hydrogels. Sci. Adv. 5, eaau8528 (2019).

Lin, P., Ma, S., Wang, X. & Zhou, F. Molecularly engineered dual-crosslinked hydrogel with ultrahigh mechanical strength, toughness, and good self-recovery. Adv. Mater. 27, 2054–2059 (2015).

Yu, C. et al. Photopolymerizable biomaterials and light-based 3D printing strategies for biomedical applications. Chem. Rev. 120, 10695–10743 (2020).

Harrington, M. J., Masic, A., Holten-Andersen, N., Waite, J. H. & Fratzl, P. Iron-clad fibers: a metal-based biological strategy for hard flexible coatings. Science 328, 216–220 (2010).

Wegst, U. G. K., Bai, H., Saiz, E., Tomsia, A. P. & Ritchie, R. O. Bioinspired structural materials. Nat. Mater. 14, 23–36 (2014).

Barthelat, F., Yin, Z. & Buehler, M. J. Structure and mechanics of interfaces in biological materials. Nat. Rev. Mater. 1, 16007 (2016).

Wang, Z. et al. Stretchable materials of high toughness and low hysteresis. Proc. Natl Acad. Sci. USA 116, 5967–5972 (2019).

Song, P. et al. Granular nanostructure: a facile biomimetic strategy for the design of supertough polymeric materials with high ductility and strength. Adv. Mater. 29, 1704661 (2017).

Song, N., Gao, Z. & Li, X. Tailoring nanocomposite interfaces with graphene to achieve high strength and toughness. Sci. Adv. 6, eaba7016 (2020).

Thoniyot, P. et al. Nanoparticle-hydrogel composites: concept, design, and applications of these promising, multi-functional materials. Adv. Sci. 2, 1400010 (2015).

Haraguchi, K. & Takehisa, T. Nanocomposite hydrogels: a unique organic-inorganic network structure with extraordinary mechanical, optical and swelling/de-swelling properties. Adv. Mater. 14, 1120–1124 (2002).

Necas, J., Bartosikova, L., Brauner, P. & Kolář, J. Hyaluronic acid (hyaluronan): a review. Vet. Med. 53, 397–411 (2008).

Ellis-Davies, G. C. R. Neurobiology with caged calcium. Chem. Rev. 108, 1603–1613 (2008).

Chen, M., Zhong, M. & Johnson, J. A. Light-controlled radical polymerization: mechanisms, methods, and applications. Chem. Rev. 116, 10167–10211 (2016).

Moad, G. & Rizzardo, E. in Nitroxide Mediated Polymerization: from Fundamentals to Applications in Materials Science Vol. 19 (ed. Gigmes, D.) Ch. 1, 1–44 (Royal Society of Chemistry, 2016).

Kamata, H., Akagi, Y., Kayasuga-Kariya, Y., Chung, U. I. & Sakai, T. 'Nonswellable' hydrogel without mechanical hysteresis. Science 343, 873–875 (2014).

Zhao, X. Designing toughness and strength for soft materials. Proc. Natl Acad. Sci. USA 114, 8138–8140 (2017).

Kim, B. et al. A comparison among Neo-Hookean model, Mooney-Rivlin model, and Ogden model for chloroprene rubber. Int. J. Precis. Eng. Manuf. 13, 759–764 (2012).

Hoyle, C. E. & Bowman, C. N. Thiol-ene click chemistry. Angew. Chem. Int. Ed. 49, 1540–1573 (2010).

Killops, K. L., Campos, L. M. & Hawker, C. J. Robust, efficient, and orthogonal synthesis of dendrimers via thiol-ene "click" chemistry. J. Am. Chem. Soc. 130, 5062–5064 (2008).

Yang, C., Yin, T. & Suo, Z. Polyacrylamide hydrogels. I. Network imperfection. J. Mech. Phys. Solids 131, 43–55 (2019).

Zhong, M. et al. Quantifying the impact of molecular defects on polymer network elasticity. Science 353, 1264–1268 (2016).

Bai, R., Yang, J. & Suo, Z. Fatigue of hydrogels. Eur. J. Mech. A Solids 74, 337–370 (2019).

Chen, Q., Liang, S. & Thouas, G. A. Elastomeric biomaterials for tissue engineering. Prog. Polym. Sci. 38, 584–671 (2013).

Paul, C. Hydrogels for soft machines. Adv. Mater. 21, 743–756 (2009).

Grigoryan, B. et al. Multivascular networks and functional intravascular topologies within biocompatible hydrogels. Science 364, 458–464 (2019).

Lee, A. et al. 3D bioprinting of collagen to rebuild components of the human heart. Science 365, 482–487 (2019).

Smith, P. A. & Yeomans, J. A. Benefits of fiber and particulate reinforcement. Mater. Sci. Eng. 2, 133–154 (2009).

Kim, J. et al. Fracture, fatigue, and friction of polymers in which entanglements greatly outnumber cross-links. Science 374, 212–216 (2021).

Zhang, B. et al. Dual-dynamic interpenetrated networks tuned through macromolecular architecture. Polym. Chem. 10, 6290–6304 (2019).

Ducrot, E. et al. Toughening elastomers with sacrificial bonds and watching them break. Science 344, 186–189 (2014).

Dunlop, J. W. C., Weinkamer, R. & Fratzl, P. Artful interfaces within biological materials. Mater. Today 14, 70–78 (2011).

Freedman, B. R. et al. Degradable and removable tough adhesive hydrogels. Adv. Mater. 33, 2008553 (2021).

Zou, X. et al. Viscoelasticity and structures in chemically and physically dual-cross-linked hydrogels: insights from rheology and proton multiple-quantum NMR spectroscopy. Macromolecules 50, 9340–9352 (2017).
Acknowledgements
We thank Q. Shan, H. Li and X. Guo at Shanghai Jiao Tong University for technical assistance and F. Wang and P. Sun at Nankai University for the NMR characterization of gels. This work was financially supported by the National Key Research and Development Program of China (2019YFA0110500, L.Z. and Q.L.; 2021YFC2701400, Q.L.; 2019YFA0904800, L.Z.), the National Natural Science Foundation of China (22022506, Q.L.; 32121005, L.Z.; 21937004, L.Z.) and the Interdisciplinary Program of Shanghai Jiao Tong University (YG2022ZD017, Q.L.; YG2022ZD009, L.Z.), as well as the Young Leading Scientists Cultivation Plan supported by the Shanghai Municipal Education Commission (ZXWH1082101, Q.L.).
Ethics declarations
Competing interests
The authors declare no competing interests.
Peer review
Peer review information
Nature Materials thanks Jeremiah Johnson and the other, anonymous, reviewer(s) for their contribution to the peer review of this work.
Additional information
Publisher's note Springer Nature remains neutral with regard to jurisdictional claims in published maps and institutional affiliations.
Supplementary information
Rights and permissions
Springer Nature or its licensor (e.g. a society or other partner) holds exclusive rights to this article under a publishing agreement with the author(s) or other rightsholder(s); author self-archiving of the accepted manuscript version of this article is solely governed by the terms of such publishing agreement and applicable law.
About this article
Cite this article
Bao, B., Zeng, Q., Li, K. et al. Rapid fabrication of physically robust hydrogels. Nat. Mater. 22, 1253–1260 (2023). https://doi.org/10.1038/s41563-023-01648-4
Received:

Accepted:

Published:

Issue Date:

DOI: https://doi.org/10.1038/s41563-023-01648-4