Abstract
Circularly polarized light sources with free-space directional emission play a key role in chiroptics1, spintronics2, valleytronics3 and asymmetric photocatalysis4. However, conventional approaches fail to simultaneously realize pure circular polarization, high directionality and large emission angles in a compact emitter. Metal-halide perovskite semiconductors are promising light emitters5,6,7,8, but the absence of an intrinsic spin-locking mechanism results in poor emission chirality. Further, device integration has undermined the efficiency and directionality of perovskite chiral emitters. Here we realize compact spin-valley-locked perovskite emitting metasurfaces where spin-dependent geometric phases are imparted into bound states in the continuum via Brillouin zone folding, and thus, photons with different spins are selectively addressed to opposite valleys. Employing this approach, chiral purity of 0.91 and emission angle of 41.0° are simultaneously achieved, with a beam divergence angle of 1.6°. With this approach, we envisage the realization of chiral light-emitting diodes, as well as the on-chip generation of entangled photon pairs.
Access options
Access Nature and 54 other Nature Portfolio journals
Get Nature+, our best-value online-access subscription
$29.99 / 30 days
cancel any time
Subscribe to this journal
Receive 12 print issues and online access
$259.00 per year
only $21.58 per issue
Rent or buy this article
Prices vary by article type
from$1.95
to$39.95
Prices may be subject to local taxes which are calculated during checkout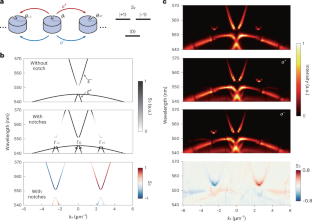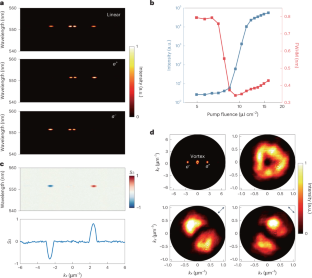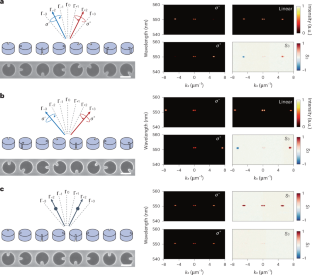 References
Chen, Y. et al. Multidimensional nanoscopic chiroptics. Nat. Rev. Phys. 4, 113–124 (2021).

Hirohata, A. et al. Review on spintronics: principles and device applications. J. Magn. Magn. Mater. 509, 166711 (2020).

Schaibley, J. R. et al. Valleytronics in 2D materials. Nat. Rev. Mater. 1, 16055 (2016).

Wang, L., Yin, L., Zhang, W., Zhu, X. & Fujiki, M. Circularly polarized light with sense and wavelengths to regulate azobenzene supramolecular chirality in optofluidic medium. J. Am. Chem. Soc. 139, 13218–13226 (2017).

Sutherland, B. R. & Sargent, E. H. Perovskite photonic sources. Nat. Photon. 10, 295–302 (2016).

Stranks, S. D. & Snaith, H. J. Metal-halide perovskites for photovoltaic and light-emitting devices. Nat. Nanotechnol. 10, 391–402 (2015).

Luo, J. et al. Efficient and stable emission of warm-white light from lead-free halide double perovskites. Nature 563, 541–545 (2018).

Kim, Y.-H. et al. Chiral-induced spin selectivity enables a room-temperature spin light-emitting diode. Science 371, 1129–1133 (2021).

Hendry, E. et al. Ultrasensitive detection and characterization of biomolecules using superchiral fields. Nat. Nanotechnol. 5, 783–787 (2010).

Zheng, G. et al. Metasurface holograms reaching 80% efficiency. Nat. Nanotechnol. 10, 308–312 (2015).

Sherson, J. F. et al. Quantum teleportation between light and matter. Nature 443, 557–560 (2006).

Long, G. et al. Spin control in reduced-dimensional chiral perovskites. Nat. Photon. 12, 528–533 (2018).

Ma, J. et al. Chiral 2D perovskites with a high degree of circularly polarized photoluminescence. ACS Nano 13, 3659–3665 (2019).

Hsu, C. W., Zhen, B., Stone, A. D., Joannopoulos, J. D. & Soljačić, M. Bound states in the continuum. Nat. Rev. Mater. 1, 16048 (2016).

Kodigala, A. et al. Lasing action from photonic bound states in continuum. Nature 541, 196–199 (2017).

Huang, C. et al. Ultrafast control of vortex microlasers. Science 367, 1018–1021 (2020).

Wu, M. et al. Room-temperature lasing in colloidal nanoplatelets via Mie-resonant bound states in the continuum. Nano Lett. 20, 6005–6011 (2020).

Hwang, M. S. et al. Ultralow-threshold laser using super-bound states in the continuum. Nat. Commun. 12, 4135 (2021).

Tian, J. et al. Phase-change perovskite microlaser with tunable polarization vortex. Adv. Mater. 35, 2207430 (2022).

Ha, S. T. et al. Directional lasing in resonant semiconductor nanoantenna arrays. Nat. Nanotechnol. 13, 1042–1047 (2018).

Azzam, S. I. et al. Single and multi-mode directional lasing from arrays of dielectric nanoresonators. Laser Photonics Rev. 15, 2000411 (2021).

Wang, J. et al. Routing valley exciton emission of a WS2 monolayer via delocalized Bloch modes of in-plane inversion-symmetry-broken photonic crystal slabs. Light. Sci. Appl. 9, 148 (2020).

Tian, J. et al. Optical Rashba effect in a light-emitting perovskite metasurface. Adv. Mater. 34, 2109157 (2022).

Kim, S. et al. Topological control of 2D perovskite emission in the strong coupling regime. Nano Lett. 21, 10076–10085 (2021).

Ardizzone, V. et al. Polariton Bose–Einstein condensate from a bound state in the continuum. Nature 605, 447–452 (2022).

Reineke Matsudo, B. et al. Efficient frequency conversion with geometric phase control in optical metasurfaces. Adv. Sci. 9, 2104508 (2022).

Zhang, X., Liu, Y., Han, J., Kivshar, Y. & Song, Q. Chiral emission from resonant metasurfaces. Science 377, 1215–1218 (2022).

Chen, Y. et al. Observation of intrinsic chiral bound states in the continuum. Nature 613, 474–478 (2023).

Mak, K. F., McGill, K. L., Park, J. & McEuen, P. L. The valley Hall effect in MoS2 transistors. Science 344, 1489–1492 (2014).

Wang, G. et al. Colloquium: excitons in atomically thin transition metal dichalcogenides. Rev. Mod. Phys. 90, 021001 (2018).

Rivera, P. et al. Valley-polarized exciton dynamics in a 2D semiconductor heterostructure. Science 351, 688–691 (2016).

Xiao, D., Chang, M.-C. & Niu, Q. Berry phase effects on electronic properties. Rev. Mod. Phys. 82, 1959 (2010).

Fang, A., Zhang, Z., Louie, S. & Chan, C. T. Klein tunneling and supercollimation of pseudospin-1 electromagnetic waves. Phys. Rev. B 93, 035422 (2016).

Mei, J., Ying, W., Chan, C. T. & Zhang, Z. Q. First-principles study of Dirac and Dirac-like cones in phononic and photonic crystals. Phys. Rev. B 86, 035141 (2012).

Huang, X., Lai, Y., Hang, Z. H., Zheng, H. & Chan, C. T. Dirac cones induced by accidental degeneracy in photonic crystals and zero-refractive-index materials. Nat. Mater. 10, 582–586 (2011).

Xing, G. et al. Low-temperature solution-processed wavelength-tunable perovskites for lasing. Nat. Mater. 13, 476–480 (2014).

Zhang, Q., Ha, S. T., Liu, X., Sum, T. C. & Xiong, Q. Room-temperature near-infrared high-Q perovskite whispering-gallery planar nanolasers. Nano Lett. 14, 5995–6001 (2014).

Zhu, H. et al. Lead halide perovskite nanowire lasers with low lasing thresholds and high quality factors. Nat. Mater. 14, 636–642 (2015).

Su, R. et al. Perovskite semiconductors for room-temperature exciton-polaritonics. Nat. Mater. 20, 1315–1324 (2021).

Su, R. et al. Observation of exciton polariton condensation in a perovskite lattice at room temperature. Nat. Phys. 16, 301–306 (2020).

Ghosh, S. et al. Microcavity exciton polaritons at room temperature. Photon. Insights 1, R04 (2022).
Acknowledgements
We thank Prof. L. Jiang for the constructive discussions on perovskite assembly. Q.X. gratefully acknowledges funding support from the National Natural Science Foundation of China (no. 12020101003 and no. 92250301) and strong support from the State Key Laboratory of Low-Dimensional Quantum Physics at Tsinghua University. R.S. gratefully acknowledges funding support from the Nanyang Technological University via a Nanyang Assistant Professorship start-up grant and the Singapore Ministry of Education via the AcRF Tier 3 programme 'Geometrical Quantum Materials' (MOE2018-T3-1-002). Y.C. acknowledges support from the National Natural Science Foundation of China (no. 62275241). Y. Hou acknowledges support from the National University of Singapore (NUS) Presidential Young Professorship (A-0009174-03-00 and A-0009174-02-00). Y. Hou also acknowledges financial support from SERIS, which is a research institute supported by NUS, the National Research Foundation Singapore (NRF), the Energy Market Authority of Singapore (EMA) and the Singapore Economic Development Board (EDB). C.-W.Q. acknowledges financial support from the National Research Foundation, Prime Minister's Office, Singapore, under Competitive Research Program Award NRF-CRP22-2019-0006. C.-W.Q. is also supported by a grant (R-261-518-004-720|A-0005947-16-00) from the Advanced Research and Technology Innovation Centre (ARTIC), NUS. Y. Huang acknowledges financial support from the Knut and Alice Wallenberg Foundation (KAW).
Ethics declarations
Competing interests
The authors declare no competing interests.
Peer review
Peer review information
Nature Materials thanks Makhsud Saidaminov and the other, anonymous, reviewer(s) for their contribution to the peer review of this work.
Additional information
Publisher's note Springer Nature remains neutral with regard to jurisdictional claims in published maps and institutional affiliations.
Supplementary information
Rights and permissions
Springer Nature or its licensor (e.g. a society or other partner) holds exclusive rights to this article under a publishing agreement with the author(s) or other rightsholder(s); author self-archiving of the accepted manuscript version of this article is solely governed by the terms of such publishing agreement and applicable law.
About this article
Cite this article
Chen, Y., Feng, J., Huang, Y. et al. Compact spin-valley-locked perovskite emission. Nat. Mater. 22, 1065–1070 (2023). https://doi.org/10.1038/s41563-023-01531-2
Received:

Accepted:

Published:

Issue Date:

DOI: https://doi.org/10.1038/s41563-023-01531-2