Abstract
Transport of excitons and charge carriers in molecular systems can be enhanced by coherent coupling to photons, giving rise to the formation of hybrid excitations known as polaritons. Such enhancement has far-reaching technological implications; however, the enhancement mechanism and the transport nature of these hybrid excitations remain elusive. Here we map the ultrafast spatiotemporal dynamics of polaritons formed by mixing surface-bound optical waves with Frenkel excitons in a self-assembled molecular layer, resolving polariton dynamics in energy/momentum space. We find that the interplay between the molecular disorder and long-range correlations induced by coherent mixing with light leads to a mobility transition between diffusive and ballistic transport, which can be controlled by varying the light–matter composition of the polaritons. Furthermore, we show that coupling to light enhances the diffusion coefficient of molecular excitons by six orders of magnitude and even leads to ballistic flow at two-thirds the speed of light.
Access options
Subscribe to Nature+
Get immediate online access to Nature and 55 other Nature journal
Subscribe to Journal
Get full journal access for 1 year
$119.00
only $9.92 per issue
All prices are NET prices.
VAT will be added later in the checkout.
Tax calculation will be finalised during checkout.
Buy article
Get time limited or full article access on ReadCube.
$32.00
All prices are NET prices.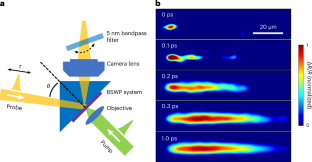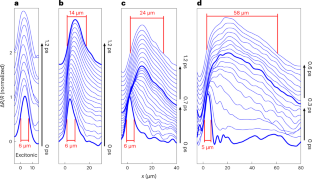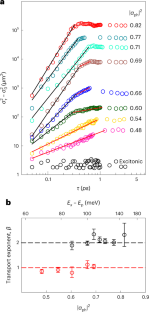 Data availability
The datasets generated during and/or analysed during the current study are available from the corresponding author on reasonable request.
References
Scholes, G. D., Fleming, G. R., Olaya-Castro, A. & Van Grondelle, R. Lessons from nature about solar light harvesting. Nature Chemistry 3, 763–774 (2011).

Forrest, S. R. Organic Electronics: Foundations to Applications (Oxford Univ. Press, 2020).

Tessler, N., Preezant, Y., Rappaport, N. & Roichman, Y. Charge transport in disordered organic materials and its relevance to thin-film devices: a tutorial review. Advanced Materials 21, 2741–2761 (2009).

Ginsberg, N. S. & Tisdale, W. A. Spatially resolved photogenerated exciton and charge transport in emerging semiconductors. Annual Review of Physical Chemistry 71, 1–30 (2020).

Orgiu, E. et al. Conductivity in organic semiconductors hybridized with the vacuum field. Nature Materials 14, 1123–1129 (2015).

Lerario, G. et al. High-speed flow of interacting organic polaritons. Light Sci. Appl. 6, e16212 (2017).

Rozenman, G. G., Akulov, K., Golombek, A. & Schwartz, T. Long-range transport of organic exciton–polaritons revealed by ultrafast microscopy. ACS Photonics 5, 105–110 (2018).

Zakharko, Y. et al. Radiative pumping and propagation of plexcitons in diffractive plasmonic crystals. Nano Letters 18, 4927–4933 (2018).

Nagarajan, K. et al. Conductivity and photoconductivity of a p-type organic semiconductor under ultrastrong coupling. ACS Nano 14, 10219–10225 (2020).

Hou, S. et al. Ultralong-range energy transport in a disordered organic semiconductor at room temperature via coherent exciton–polariton propagation. Adv. Mater. 32, 2002127 (2020).

Bhatt, P., Kaur, K. & George, J. Enhanced charge transport in two-dimensional materials through light–matter strong coupling. ACS Nano 15, 13616–13622 (2021).

Pandya, R. et al. Microcavity-like exciton–polaritons can be the primary photoexcitation in bare organic semiconductors. Nat. Commun. 12, 6519 (2021).

Pandya, R. et al. Tuning the coherent propagation of organic exciton polaritons through dark state delocalization. Advanced Science 2, 2105569 (2022).

Berghuis, A. M. et al. Controlling exciton propagation in organic crystals through strong coupling to plasmonic nanoparticle arrays. ACS Photonics 9, 2263–2272 (2022).

Garcia-Vidal, F. J., Ciuti, C. & Ebbesen, T. W. Manipulating matter by strong coupling to vacuum fields. Science 373, eabd0336 (2021).

Aberra Guebrou, S. et al. Coherent emission from a disordered organic semiconductor induced by strong coupling with surface plasmons. Phys. Rev. Lett. 108, 066401 (2012).

Shi, L. et al. Spatial coherence properties of organic molecules coupled to plasmonic surface lattice resonances in the weak and strong coupling regimes. Phys. Rev. Lett. 112, 153002 (2014).

Zhong, X. et al. Energy transfer between spatially separated entangled molecules. Angew. Chem. Int. Ed. 56, 9034–9038 (2017).

Du, M. et al. Theory for polariton-assisted remote energy transfer. Chem. Sci. 9, 6659–6669 (2018).

Georgiou, K., Jayaprakash, R., Othonos, A. & Lidzey, D. G. Ultralong-range polariton-assisted energy transfer in organic microcavities. Angew. Chem. Int. Ed. 60, 16661–16667 (2021).

Freixanet, T., Sermage, B., Tiberj, A. & Thierry-Mieg, V. Propagation of excitonic polaritons in a microcavity. Physica Status Solidi A 178, 133–138 (2000).

Feist, J. & Garcia-Vidal, F. J. Extraordinary exciton conductance induced by strong coupling. Phys. Rev. Lett. 114, 196402 (2015).

Schachenmayer, J., Genes, C., Tignone, E. & Pupillo, G. Cavity-enhanced transport of excitons. Phys. Rev. Lett. 114, 196403 (2015).

Gonzalez-Ballestero, C., Feist, J., Gonzalo Badía, E., Moreno, E. & Garcia-Vidal, F. J. Uncoupled dark states can inherit polaritonic properties. Phys. Rev. Lett. 117, 156402 (2016).

Hagenmüller, D., Schachenmayer, J., Schütz, S., Genes, C. & Pupillo, G. Cavity-enhanced transport of charge. Phys. Rev. Lett. 119, 223601 (2017).

Paravicini-Bagliani, G. L. et al. Magneto-transport controlled by Landau polariton states. Nat. Phys. 15, 186–190 (2018).

Sentef, M. A., Ruggenthaler, M. & Rubio, A. Cavity quantum-electrodynamical polaritonically enhanced electron-phonon coupling and its influence on superconductivity. Sci. Adv. 4, eaau6969 (2018).

Thomas, A. et al. Exploring superconductivity under strong coupling with the vacuum electromagnetic field. Preprint at https://arxiv.org/abs/1911.01459 (2019).

Botzung, T. et al. Dark state semilocalization of quantum emitters in a cavity. Phys. Rev. B 102, 144202 (2020).

Chávez, N. C., Mattiotti, F., Méndez-Bermúdez, J. A., Borgonovi, F. & Celardo, G. L. Disorder-enhanced and disorder-independent transport with long-range hopping: application to molecular chains in optical cavities. Phys. Rev. Lett. 126, 153201 (2021).

Guo, Q. et al. Boosting exciton transport in WSe2 by engineering its photonic substrate. ACS Photonics 9, 2817–2824 (2022).

Xu, D. et al. Ultrafast imaging of coherent polariton propagation and interactions. Preprint at https://arxiv.org/abs/2205.01176 (2022).

Engelhardt, G. & Cao, J. Polarition localization and spectroscopic properties of disordered quantum emitters in spatially-extended microcavities. Preprint at https://arxiv.org/abs/2209.02909 (2022).

Myers, D. M. et al. Polariton-enhanced exciton transport. Phys. Rev. B 98, 235302 (2018).

Su, R. et al. Room temperature long-range coherent exciton polariton condensate flow in lead halide perovskites. Sci. Adv 4, eaau0244 (2018).

Wurdack, M. et al. Motional narrowing, ballistic transport, and trapping of room-temperature exciton polaritons in an atomically-thin semiconductor. Nat. Commun. 12, 1–8 (2021).

Virgili, T. et al. Confocal ultrafast pump–probe spectroscopy: a new technique to explore nanoscale composites. Nanoscale 4, 2219–2226 (2012).

Akselrod, G. M. et al. Visualization of exciton transport in ordered and disordered molecular solids. Nat. Commun. 5, 3646 (2014).

Zhu, T., Wan, Y. & Huang, L. Direct imaging of Frenkel exciton transport by ultrafast microscopy. Acc. Chem. Res. 50, 1725–1733 (2017).

Wan, Y. et al. Cooperative singlet and triplet exciton transport in tetracene crystals visualized by ultrafast microscopy. Nat. Chem. 7, 785–792 (2015).

Delor, M., Weaver, H. L., Yu, Q. Q. & Ginsberg, N. S. Imaging material functionality through three-dimensional nanoscale tracking of energy flow. Nat. Mater. 19, 56–62 (2020).

Berghuis, A. M. et al. Effective negative diffusion of singlet excitons in organic semiconductors. J. Phys. Chem. Lett. 12, 1360–1366 (2021).

Michetti, P. & La Rocca, G. C. Polariton states in disordered organic microcavities. Phys. Rev. B 71, 1–7 (2005).

Agranovich, V. M. & Gartstein, Y. N. Nature and dynamics of low-energy exciton polaritons in semiconductor microcavities. Phys. Rev. B 75, 075302 (2007).

Yeh, P., Yariv, A. & Cho, A. Y. Optical surface waves in periodic layered media. Appl. Phys. Lett. 32, 104–105 (1978).

Lerario, G. et al. Room temperature Bloch surface wave polaritons. Opt. Lett. 39, 2068–2071 (2014).

Ohad, A. et al. Spatially resolved measurement of plasmon dispersion using Fourier-plane spectral imaging. Photon. Res. 6, 653–658 (2018).

Fischer, M. C., Wilson, J. W., Robles, F. E. & Warren, W. S. Pump–probe microscopy. Rev. Sci. Instrum. 87, 031101 (2016).

Schwartz, T. et al. Polariton dynamics under strong light-molecule coupling. ChemPhysChem 14, 125–131 (2013).

Mewes, L., Wang, M., Ingle, R. A., Börjesson, K. & Chergui, M. Energy relaxation pathways between light–matter states revealed by coherent two-dimensional spectroscopy. Commun. Phys. 3, 1–10 (2020).

Klafter, J. & Sokolov, I. M. First Steps in Random Walks (Oxford Univ. Press, 2013).

Barthelemy, P., Bertolotti, J. & Wiersma, D. S. A Lévy flight for light. Nature 453, 495–498 (2008).

Litinskaya, M. Propagation and localization of polaritons in disordered organic microcavities. Phys. Lett. A 372, 3898–3903 (2008).

Ishimaru, A. Wave Propagation and Scattering in Random Media (Elsevier, 1978).

Datta, S. in Lessons from Nanoelectronics: A New Perspective on Transport, Vol. 5 (eds Lundstrom, M. & Datta S.) 43–49 (World Scientific, 2018).

Lagendijk, A. & Van Tiggelen, B. A. Resonant multiple scattering of light. Physics Report 29, 143–215 (1996).

Tallon, B., Brunet, T., Leng, J. & Page, J. H. Energy velocity of multiply scattered waves in strongly scattering media. Phys. Rev. B 101, 054202 (2020).

Sanvitto, D. & Kéna-Cohen, S. The road towards polaritonic devices. Nat. Mater. 15, 1061–1073 (2016).

Bradley, M. S. & Bulović, V. Intracavity optical pumping of J-aggregate microcavity exciton polaritons. Phys. Rev. B 82, 033305 (2010).

Agranovich, V. M., Litinskaia, M. & Lidzey, D. G. Cavity polaritons in microcavities containing disordered organic semiconductors. Phys. Rev. B 67, 085311 (2003).
Acknowledgements
This research was supported by the Israel Science Foundation, grant number 1435/19 and 1993/13. The authors thank G. Markovich, T. Ellenbogen, S. Reuveni, C. Genet, G. Groenhof and A. Nitzan for useful discussions. T. S. is grateful to M. Segev for his kind support.
Ethics declarations
Competing interests
The authors declare no competing interests.
Peer review
Peer review information
Nature Materials thanks Ivan Shelykh and the other, anonymous, reviewer(s) for their contribution to the peer review of this work.
Additional information
Publisher's note Springer Nature remains neutral with regard to jurisdictional claims in published maps and institutional affiliations.
Supplementary information
Supplementary discussion, Figs. 1–6.
Rights and permissions
Springer Nature or its licensor (e.g. a society or other partner) holds exclusive rights to this article under a publishing agreement with the author(s) or other rightsholder(s); author self-archiving of the accepted manuscript version of this article is solely governed by the terms of such publishing agreement and applicable law.
About this article
Cite this article
Balasubrahmaniyam, M., Simkhovich, A., Golombek, A. et al. From enhanced diffusion to ultrafast ballistic motion of hybrid light–matter excitations. Nat. Mater. (2023). https://doi.org/10.1038/s41563-022-01463-3
Received:

Accepted:

Published:

DOI: https://doi.org/10.1038/s41563-022-01463-3