Abstract
Purely quantum electron systems exhibit intriguing correlated electronic phases by virtue of quantum fluctuations in addition to electron–electron interactions. To realize such quantum electron systems, a key ingredient is dense electrons decoupled from other degrees of freedom. Here, we report the discovery of a pure quantum electron liquid that spreads up to ~3 Å in a vacuum on the surface of an electride crystal. Its extremely high electron density and weak hybridization with buried atomic orbitals show the quantum and pure nature of the electrons, which exhibit a polarized liquid phase, as demonstrated by our spin-dependent measurement. Furthermore, upon enhancing the electron correlation strength, the dynamics of the quantum electrons change to that of a non-Fermi liquid along with an anomalous band deformation, suggestive of a transition to a hexatic liquid crystal phase. Our findings develop the frontier of quantum electron systems and serve as a platform for exploring correlated electronic phases in a pure fashion.
Access options
Subscribe to Nature+
Get immediate online access to Nature and 55 other Nature journal
Subscribe to Journal
Get full journal access for 1 year
$119.00
only $9.92 per issue
All prices are NET prices.
VAT will be added later in the checkout.
Tax calculation will be finalised during checkout.
Buy article
Get time limited or full article access on ReadCube.
$32.00
All prices are NET prices.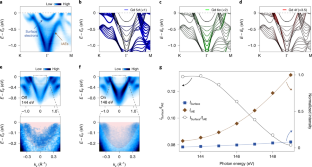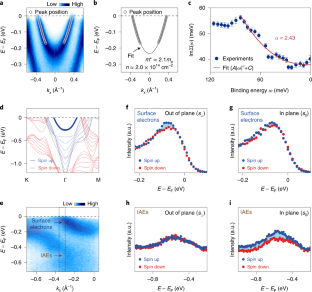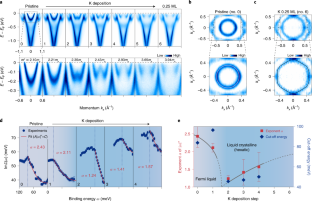 Data availability
All data supporting the findings of this work are included in the main text, extended data and Supplementary Information. These are available from the corresponding authors upon reasonable request.
References
Phillips, P., Wan, Y., Martin, I., Knysh, S. & Dalidovich, D. Superconductivity in a two-dimensional electron gas. Nature 395, 253–257 (1998).

Mannhart, J. & Schlom, D. G. Oxide interfaces—an opportunity for electronics. Science 327, 1607–1611 (2010).

Hwang, H. Y. et al. Emergent phenomena at oxide interfaces. Nat. Mater. 11, 103–113 (2012).

Wigner, E. On the interaction of electrons in metals. Phys. Rev. 46, 1002–1011 (1934).

Sommer, W. T. & Tanner, D. J. Mobility of electrons on the surface of liquid 4He. Phys. Rev. Lett. 27, 1345–1349 (1971).

Grimes, C. C., Brown, T. R., Burns, M. L. & Zipfel, C. L. Spectroscopy of electrons in image-potential-induced surface states outside liquid helium. Phys. Rev. B 13, 140–147 (1976).

Grimes, C. C. Electrons in surface states on liquid helium. Surf. Sci. 73, 379–395 (1978).

Grimes, C. C. & Adams, G. Evidence for a liquid-to-crystal phase transition in a classical two-dimensional sheet of electrons. Phys. Rev. Lett. 42, 795–798 (1979).

Grimes, C. C. & Adams, G. Crystallization of electrons on the surface of liquid helium. Surf. Sci. 98, 1–7 (1980).

Andrei, E. Y. Two-Dimensional Electron Systems on Helium and Other Cryogenic Substrates (Kluwer Academic Publishers, 1997).

Monarkha, Y. & Kono, K. Two-Dimensional Coulomb Liquids and Solids (Springer, 2004).

Gallet, F., Deville, G., Valdes, A. & Williams, F. I. B. Fluctuations and shear modulus of a classical two-dimensional electron solid: experiment. Phys. Rev. Lett. 49, 212–215 (1982).

Deville, G., Valdes, A., Andrei, E. Y. & Williams, F. I. B. Propagation of shear in a two-dimensional electron solid. Phys. Rev. Lett. 53, 588–591 (1984).

Marty, D. Stability of two-dimensional electrons on a fractionated helium surface. J. Phys. C Solid State Phys. 19, 6097–6104 (1986).

Spivak, B. & Kivelson, S. A. Phases intermediate between a two-dimensional electron liquid and Wigner crystal. Phys. Rev. B 70, 155114 (2004).

Waintal, X. On the quantum melting of the two-dimensional Wigner crystal. Phys. Rev. B 73, 075417 (2006).

Lee, K., Kim, S. W., Toda, Y., Matsuishi, S. & Hosono, H. Dicalcium nitride as a two-dimensional electride with an anionic electron layer. Nature 494, 336–340 (2013).

Park, J. et al. Strong localization of anionic electrons at interlayer for electrical and magnetic anisotropy in two-dimensional Y2C electride. J. Am. Chem. Soc. 139, 615–618 (2017).

Lee, S. Y. et al. Ferromagnetic quasi-atomic electrons in two-dimensional electride. Nat. Commun. 11, 1526 (2020).

Santander-Syro, A. F. et al. Two-dimensional electron gas with universal subbands at the surface of SrTiO3. Nature 469, 189–193 (2011).

Meevasana, W. et al. Creation and control of a two-dimensional electron liquid at the bare SrTiO3 surface. Nat. Mater. 10, 114–118 (2011).

Wang, Z. et al. Tailoring the nature and strength of electron–phonon interactions in the SrTiO3(001) 2D electron liquid. Nat. Mater. 15, 835–839 (2016).

Damascelli, A., Hussain, Z. & Shen, Z.-X. Angle-resolved photoemission studies of the cuprate superconductors. Rev. Mod. Phys. 75, 473–541 (2003).

Kaminski, A. & Fretwell, H. M. On the extraction of the self-energy from angle-resolved photoemission spectroscopy. N. J. Phys. 7, 98 (2005).

Ceperley, D. Ground state of the fermion one-component plasma: a Monte Carlo study in two and three dimensions. Phys. Rev. B 18, 3126–3138 (1978).

Varsano, D., Moroni, S. & Senatore, G. Spin-polarization transition in the two-dimensional electron gas. Europhys. Lett. 53, 348–353 (2001).

Attaccalite, C., Moroni, S., Gori-Giorgi, P. & Bachelet, G. B. Correlation energy and spin polarization in the 2D electron gas. Phys. Rev. Lett. 88, 256601 (2002).

Clark, B. K., Casula, M. & Ceperley, D. M. Hexatic and mesoscopic phases in a 2D quantum Coulomb system. Phys. Rev. Lett. 103, 055701 (2009).

Miyake, K., Matsuura, T. & Varma, C. M. Relation between resistivity and effective mass in heavy-fermion and A15 compounds. Solid State Commun. 71, 1149–1153 (1989).

Jacko, A. C., Fjærestad, J. O. & Powell, B. J. A unified explanation of the Kadowaki–Woods ratio in strongly correlated metals. Nat. Phys. 5, 422–425 (2009).

Varma, C. M., Littlewood, P. B., Schmitt-Rink, S., Abrahams, E. & Ruckenstein, A. E. Phenomenology of the normal state of Cu-O high-temperature superconductors. Phys. Rev. Lett. 63, 1996–1999 (1989).

Halperin, B. I. & Nelson, D. R. Theory of two-dimensional melting. Phys. Rev. Lett. 41, 121–124 (1978).

Platzman, P. M. & Dykman, M. I. Quantum computing with electrons floating on liquid helium. Science 284, 1967–1969 (1999).

Borisenko, S. V. et al. Pseudogap and charge density waves in two dimensions. Phys. Rev. Lett. 100, 196402 (2008).

Hashimoto, M. et al. Reaffirming the dx2−y2 superconducting gap using the autocorrelation angle-resolved photoemission spectroscopy of Bi1.5Pb0.55Sr1.6La0.4CuO6+δ. Phys. Rev. Lett. 106, 167003 (2011).

Kresse, G. & Furthmüller, J. Efficient iterative schemes for ab initio total-energy calculations using a plane-wave basis set. Phys. Rev. B 54, 11169–11186 (1996).

Blöchl, P. E. Projector augmented-wave method. Phys. Rev. B 50, 17953–17979 (1994).

Perdew, J. P., Burke, K. & Ernzerhof, M. Generalized gradient approximation made simple. Phys. Rev. Lett. 77, 3865–3868 (1996).

Becke, A. D. & Edgecombe, K. E. A simple measure of electron localization in atomic and molecular systems. J. Chem. Phys. 92, 5397–5403 (1990).

Scanlon, D. O. Leading the charge of electride discovery. Matter 1, 1113–1114 (2019).

Momma, K. & Izumi, F. VESTA 3 for three-dimensional visualization of crystal, volumetric and morphology data. J. Appl. Crystallogr. 44, 1272–1276 (2011).

Kokalj, A. XCrySDen—a new program for displaying crystalline structures and electron densities. J. Mol. Graph. Model. 17, 176–179 (1999).
Acknowledgements
This work was supported by a National Research Foundation of Korea (NRF) grant funded by the Korean government (Ministry of Science and ICT; grant nos 2021R1A6A1A03039696, 2022M3H4A1A01010832, 2020R1A4A2002828, 2020K1A3A7A09080366, 2021R1A2C1013119 and 2019R1A6A3A01091336), Samsung Science and Technology Foundation under project number SSTF-BA2101-04 and Institute for Basic Science (grant no. IBS-R011-D1). The Advanced Light Source is supported by the Office of Basic Energy Sciences of the US Department of Energy under contract no. DE-AC02-05CH11231. S.H. and C.K. acknowledge support from the Institute for Basic Science in Korea (grant no. IBS-R009-G2). Part of this study has been performed by using facilities at the Institute for Basic Science Center for Correlated Electron Systems, Seoul National University, Korea.
Ethics declarations
Competing interests
The authors declare no competing interests.
Peer review
Peer review information
Nature Materials thanks Stephen Dale, Atsushi Fujimori and the other, anonymous, reviewer(s) for their contribution to the peer review of this work.
Additional information
Publisher's note Springer Nature remains neutral with regard to jurisdictional claims in published maps and institutional affiliations.
Supplementary information
Rights and permissions
Springer Nature or its licensor holds exclusive rights to this article under a publishing agreement with the author(s) or other rightsholder(s); author self-archiving of the accepted manuscript version of this article is solely governed by the terms of such publishing agreement and applicable law.
About this article
Cite this article
Kim, S., Bang, J., Lim, Cy. et al. Quantum electron liquid and its possible phase transition. Nat. Mater. 21, 1269–1274 (2022). https://doi.org/10.1038/s41563-022-01353-8
Received:

Accepted:

Published:

Issue Date:

DOI: https://doi.org/10.1038/s41563-022-01353-8