Abstract
Simultaneous breaking of inversion and time-reversal symmetries in a conductor yields a non-reciprocal electronic transport1,2,3, known as the diode or rectification effect, that is, low (ideally zero) conductance in one direction and high (ideally infinite) conductance in the other. So far, most of the diode effects observed in non-centrosymmetric polar/superconducting conductors4,5,6,7 and Josephson junctions8,9,10 require external magnetic fields to break the time-reversal symmetry. Here we report zero-field polarity-switchable Josephson supercurrent diodes, in which a proximity-magnetized Pt layer by ferrimagnetic insulating Y3Fe5O12 serves as the Rashba(-type) Josephson barrier. The zero-field diode efficiency of our proximity-engineered device reaches up to ±35% at 2 K, with a clear square-root dependence on temperature. Measuring in-plane field-strength/angle dependences and comparing with Cu-inserted control junctions, we demonstrate that exchange spin-splitting11,12,13 and Rashba(-type) spin-orbit coupling13,14,15 at the Pt/Y3Fe5O12 interface are key for the zero-field giant rectification efficiency. Our achievement advances the development of field-free absolute Josephson diodes.
Access options
Subscribe to Nature+
Get immediate online access to the entire Nature family of 50+ journals
Subscribe to Journal
Get full journal access for 1 year
$119.00
only $9.92 per issue
All prices are NET prices.
VAT will be added later in the checkout.
Tax calculation will be finalised during checkout.
Buy article
Get time limited or full article access on ReadCube.
$32.00
All prices are NET prices.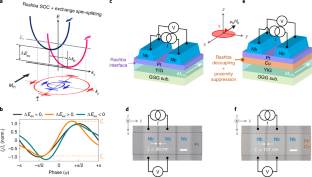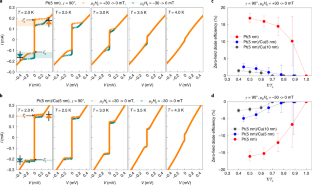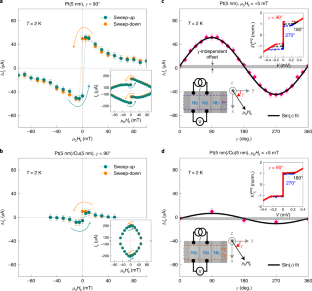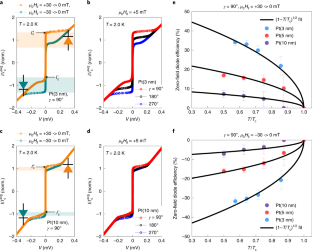 Data availability
Source data are provided with this paper. Other relevant data to this paper are available from the corresponding authors upon reasonable request.
References
Onsager, L. Reciprocal relations in irreversible processes. I. Phys. Rev. 37, 405–426 (1931).

Kubo, R. Statistical-mechanical theory of irreversible processes. I. General theory and simple applications to magnetic and conduction problems. J. Phys. Soc. Jpn. 12, 570–586 (1957).

Rikken, G. L. J. A., Fölling, J. & Wyder, P. Electrical magnetochiral anisotropy. Phys. Rev. Lett. 87, 236602 (2001).

Tokura, Y. & Nagaosa, N. Nonreciprocal responses from non-centrosymmetric quantum materials. Nat. Commun. 9, 3740 (2018).

Wakatsuki, R. et al. Nonreciprocal charge transport in noncentrosymmetric superconductors. Sci. Adv. 3, e1602390 (2017).

Ando, F. et al. Observation of superconducting diode effect. Nature 584, 373–376 (2020).

Bauriedl, L. et al., Supercurrent diode effect and magnetochiral anisotropy in few-layer NbSe2 nanowires. Preprint at https://arxiv.org/abs/2110.15752 (2021).

Baumgartner, C. et al. Supercurrent rectification and magnetochiral effects in symmetric Josephson junctions. Nat. Nanotech. 17, 39–44 (2021).

Baumgartner, C. et al. Effect of Rashba and Dresselhaus spin-orbit coupling on supercurrent rectification and magnetochiral anisotropy of ballistic Josephson junctions. Preprint at https://arxiv.org/abs/2111.13983 (2021).

Pal, B. et al. Josephson diode effect from Cooper pair momentum in a topological semimetal. Preprint at https://arxiv.org/abs/2112.11285 (2021).

Buzdin, A. Direct coupling between magnetism and superconducting current in the Josephson φ0 junction. Phys. Rev. Lett. 101, 107005 (2008).

Bergeret, F. S. & Tokatly, I. V. Theory of diffusive φ0 Josephson junctions in the presence of spin–orbit coupling. Europhys. Lett. 110, 57005 (2015).

Konschelle, F., Tokatly, I. V. & Bergeret, F. S. Theory of the spin-galvanic effect and the anomalous phase shift φ0 in superconductors and Josephson junctions with intrinsic spin-orbit coupling. Phys. Rev. B 92, 125443 (2015).

Bezuglyi, E. V., Rozhavsky, A. S., Vagner, I. D. & Wyder, P. Combined effect of Zeeman splitting and spin-orbit interaction on the Josephson current in a superconductor-two-dimensional electron gas-superconductor structure. Phys. Rev. B 66, 052508 (2002).

Reynoso, A. A., Usaj, G., Balseiro, C. A., Feinberg, D. & Avignon, M. Anomalous Josephson current in junctions with spin polarizing quantum point contacts. Phys. Rev. Lett. 101, 107001 (2008).

Neamen, D. A. Semiconductor Physics and Devices: Basic Principles 4th edn (McGraw-Hill, 2012).

Muller, R. S., Kamins, T. I. & Chan, M. Device Electronics for Integrated Circuits 3rd edn (John Wiley & Sons, Inc., 2003).

Rashba, E. I. Svoistva poluprovodnikov s petlei ekstremumov. I. Tsiklotronnyi i kombinirovannyi rezonans v magnitnom pole, perpendikulyarnom ploskosti petli. [Properties of semiconductors with an extremum loop. 1. Cyclotron and combinational resonance in a magnetic field perpendicular to the plane of the loop] Fiz. Tverd. Tela (Leningr.) 2, 1224–1238 (1960).

Manchon, A., Koo, H. C., Nitta, J., Frolov, S. M. & Duine, R. A. New perspectives for Rashba spin-orbit coupling. Nat. Mater. 14, 871–882 (2015).

Szombati, D. B. et al. Josephson φ0-junction in nanowire quantum dots. Nat. Phys. 12, 568–572 (2016).

Assouline, A. et al. Spin-orbit induced phase-shift in Bi2Se3 Josephson junctions. Nat. Commun. 10, 126 (2019).

Mayer, W. et al. Gate controlled anomalous phase shift in Al/InAs Josephson junctions. Nat. Commun. 11, 212 (2020).

Strambini, E. et al. A Josephson phase battery. Nat. Nanotechnol. 15, 656–660 (2020).

Golubov, A. A., Kupriyanov, M. Y. & Il'ichev, E. The current phase relation in Josephson junctions. Rev. Mod. Phys. 76, 411–469 (2004).

Vlietstra, N. et al. Exchange magnetic field torques in YIG/Pt bilayers observed by the spin-Hall magnetoresistance. Appl. Phys. Lett. 103, 032401 (2013).

Žutić, I., Matos-Abiague, A., Scharf, B., Hanan Dery, H. & Belashchenko, K. Proximitized materials. Mater. Today 22, 85–107 (2019).

Tanaka, T. et al. Intrinsic spin Hall effect and orbital Hall effect in 4d and 5d transition metals. Phys. Rev. B 77, 165117 (2008).

Diez-Merida, J. et al. Magnetic Josephson junctions and superconducting diodes in magic angle twisted bilayer graphene. Preprint at https://arxiv.org/abs/2110.01067 (2021).

Jeon, K.-R. et al. Giant transition-state quasiparticle spin-Hall effect in an exchange-spin-split superconductor detected by nonlocal magnon spin transport. ACS Nano 14, 15874–15883 (2020).

Zhang, X.-P., Bergeret, F. S. & Golovach, V. N. Theory of spin Hall magnetoresistance from a microscopic perspective. Nano Lett. 19, 6330–6337 (2019).

Ilić, S. & Bergeret, F. S. Theory of the supercurrent diode effect in Rashba superconductors with arbitrary disorder. Phys. Rev. Lett. 128, 177001 (2022).

Wu, H. et al. The field-free Josephson diode in a van der Waals heterostructure. Nature 604, 653–656 (2022).

Buzdin, A. I. Proximity effects in superconductor-ferromagnet heterostructures. Rev. Mod. Phys. 77, 935–976 (2005).

Bergeret, F. S. & Tokatly, I. V. Singlet-triplet conversion and the long-range proximity effect in superconductor-ferromagnet structures with generic spin dependent fields. Phys. Rev. Lett. 110, 117003 (2013).

Barone, A. & Paterno, G. Physics and applications of the Josephson effect 2nd edn (John Wiley & Sons, 1982).
Acknowledgements
This work was supported by the Alexander von Humboldt Foundation.
Ethics declarations
Competing interests
The authors declare no competing interests.
Peer review
Peer review information
Nature Materials thanks Jacobo Santamaria and the other, anonymous, reviewer(s) for their contribution to the peer review of this work.
Additional information
Publisher's note Springer Nature remains neutral with regard to jurisdictional claims in published maps and institutional affiliations.
About this article
Cite this article
Jeon, KR., Kim, JK., Yoon, J. et al. Zero-field polarity-reversible Josephson supercurrent diodes enabled by a proximity-magnetized Pt barrier. Nat. Mater. 21, 1008–1013 (2022). https://doi.org/10.1038/s41563-022-01300-7
Received:

Accepted:

Published:

Issue Date:

DOI: https://doi.org/10.1038/s41563-022-01300-7