Coupled liquid-crystalline network oscillators incorporating light-responsive molecules show synchronized motion when stimulated by light. This behaviour resembles that of synchronized clock pendulums and may find uses in advanced soft robotics applications.
This is a preview of subscription content
Access options
Subscribe to Journal
Get full journal access for 1 year
$99.00
only $8.25 per issue
All prices are NET prices.
VAT will be added later in the checkout.
Tax calculation will be finalised during checkout.
Rent or Buy article
Get time limited or full article access on ReadCube.
from$8.99
All prices are NET prices.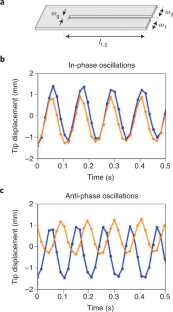 References
1.

Bennett, M., Schatz, M. F., Rockwood, H. & Wiesenfeld, K. Proc. R. Soc. A 458, 563–579 (2002).

2.

Peña Ramirez, J., Olvera, L. A., Nijmeijer, H. & Alvarez, J. Sci. Rep. 6, 23580 (2016).

3.

Vantomme, G. et al. Nat. Mater. https://doi.org/10.1038/s41563-021-00931-6 (2021).

4.

Pang, X., Lv, J., Zhu, C., Qin, L. & Yu, Y. Adv. Mater. 31, 1904224 (2019).

5.

Zhu, C., Lu, Y., Jiang, L. & Yu, Y. Adv. Funct. Mater. 31, 2009835 (2021).

6.

Yu, Y., Nakano, M. & Ikeda, T. Nature 425, 145 (2003).

7.

White, T. J. & Broer, D. J. Nat. Mater. 14, 1087–1098 (2015).

8.

Gelebart, A. H., Vantomme, G., Meijer, E. W. & Broer, D. J. Adv. Mater. 29, 1606712 (2017).
Ethics declarations
Competing interests
The author declares no competing interests.
About this article
Cite this article
Yu, Y. Synchronized dancing under light. Nat. Mater. 20, 1594–1595 (2021). https://doi.org/10.1038/s41563-021-01159-0