Tamm plasmon thermal emitters can provide efficient infrared emission, but are limited by design complexity. Now, the inverse design of Tamm modes facilitated by CdO films on aperiodic dielectric reflectors enables emission with an on-demand spectrum.
This is a preview of subscription content
Access options
Subscribe to Journal
Get full journal access for 1 year
$99.00
only $8.25 per issue
All prices are NET prices.
VAT will be added later in the checkout.
Tax calculation will be finalised during checkout.
Rent or Buy article
Get time limited or full article access on ReadCube.
from$8.99
All prices are NET prices.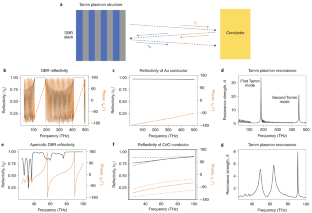 References
1.

Barnes, W. L., Dereux, A. & Ebbesen, T. W. Nature 424, 824–830 (2003).

2.

Ding, F., Yang, Y., Deshpande, R. A. & Bozhevolnyi, S. I. Nanophotonics 7, 1129–1156 (2018).

3.

Wang, B. et al. Adv. Opt. Mater. 9, 2001520 (2021).

4.

Liu, N., Mesch, M., Weiss, T., Hentschel, M. & Giessen, H. Nano Lett. 10, 2342–2348 (2010).

5.

Dorodnyy, A., Koepfli, S. M., Lochbaum, A. & Leuthold, J. Sci. Rep. 10, 17941 (2020).

6.

Haffner, C. et al. Nat. Photon. 9, 525–528 (2015).

7.

Ma, R.-M., Oulton, R. F., Sorger, V. J. & Zhang, X. Laser Photon. Rev. 7, 1–21 (2013).

8.

He, M. et al. Nat. Mater. https://doi.org/10.1038/s41563-021-01094-0 (2021).

9.

Kaliteevski, M. et al. Phys. Rev. B 76, 165415 (2007).
Ethics declarations
Competing interests
The authors declare no competing interests.
About this article
Cite this article
Leuthold, J., Dorodnyy, A. On-demand emission from Tamm plasmons. Nat. Mater. 20, 1595–1596 (2021). https://doi.org/10.1038/s41563-021-01128-7