The processes of metallic asperities moving across each other, which are decisive in most machinery, have been visualized at the atomic scale, revealing unexpected behaviour especially when under tensile stress.
Access options
Subscribe to Journal
Get full journal access for 1 year
$99.00
only $8.25 per issue
All prices are NET prices.
VAT will be added later in the checkout.
Tax calculation will be finalised during checkout.
Rent or Buy article
Get time limited or full article access on ReadCube.
from$8.99
All prices are NET prices.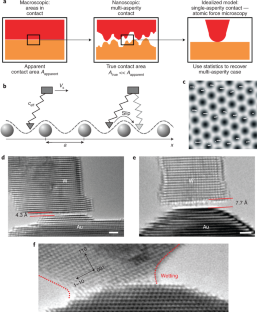 References
1.

Jost, P. Lubrication (Tribology) Education and Research. A Report on the Present Position and Industry's Need (ed. Department of Education and Science) (Her Majesty's Stationery Office, 1966).

2.

Society of Tribologists and Lubrication Engineers (STLE); https://www.stle.org/

3.

He, Y. et al. Nat. Mater. https://doi.org/10.1038/s41563-021-01091-3 (2021).

4.

Bowden, F. P. & Tabor, D. Nature 150, 197–199 (1942).

5.

Carpick, R. & Salmeron, M. Chem. Rev. 97, 1163–1194 (1997).

6.

Hölscher, H., Schirmeisen, A. & Schwarz, U. D. Phil. Trans. R. Soc. A 366, 1383–1404 (2008).

7.

Prandtl, L. Z. Angewandte Mathematik Mechanik 8, 85–106 (1928).

8.

Sato, T., Ishida, T., Jalabert, L. & Fujita, H. Nanotechnology 23, 505701 (2012).

9.

Liu, Z., Han, G., Sohn, S., Liu, N. & Schroers, J. Phys. Rev. Lett. 122, 036101 (2019).

10.

Hölscher, H., Schwarz, U. D., Zwörner, O. & Wiesendanger, R. Z. Physik B Condens. Matter 104, 295–297 (1997).
Ethics declarations
Competing interests
The author declares no competing interests.
About this article
Cite this article
Schwarz, U.D. Visualized atom by atom. Nat. Mater. (2021). https://doi.org/10.1038/s41563-021-01115-y