Abstract
Living organisms such as fishes1, cephalopods2 and clams3 are cryptically coloured with a wide range of hues and patterns for camouflage, signalling or energy regulation. Despite extensive efforts to create colour-changing materials and devices4, it is challenging to achieve pixelated structural coloration with broadband spectral shifts in a compact space. Here, we describe pneumatically inflating thin membranes of main-chain chiral nematic liquid crystalline elastomers that have such properties. By taking advantage of the large elasticity anisotropy and Poisson's ratio (>0.5) of these materials, we geometrically program the size and the layout of the encapsulated air channels to achieve colour shifting from near-infrared to ultraviolet wavelengths with less than 20% equi-biaxial transverse strain. Each channel can be individually controlled as a colour 'pixel' to match with surroundings, whether periodically or irregularly patterned. These soft materials may find uses in distinct applications such as cryptography, adaptive optics and soft robotics.
Relevant articles
Open Access articles citing this article.
Yong Geng

,

Rijeesh Kizhakidathazhath

&

Jan P. F. Lagerwall

Nature Materials Open Access 29 September 2022

Ling-Ling Ma

,

Chao-Yi Li

…

Yan-Qing Lu

Light: Science & Applications Open Access 13 September 2022

Yu Cang

,

Jiaqi Liu

…

George Fytas

Nature Communications Open Access 06 September 2022
Access options
Subscribe to Nature+
Get immediate online access to Nature and 55 other Nature journal
Subscribe to Journal
Get full journal access for 1 year
$119.00
only $9.92 per issue
All prices are NET prices.
VAT will be added later in the checkout.
Tax calculation will be finalised during checkout.
Buy article
Get time limited or full article access on ReadCube.
$32.00
All prices are NET prices.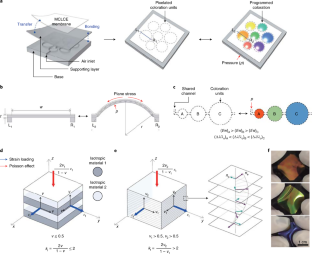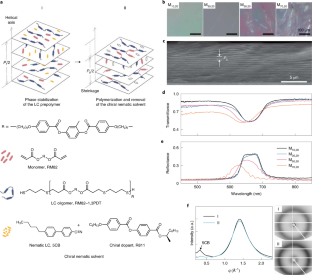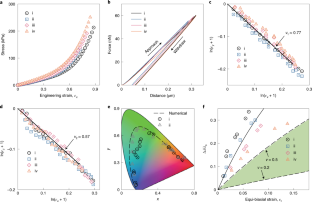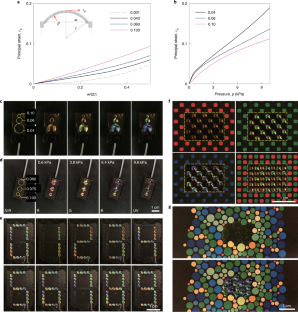 Data availability
The authors declare that the data supporting the findings of this study are available within the text, including the Methods and the Extended Data. Source data are provided with this paper.
References
Brady, P. C. et al. Open-ocean fish reveal an omnidirectional solution to camouflage in polarized environments. Science 350, 965–969 (2015).

Hanlon, R. Cephalopod dynamic camouflage. Curr. Biol. 17, R400–R404 (2007).

Kim, H. N., Vahidinia, S., Holt, A. L., Sweeney, A. M. & Yang, S. Geometric design of scalable forward scatterers for optimally efficient solar transformers. Adv. Mater. 29, 1702922 (2017).

Morin, S. A. et al. Camouflage and display for soft machines. Science 337, 828–832 (2012).

Chan, E. P., Walish, J. J., Urbas, A. M. & Thomas, E. L. Mechanochromic photonic gels. Adv. Mater. 25, 3934–3947 (2013).

Huang, C. & Chen, L. Negative Poisson's ratio in modern functional materials. Adv. Mater. 28, 8079–8096 (2016).

Ting, T. C. T. & Chen, T. Poisson's ratio for anisotropic elastic materials can have no bounds. Q. J. Mech. Appl. Math. 58, 73–82 (2005).

Peel, L. D. Exploration of high and negative Poisson's ratio elastomer-matrix laminates. Phys. Status Solidi 244, 988–1003 (2007).

Hirota, Y., Ji, Y., Serra, F., Tajbakhsh, A. R. & Terentjev, E. M. Effect of crosslinking on the photonic bandgap in deformable cholesteric elastomers. Opt. Express 16, 5320–5331 (2008).

Zhang, P., Shi, X., Schenning, A. P. H. J., Zhou, G. & Haan, L. T. A patterned mechanochromic photonic polymer for reversible image reveal. Adv. Mater. Interfaces 7, 1901878 (2020).

Mistry, D. et al. Coincident molecular auxeticity and negative order parameter in a liquid crystal elastomer. Nat. Commun. 9, 5095 (2018).

Mao, Y., Terentjev, E. M. & Warner, M. Cholesteric elastomers: deformable photonic solids. Phys. Rev. E 64, 041803 (2001).

Bermel, P. A. & Warner, M. Photonic band structure of highly deformable self-assembling systems. Phys. Rev. E 65, 010702 (2001).

Eubanks, R. & Sternberg, E. On the axisymmetric problem of elasticity theory for a medium with transverse isotropy. Indiana Univ. Math. J. 3, 89–101 (1954).

Serra, F., Matranga, M. A., Ji, Y. & Terentjev, E. M. Single-mode laser tuning from cholesteric elastomers using a "notch" band-gap configuration. Opt. Express 18, 575–581 (2010).

Gorodtsov, V. A. & Lisovenko, D. S. Extreme values of Young's modulus and Poisson's ratio of hexagonal crystals. Mech. Mater. 134, 1–8 (2019).

Stoney, G. G. The tension of metallic films deposited by electrolysis. Proc. R. Soc. A 82, 172–175 (1909).

Ghoshal, A., DeMartini, D. G., Eck, E. & Morse, D. E. Optical parameters of the tunable Bragg reflectors in squid. J. R. Soc. Interface 10, 20130386 (2013).

Xia, Y., Zhang, X. & Yang, S. Instant locking of molecular ordering in liquid crystal elastomers by oxygen-mediated thiol–acrylate click reactions. Angew. Chem. Int. Ed. 57, 5665–5668 (2018).

Liu, J. et al. Shaping and locomotion of soft robots using filament actuators made from liquid crystal elastomer–carbon nanotube composites. Adv. Intell. Syst. 2, 1900163 (2020).

Kobashi, J., Yoshida, H. & Ozaki, M. Planar optics with patterned chiral liquid crystals. Nat. Photon. 10, 389–392 (2016).

Schmidtke, J., Kniesel, S. & Finkelmann, H. Probing the photonic properties of a cholesteric elastomer under biaxial stress. Macromolecules 38, 1357–1363 (2005).

Atkinson, M. Accurate determination of biaxial stress—strain relationships from hydraulic bulging tests of sheet metals. Int. J. Mech. Sci. 39, 761–769 (1997).

Arsenault, A. C. et al. From colour fingerprinting to the control of photoluminescence in elastic photonic crystals. Nat. Mater. 5, 179–184 (2006).

Teyssier, J., Saenko, S. V., Van Der Marel, D. & Milinkovitch, M. C. Photonic crystals cause active colour change in chameleons. Nat. Commun. 6, 6368 (2015).

Cuthill, I. C. et al. Disruptive coloration and background pattern matching. Nature 434, 72–74 (2005).

Cuthill, I. C. et al. Optimizing countershading camouflage. Proc. Natl Acad. Sci. USA 113, 13093–13097 (2016).

Stuart-Fox, D., Newton, E. & Clusella-Trullas, S. Thermal consequences of colour and near-infrared reflectance. Philos. Trans. R. Soc. B 372, 20160345 (2017).

Xu, C., Stiubianu, G. T. & Gorodetsky, A. A. Adaptive infrared-reflecting systems inspired by cephalopods. Science 359, 1495–1500 (2018).

Yuk, H. et al. Hydraulic hydrogel actuators and robots optically and sonically camouflaged in water. Nat. Commun. 8, 14230 (2017).

Broer, D. J., Lub, J. & Mol, G. N. Wide-band reflective polarizers from cholesteric polymer networks with a pitch gradient. Nature 378, 467–469 (1995).

Smith, T. & Guild, J. The C.I.E. colorimetric standards and their use. Trans. Opt. Soc. 33, 73–134 (1931).

Adams, G. G. & Nosonovsky, M. Contact modeling—forces. Tribol. Int. 33, 431–442 (2000).

Argatov, I. I. Depth-sensing indentation of a transversely isotropic elastic layer: second-order asymptotic models for canonical indenters. Int. J. Solids Struct. 48, 3444–3452 (2011).

Cho, H. et al. Intrinsically reversible superglues via shape adaptation inspired by snail epiphragm. Proc. Natl Acad. Sci. USA 116, 13774–13779 (2019).

McKee, C. T., Last, J. A., Russell, P. & Murphy, C. J. Indentation versus tensile measurements of Young's modulus for soft biological tissues. Tissue Eng. Part B Rev. 17, 155–164 (2011).

Kim, S.-H., Kim, Y.-C., Lee, S. & Kim, J.-Y. Evaluation of tensile stress-strain curve of electroplated copper film by characterizing indentation size effect with a single nanoindentation. Met. Mater. Int. 23, 76–81 (2017).

Mott, P. H. & Roland, C. M. Limits to Poisson's ratio in isotropic materials. Phys. Rev. B 80, 132104 (2009).
Acknowledgements
We acknowledge donors of the American Chemical Society's Petroleum Research Fund (no. 573238, S.Y.) and National Science Foundation through the University of Pennsylvania Materials Research Science and Engineering Center (DMR-1720530, S.Y.) for partial support of this research. We acknowledge use of SEM instruments and the Dual Source and Environmental X-ray Scattering facility supported by the National Science Foundation and Materials Research Science and Engineering Center (DMR-1720530) at the University of Pennsylvania and discussions with R. D. Kamien. The purchase of the Dual Source and Environmental X-ray Scattering facility was made possible by a National Science Foundation Major Research Instrumentation (MRI) grant (17-25969), an Army Research Office (ARO) Defense University Research Instrumentation Program (DURIP) grant (W911NF-17-1-0282) and the University of Pennsylvania.
Ethics declarations
Competing interests
The authors declare no competing interests.
Additional information
Peer review information Nature Materials thanks Jan Lagerwall, Oleg Lavrentovich and Yukikazu Takeoka for their contribution to the peer review of this work.
Publisher's note Springer Nature remains neutral with regard to jurisdictional claims in published maps and institutional affiliations.
Supplementary information
About this article
Cite this article
Kim, SU., Lee, YJ., Liu, J. et al. Broadband and pixelated camouflage in inflating chiral nematic liquid crystalline elastomers. Nat. Mater. 21, 41–46 (2022). https://doi.org/10.1038/s41563-021-01075-3
Received:

Accepted:

Published:

Issue Date:

DOI: https://doi.org/10.1038/s41563-021-01075-3