The combination of multicomponent magnetic nanoparticles and a mechanosensitive ion channel has been shown to achieve fast magnetomechanical stimulation of neurons within the brain.
Access options
Subscribe to Journal
Get full journal access for 1 year
$99.00
only $8.25 per issue
All prices are NET prices.
VAT will be added later in the checkout.
Tax calculation will be finalised during checkout.
Rent or Buy article
Get time limited or full article access on ReadCube.
from$8.99
All prices are NET prices.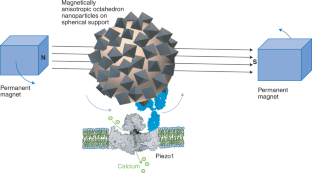 References
1.

Scanziani, M. & Häusser, M. Nature 461, 930–939 (2009).

2.

Deisseroth, K. Nat. Neurosci. 18, 1213–1225 (2015).

3.

Huang, H., Delikanli, S., Zeng, H., Ferkey, D. M. & Pralle, A. Nat. Nanotechnol. 5, 602–606 (2010).

4.

Munshi, R. et al. eLife 6, e27069 (2017).

5.

Gregurec, D. et al. ACS Nano 14, 8036–8045 (2020).

6.

Lee, J. et al. Nat. Mater. https://doi.org/10.1038/s41563-020-00896-y (2021).

7.

Coste, B. et al. Science 330, 55–60 (2010).

8.

Kefauver, J. M., Ward, A. B. & Patapoutian, A. Nature 587, 567–576 (2020).
Ethics declarations
Competing interests
The authors declare no competing interests.
About this article
Cite this article
Mushi, R., Pralle, A. Remote modulation of neuronal cells in the brain. Nat. Mater. 20, 912–913 (2021). https://doi.org/10.1038/s41563-021-01041-z