Abstract
Amorphous materials have no long-range order, but there are ordered structures at short range (2–5 Å), medium range (5–20 Å) and even longer length scales1,2,3,4,5. While regular6,7 and semiregular polyhedra8,9,10 are often found as short-range ordering in amorphous materials, the nature of medium-range order has remained elusive11,12,13,14. Consequently, it is difficult to determine whether there exists any structural link at medium range or longer length scales between the amorphous material and its crystalline counterparts. Moreover, an amorphous material often crystallizes into a phase of different composition15, with very different underlying structural building blocks, further compounding the issue. Here, we capture an intermediate crystalline cubic phase in a Pd-Ni-P amorphous alloy and reveal the structure of the medium-range order, a six-membered tricapped trigonal prism cluster (6M-TTP) with a length scale of 12.5 Å. We find that the 6M-TTP can pack periodically to several tens of nanometres to form the cube phase. Our experimental observations provide evidence of a structural link between the amorphous and crystalline phases in a Pd-Ni-P alloy at the medium-range length scale and suggest that it is the connectivity of the 6M-TTP clusters that distinguishes the crystalline and amorphous phases. These findings will shed light on the structure of amorphous materials at extended length scales beyond that of short-range order.
Relevant articles
Open Access articles citing this article.
Kejun Bu

,

Qingyang Hu

…

Xujie Lü

Nature Communications Open Access 09 August 2022

Jing Wang

,

Ping Jiang

…

Xiaolei Wu

Nature Communications Open Access 23 February 2022
Access options
Access Nature and 54 other Nature Portfolio journals
Get Nature+, our best-value online-access subscription
$29.99 / 30 days
cancel any time
Subscribe to this journal
Receive 12 print issues and online access
$259.00 per year
only $21.58 per issue
Rent or buy this article
Get just this article for as long as you need it
$39.95
Prices may be subject to local taxes which are calculated during checkout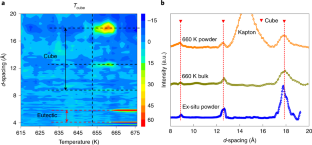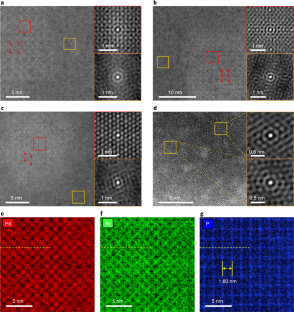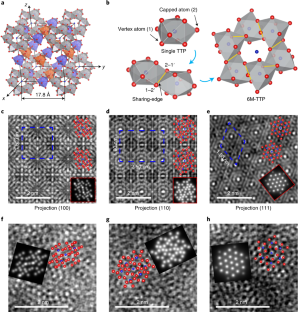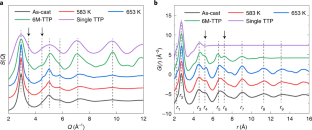 Data availability
The data that support the findings of this study are available from the corresponding author upon request.
Code availability
The computational code used in this study is available upon request from the corresponding author.
References
Elliott, S. R. Medium-range structural order in covalent amorphous solids. Nature 354, 445–452 (1991).

Price, D. L. Intermediate-range order in glasses. Curr. Opin. Solid State Mat. Sci. 1, 572–577 (1996).

Salmon, P. S., Martin, R. A., Mason, P. E. & Cuello, G. J. Topological versus chemical ordering in network glasses at intermediate and extended length scales. Nature 435, 75–78 (2005).

Mavracic, J., Mocanu, F. C., Deringer, V. L., Csanyi, G. & Elliott, S. R. Similarity between amorphous and crystalline phases: the case of TiO2. J. Phys. Chem. Lett. 9, 2985–2990 (2018).

Toh, C.-T. et al. Synthesis and properties of free-standing monolayer amorphous carbon. Nature 577, 199–203 (2020).

Lee, G. W. et al. Difference in icosahedral short-range order in early and late transition metal liquids. Phys. Rev. Lett. 93, 037802 (2004).

Shi, R. & Tanaka, H. Distinct signature of local tetrahedral ordering in the scattering function of covalent liquids and glasses. Sci. Adv. 5, eaav3194 (2019).

Gaskell, P. H. A new structural model for transition metal-metalloid glasses. Nature 276, 484–485 (1978).

Gaskell, P. H. Similarities in amorphous and crystalline transition metal-metalloid alloy structures. Nature 289, 474–476 (1981).

Pedersen, U. R., Schroder, T. B., Dyre, J. C. & Harrowell, P. Geometry of slow structural fluctuations in a supercooled binary alloy. Phys. Rev. Lett. 104, 105701 (2010).

Madden, P. Materials science - a hard look at glass. Nature 435, 35–36 (2005).

Ma, D., Stoica, A. D. & Wang, X. L. Power-law scaling and fractal nature of medium-range order in metallic glasses. Nat. Mater. 8, 30–34 (2008).

Wu, Z. W., Li, M. Z., Wang, W. H. & Liu, K. X. Hidden topological order and its correlation with glass-forming ability in metallic glasses. Nat. Commun. 6, 6035 (2015).

Chen, D. Z. et al. Fractal atomic-level percolation in metallic glasses. Science 349, 1306–1310 (2015).

Schroers, J. Processing of bulk metallic glass. Adv. Mater. 22, 1566–1597 (2010).

Martin, J. D., Goettler, S. J., Fosse, N. & Iton, L. Designing intermediate-range order in amorphous materials. Nature 419, 381–384 (2002).

Benmore, C. J. et al. Intermediate range chemical ordering in amorphous and liquid water, Si, and Ge. Phys. Rev. B 72, 132201 (2005).

Luo, Y. & Samwer, K. Local atomic order of a metallic glass made visible by scanning tunneling microscopy. J. Phys. Condens. Matter 30, 245702 (2018).

Hirata, A. et al. Direct observation of local atomic order in a metallic glass. Nat. Mater. 10, 28–33 (2010).

Hirata, A., Hirotsu, Y., Ohkubo, T., Hanada, T. & Bengus, V. Z. Compositional dependence of local atomic structures in amorphous Fe100−xBx (x = 14, 17, 20) alloys studied by electron diffraction and high-resolution electron microscopy. Phys. Rev. B 74, 214206 (2006).

Treacy, M. M. & Borisenko, K. B. The local structure of amorphous silicon. Science 335, 950–953 (2012).

Crupi, C., Carini, G., González, M. & D'Angelo, G. Origin of the first sharp diffraction peak in glasses. Phys. Rev. B 92, 134206 (2015).

Yao, K. F. & Kui, H. W. Evidence of a two-dimensional nucleation and growth mechanism for metastable nanocrystals embedded in Pd40.5Ni40.5P19 glass. Appl. Phys. Lett. 77, 2313–2315 (2000).

Kahl, A. et al. Dynamical and quasistatic structural relaxation paths in Pd40Ni40P20 glass. Appl. Phys. Lett. 95, 201903 (2009).

Lan, S., Wu, Z. D., Lau, M. T. & Kui, H. W. Crystallization in homogeneous and phase-separated Pd41.25Ni41.25P17.5 bulk metallic glasses. J. Non-Cryst. Solids 373-374, 5–12 (2013).

Lan, S. et al. Hidden amorphous phase and reentrant supercooled liquid in Pd-Ni-P metallic glasses. Nat. Commun. 8, 14679 (2017).

Tulk, C. A., Molaison, J. J., Makhluf, A. R., Manning, C. E. & Klug, D. D. Absence of amorphous forms when ice is compressed at low temperature. Nature 569, 542–545 (2019).

Iakoubovskii, K., Mitsuishi, K., Nakayama, Y. & Furuya, K. Thickness measurements with electron energy loss spectroscopy. Microsc. Res. Tech. 71, 626–631 (2008).

Chiang, T. F. et al. Auto-correlation function analysis of crystallization in amorphous SiGe thin films. Appl. Surf. Sci. 212–213, 339–343 (2003).

Tang, X. P., Geyer, U., Busch, R., Johnson, W. L. & Wu, Y. Diffusion mechanisms in metallic supercooled liquids and glasses. Nature 402, 160–162 (1999).

Guan, P. F., Fujita, T., Hirata, A., Liu, Y. H. & Chen, M. W. Structural origins of the excellent glass forming ability of Pd40Ni40P20. Phys. Rev. Lett. 108, 175501 (2012).

Hirata, A., Hirotsu, Y., Ohkubo, Y., Tanaka, N. & Nieh, T. G. Local atomic structure of Pd–Ni–P bulk metallic glass examined by high-resolution electron microscopy and electron diffraction. Intermetallics 14, 903–907 (2006).

Cowley, J.M. Diffraction Physics Ch. 11 (North-Holland, 1981).

Lee, G. W. et al. Local structure of equilibrium and supercooled Ti-Zr-Ni liquids. Phys. Rev. B 77, 184102 (2008).

Benmore, C., Gallington, L. C. & Soignard, E. Intermediate range order in supercooled water. Mol. Phys. 117, 2470–2476 (2019).

Blum, M. C., Cavar, E., Pivetta, M., Patthey, F. & Schneider, W. D. Conservation of chirality in a hierarchical supramolecular self-assembled structure with pentagonal symmetry. Angew. Chem. Int. Ed. Engl. 44, 5334–5337 (2005).

Westbrook, J. H. & Fleischer, R. L. Intermetallic Compounds – Principles and Practice (Wiley, 2002).

Sheng, H. W., Luo, W. K., Alamgir, F. M., Bai, J. M. & Ma, E. Atomic packing and short-to-medium-range order in metallic glasses. Nature 439, 419–425 (2006).

Miracle, D. B. A structural model for metallic glasses. Nat. Mater. 3, 697–702 (2004).

Kresse, G. & Hafner, J. Ab initio molecular dynamics for liquid metals. Phys. Rev. B 47, 558–561 (1993).
Acknowledgements
We wish to thank H. W. Kui for helpful discussions, Z. G. Ding for first-principles calculations and E. P. Gilbert for SANS measurements at QUOKKA in ANSTO, Australia. We also acknowledge the help of J. Zhang for ex-situ high-resolution synchrotron X-ray diffraction measurements in Taiwan Photon Source, J. Wu for preparing the ultrathin TEM samples by cryogenic focus ion beam in SUSTech Cryo-EM Facility Center and Z. Zhou of Tencent for developing the computer program for image matching. This work was supported by the National Natural Science Foundation of China (grant nos. 51871120, 51571170, 51520105001), the Natural Science Foundation of Jiangsu Province (grant no. BK20200019) and the Fundamental Research Funds for the Central Universities (grant nos. 30919011107, 30919011404). Z.W. and X.-L.W. acknowledge support by Guangdong-Hong Kong-Macao Joint Laboratory for Neutron Scattering Science and Technology (grant no. 2019B121205003). X.-L.W. was supported in part by grants from the Croucher Foundation (project no. CityU 9500034) and the Research Grants Council of Hong Kong SAR (grant no. JLFS/P-102/18). This research used the resources of the Advanced Photon Source, a US Department of Energy (DOE) Office of Science User Facility operated for the DOE Office of Science by Argonne National Laboratory under contract no. DE-AC02-06CH11357. We acknowledge the support of the Australian Centre for Neutron Scattering, Australian Nuclear Science and Technology Organization, in providing the neutron scattering research facilities used in this work.
Ethics declarations
Competing interests
The authors declare no competing interests.
Additional information
Peer review information Nature Materials thanks the anonymous reviewers for their contribution to the peer review of this work.
Publisher's note Springer Nature remains neutral with regard to jurisdictional claims in published maps and institutional affiliations.
Supplementary information
About this article
Cite this article
Lan, S., Zhu, L., Wu, Z. et al. A medium-range structure motif linking amorphous and crystalline states. Nat. Mater. 20, 1347–1352 (2021). https://doi.org/10.1038/s41563-021-01011-5
Received:

Accepted:

Published:

Issue Date:

DOI: https://doi.org/10.1038/s41563-021-01011-5