Abstract
Dynamic control of circular polarization in chiral metasurfaces is being used in many photonic applications. However, simple fabrication routes to create chiral materials with considerable and fully tunable chiroptical responses at visible and near-infrared wavelengths are scarce. Here, we describe a scalable bottom-up approach to construct cross-stacked nanoparticle chain arrays that have a circular dichroism of up to 11°. Due to their layered design, the strong superchiral fields of the inter-layer region are accessible to chiral analytes, resulting in a tenfold enhanced sensitivity in a chiral sensing proof-of-concept experiment. In situ restacking and local mechanical compression enables full control over the entire set of circular dichroism characteristics, namely sign, magnitude and spectral position. Strain-induced reconfiguration opens up an intriguing route towards actively controlled pixel arrays using local deformation, which fosters continuous polarization engineering and multi-channel detection.
Access options
Subscribe to Journal
Get full journal access for 1 year
$59.00
only $4.92 per issue
All prices are NET prices.
VAT will be added later in the checkout.
Tax calculation will be finalised during checkout.
Rent or Buy article
Get time limited or full article access on ReadCube.
from$8.99
All prices are NET prices.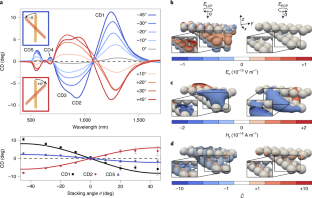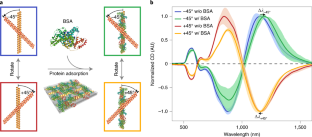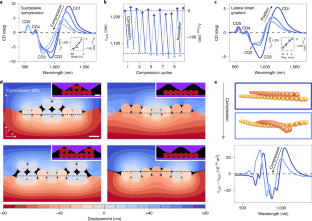 Data availability
We declare that all data supporting the findings of this study are included within the paper and its Supplementary Information files. Source data are available from the corresponding authors upon reasonable request.
References
1.

Hentschel, M., Schäferling, M., Duan, X., Giessen, H. & Liu, N. Chiral plasmonics. Sci. Adv. 3, e1602735 (2017).

2.

Ma, W. et al. Chiral inorganic nanostructures. Chem. Rev. 117, 8041–8093 (2017).

3.

Ahn, H.-Y. et al. Bioinspired toolkit based on intermolecular encoder toward evolutionary 4D chiral plasmonic materials. Acc. Chem. Res. 52, 2768–2783 (2019).

4.

Dietrich, K. et al. Elevating optical activity: efficient on-edge lithography of three-dimensional starfish metamaterial. Appl. Phys. Lett. 104, 193107 (2014).

5.

Liu, Z. et al. Fano-enhanced circular dichroism in deformable stereo metasurfaces. Adv. Mater. 32, 1907077 (2020).

6.

Esposito, M. et al. Nanoscale 3D chiral plasmonic helices with circular dichroism at visible frequencies. ACS Photonics 2, 105–114 (2015).

7.

Zhao, Y. et al. Chirality detection of enantiomers using twisted optical metamaterials. Nat. Commun. 8, 14180 (2017).

8.

Hou, Y. et al. Ultrabroadband optical superchirality in a 3D stacked-patch plasmonic metamaterial designed by two-step glancing angle deposition. Adv. Funct. Mater. 26, 7807–7816 (2016).

9.

Wu, Z., Chen, X., Wang, M., Dong, J. & Zheng, Y. High-performance ultrathin active chiral metamaterials. ACS Nano 12, 5030–5041 (2018).

10.

Rubin, N. A. et al. Matrix fourier optics enables a compact full-stokes polarization camera. Science 365, eaax1839 (2019).

11.

Basiri, A. et al. Nature-inspired chiral metasurfaces for circular polarization detection and full-stokes polarimetric measurements. Light Sci. Appl. 8, 78 (2019).

12.

Cheben, P., Halir, R., Schmid, J. H., Atwater, H. A. & Smith, D. R. Subwavelength integrated photonics. Nature 560, 565–572 (2018).

13.

Neubrech, F., Hentschel, M. & Liu, N. Reconfigurable plasmonic chirality: fundamentals and applications. Adv. Mater. 32, e1905640 (2020).

14.

Li, J. et al. Addressable metasurfaces for dynamic holography and optical information encryption. Sci. Adv. 4, eaar6768 (2018).

15.

Zhang, S. et al. Photoinduced handedness switching in terahertz chiral metamolecules. Nat. Commun. 3, 942 (2012).

16.

Yin, X. et al. Active chiral plasmonics. Nano Lett. 15, 4255–4260 (2015).

17.

Choi, W. J. et al. Terahertz circular dichroism spectroscopy of biomaterials enabled by Kirigami polarization modulators. Nat. Mater. 18, 820–826 (2019).

18.

Guo, J. et al. Chemo- and thermomechanically configurable 3D optical metamaterials constructed from colloidal nanocrystal assemblies. ACS Nano 14, 1427–1435 (2019).

19.

Cong, L., Pitchappa, P., Wang, N. & Singh, R. Electrically programmable terahertz diatomic metamolecules for chiral optical control. Research 2019, 11 (2019).

20.

Kim, Y. et al. Reconfigurable chiroptical nanocomposites with chirality transfer from the macro- to the nanoscale. Nat. Mater. 15, 461–468 (2016).

21.

Duan, X., Kamin, S., Sterl, F., Giessen, H. & Liu, N. Hydrogen-regulated chiral nanoplasmonics. Nano Lett. 16, 1462–1466 (2016).

22.

Zubritskaya, I., Maccaferri, N., Inchausti Ezeiza, X., Vavassori, P. & Dmitriev, A. Magnetic control of the chiroptical plasmonic surfaces. Nano Lett. 18, 302–307 (2018).

23.

Song, C. et al. Tailorable plasmonic circular dichroism properties of helical nanoparticle superstructures. Nano Lett. 13, 3256–3261 (2013).

24.

Zhou, C., Duan, X. & Liu, N. A plasmonic nanorod that walks on DNA origami. Nat. Commun. 6, 8102 (2015).

25.

Wang, M. et al. Reconfigurable plasmonic diastereomers assembled by DNA origami. ACS Nano 13, 13702–13708 (2019).

26.

Ni, S., Isa, L. & Wolf, H. Capillary assembly as a tool for the heterogeneous integration of micro- and nanoscale objects. Soft Matter 14, 2978–2995 (2018).

27.

Flauraud, V. et al. Nanoscale topographical control of capillary assembly of nanoparticles. Nat. Nanotechnol. 12, 73–80 (2017).

28.

Ni, S., Leemann, J., Buttinoni, I., Isa, L. & Wolf, H. Programmable colloidal molecules from sequential capillarity-assisted particle assembly. Sci. Adv. 2, e1501779 (2016).

29.

Gupta, V. et al. Mechanotunable surface lattice resonances in the visible optical range by soft lithography templates and directed self-assembly. ACS Appl. Mater. Interfaces 11, 28189–28196 (2019).

30.

Hanske, C. et al. Strongly coupled plasmonic modes on macroscopic areas via template-assisted colloidal self-assembly. Nano Lett. 14, 6863–6871 (2014).

31.

Zhang, Q. et al. Unraveling the origin of chirality from plasmonic nanoparticle-protein complexes. Science 365, 1475–1478 (2019).

32.

Hendry, E. et al. Ultrasensitive detection and characterization of biomolecules using superchiral fields. Nat. Nanotechnol. 5, 783–787 (2010).

33.

Mayer, M. et al. Direct observation of plasmon band formation and delocalization in quasi-infinite nanoparticle chains. Nano Lett. 19, 3854–3862 (2019).

34.

Horrer, A. et al. Local optical chirality induced by near-field mode interference in achiral plasmonic metamolecules. Nano Lett. 20, 509–516 (2020).

35.

Li, C. & Wang, Q. Challenges and opportunities for intravital near-infrared fluorescence imaging technology in the second transparency window. ACS Nano 12, 9654–9659 (2018).

36.

Steiner, A. M. et al. Macroscopic strain-induced transition from quasi-infinite gold nanoparticle chains to defined plasmonic oligomers. ACS Nano 11, 8871–8880 (2017).

37.

Matricardi, C. et al. Gold nanoparticle plasmonic superlattices as surface-enhanced Raman spectroscopy substrates. ACS Nano 12, 8531–8539 (2018).

38.

Ni, S., Wolf, H. & Isa, L. Programmable assembly of hybrid nanoclusters. Langmuir 34, 2481–2488 (2018).

39.

Ni, S., Klein, M. J. K., Spencer, N. D. & Wolf, H. Cascaded assembly of complex multiparticle patterns. Langmuir 30, 90–95 (2014).

40.

Wolf, A. J. et al. Origination of nano- and microstructures on large areas by interference lithography. Microelectron. Eng. 98, 293–296 (2012).

41.

Chung, J. Y., Nolte, A. J. & Stafford, C. M. Surface wrinkling: a versatile platform for measuring thin-film properties. Adv. Mater. 23, 349–368 (2011).

42.

Fery, A., Glatz, B. & Knapp, A. Oberflächenstrukturierte polymerkörper und verfahren zu ihrer herstellung. DE patent 102017218363A1 (2017).

43.

Fery, A., Glatz, B. & Knapp, A. Oberflächenstrukturierte polymerkörper und verfahren zu ihrer herstellung. EP patent 3470456 (2017).

44.

Fery, A., Glatz, B. & Knapp, A. Surface-structured polymer bodies and method for the fabrication thereof. US patent 0111610A1 (2018).

45.

Schneider, C. A., Rasband, W. S. & Eliceiri, K. W. Nih image to imagej: 25 years of image analysis. Nat. Methods 9, 671–675 (2012).

46.

Nečas, D. & Klapetek, P. Gwyddion: an open-source software for SPM data analysis. Centr. Eur. J. Phys. 10, 181–188 (2012).

47.

Bindokas, V. & Mascalchi, P. White balance correction v.1.0. Github https://github.com/pmascalchi/ImageJ_Auto-white-balance-correction (2017).

48.

Johnson, P. B. & Christy, R. W. Optical constants of the noble metals. Phys. Rev. B. 6, 4370–4379 (1972).

49.

Schäferling, M., Dregely, D., Hentschel, M. & Giessen, H. Tailoring enhanced optical chirality: design principles for chiral plasmonic nanostructures. Phys. Rev. 2, 031010 (2012).
Acknowledgements
This project was financially supported by the Volkswagen Foundation through a Freigeist Fellowship to T.A.F.K. A.F. and A.M.S. acknowledge financial support from the German Research Foundation (DFG) through the project no. 407193529 'Immobilization of ordered plasmonic nanostructures at surfaces of polymeric melts'. The elite study programme Macromolecular Science organized by Elitenetzwerk Bayern and University of Bayreuth is acknowledged for support to P.T.P. Z.Z. thanks the Alexander von Humboldt foundation for support. G.K.A. acknowledges financial support by the DFG through project no. 265191195 'Interaction between Transport and Wetting Processes' (CRC 1194, A06). We thank A. Spickenheuer for advice in mechanical simulations as well as M. Müller and B. Urban for attenuated total reflection Fourier-transform infrared spectroscopy measurements. M. Schubert, C. Ng and Y. Yu are acknowledged for helpful discussions in preparation of this work.
Ethics declarations
Competing interests
The authors declare no competing interests.
Additional information
Peer review information Nature Materials thanks the anonymous reviewers for their contribution to the peer review of this work.
Publisher's note Springer Nature remains neutral with regard to jurisdictional claims in published maps and institutional affiliations.
Supplementary information
About this article
Cite this article
Probst, P.T., Mayer, M., Gupta, V. et al. Mechano-tunable chiral metasurfaces via colloidal assembly. Nat. Mater. (2021). https://doi.org/10.1038/s41563-021-00991-8
Received:

Accepted:

Published: