Abstract
A plethora of single-photon emitters have been identified in the atomic layers of two-dimensional van der Waals materials1,2,3,4,5,6,7,8. Here, we report on a set of isolated optical emitters embedded in hexagonal boron nitride that exhibit optically detected magnetic resonance. The defect spins show an isotropic ge-factor of ~2 and zero-field splitting below 10 MHz. The photokinetics of one type of defect is compatible with ground-state electron-spin paramagnetism. The narrow and inhomogeneously broadened magnetic resonance spectrum differs significantly from the known spectra of in-plane defects. We determined a hyperfine coupling of ~10 MHz. Its angular dependence indicates an unpaired, out-of-plane delocalized π-orbital electron, probably originating from substitutional impurity atoms. We extracted spin–lattice relaxation times T1 of 13–17 μs with estimated spin coherence times T2 of less than 1 μs. Our results provide further insight into the structure, composition and dynamics of single optically active spin defects in hexagonal boron nitride.
Access options
Subscribe to Journal
Get full journal access for 1 year
$59.00
only $4.92 per issue
All prices are NET prices.
VAT will be added later in the checkout.
Tax calculation will be finalised during checkout.
Rent or Buy article
Get time limited or full article access on ReadCube.
from$8.99
All prices are NET prices.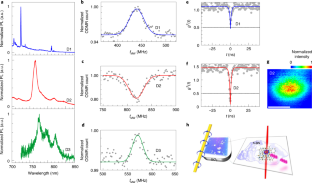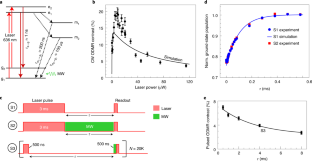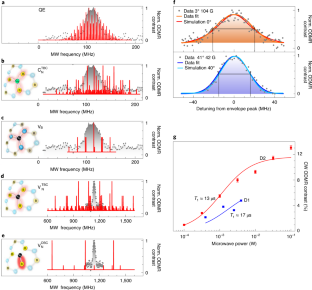 Data availability
Source data are provided with this paper. Any further data are available from the corresponding author upon request.
Code availability
All fits to the data were made with the commercial plotting software Origin. The fit functions and Matlab code (Easy spin) used for simulating the hyperfine coupling parameters can be made available upon request. The first-principles calculations were carried out using a standard but non-free ab initio plane-wave supercell software package.
References
1.

Srivastava, A. et al. Optically active quantum dots in monolayer WSe2. Nat. Nanotechnol. 10, 491–496 (2015).

2.

Cassabois, G., Valvin, P. & Gil, B. Hexagonal boron nitride is an indirect bandgap semiconductor. Nat. Photonics 10, 262–266 (2016).

3.

Tran, T. T., Bray, K., Ford, M. J., Toth, M. & Aharonovich, I. Quantum emission from hexagonal boron nitride monolayers. Nat. Nanotechnol. 11, 37–41 (2015).

4.

Chejanovsky, N. et al. Structural attributes and photodynamics of visible spectrum quantum emitters in hexagonal boron nitride. Nano Lett. 16, 7037–7045 (2016).

5.

Shotan, Z. et al. Photoinduced modification of single-photon emitters in hexagonal boron nitride. ACS Photonics 3, 2490–2496 (2016).

6.

Vogl, T. et al. Radiation tolerance of two-dimensional material-based devices for space applications. Nat. Commun. 10, 1202 (2019).

7.

Martinez, L. J. et al. Efficient single photon emission from a high-purity hexagonal boron nitride crystal. Phys. Rev. B 94, 121405(R) (2016).

8.

Chejanovsky, N. et al. Quantum light in curved low dimensional hexagonal boron nitride systems. Sci. Rep. 7, 14758 (2017).

9.

Abdi, M., Chou, J.-P., Gali, A. & Plenio, M. B. Color centers in hexagonal boron nitride monolayers: a group theory and ab initio analysis. ACS Photonics 5, 1967–1976 (2018).

10.

Sajid, A., Reimers, J. R. & Ford, M. J. Defect states in hexagonal boron nitride: assignments of observed properties and prediction of properties relevant to quantum computation. Phys. Rev. B 97, 064101 (2018).

11.

Exarhos, A. L., Hopper, D. A., Patel, R. N., Doherty, M. W. & Bassett, L. C. Magnetic-field-dependent quantum emission in hexagonal boron nitride at room temperature. Nat. Commun. 10, 222 (2019).

12.

Gottscholl, A. et al. Initialization and readout of intrinsic spin defects in a van der Waals crystal at room temperature. Nat. Mater. 19, 540–545 (2020).

13.

Taniguchi, T. & Watanabe, K. Synthesis of high-purity boron nitride single crystals under high pressure by using Ba–BN solvent. J. Cryst. Growth 303, 525–529 (2007).

14.

Exarhos, A. L., Hopper, D. A., Grote, R. R., Alkauskas, A. & Bassett, L. C. Optical signatures of quantum emitters in suspended hexagonal boron nitride. ACS Nano 11, 3328–3336 (2017).

15.

Bommer, A. & Becher, C. New insights into nonclassical light emission from defects in multi-layer hexagonal boron nitride. Nanophotonics 8, 2041–2048 (2019).

16.

Mendelson, N. et al. Identifying carbon as the source of visible single photon emission from hexagonal boron nitride. Nat. Mater. 20, 321–328 (2021).

17.

Moore, A. W. & Singer, L. S. Electron spin resonance in carbon-doped boron nitride. J. Phys. Chem. Solids 33, 343–356 (1972).

18.

Fanciulli, M. Electron paramagnetic resonance and relaxation in BN and BN: C. Philos. Mag. B 76, 363–381 (1997).

19.

Khatri, P. et al. Optical gating of photoluminescence from color centers in hexagonal boron nitride. Nano Lett. 20, 4256–4263 (2020).

20.

Boll, M. K. et al. Photophysics of quantum emitters in hexagonal boron-nitride nano-flakes. Opt. Express 28, 7475–7487 (2020).

21.

Kianinia, M. et al. All-optical control and super-resolution imaging of quantum emitters in layered materials. Nat. Commun. 9, 874 (2018).

22.

Geist, D. & Römelt, G. Paramagnetische elektronenresonanz in bornitrid. Solid State Commun. 2, 149 (1964).

23.

Katzir, A., Suss, J. T., Zunger, A. & Halperin, A. Point defects in hexagonal boron nitride. I. EPR, thermoluminescence, and thermally-stimulated-current measurements. Phys. Rev. B 11, 2370 (1975).

24.

Gezalov, K. B., Gasanov, A. M., Garibov, A. A., Aliev, M. & Musaev, N. The nature of paramagnetic centers in γ-irradiated boron oxide. Phys. Status Solidi A 117, K57–K60 (1990).

25.

Cataldo, F. & Iglesias-Groth, S. Neutron damage of hexagonal boron nitride: h-BN. J. Radioanal. Nucl. Chem. 313, 261–271 (2017).

26.

Krasnoperov, V. A., Veksjhina, N. N., Khusidman, M. B. & Neshpor, V. S. Luminescence and paramagnetic resonance of boron nitride. Zh. Prikl. Spektrosk. 11, 931–934 (1969).

27.

Carrington, A. & McLachlan, A. D. Introduction to Magnetic Resonance: With Applications to Chemistry and Chemical Physics (Harper International & John Weatherhill, 1967).

28.

Ye, M., Seo, H. & Galli, G. Spin coherence in two-dimensional materials. NPJ Comput. Mater. 5, 44 (2019).

29.

Fanciulli, M. & Moustakas, T. D. Study of defects in wide band gap seminconductors by electron paramagnetic resonance. Phys. B 185, 228–233 (1993).
Acknowledgements
We acknowledge support from the Max Planck Society, the EU through project ASTERIQS and the ERC grant SMeL (Grant No. 742610) as well as the DFG. J.H.S. acknowledges financial support from the EU Graphene Flagship Core 3 Project. A.G. acknowledges support from the National Office of Research, Development and Innovation of Hungary (NKFIH) within the National Excellence Program (Grant No. KKP129866) as well as the National Quantum Technology Program (Grant No. 2017-1.2.1-NKP-2017-00001), and from the Ministry of Innovation and Technology of Hungary within the National Quantum Informatics Laboratory. The growth of h-BN crystals was sponsored by the Elemental Strategy Initiative conducted by MEXT, Japan (Grant No. JPMXP0112101001), JSPS KAKENHI (Grant No. JP20H00354) and the CREST (Grant No. JPMJCR15F3), JST. The work at DGIST was supported by the Basic Science Research Program (NRF-2020R1C1C1006914) through the National Research Foundation of Korea (NRF), and also by the DGIST R&D Program (20-CoE-NT-01), funded by the Korea Ministry of Science and ICT. We thank M. W. Doherty for fruitful discussions.
Ethics declarations
Competing interests
The authors declare no competing interests.
Additional information
Peer review information Nature Materials thanks the anonymous reviewers for their contribution to the peer review of this work.
Publisher's note Springer Nature remains neutral with regard to jurisdictional claims in published maps and institutional affiliations.
Supplementary information
About this article
Cite this article
Chejanovsky, N., Mukherjee, A., Geng, J. et al. Single-spin resonance in a van der Waals embedded paramagnetic defect. Nat. Mater. 20, 1079–1084 (2021). https://doi.org/10.1038/s41563-021-00979-4
Received:

Accepted:

Published:

Issue Date: