Abstract
Leveraging the motion and force of individual molecular motors in a controlled manner to perform macroscopic tasks can provide substantial benefits to many applications, including robotics. Nonetheless, although millimetre-scale movement has been demonstrated with synthetic and biological molecular motors, their efficient integration into engineered systems that perform macroscopic tasks remains challenging. Here, we describe an active network capable of macroscopic actuation that is hierarchically assembled from an engineered kinesin, a biomolecular motor, and microtubules, resembling the contractile units in muscles. These contracting materials can be formed in desired areas using patterned ultraviolet illumination, allowing their incorporation into mechanically engineered systems, being also compatible with printing technologies. Due to the designed filamentous assembly of kinesins, the generated forces reach the micronewton range, enabling actuation of millimetre-scale mechanical components. These properties may be useful for the fabrication of soft robotic systems with advanced functionalities.
Access options
Subscribe to Journal
Get full journal access for 1 year
$59.00
only $4.92 per issue
All prices are NET prices.
VAT will be added later in the checkout.
Tax calculation will be finalised during checkout.
Rent or Buy article
Get time limited or full article access on ReadCube.
from$8.99
All prices are NET prices.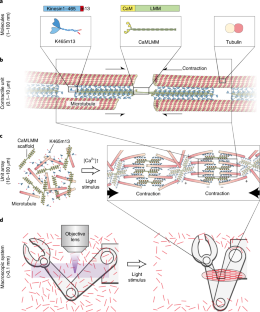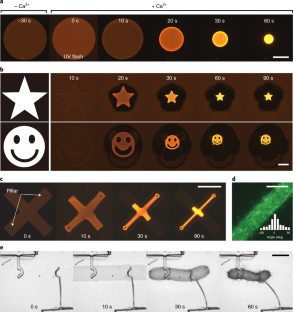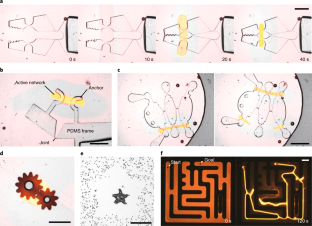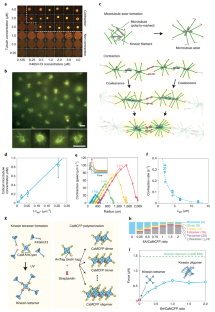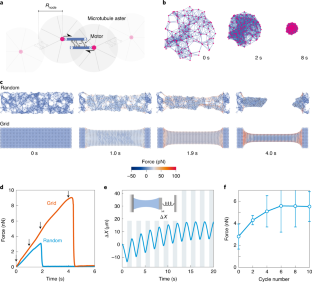 Data availability
Plasmids are available from the corresponding author upon request. Source data are provided with this paper.
References
1.

Yang, G.-Z. et al. The grand challenges of Science Robotics. Sci. Robot. 3, eaar7650 (2018).

2.

Li, Q. et al. Macroscopic contraction of a gel induced by the integrated motion of light-driven molecular motors. Nat. Nanotechnol. 10, 161–165 (2015).

3.

Chen, J. et al. Artificial muscle-like function from hierarchical supramolecular assembly of photoresponsive molecular motors. Nat. Chem. 10, 132–138 (2018).

4.

Vale, R. D. & Milligan, R. A. The way things move: looking under the hood of molecular motor proteins. Science 288, 88–95 (2000).

5.

Goel, A. & Vogel, V. Harnessing biological motors to engineer systems for nanoscale transport and assembly. Nat. Nanotechnol. 3, 465–475 (2008).

6.

Korten, T., Månsson, A. & Diez, S. Towards the application of cytoskeletal motor proteins in molecular detection and diagnostic devices. Curr. Opin. Biotechnol. 21, 477–488 (2010).

7.

Saper, G. & Hess, H. Synthetic systems powered by biological molecular motors. Chem. Rev. 120, 288–309 (2020).

8.

Lin, C. T., Kao, M. T., Kurabayashi, K. & Meyhofer, E. Self-contained, biomolecular motor-driven protein sorting and concentrating in an ultrasensitive microfluidic chip. Nano Lett. 8, 1041–1046 (2008).

9.

Fischer, T., Agarwal, A. & Hess, H. A smart dust biosensor powered by kinesin motors. Nat. Nanotechnol. 4, 162–166 (2009).

10.

Lard, M. et al. Ultrafast molecular motor driven nanoseparation and biosensing. Biosens. Bioelectron. 48, 145–152 (2013).

11.

Aoyama, S., Shimoike, M. & Hiratsuka, Y. Self-organized optical device driven by motor proteins. Proc. Natl Acad. Sci. USA 110, 16408–16413 (2013).

12.

Nicolau, D. V. et al. Parallel computation with molecular-motor-propelled agents in nanofabricated networks. Proc. Natl Acad. Sci. USA 113, 2591–2596 (2016).

13.

Sato, Y., Hiratsuka, Y., Kawamata, I., Murata, S. & Nomura, S. M. Micrometer-sized molecular robot changes its shape in response to signal molecules. Sci. Robot. 2, eaal3735 (2017).

14.

Needleman, D. & Dogic, Z. Active matter at the interface between materials science and cell biology. Nat. Rev. Mater. 2, 17048 (2017).

15.

Koenderink, G. H. & Paluch, E. K. Architecture shapes contractility in actomyosin networks. Curr. Opin. Cell Biol. 50, 79–85 (2018).

16.

Nedelec, F. J., Surrey, T., Maggs, A. C. & Leibler, S. Self-organization of microtubules and motors. Nature 389, 305–308 (1997).

17.

Köhler, S., Schaller, V. & Bausch, A. R. Structure formation in active networks. Nat. Mater. 10, 462–468 (2011).

18.

Wollman, A. J. M., Sanchez-Cano, C., Carstairs, H. M. J., Cross, R. A. & Turberfield, A. J. Transport and self-organization across different length scales powered by motor proteins and programmed by DNA. Nat. Nanotechnol. 9, 44–47 (2014).

19.

Foster, P. J., Fürthauer, S., Shelley, M. J. & Needleman, D. J. Active contraction of microtubule networks. eLife 4, e10837 (2015).

20.

Torisawa, T., Taniguchi, D., Ishihara, S. & Oiwa, K. Spontaneous formation of a globally connected contractile network in a microtubule-motor system. Biophys. J. 111, 373–385 (2016).

21.

Sanchez, T., Welch, D., Nicastro, D. & Dogic, Z. Cilia-like beating of active microtubule bundles. Science 333, 456–459 (2011).

22.

Rich, S. I., Wood, R. J. & Majidi, C. Untethered soft robotics. Nat. Electron. 1, 102–112 (2018).

23.

Linsmeier, I. et al. Disordered actomyosin networks are sufficient to produce cooperative and telescopic contractility. Nat. Commun. 7, 12615 (2016).

24.

Schuppler, M., Keber, F. C., Kröger, M. & Bausch, A. R. Boundaries steer the contraction of active gels. Nat. Commun. 7, 13120 (2016).

25.

Ross, T. D. et al. Controlling organization and forces in active matter through optically defined boundaries. Nature 572, 224–229 (2019).

26.

Alberts, B. et al. Molecular Biology of the Cell (Norton, 2014).

27.

Svoboda, K. & Block, S. M. Force and velocity measured for single kinesin molecules. Cell 77, 773–784 (1994).

28.

Bagshaw, C. R. Muscle Contraction (Kluwer Academic Publishers, 1993).

29.

Murphy, S. V. & Atala, A. 3D bioprinting of tissues and organs. Nat. Biotechnol. 32, 773–785 (2014).

30.

Alvarado, J., Sheinman, M., Sharma, A., MacKintosh, F. C. & Koenderink, G. H. Force percolation of contractile active gels. Soft Matter 13, 5624–5644 (2017).

31.

Murrell, M., Oakes, P. W., Lenz, M. & Gardel, M. L. Forcing cells into shape: the mechanics of actomyosin contractility. Nat. Rev. Mol. Cell Biol. 16, 486–498 (2015).

32.

Day, R. N. & Davidson, M. W. The fluorescent protein palette: tools for cellular imaging. Chem. Soc. Rev. 38, 2887–2921 (2009).

33.

Dasanayake, N. L. & Carlsson, A. E. Stress generation by myosin minifilaments in actin bundles. Phys. Biol. 10, 036006 (2013).

34.

Lenz, M. Geometrical origins of contractility in disordered actomyosin networks. Phys. Rev. X 4, 041002 (2014).

35.

Nakamura, M. et al. Remote control of myosin and kinesin motors using light-activated gearshifting. Nat. Nanotechnol. 9, 693–697 (2014).

36.

Matsuda, T., Kawakami, R., Namba, R., Nakajima, T. & Gong, J. P. Mechanoresponsive self-growing hydrogels inspired by muscle training. Science 363, 504–508 (2019).

37.

Abramson, A. et al. An ingestible self-orienting system for oral delivery of macromolecules. Science 363, 611–615 (2019).

38.

Iwamoto, H. & Yagi, N. The molecular trigger for high-speed wing beats in a bee. Science 341, 1243–1246 (2013).

39.

Hyman, A. A. Preparation of marked microtubules for the assay of the polarity of microtubule-based motors by fluorescence. J. Cell Sci. Suppl. 14, 125–127 (1991).

40.

Blumenthal, D. K. et al. Identification of the calmodulin-binding domain of skeletal muscle myosin light chain kinase. Proc. Natl Acad. Sci. USA 82, 3187–3191 (1985).

41.

Beckett, D., Kovaleva, E. & Schatz, P. J. A minimal peptide substrate in biotin holoenzyme synthetase-catalyzed biotinylation. Protein Sci. 8, 921–929 (1999).

42.

Castoldi, M. & Popov, A. V. Purification of brain tubulin through two cycles of polymerization-depolymerization in a high-molarity buffer. Protein Expr. Purif. 32, 83–88 (2003).

43.

Hyman, A. et al. Preparation of modified tubulins. Methods Enzymol. 196, 478–485 (1991).

44.

Margossian, S. S. & Lowey, S. Preparation of myosin and its subfragments from rabbit skeletal muscle. Methods Enzymol. 85, 55–71 (1982).

45.

Hess, H., Clemmens, J., Qin, D., Howard, J. & Vogel, V. Light-controlled molecular shuttles made from motor proteins carrying cargo on engineered surfaces. Nano Lett. 1, 235–239 (2001).

46.

Hiratsuka, Y., Miyata, M. & Uyeda, T. Q. P. Living microtransporter by uni-directional gliding of mycoplasma along microtracks. Biochem. Biophys. Res. Commun. 331, 318–324 (2005).

47.

Steinbock, O., Tóth, A. & Showalter, K. Navigating complex labyrinths: optimal paths from chemical waves. Science 267, 868–871 (1995).

48.

Nakagaki, T., Yamada, H. & Tóth, Á. Maze-solving by an amoeboid organism. Nature 407, 470 (2000).

49.

Tan, J. L. et al. Cells lying on a bed of microneedles: an approach to isolate mechanical force. Proc. Natl Acad. Sci. USA 100, 1484–1489 (2003).

50.

Landau, L. D. & Lifshitz, E. M. Theory of Elasticity (Butterworth-Heinemann, 1986).

51.

Rupp, B. & Nédélec, F. Patterns of molecular motors that guide and sort filaments. Lab Chip 12, 4903–4910 (2012).
Acknowledgements
We thank C. Tatsumi for technical assistance and K. Hirai for carrying out preliminary experiments. We thank H. Hess at Columbia University, Y. Inoue at Kyoto University and T. Q. P. Uyeda at Waseda University for their comments and discussions. This work was supported by the New Energy and Industrial Technology Development Organization (NEDO, No. 16100859-0), MEXT (KAKENHI 'Molecular Robotics' JP24104004) and JSPS (KAKENHI JP18H01407, to Y.H.).
Ethics declarations
Competing interests
The authors declare no competing interests.
Additional information
Peer review information Nature Materials thanks the anonymous reviewers for their contribution to the peer review of this work.
Publisher's note Springer Nature remains neutral with regard to jurisdictional claims in published maps and institutional affiliations.
Supplementary information
About this article
Cite this article
Nitta, T., Wang, Y., Du, Z. et al. A printable active network actuator built from an engineered biomolecular motor. Nat. Mater. (2021). https://doi.org/10.1038/s41563-021-00969-6
Received:

Accepted:

Published: