Abstract
Lithium metal has been considered an ideal anode for high-energy rechargeable Li batteries, although its nucleation and growth process remains mysterious, especially at the nanoscale. Here, cryogenic transmission electron microscopy was used to reveal the evolving nanostructure of Li metal deposits at various transient states in the nucleation and growth process, in which a disorder–order phase transition was observed as a function of current density and deposition time. The atomic interaction over wide spatial and temporal scales was depicted by reactive molecular dynamics simulations to assist in understanding the kinetics. Compared to crystalline Li, glassy Li outperforms in electrochemical reversibility, and it has a desired structure for high-energy rechargeable Li batteries. Our findings correlate the crystallinity of the nuclei with the subsequent growth of the nanostructure and morphology, and provide strategies to control and shape the mesostructure of Li metal to achieve high performance in rechargeable Li batteries.
Access options
Subscribe to Journal
Get full journal access for 1 year
$99.00
only $8.25 per issue
All prices are NET prices.
VAT will be added later in the checkout.
Tax calculation will be finalised during checkout.
Rent or Buy article
Get time limited or full article access on ReadCube.
from$8.99
All prices are NET prices.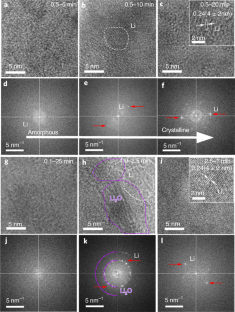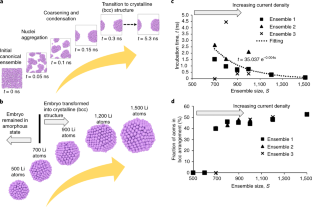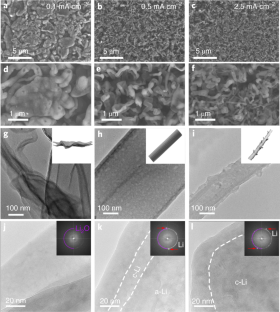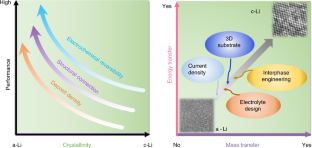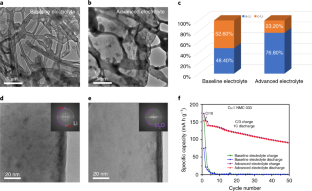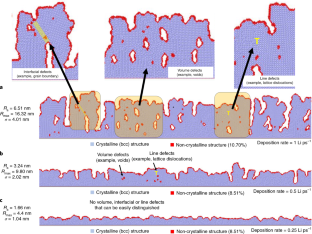 Data availability
The data that support the findings of this study are available from the corresponding authors upon reasonable request. Source data are provided with this paper.
References
1.

Steiger, J., Kramer, D. & Mönig, R. Mechanisms of dendritic growth investigated by in situ light microscopy during electrodeposition and dissolution of lithium. J. Power Sources 261, 112–119 (2014).

2.

Wood, K. N. et al. Dendrites and pits: untangling the complex behavior of lithium metal anodes through operando video microscopy. ACS Cent. Sci. 2, 790–801 (2016).

3.

Cohen, Y. S., Cohen, Y. & Aurbach, D. Micromorphological studies of lithium electrodes in alkyl carbonate solutions using in situ atomic force microscopy. J. Phys. Chem. B 104, 12282–12291 (2000).

4.

Mogi, R., Inaba, M., Iriyama, Y., Abe, T. & Ogumi, Z. In situ atomic force microscopy study on lithium deposition on nickel substrates at elevated temperatures. J. Electrochem. Soc. 149, A385–A390 (2002).

5.

Orsini, F. et al. In situ scanning electron microscopy (SEM) observation of interfaces within plastic lithium batteries. J. Power Sources 76, 19–29 (1998).

6.

Cheng, J.-H. et al. Visualization of lithium plating and stripping via in operando transmission X-ray microscopy. J. Phys. Chem. C 121, 7761–7766 (2017).

7.

Kushima, A. et al. Liquid cell transmission electron microscopy observation of lithium metal growth and dissolution: root growth, dead lithium and lithium flotsams. Nano Energy 32, 271–279 (2017).

8.

Li, Y. et al. Atomic structure of sensitive battery materials and interfaces revealed by cryo–electron microscopy. Science 358, 506–510 (2017).

9.

Wang, X. et al. New insights on the structure of electrochemically deposited lithium metal and its solid electrolyte interphases via cryogenic TEM. Nano Lett. 17, 7606–7612 (2017).

10.

Dubrovskii, V. in Nucleation Theory and Growth of Nanostructures 1–73 (Springer, 2014).

11.

Scharifker, B. R. & Mostany, J. in Encyclopedia of Electrochemistry 512–539 (Wiley, 2007).

12.

Ely, D. R., Jana, A. & García, R. E. Phase field kinetics of lithium electrodeposits. J. Power Sources 272, 581–594 (2014).

13.

Ely, D. R. & García, R. E. Heterogeneous nucleation and growth of lithium electrodeposits on negative electrodes. J. Electrochem. Soc. 160, A662–A668 (2013).

14.

Akolkar, R. Modeling dendrite growth during lithium electrodeposition at sub-ambient temperature. J. Power Sources 246, 84–89 (2014).

15.

Akolkar, R. Mathematical model of the dendritic growth during lithium electrodeposition. J. Power Sources 232, 23–28 (2013).

16.

Chazalviel, J. N. Electrochemical aspects of the generation of ramified metallic electrodeposits. Phys. Rev. A 42, 7355–7367 (1990).

17.

Wang, X., Li, Y. & Meng, Y. S. Cryogenic electron microscopy for characterizing and diagnosing batteries. Joule 2, 2225–2234 (2018).

18.

Wang, F. et al. Chemical distribution and bonding of lithium in intercalated graphite: identification with optimized electron energy loss spectroscopy. ACS Nano 5, 1190–1197 (2011).

19.

Loh, N. D. et al. Multistep nucleation of nanocrystals in aqueous solution. Nat. Chem. 9, 77–82 (2017).

20.

Yang, J. et al. Amorphous-phase-mediated crystallization of Ni nanocrystals revealed by high-resolution liquid-phase electron microscopy. J. Am. Chem. Soc. 141, 763–768 (2019).

21.

Liao, H.-G., Cui, L., Whitelam, S. & Zheng, H. Real-time imaging of Pt3Fe nanorod growth in solution. Science 336, 1011–1014 (2012).

22.

Wittig, J. E., Bentley, J. & Allard, L. F. In situ investigation of ordering phase transformations in FePt magnetic nanoparticles. Ultramicroscopy 176, 218–232 (2017).

23.

Chi, M. et al. Surface faceting and elemental diffusion behaviour at atomic scale for alloy nanoparticles during in situ annealing. Nat. Commun. 6, 8925 (2015).

24.

van Duin, A. C. T., Dasgupta, S., Lorant, F. & Goddard, W. A. ReaxFF: a reactive force field for hydrocarbons. J. Phys. Chem. A 105, 9396–9409 (2001).

25.

Plimpton, S., Crozier, P. & Thompson, A. LAMMPS-large-scale atomic/molecular massively parallel simulator. Sandia Natl Laboratories 18, 43 (2007).

26.

Majure, D. L. et al. Large-scale atomic/molecular massively parallel simulator (LAMMPS) simulations of the effects of chirality and diameter on the pullout force in a carbon nanotube bundle. In 2008 DoD HPCMP Users Group Conference 201–207 (IEEE, 2008).

27.

Stukowski, A. Visualization and analysis of atomistic simulation data with OVITO–the open visualization tool. Model. Simul. Mater. Sci. Eng. 18, 015012 (2009).

28.

Onofrio, N. & Strachan, A. Voltage equilibration for reactive atomistic simulations of electrochemical processes. J. Chem. Phys. 143, 054109 (2015).

29.

Jensen, B. D., Wise, K. E. & Odegard, G. M. The effect of time step, thermostat, and strain rate on ReaxFF simulations of mechanical failure in diamond, graphene, and carbon nanotube. J. Comput. Chem. 36, 1587–1596 (2015).

30.

Cui, Z., Gao, F., Cui, Z. & Qu, J. Developing a second nearest-neighbor modified embedded atom method interatomic potential for lithium. Model. Simul. Mater. Sci. Eng. 20, 015014 (2011).

31.

Stukowski, A. Structure identification methods for atomistic simulations of crystalline materials. Model. Simul. Mater. Sci. Eng. 20, 045021 (2012).

32.

Baldan, A. Review progress in Ostwald ripening theories and their applications to nickel-base superalloys part I: Ostwald ripening theories. J. Mater. Sci. 37, 2171–2202 (2002).

33.

Nanev, C. N. in Handbook of Crystal Growth 2nd edn, 315–358 (Elsevier, 2015).

34.

Karthika, S., Radhakrishnan, T. K. & Kalaichelvi, P. A review of classical and nonclassical nucleation theories. Cryst. Growth Des. 16, 6663–6681 (2016).

35.

Greer, A. L. Metallic glasses. Science 267, 1947–1953 (1995).

36.

Jafary-Zadeh, M. et al. A critical review on metallic glasses as structural materials for cardiovascular stent applications. J. Funct. Biomater. 9, 19 (2018).

37.

Chen, M. A brief overview of bulk metallic glasses. NPG Asia Mater. 3, 82–90 (2011).

38.

Khan, M. M. et al. Recent advancements in bulk metallic glasses and their applications: a review. Crit. Rev. Solid State Mater. Sci. 43, 233–268 (2018).
Acknowledgements
We thank the UC Irvine Materials Research Institute (IMRI) for the use of the Cryo-Electron Microscopy Facility and Kratos XPS, funded in part by the National Science Foundation Major Research Instrumentation Program under grant no. CHE-1338173. We thank X. Pan, T. Aoki, L. Xing and J.-G. Zheng for their assistance with the microscopy. Work at the Molecular Foundry was supported by the Office of Science, Office of Basic Energy Sciences, of the US Department of Energy under contract no. DE-AC02-05CH11231. The SEM was performed in part at the San Diego Nanotechnology Infrastructure (SDNI), a member of the National Nanotechnology Coordinated Infrastructure, which is supported by the National Science Foundation (grant ECCS-1542148). We also thank A. van Duin of the Pennsylvania State University for providing the ReaxFF parameters used in this work. We thank W. Xu and M. Olguin for discussing the results. This work is supported by the Assistant Secretary for Energy Efficiency and Renewable Energy, Office of Vehicle Technologies of the US Department of Energy in the Advanced Battery Materials Research (BMR) Program (Battery500 Consortium). Idaho National Laboratory (INL) is operated by Battelle Energy Alliance under contract no. DE-DE-AC07-05ID14517 for the US Department of Energy.
Ethics declarations
Competing interests
The authors declare no competing interests.
Additional information
Publisher's note Springer Nature remains neutral with regard to jurisdictional claims in published maps and institutional affiliations.
Co-first authors: Xuefeng Wang, Gorakh Pawar.
Supplementary information
About this article
Cite this article
Wang, X., Pawar, G., Li, Y. et al. Glassy Li metal anode for high-performance rechargeable Li batteries. Nat. Mater. 19, 1339–1345 (2020). https://doi.org/10.1038/s41563-020-0729-1
Received:

Accepted:

Published:

Issue Date: