Abstract
Relaxor ferroelectrics exhibit outstanding dielectric, electromechanical and electrocaloric properties, and are the materials of choice for acoustic sensors, solid-state coolers, transducers and actuators1,2,3,4. Despite more than five decades of intensive study, relaxor ferroelectrics remain one of the least understood material families in ferroelectric materials and condensed matter physics5,6,7,8,9,10,11,12,13,14. Here, by combining X-ray diffraction, atomic force microscope infrared spectroscopy and first-principles calculations, we reveal that the relaxor behaviour of ferroelectric polymers originates from conformational disorder, completely different from classic perovskite relaxors, which are typically characterized by chemical disorder. We show that chain chirality is essential to the formation of the disordered helix conformation arising from local distortions of gauche torsional angles, which consequently give rise to relaxor properties in polymers. This study not only sheds light on the fundamental mechanisms of relaxor ferroelectrics, but also offers guidance for the discovery of new ferroelectric relaxor organic materials for flexible, scalable and biocompatible sensor and energy applications.
This is a preview of subscription content
Access options
Subscribe to Journal
Get full journal access for 1 year
$99.00
only $8.25 per issue
All prices are NET prices.
VAT will be added later in the checkout.
Tax calculation will be finalised during checkout.
Rent or Buy article
Get time limited or full article access on ReadCube.
from$8.99
All prices are NET prices.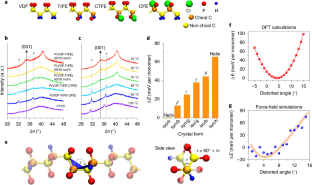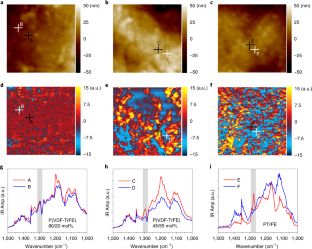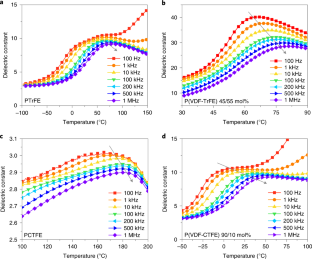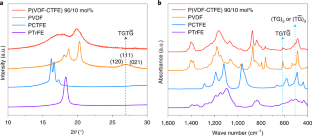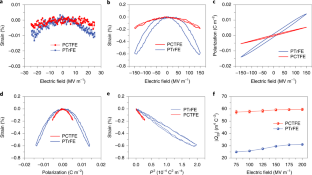 References
1.

Cross, L. E., Jang, S. J., Newnham, R. E., Nomura, S. & Uchino, K. Large electrostrictive effects in relaxor ferroelectrics. Ferroelectrics 23, 187–192 (1980).

2.

Park, S. E. & Shrout, T. R. Ultrahigh strain and piezoelectric behavior in relaxor based ferroelectric single crystals. J. Appl. Phys. 82, 1804–1811 (1997).

3.

Zhang, Q. M., Bharti, V. & Zhao, X. Giant electrostriction and relaxor ferroelectric behavior in electron-irradiated poly(vinylidene fluoride-trifluoroethylene) copolymer. Science 280, 2101–2104 (1998).

4.

Kutnjak, Z., Petzelt, J. & Blinc, R. The giant electromechanical response in ferroelectric relaxors as a critical phenomenon. Nature 441, 956–959 (2006).

5.

Burns, G. & Dacol, F. H. Crystalline ferroelectrics with glassy polarization behaviour. Phys. Rev. B 28, 2527–2530 (1983).

6.

Westphal, V., Kleemann, W. & Glinchuk, M. D. Diffuse phase transitions and random-field-induced domain states of the 'relaxor' ferroelectric PbMg1/3Nb2/3O3. Phys. Rev. Lett. 68, 847–850 (1992).

7.

Tinte, S., Burton, B. P., Cockayne, E. & Waghmare, U. V. Origin of the relaxor state in Pb(BxB′1–x)O3 perovskites. Phys. Rev. Lett. 97, 137601 (2006).

8.

Dkhil, B. et al. Intermediate temperature scale T∗ in lead-based relaxor systems. Phys. Rev. B 80, 064103 (2009).

9.

Ganesh, P. et al. Origin of diffuse scattering in relaxor ferroelectrics. Phys. Rev. B 81, 144102 (2010).

10.

Akbarzadeh, A. R., Prosandeev, S., Walter, E. J., Al-Barakaty, A. & Bellaiche, L. Finite-temperature properties of Ba(Zr,Ti)O3 relaxors from first principles. Phys. Rev. Lett. 108, 257601 (2012).

11.

Paściak, M., Welberry, T. R., Kulda, J., Kempa, M. & Hlinka, J. Polar nanoregions and diffuse scattering in the relaxor ferroelectric PbMg1/3Nb2/3O3. Phys. Rev. B 85, 224109 (2012).

12.

Bosak, A., Chernyshov, D., Vakhrushev, S. & Krisch, M. Diffuse scattering in relaxor ferroelectrics: true three-dimensional mapping, experimental artefacts and modelling. Acta Crystallogr. A 68, 117–123 (2012).

13.

Takenaka, H., Grinberg, I., Liu, S. & Rappe, A. M. Slush-like polar structures in single-crystal relaxors. Nature 546, 391–395 (2017).

14.

Krogstad, M. J. et al. The relation of local order to material properties in relaxor ferroelectrics. Nat. Mater. 17, 718–724 (2018).

15.

Yang, L. et al. Novel polymer ferroelectric behavior via crystal isomorphism and the nanoconfinement effect. Polymer 54, 1709–1728 (2013).

16.

Tsutsumi, N., Okumachi, K., Kinashi, K. & Wataru, S. Re-evaluation of the origin of relaxor ferroelectricity in vinylidene fluoride terpolymers: an approach using switching current measurements. Sci. Rep. 7, 15871 (2017).

17.

Pramanick, A. et al. Origin of dielectric relaxor behavior in PVDF-based copolymer and terpolymer films. AIP Adv. 8, 045204 (2018).

18.

Chu, B. et al. A dielectric polymer with high electric energy density and fast discharge speed. Science 313, 334–336 (2006).

19.

Neese, B. et al. Large electrocaloric effect in ferroelectric polymers near room temperature. Science 321, 821–823 (2008).

20.

Liu, Y. et al. Ferroelectric polymers exhibiting behaviour reminiscent of a morphotropic phase boundary. Nature 562, 96–100 (2018).

21.

Lovinger, A. J. Ferroelectric polymers. Science 220, 1115–1121 (1983).

22.

Bellet-Amalric, E. & Legrand, J. F. Crystalline structures and phase transition of the ferroelectric P(VDF-TrFE) copolymers, a neutron diffraction study. Eur. Phys. J. B 3, 225–236 (1998).

23.

Davis, G. T., Furukawa, T., Lovinger, A. J. & Broadhurst, M. G. Structural and dielectric investigation on the nature of the transition in a copolymer of vinylidene fluoride and trifluoroethylene (52/48 mol %). Macromolecules 15, 329–333 (1982).

24.

Lovinger, A. J. & Cais, R. E. Structure and morphology of poly(trifluoroethylene). Macromolecules 17, 1939–1945 (1984).

25.

Kolda, R. R. & Lando, J. B. The effect of hydrogen-fluorine defects on the conformational energy of polytrifluoroethylene chains. J. Macromol. Sci. B Phys. 11, 21–39 (1975).

26.

Bohlén, M. & Bolton, K. Conformational studies of poly(vinylidene fluoride), poly(trifluoroethylene) and poly(vinylidene fluoride-co-trifluoroethylene) using density functional theory. Phys. Chem. Chem. Phys. 16, 12929–12939 (2014).

27.

Kaufman, H. S. X-Ray examination of polychlorotrifluoroethylene. J. Am. Chem. Soc. 75, 1477–1478 (1953).

28.

Mencik, Z. Crystal structure of polychlorotrifluoroethylene. J. Polym. Sci. Polym. Phys. Ed. 11, 1585–1599 (1973).

29.

Oka, Y. & Koizumi, N. Pyroelectricity in polytrifluoroethylene. Jpn. J. Appl. Phys. 22, L281–L283 (1983).

30.

Oka, Y., Koizumi, N. & Murata, Y. Ferroelectric order and phase transition in polytrifluoroethylene. J. Polym. Sci. B Polym. Phys. 24, 2059–2072 (1986).

31.

Gadinski, M. R., Li, Q., Zhang, G., Zhang, X. & Wang, Q. Understanding of relaxor ferroelectric behavior of poly(vinylidene fluoride–trifluoroethylene–chlorotrifluoroethylene) terpolymers. Macromolecules 48, 2731–2739 (2015).

32.

Gregorio, R. Jr Determination of the α, β, and γ crystalline phases of poly(vinylidene fluoride) films prepared at different conditions. J. Appl. Polym. Sci. 100, 3272–3279 (2006).

33.

Giannozzi, P. et al. Quantum Espresso: a modular and open-source software project for quantum simulations of materials. J. Phys. Condens. Matter 21, 395502 (2009).

34.

Vanderbilt, D. Soft self-consistent pseudopotentials in a generalized eigenvalue formalism. Phys. Rev. B 41, 7892–7895 (1990).

35.

Perdew, J. P., Kieron, B. & Matthias, E. Generalized gradient approximation made simple. Phys. Rev. Lett. 77, 3865–3868 (1996).

36.

Lee, K., Murray, É. D., Kong, L., Lundqvist, B. I. & Langreth, D. C. Higher-accuracy van der Waals density functional. Phys. Rev. B 82, 081101(R) (2010).

37.

Pack, J. D. & Monkhorst, H. J. "Special points for Brillouin-zone integrations"—a reply. Phys. Rev. B 16, 1748–1749 (1977).

38.

Plimpton, S. Fast parallel algorithms for short-range molecular dynamics. J. Comp. Phys. 117, 1–19 (1995).

39.

van Duin, A. C. T., Dasgupta, S., Lorant, F. & Goddard, W. A. ReaxFF: a reactive force field for hydrocarbons. J. Phys. Chem. A 105, 9396–9409 (2001).
Acknowledgements
This research was funded by the US Air Force Office of Scientific Research through MURI FA9550-19-1-0008 (Q.W.) and the US Office of Naval Research (grant N000141912033, J.B.). The supercomputer time at the National Center for Supercomputing Applications (NSF OCI-0725070 and ACI-1238993) was provided by NSF grant ACI-1615114 (J.B.). Y.L. thanks T. Williams for technical assistance.
Ethics declarations
Competing interests
The authors declare no competing interests.
Additional information
Publisher's note Springer Nature remains neutral with regard to jurisdictional claims in published maps and institutional affiliations.
Supplementary information
About this article
Cite this article
Liu, Y., Zhang, B., Xu, W. et al. Chirality-induced relaxor properties in ferroelectric polymers. Nat. Mater. 19, 1169–1174 (2020). https://doi.org/10.1038/s41563-020-0724-6
Received:

Accepted:

Published:

Issue Date: