Abstract
Magnetostriction, coupling between the mechanical and magnetic degrees of freedom, finds a variety of applications in magnetic actuation, transduction and sensing1,2. The discovery of two-dimensional layered magnetic materials3,4,5,6,7,8 presents a new platform to explore the magnetostriction effects in ultrathin solids. Here we demonstrate an exchange-driven magnetostriction effect in mechanical resonators made of two-dimensional antiferromagnetic CrI3. The mechanical resonance frequency is found to depend on the magnetic state of the material. We quantify the relative importance of the exchange and anisotropy magnetostriction by measuring the resonance frequency under a magnetic field parallel and perpendicular to the easy axis, respectively. Furthermore, we show efficient strain-tuning of the internal magnetic interactions in two-dimensional CrI3 as a result of inverse magnetostriction. Our results establish the basis for mechanical detection and control of magnetic states and magnetic phase transitions in two-dimensional layered materials.
This is a preview of subscription content
Access options
Subscribe to Journal
Get full journal access for 1 year
$99.00
only $8.25 per issue
All prices are NET prices.
VAT will be added later in the checkout.
Tax calculation will be finalised during checkout.
Rent or Buy article
Get time limited or full article access on ReadCube.
from$8.99
All prices are NET prices.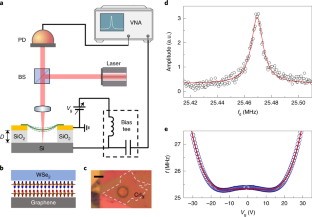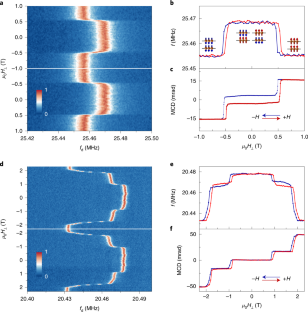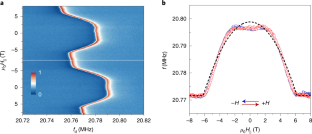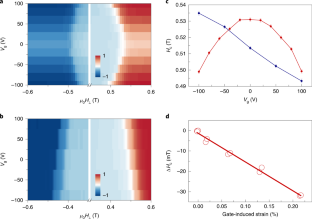 Data availability
The data that support the findings of this study are available within the paper and its Supplementary Information. Additional data are available from the corresponding authors upon request.
References
1.

Joule, J. P. On the effects of magnetism upon the dimensions of iron and steel bars. Philos. Mag. 30, 76–87 (1847).

2.

du Trémolet de Lacheisserie, E. Magnetostriction: Theory and Application of Magnetoelasticity (CRC Press, 1993).

3.

Mak, K. F., Shan, J. & Ralph, D. C. Probing and controlling magnetic states in 2D layered magnetic materials. Nat. Rev. Phys. 1, 646–661 (2019).

4.

Gong, C. et al. Discovery of intrinsic ferromagnetism in two-dimensional van der Waals crystals. Nature 546, 265–269 (2017).

5.

Huang, B. et al. Layer-dependent ferromagnetism in a van der Waals crystal down to the monolayer limit. Nature 546, 270–273 (2017).

6.

Gong, C. & Zhang, X. Two-dimensional magnetic crystals and emergent heterostructure devices. Science 363, eaav4450 (2019).

7.

Gibertini, M., Koperski, M., Morpurgo, A. F. & Novoselov, K. S. Magnetic 2D materials and heterostructures. Nat. Nanotechnol. 14, 408–419 (2019).

8.

Burch, K. S., Mandrus, D. & Park, J.-G. Magnetism in two-dimensional van der Waals materials. Nature 563, 47–52 (2018).

9.

Song, T. et al. Giant tunneling magnetoresistance in spin-filter van der Waals heterostructures. Science 360, 1214–1218 (2018).

10.

Klein, D. R. et al. Probing magnetism in 2D van der Waals crystalline insulators via electron tunneling. Science 360, 1218–1222 (2018).

11.

Kim, H. H. et al. One million percent tunnel magnetoresistance in a magnetic van der Waals heterostructure. Nano Lett. 18, 4885–4890 (2018).

12.

Wang, Z. et al. Very large tunneling magnetoresistance in layered magnetic semiconductor CrI3. Nat. Commun. 9, 2516 (2018).

13.

Jiang, S., Shan, J. & Mak, K. F. Electric-field switching of two-dimensional van der Waals magnets. Nat. Mater. 17, 406–410 (2018).

14.

Jiang, S., Li, L., Wang, Z., Mak, K. F. & Shan, J. Controlling magnetism in 2D CrI3 by electrostatic doping. Nat. Nanotechnol. 13, 549–553 (2018).

15.

Huang, B. et al. Electrical control of 2D magnetism in bilayer CrI3. Nat. Nanotechnol. 13, 544–548 (2018).

16.

Jin, C. et al. Imaging and control of critical spin fluctuations in two-dimensional magnets. Nat. Mater. https://doi.org/10.1038/s41563-020-0706-8 (2020).

17.

Wang, Z. et al. Electric-field control of magnetism in a few-layered van der Waals ferromagnetic semiconductor. Nat. Nanotechnol. 13, 554–559 (2018).

18.

Jiang, S., Li, L., Wang, Z., Shan, J. & Mak, K. F. Spin tunnel field-effect transistors based on two-dimensional van der Waals heterostructures. Nat. Electron. 2, 159–163 (2019).

19.

Bunch, J. S. et al. Electromechanical Resonators from Graphene Sheets. Science 315, 490–493 (2007).

20.

Chen, C. et al. Performance of monolayer graphene nanomechanical resonators with electrical readout. Nat. Nanotechnol. 4, 861–867 (2009).

21.

Lee, J. et al. Electrically tunable single- and few-layer MoS2 nanoelectromechanical systems with broad dynamic range. Sci. Adv. 4, eaao6653 (2018).

22.

Frisenda, R. et al. Biaxial strain tuning of the optical properties of single-layer transition metal dichalcogenides. npj 2D Mater. Appl. 1, 10 (2017).

23.

Kim, H. H. et al. Magneto‐memristive switching in a 2D layer antiferromagnet. Adv. Mater. 32, 1905433 (2020).

24.

Kittel, C. Model of exchange-inversion magnetization. Phys. Rev. 120, 335–342 (1960).

25.

Swoboda, T. J., Cloud, W. H., Bither, T. A., Sadler, M. S. & Jarrett, H. S. Evidence for an antiferromagnetic-ferrimagnetic transition in Cr-modified Mn2Sb. Phys. Rev. Lett. 4, 509–511 (1960).

26.

Levitin, R. Z. & Ponomarev, K. Magnetostriction of the metamagnetic iron-rhodium alloy. Sov. Phys. JETP 23.6, 984–985 (1966).

27.

Hall, R. C. Single crystal anisotropy and magnetostriction constants of several ferromagnetic materials including alloys of NiFe, SiFe, AlFe, CoNi, and CoFe. J. Appl. Phys. 30, 816–819 (1959).

28.

Šiškins, M. et al. Magnetic and electronic phase transitions probed by nanomechanical resonators. Nat. Commun. 11, 2698 (2020).

29.

Storch, I. R. et al. Young's modulus and thermal expansion of tensioned graphene membranes. Phys. Rev. B 98, 085408 (2018).

30.

Shin, K.-H., Inoue, M. & Arai, K.-I. Strain sensitivity of highly magnetostrictive amorphous films for use in microstrain sensors. J. Appl. Phys. 85, 5465–5467 (1999).

31.

Lee, C., Wei, X., Kysar, J. W. & Hone, J. Measurement of the elastic properties and intrinsic strength of monolayer graphene. Science 321, 385–388 (2008).

32.

Liu, J., Sun, Q., Kawazoe, Y. & Jena, P. Exfoliating biocompatible ferromagnetic Cr-trihalide monolayers. Phys. Chem. Chem. Phys. 18, 8777–8784 (2016).

33.

Zheng, F. et al. Tunable spin states in the two-dimensional magnet CrI3. Nanoscale 10, 14298–14303 (2018).

34.

Zhang, R., Koutsos, V. & Cheung, R. Elastic properties of suspended multilayer WSe2. Appl. Phys. Lett. 108, 042104 (2016).
Acknowledgements
This work was primarily supported by the Air Force Office of Scientific Research under award FA9550-18-1-0480 (development of the experimental setup) and FA9550-19-1-0390 (optical characterizations). It was partially supported by the National Science Foundation under DMR-1807810 (modelling) and the Cornell Center for Materials Research with funding from the NSF MRSEC programme under DMR-1719875 (sample and device fabrication). This work was performed in part at Cornell NanoScale Facility, an NNCI member supported by NSF Grant NNCI-1542081. K.F.M. acknowledges support from a David and Lucille Packard Fellowship.
Ethics declarations
Competing interests
The authors declare no competing interests.
Additional information
Publisher's note Springer Nature remains neutral with regard to jurisdictional claims in published maps and institutional affiliations.
About this article
Cite this article
Jiang, S., Xie, H., Shan, J. et al. Exchange magnetostriction in two-dimensional antiferromagnets. Nat. Mater. 19, 1295–1299 (2020). https://doi.org/10.1038/s41563-020-0712-x
Received:

Accepted:

Published:

Issue Date: