Abstract
A topological meron features a non-coplanar structure, whose order parameters in the core region are perpendicular to those near the perimeter. A meron is half of a skyrmion, and both have potential applications for information carrying and storage. Although merons and skyrmions in ferromagnetic materials can be readily obtained via inter-spin interactions, their behaviour and even existence in ferroelectric materials are still elusive. Here we observe using electron microscopy not only the atomic morphology of merons with a topological charge of 1/2, but also a periodic meron lattice in ultrathin PbTiO3 films under tensile epitaxial strain on a SmScO3 substrate. Phase-field simulations rationalize the formation of merons for which an epitaxial strain, as a single alterable parameter, plays a critical role in the coupling of lattice and charge. This study suggests that by engineering strain at the nanoscale it should be possible to fabricate topological polar textures, which in turn could facilitate the development of nanoscale ferroelectric devices.
Access options
Subscribe to Journal
Get full journal access for 1 year
$199.00
only $16.58 per issue
All prices are NET prices.
VAT will be added later in the checkout.
Rent or Buy article
Get time limited or full article access on ReadCube.
from$8.99
All prices are NET prices.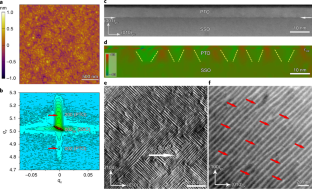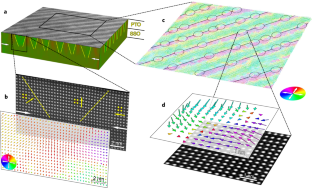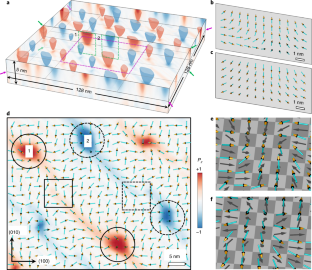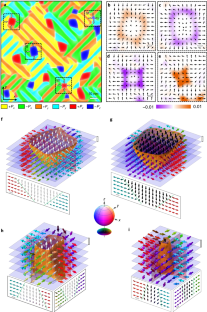 References
1.

Zubko, P., Gariglio, S., Gabay, M., Ghosez, P. & Triscone, J.-M. Interface physics in complex oxide heterostructures. Annu. Rev. Condens. Matter Phys. 2, 141–165 (2011).

2.

Hwang, H. Y. et al. Emergent phenomena at oxide interfaces. Nat. Mater. 11, 103–113 (2012).

3.

Tang, Y. L. et al. Observation of a periodic array of flux-closure quadrants in strained ferroelectric PbTiO3 films. Science 348, 547–551 (2015).

4.

Yadav, A. K. et al. Observation of polar vortices in oxide superlattices. Nature 530, 198–201 (2016).

5.

Lin, S.-Z. et al. Topological defects as relics of emergent continuous symmetry and Higgs condensation of disorder in ferroelectrics. Nat. Phys. 10, 970–977 (2014).

6.

Tom, K. & Ajit, S. Condensed matter analogues of cosmology. J. Phys. Condens. Matter 25, 400301 (2013).

7.

Seidel, J., Vasudevan, R. K. & Valanoor, N. Topological structures in multiferroics - domain walls, skyrmions and vortices. Adv. Electron. Mater. 2, 1500292 (2016).

8.

Roszler, U. K., Bogdanov, A. N. & Pfleiderer, C. Spontaneous skyrmion ground states in magnetic metals. Nature 442, 797–801 (2006).

9.

Muehlbauer, S. et al. Skyrmion lattice in a chiral magnet. Science 323, 915–919 (2009).

10.

Yu, X. Z. et al. Real-space observation of a two-dimensional skyrmion crystal. Nature 465, 901–904 (2010).

11.

Heinze, S. et al. Spontaneous atomic-scale magnetic skyrmion lattice in two dimensions. Nat. Phys. 7, 713–718 (2011).

12.

Nagaosa, N. & Tokura, Y. Topological properties and dynamics of magnetic skyrmions. Nat. Nanotechnol. 8, 899–911 (2013).

13.

Shinjo, T., Okuno, T., Hassdorf, R., Shigeto, K. & Ono, T. Magnetic vortex core observation in circular dots of permalloy. Science 289, 930–932 (2000).

14.

Wachowiak, A. et al. Direct observation of internal spin structure of magnetic vortex cores. Science 298, 577–580 (2002).

15.

Phatak, C., Petford-Long, A. K. & Heinonen, O. Direct observation of unconventional topological spin structure in coupled magnetic discs. Phys. Rev. Lett. 108, 067205 (2012).

16.

Wintz, S. et al. Topology and origin of effective spin meron pairs in ferromagnetic multilayer elements. Phys. Rev. Lett. 110, 177201 (2013).

17.

Siracusano, G. et al. Magnetic radial vortex stabilization and efficient manipulation driven by the Dzyaloshinskii–Moriya interaction and spin-transfer torque. Phys. Rev. Lett. 117, 087204 (2016).

18.

Tan, A. et al. Topology of spin meron pairs in coupled Ni/Fe/Co/Cu(001) disks. Phys. Rev. B 94, 014433 (2016).

19.

Yu, X. Z. et al. Transformation between meron and skyrmion topological spin textures in a chiral magnet. Nature 564, 95–98 (2018).

20.

Jia, C. L., Urban, K. W., Alexe, M., Hesse, D. & Vrejoiu, I. Direct observation of continuous electric dipole rotation in flux-closure domains in ferroelectric Pb(Zr,Ti)O3. Science 331, 1420–1423 (2011).

21.

Li, S. et al. Periodic arrays of flux-closure domains in ferroelectric thin films with oxide electrodes. Appl. Phys. Lett. 111, 052901 (2017).

22.

Liu, Y. et al. Large scale two-dimensional flux-closure domain arrays in oxide multilayers and their controlled growth. Nano Lett. 17, 7258–7266 (2017).

23.

Nelson, C. T. et al. Spontaneous vortex nanodomain arrays at ferroelectric heterointerfaces. Nano Lett. 11, 828–834 (2011).

24.

Zhang, Q. et al. Nanoscale bubble domains and topological transitions in ultrathin ferroelectric films. Adv. Mater. 29, 1702375 (2017).

25.

Lu, L. et al. Topological defects with distinct dipole configurations in PbTiO3/SrTiO3 multilayer films. Phys. Rev. Lett. 120, 177601 (2018).

26.

Li, L. Z. et al. Defect-induced hedgehog polarization states in multiferroics. Phys. Rev. Lett. 120, 137602 (2018).

27.

Naumov, I., Bellaiche, L. & Fu, H. X. Unusual phase transitions in ferroelectric nanodisks and nanorods. Nature 432, 737–740 (2004).

28.

Rodriguez, B. J. et al. Vortex polarization states in nanoscale ferroelectric arrays. Nano Lett. 9, 1127–1131 (2009).

29.

Das, S. et al. Observation of room-temperature polar skyrmions. Nature 568, 368–372 (2019).

30.

Li, Y. L., Hu, S. Y., Liu, Z. K. & Chen, L. Q. Effect of substrate constraint on the stability and evolution of ferroelectric domain structures in thin films. Acta Mater. 50, 395–411 (2002).

31.

Damodaran, A. R. et al. Three-state ferroelastic switching and large electromechanical responses in PbTiO3 thin films. Adv. Mater. 29, 1702069 (2017).

32.

Glazer, A. M. & Mabud, S. A. Powder profile refinement of lead zirconate titanate at several temperatures. II. Pure PbTiO3. Acta Crystallogr. B B34, 1065–1070 (1978).

33.

Pennycook, S. J. & Jesson, D. E. High-resolution Z-contrast imaging of crystals. Ultramicroscopy 37, 14–38 (1991).

34.

Uecker, R. et al. Properties of rare-earth scandate single crystals (Re=Nd−Dy). J. Cryst. Growth 310, 2649–2658 (2008).

35.

Gesing, T. M., Uecker, R. & Buhl, J. C. Refinement of the crystal structure of praseodymium orthoscandate, PrScO3. Z. Kristallogr. New Cryst. Struct. 224, 365–366 (2009).

36.

Fong, D. D. et al. Stabilization of monodomain polarization in ultrathin PbTiO3 films. Phys. Rev. Lett. 96, 127601 (2006).

37.

Xie, L. et al. Giant ferroelectric polarization in ultrathin ferroelectrics via boundary-condition engineering. Adv. Mater. 29, 1701475 (2017).

38.

Anthony, S. M. & Granick, S. Image analysis with rapid and accurate two-dimensional Gaussian fitting. Langmuir 25, 8152–8160 (2009).

39.

Jia, C. L. et al. Atomic-scale study of electric dipoles near charged and uncharged domain walls in ferroelectric films. Nat. Mater. 7, 57–61 (2008).

40.

Hytch, M. J., Snoeck, E. & Kilaas, R. Quantitative measurement of displacement and strain fields from HREM micrographs. Ultramicroscopy 74, 131–146 (1998).

41.

Hytch, M. J., Putaux, J. L. & Penisson, J. M. Measurement of the displacement field of dislocations to 0.03 Å by electron microscopy. Nature 423, 270–273 (2003).

42.

Tang, Y. L., Zhu, Y. L. & Ma, X. L. On the benefit of aberration-corrected HAADF-STEM for strain determination and its application to tailoring ferroelectric domain patterns. Ultramicroscopy 160, 57–63 (2016).

43.

Li, Y. L., Hu, S. Y., Liu, Z. K. & Chen, L. Q. Effect of electrical boundary conditions on ferroelectric domain structures in thin films. Appl. Phys. Lett. 81, 427–429 (2002).

44.

Hong, L., Soh, A. K., Song, Y. C. & Lim, L. C. Interface and surface effects on ferroelectric nano-thin films. Acta Mater. 56, 2966–2974 (2008).
Acknowledgements
We are grateful to D. S. Ma, at Nankai University (now at Cornell University), for participation in film growth by PLD and TEM specimen preparation, and C. J. Li at Shenyang National Laboratory for Materials Science for experimental assistance with XRD and RSM. This work is supported by the Key Research Program of Frontier Sciences CAS (QYZDJ-SSW-JSC010), the National Natural Science Foundation of China (no. 51671194, no. 51971223, no. 51922100) and Shenyang National Laboratory for Materials Science (L2019R06, L2019R08, L2019F01, L2019F13). Y.L.T. acknowledges the Youth Innovation Promotion Association CAS (no. 2016177).
Ethics declarations
Competing interests
The authors declare no competing interests.
Additional information
Publisher's note Springer Nature remains neutral with regard to jurisdictional claims in published maps and institutional affiliations.
Supplementary information
Supplementary Notes 1–5, Supplementary Figs. 1–17 and Supplementary Tables 1–3.
About this article
Cite this article
Wang, Y.J., Feng, Y.P., Zhu, Y.L. et al. Polar meron lattice in strained oxide ferroelectrics. Nat. Mater. (2020). https://doi.org/10.1038/s41563-020-0694-8
Received:

Accepted:

Published: