Abstract
Biological ion channels have remarkable ion selectivity, permeability and rectification properties, but it is challenging to develop artificial analogues. Here, we report a metal–organic framework-based subnanochannel (MOFSNC) with heterogeneous structure and surface chemistry to achieve these properties. The asymmetrically structured MOFSNC can rapidly conduct K+, Na+ and Li+ in the subnanometre-to-nanometre channel direction, with conductivities up to three orders of magnitude higher than those of Ca2+ and Mg2+, equivalent to a mono/divalent ion selectivity of 103. Moreover, by varying the pH from 3 to 8 the ion selectivity can be tuned further by a factor of 102 to 104. Theoretical simulations indicate that ion–carboxyl interactions substantially reduce the energy barrier for monovalent cations to pass through the MOFSNC, and thus lead to ultrahigh ion selectivity. These findings suggest ways to develop ion selective devices for efficient ion separation, energy reservation and power generation.
Access options
Subscribe to Journal
Get full journal access for 1 year
$209.00
only $17.42 per issue
All prices are NET prices.
VAT will be added later in the checkout.
Rent or Buy article
Get time limited or full article access on ReadCube.
from$8.99
All prices are NET prices.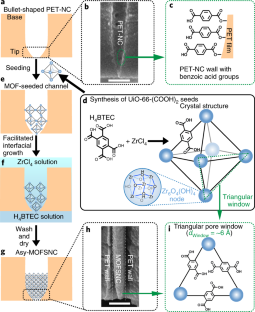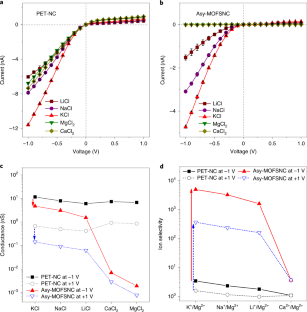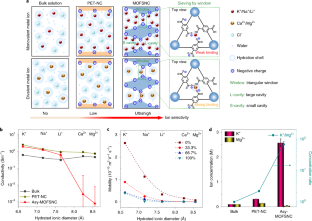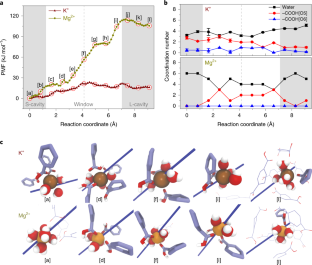 Data availability
All relevant source data within the article and the Supplementary Information are available for download through figshare (https://doi.org/10.6084/m9.figshare.11678046). Additional data related to the paper may be requested from the authors.
References
1.

Radha, B. et al. Molecular transport through capillaries made with atomic-scale precision. Nature 538, 222–225 (2016).

2.

Blankenburg, S. et al. Porous graphene as an atmospheric nanofilter. Small 6, 2266–2271 (2010).

3.

Cohen-Tanugi, D. & Grossman, J. C. Water desalination across nanoporous graphene. Nano Lett. 12, 3602–3608 (2012).

4.

Sparreboom, W., van den Berg, A. & Eijkel, J. C. Principles and applications of nanofluidic transport. Nat. Nanotechnol. 4, 713–720 (2009).

5.

Feng, J. et al. Single-layer MoS2 nanopores as nanopower generators. Nature 536, 197–200 (2016).

6.

Li, R., Fan, X., Liu, Z. & Zhai, J. Smart bioinspired nanochannels and their applications in energy‐conversion systems. Adv. Mater. 29, 1702983 (2017).

7.

Catterall, W. A. Structure and function of voltage-sensitive ion channels. Science 242, 50–61 (1988).

8.

MacKinnon, R. Potassium channels and the atomic basis of selective ion conduction (Nobel lecture). Angew. Chem. Int. Ed. 43, 4265–4277 (2004).

9.

Doyle, D. A. et al. The structure of the potassium channel: molecular basis of K+ conduction and selectivity. Science 280, 69–77 (1998).

10.

Gulbis, J. M., Mann, S. & MacKinnon, R. Structure of a voltage-dependent K+ channel β subunit. Cell 97, 943–952 (1999).

11.

Gouaux, E. & MacKinnon, R. Principles of selective ion transport in channels and pumps. Science 310, 1461–1465 (2005).

12.

Zhou, Y., Morais-Cabral, J. H., Kaufman, A. & MacKinnon, R. Chemistry of ion coordination and hydration revealed by a K+ channel–Fab complex at 2.0 Å resolution. Nature 414, 43–48 (2001).

13.

Roux, B. & MacKinnon, R. The cavity and pore helices in the KcsA K+ channel: electrostatic stabilization of monovalent cations. Science 285, 100–102 (1999).

14.

Nishida, M. & MacKinnon, R. Structural basis of inward rectification: cytoplasmic pore of the G protein-gated inward rectifier GIRK1 at 1.8 Å resolution. Cell 111, 957–965 (2002).

15.

Zhang, H. et al. Bioinspired smart gate-location-controllable single nanochannels: experiment and theoretical simulation. ACS Nano 9, 12264–12273 (2015).

16.

Lepoitevin, M., Ma, T., Bechelany, M., Janot, J.-M. & Balme, S. Functionalization of single solid state nanopores to mimic biological ion channels: A review. Adv. Colloid Interface Sci. 250, 195–213 (2017).

17.

Tagliazucchi, M. & Szleifer, I. Transport mechanisms in nanopores and nanochannels: can we mimic nature? Mater. Today 18, 131–142 (2015).

18.

Amiri, H., Shepard, K. L., Nuckolls, C. & Hernández Sánchez, Rl Single-walled carbon nanotubes: mimics of biological ion channels. Nano Lett. 17, 1204–1211 (2017).

19.

He, Z., Zhou, J., Lu, X. & Corry, B. Bioinspired graphene nanopores with voltage-tunable ion selectivity for Na+ and K+. ACS Nano 7, 10148–10157 (2013).

20.

Wen, Q. et al. Highly selective ionic transport through subnanometer pores in polymer films. Adv. Funct. Mater. 26, 5796–5803 (2016).

21.

Wang, P. et al. Ultrafast ion sieving using nanoporous polymeric membranes. Nat. Commun. 9, 569 (2018).

22.

Joshi, R. et al. Precise and ultrafast molecular sieving through graphene oxide membranes. Science 343, 752–754 (2014).

23.

Abraham, J. et al. Tunable sieving of ions using graphene oxide membranes. Nat. Nanotechnol. 12, 546–550 (2017).

24.

Rollings, R. C., Kuan, A. T. & Golovchenko, J. A. Ion selectivity of graphene nanopores. Nat. Commun. 7, 11408 (2016).

25.

Feng, J. et al. Observation of ionic coulomb blockade in nanopores. Nat. Mater. 15, 850–855 (2016).

26.

Esfandiar, A. et al. Size effect in ion transport through angstrom-scale slits. Science 358, 511–513 (2017).

27.

Furukawa, H., Cordova, K. E., O'Keeffe, M. & Yaghi, O. M. The chemistry and applications of metal–organic frameworks. Science 341, 1230444 (2013).

28.

Cavka, J. H. et al. A new zirconium inorganic building brick forming metal organic frameworks with exceptional stability. J. Am. Chem. Soc. 130, 13850–13851 (2008).

29.

Li, J.-R., Sculley, J. & Zhou, H.-C. Metal–organic frameworks for separations. Chem. Rev. 112, 869–932 (2011).

30.

Denny, M. S. Jr, Moreton, J. C., Benz, L. & Cohen, S. M. Metal–organic frameworks for membrane-based separations. Nat. Rev. Mater. 1, 1–17 (2016).

31.

Rodenas, T. et al. Metal–organic framework nanosheets in polymer composite materials for gas separation. Nat. Mater. 14, 48–55 (2015).

32.

Li, X. et al. Fast and selective fluoride ion conduction in sub-1-nanometer metal–organic framework channels. Nat. Commun. 10, 2490 (2019).

33.

Guo, Y., Ying, Y., Mao, Y., Peng, X. & Chen, B. Polystyrene sulfonate threaded through a metal–organic framework membrane for fast and selective lithium-ion separation. Angew. Chem. Int. Ed. 55, 15120–15124 (2016).

34.

Zhang, H. et al. Ultrafast selective transport of alkali metal ions in metal organic frameworks with subnanometer pores. Sci. Adv. 4, eaaq0066 (2018).

35.

Guo, W., Tian, Y. & Jiang, L. Asymmetric ion transport through ion-channel-mimetic solid-state nanopores. Acc. Chem. Res. 46, 2834–2846 (2013).

36.

Zhang, H., Tian, Y. & Jiang, L. Fundamental studies and practical applications of bio-inspired smart solid-state nanopores and nanochannels. Nano Today 11, 61–81 (2016).

37.

Wang, J. et al. Oscillatory reaction induced periodic C-quadruplex DNA gating of artificial ion channels. ACS Nano 11, 3022–3029 (2017).

38.

Yang, Q. Y. et al. A water stable metal–organic framework with optimal features for CO2 capture. Angew. Chem. Int. Ed. 52, 10316–10320 (2013).

39.

Ragon, F. et al. Acid-functionalized UiO-66(Zr) MOFs and their evolution after intra-framework cross-linking: structural features and sorption properties. J. Mater. Chem. A 3, 3294–3309 (2015).

40.

Ramírez, P., Apel, P. Y., Cervera, J. & Mafé, S. Pore structure and function of synthetic nanopores with fixed charges: tip shape and rectification properties. Nanotechnology 19, 315707 (2008).

41.

Nightingale, E. Jr Phenomenological theory of ion solvation. Effective radii of hydrated ions. J. Phys. Chem. 63, 1381–1387 (1959).

42.

Apel, P. Y., Blonskaya, I. V., Orelovitch, O. L., Ramirez, P. & Sartowska, B. A. Effect of nanopore geometry on ion current rectification. Nanotechnology 22, 175302 (2011).

43.

Tunuguntla, R. H. et al. Enhanced water permeability and tunable ion selectivity in subnanometer carbon nanotube porins. Science 357, 792–796 (2017).

44.

Perram, J. W. & Stiles, P. J. On the nature of liquid junction and membrane potentials. Phys. Chem. Chem. Phys. 8, 4200–4213 (2006).

45.

Ramírez, P., Mafe, S., Alcaraz, A. & Cervera, J. Modeling of pH-switchable ion transport and selectivity in nanopore membranes with fixed charges. J. Phys. Chem. B 107, 13178–13187 (2003).

46.

Adamson, A. W. A Textbook of Physical Chemistry 2nd edn (Academic Press, 1979).

47.

Wu, D. et al. Computational exploration of Zr-carboxylate based metal–organic framework as a membrane material for CO2 capture. J. Mater. Chem. A 2, 1657–1661 (2014).

48.

Mayo, S. L., Olafson, B. D. & Goddard, W. A. DREIDING: a generic force field for molecular simulations. J. Phys. Chem. 94, 8897–8909 (1990).

49.

Rappé, A. K., Casewit, C. J., Colwell, K., Goddard, W. A. III & Skiff, W. M. Uff, a full periodic table force field for molecular mechanics and molecular dynamics simulations. J. Am. Chem. Soc. 114, 10024–10035 (1992).

50.

Li, P., Roberts, B. P., Chakravorty, D. K. & Merz, K. M. Jr Rational design of particle mesh Ewald compatible Lennard-Jones parameters for +2 metal cations in explicit solvent. J. Chem. Theory Comput. 9, 2733–2748 (2013).

51.

Li, P., Song, L. F. & Merz, K. M. Jr Systematic parameterization of monovalent ions employing the nonbonded model. J. Chem. Theory Comput. 11, 1645–1657 (2015).

52.

Fiorin, G., Klein, M. L. & Hénin, J. Using collective variables to drive molecular dynamics simulations. Mol. Phys. 111, 3345–3362 (2013).
Acknowledgements
This project is supported by the Australian Research Council (grant nos. DP180100298, DE170100006, DP170102964 and DP180102890). J.L. thanks the Chinese Scholarship Council for a PhD scholarship. J.Z.L. thanks the start-up fund from The University of Melbourne. G.J. thanks the National Natural Science Foundation of China (grant no. 21905215) for support. B.D.F.'s work is supported by the Center for Materials for Water and Energy Systems (M-WET), an Energy Frontier Research Center funded by the US Department of Energy, Office of Science, Office of Basic Energy Sciences under Award No. DE-SC0019272. We acknowledge assistance from B.Qian and X.Chen in the experiments and use of the facilities and assistance from Y.Chen and X.Fang in the Monash Center for Electron Microscopy. We also acknowledge the assistance of resources and services from the National Computational Infrastructure, which is supported by the Australian Government. We acknowledge the assistance of P. Cook in editing the manuscript.
Ethics declarations
Competing interests
H.Z., H.W., X.L., J.L., B.D.F. and A.J.H. are inventors on an international patent application related to this work filed by Monash University (application no. PCT/AU2018/051341). All other authors have no competing interests.
Additional information
Publisher's note Springer Nature remains neutral with regard to jurisdictional claims in published maps and institutional affiliations.
Supplementary information
Supplementary materials and methods, Notes 1 and 2, Figs. 1–16, Tables 1–7 and refs. 1–56.
About this article
Cite this article
Lu, J., Zhang, H., Hou, J. et al. Efficient metal ion sieving in rectifying subnanochannels enabled by metal–organic frameworks. Nat. Mater. 19, 767–774 (2020). https://doi.org/10.1038/s41563-020-0634-7
Received:

Accepted:

Published:

Issue Date: