Abstract
The basement membrane (BM) is a special type of extracellular matrix and presents the major barrier cancer cells have to overcome multiple times to form metastases. Here we show that BM stiffness is a major determinant of metastases formation in several tissues and identify netrin-4 (Net4) as a key regulator of BM stiffness. Mechanistically, our biophysical and functional analyses in combination with mathematical simulations show that Net4 softens the mechanical properties of native BMs by opening laminin node complexes, decreasing cancer cell potential to transmigrate this barrier despite creating bigger pores. Our results therefore reveal that BM stiffness is dominant over pore size, and that the mechanical properties of 'normal' BMs determine metastases formation and patient survival independent of cancer-mediated alterations. Thus, identifying individual Net4 protein levels within native BMs in major metastatic organs may have the potential to define patient survival even before tumour formation. The ratio of Net4 to laminin molecules determines BM stiffness, such that the more Net4, the softer the BM, thereby decreasing cancer cell invasion activity.
Relevant articles
Open Access articles citing this article.
Arkadiusz W. Kulczyk

,

Karen K. McKee

…

Peter D. Yurchenco

Nature Communications Open Access 19 January 2023

Ru-Chen Xu

,

Fu Wang

…

Ji-Min Zhu

Journal of Translational Medicine Open Access 09 December 2022

Meredith J. Giblin

,

Cayla D. Ontko

&

John S. Penn

Scientific Reports Open Access 28 July 2022
Access options
Access Nature and 54 other Nature Portfolio journals
Get Nature+, our best-value online-access subscription
$29.99 per month
cancel any time
Subscribe to this journal
Receive 12 print issues and online access
$259.00 per year
only $21.58 per issue
Rent or buy this article
Get just this article for as long as you need it
$39.95
Prices may be subject to local taxes which are calculated during checkout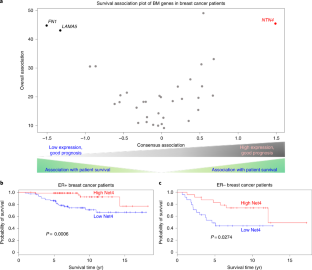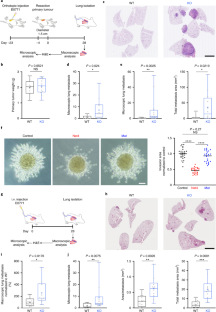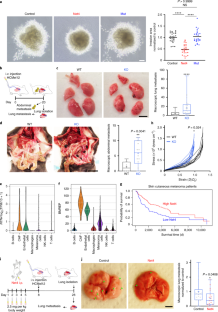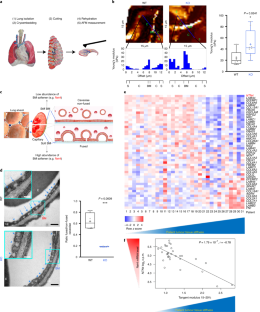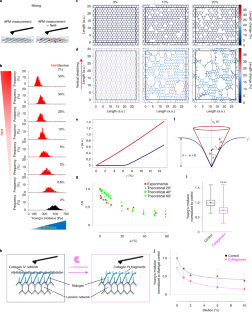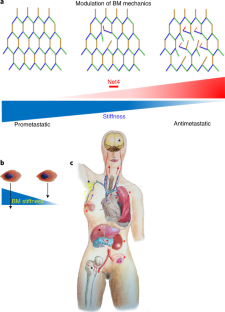 Data availability
All data used to generate graphs are available in the respective source data. The generated liquid chromatography–mass spectrometry data are available via the PRIDE database of ProteomeXchange (PXD022145). Data used in this study were taken from previously published datasets including the NKI breast cancer dataset (https://ccb.nki.nl/data/), normal breast data (https://github.com/monkgroupie/Disease-Specific-Genomic-Analysis), kidney dataset (GSE3538 and GSE3931), CANBUILD dataset (GEO: GSE71340), human melanoma scRNA-seq dataset (GEO: GSE72056), bulk melanoma RNA-seq data via TCGA (Human Skin Cutaneous Melanoma (SKCM)). Source data are provided with this paper.
References
Dillekas, H., Rogers, M. S. & Straume, O. Are 90% of deaths from cancer caused by metastases? Cancer Med. 8, 5574–5576 (2019).

Chaffer, C. L. & Weinberg, R. A. A perspective on cancer cell metastasis. Science 331, 1559–1564 (2011).

Fidler, I. J. The pathogenesis of cancer metastasis: the 'seed and soil' hypothesis revisited. Nat. Rev. Cancer 3, 453–458 (2003).

Valastyan, S. & Weinberg, R. A. Tumor metastasis: molecular insights and evolving paradigms. Cell 147, 275–292 (2011).

Yurchenco, P. D. Basement membranes: cell scaffoldings and signaling platforms. Cold Spring Harb. Perspect. Biol. https://doi.org/10.1101/cshperspect.a004911 (2011).

McKee, K. K., Harrison, D., Capizzi, S. & Yurchenco, P. D. Role of laminin terminal globular domains in basement membrane assembly. J. Biol. Chem. 282, 21437–21447 (2007).

Abrams, G. A., Goodman, S. L., Nealey, P. F., Franco, M. & Murphy, C. J. Nanoscale topography of the basement membrane underlying the corneal epithelium of the rhesus macaque. Cell Tissue Res. 299, 39–46 (2000).

Gaiko-Shcherbak, A. et al. The acinar cage: basement membranes determine molecule exchange and mechanical stability of human breast cell acini. PLoS ONE 10, e0145174 (2015).

Yurchenco, P. D. & Ruben, G. C. Basement membrane structure in situ: evidence for lateral associations in the type IV collagen network. J. Cell Biol. 105, 2559–2568 (1987).

Linder, S. Invadosomes at a glance. J. Cell Sci. 122, 3009–3013 (2009).

Wisdom, K. M. et al. Matrix mechanical plasticity regulates cancer cell migration through confining microenvironments. Nat. Commun. 9, 4144 (2018).

Glentis, A. et al. Cancer-associated fibroblasts induce metalloprotease-independent cancer cell invasion of the basement membrane. Nat. Commun. 8, 924 (2017).

Couchman, J. R. & Gibson, W. T. Expression of basement membrane components through morphological changes in the hair growth cycle. Dev. Biol. 108, 290–298 (1985).

Nelson, T. R., Charonis, A. S., McIvor, R. S. & Butkowski, R. J. Identification of a cDNA encoding tubulointerstitial nephritis antigen. J. Biol. Chem. 270, 16265–16270 (1995).

Sasaki, T., Gohring, W., Pan, T. C., Chu, M. L. & Timpl, R. Binding of mouse and human fibulin-2 to extracellular matrix ligands. J. Mol. Biol. 254, 892–899 (1995).

Sato, S. et al. Pikachurin, a dystroglycan ligand, is essential for photoreceptor ribbon synapse formation. Nat. Neurosci. 11, 923–931 (2008).

Veit, G. et al. Collagen XXVIII, a novel von Willebrand factor A domain-containing protein with many imperfections in the collagenous domain. J. Biol. Chem. 281, 3494–3504 (2006).

Timpl, R. & Brown, J. C. Supramolecular assembly of basement membranes. Bioessays 18, 123–132 (1996).

Mayorca-Guiliani, A. E. et al. Decellularization and antibody staining of mouse tissues to map native extracellular matrix structures in 3D. Nat. Protoc. https://doi.org/10.1038/s41596-019-0225-8 (2019).

Koch, M. et al. A novel member of the netrin family, beta-netrin, shares homology with the beta chain of laminin: identification, expression, and functional characterization. J. Cell Biol. 151, 221–234 (2000).

van de Vijver, M. J. et al. A gene-expression signature as a predictor of survival in breast cancer. N. Engl. J. Med. 347, 1999–2009 (2002).

Nicolau, M., Tibshirani, R., Borresen-Dale, A. L. & Jeffrey, S. S. Disease-specific genomic analysis: identifying the signature of pathologic biology. Bioinformatics 23, 957–965 (2007).

Li, Y. N. et al. The expression and function of netrin-4 in murine ocular tissues. Exp. Eye Res. 96, 24–35 (2012).

George, E. L., Georges-Labouesse, E. N., Patel-King, R. S., Rayburn, H. & Hynes, R. O. Defects in mesoderm, neural tube and vascular development in mouse embryos lacking fibronectin. Development 119, 1079–1091 (1993).

Miner, J. H., Cunningham, J. & Sanes, J. R. Roles for laminin in embryogenesis: exencephaly, syndactyly, and placentopathy in mice lacking the laminin alpha5 chain. J. Cell Biol. 143, 1713–1723 (1998).

Higgins, J. P. et al. Gene expression in the normal adult human kidney assessed by complementary DNA microarray. Mol. Biol. Cell 15, 649–656 (2004).

Zhao, H. et al. Gene expression profiling predicts survival in conventional renal cell carcinoma. PLoS Med. 3, e13 (2006).

Hu, Y. et al. Netrin-4 promotes glioblastoma cell proliferation through integrin beta4 signaling. Neoplasia 14, 219–227 (2012).

Jayachandran, A. et al. Identifying and targeting determinants of melanoma cellular invasion. Oncotarget 7, 41186–41202 (2016).

Larrieu-Lahargue, F., Welm, A. L., Thomas, K. R. & Li, D. Y. Netrin-4 induces lymphangiogenesis in vivo. Blood 115, 5418–5426 (2010).

Lv, B. et al. Netrin-4 as a biomarker promotes cell proliferation and invasion in gastric cancer. Oncotarget 6, 9794–9806 (2015).

Villanueva, A. A. et al. The netrin-4/neogenin-1 axis promotes neuroblastoma cell survival and migration. Oncotarget 8, 9767–9782 (2017).

Li, L. et al. NEtrin-4 protects glioblastoma cells from temozolomide induced senescence. PLoS ONE 8, e80363 (2013).

Esseghir, S. et al. Identification of NTN4, TRA1, and STC2 as prognostic markers in breast cancer in a screen for signal sequence encoding proteins. Clin. Cancer Res. 13, 3164–3173 (2007).

Eveno, C. et al. Netrin-4 delays colorectal cancer carcinomatosis by inhibiting tumor angiogenesis. Am. J. Pathol. 178, 1861–1869 (2011).

Fujikane, T. et al. Genomic screening for genes upregulated by demethylation revealed novel targets of epigenetic silencing in breast cancer. Breast Cancer Res. Treat. 122, 699–710 (2010).

Nacht, M. et al. Netrin-4 regulates angiogenic responses and tumor cell growth. Exp. Cell Res. 315, 784–794 (2009).

Kleinman, H. K. et al. Basement membrane complexes with biological activity. Biochemistry 25, 312–318 (1986).

Reuten, R. et al. Structural decoding of netrin-4 reveals a regulatory function towards mature basement membranes. Nat. Commun. 7, 13515 (2016).

Mayorca-Guiliani, A. E. et al. ISDoT: in situ decellularization of tissues for high-resolution imaging and proteomic analysis of native extracellular matrix. Nat. Med. 23, 890–898 (2017).

Trout, A. T., Rabinowitz, R. S., Platt, J. F. & Elsayes, K. M. Melanoma metastases in the abdomen and pelvis: frequency and patterns of spread. World J. Radiol. 5, 25–32 (2013).

Tirosh, I. et al. Dissecting the multicellular ecosystem of metastatic melanoma by single-cell RNA-seq. Science 352, 189–196 (2016).

Cancer Genome Atlas, N. Genomic classification of cutaneous melanoma. Cell 161, 1681–1696 (2015).

Tucker, W. D., Arora, Y. & Mahajan, K. Anatomy, Blood Vessels (StatPearls, 2020).

Candiello, J. et al. Biomechanical properties of native basement membranes. FEBS J. 274, 2897–2908 (2007).

Halfter, W. et al. Protein composition and biomechanical properties of in vivo-derived basement membranes. Cell Adh. Migr. 7, 64–71 (2013).

Last, J. A., Liliensiek, S. J., Nealey, P. F. & Murphy, C. J. Determining the mechanical properties of human corneal basement membranes with atomic force microscopy. J. Struct. Biol. 167, 19–24 (2009).

Bhave, G., Colon, S. & Ferrell, N. The sulfilimine cross-link of collagen IV contributes to kidney tubular basement membrane stiffness. Am. J. Physiol. Ren. Physiol. 313, F596–F602 (2017).

Chlasta, J. et al. Variations in basement membrane mechanics are linked to epithelial morphogenesis. Development 144, 4350–4362 (2017).

Swift, J. et al. Nuclear lamin-A scales with tissue stiffness and enhances matrix-directed differentiation. Science 341, 1240104 (2013).

Irianto, J., Pfeifer, C. R., Xia, Y. & Discher, D. E. SnapShot: mechanosensing matrix. Cell 165, 1820–1820 e1821 (2016).

Pearce, O. M. T. et al. Deconstruction of a metastatic tumor microenvironment reveals a common matrix response in human cancers. Cancer Discov. 8, 304–319 (2018).

Wullkopf, L. et al. Cancer cells' ability to mechanically adjust to extracellular matrix stiffness correlates with their invasive potential. Mol. Biol. Cell 29, 2378–2385 (2018).

Lubensky, T. C., Kane, C. L., Mao, X., Souslov, A. & Sun, K. Phonons and elasticity in critically coordinated lattices. Rep. Prog. Phys. 78, 073901 (2015).

Naba, A. et al. The matrisome: in silico definition and in vivo characterization by proteomics of normal and tumor extracellular matrices. Mol. Cell. Proteomics 11, M111 014647 (2012).

Bald, T. et al. Ultraviolet-radiation-induced inflammation promotes angiotropism and metastasis in melanoma. Nature 507, 109–113 (2014).

Johnstone, C. N. et al. Functional and molecular characterisation of EO771.LMB tumours, a new C57BL/6-mouse-derived model of spontaneously metastatic mammary cancer. Dis. Model Mech. 8, 237–251 (2015).

Aslakson, C. J. & Miller, F. R. Selective events in the metastatic process defined by analysis of the sequential dissemination of subpopulations of a mouse mammary tumor. Cancer Res. 52, 1399–1405 (1992).

Morton, J. P. et al. Dasatinib inhibits the development of metastases in a mouse model of pancreatic ductal adenocarcinoma. Gastroenterology 139, 292–303 (2010).

Minn, A. J. et al. Genes that mediate breast cancer metastasis to lung. Nature 436, 518–524 (2005).

Calvo, F. et al. Mechanotransduction and YAP-dependent matrix remodelling is required for the generation and maintenance of cancer-associated fibroblasts. Nat. Cell Biol. 15, 637–646 (2013).

Kowarz, E., Loscher, D. & Marschalek, R. Optimized sleeping beauty transposons rapidly generate stable transgenic cell lines. Biotechnol. J. 10, 647–653 (2015).

Kulak, N. A., Pichler, G., Paron, I., Nagaraj, N. & Mann, M. Minimal, encapsulated proteomic-sample processing applied to copy-number estimation in eukaryotic cells. Nat. Methods 11, 319–324 (2014).

Schjorring, O. L., Carlsson, R. & Simonsen, U. Pressure myography to study the function and structure of isolated small arteries. Methods Mol. Biol. 1339, 277–295 (2015).

Butt, H. J. & Jaschke, M. Calculation of thermal noise in atomic force microscopy. Nanotechnology 6, 1-7 (1995).

Docheva, D. et al. Researching into the cellular shape, volume and elasticity of mesenchymal stem cells, osteoblasts and osteosarcoma cells by atomic force microscopy. J. Cell. Mol. Med. 12, 537–552 (2008).

Prein, C. et al. Structural and mechanical properties of the proliferative zone of the developing murine growth plate cartilage assessed by atomic force microscopy. Matrix Biol. 50, 1–15 (2016).

Sneddon, I. N. Boussinesq's problem for a rigid cone. Math. Proc. Camb. Philos. Soc. 44, 492–507 (1948).

Sneddon, I. N. The relation between load and penetration in the axisymmetric Boussinesq problem for a punch of arbitrary profile. Int. J. Eng. Sci. 3, 47–57 (1965).

Ott, D., Reihani, S. N. & Oddershede, L. B. Crosstalk elimination in the detection of dual-beam optical tweezers by spatial filtering. Rev. Sci. Instrum. 85, 053108 (2014).

Selhuber-Unkel, C., Yde, P., Berg-Sorensen, K. & Oddershede, L. B. Variety in intracellular diffusion during the cell cycle. Phys. Biol. 6, 025015 (2009).

Tolic-Norrelykke, I. M., Munteanu, E. L., Thon, G., Oddershede, L. & Berg-Sorensen, K. Anomalous diffusion in living yeast cells. Phys. Rev. Lett. 93, 078102 (2004).
Acknowledgements
We thank N.M. Christensen at the Center for Advanced Bioimaging (CAB), University of Copenhagen for providing microscope access, M. Ghilav and C. Hoffman for valuable experimental help on mouse perfusion and electron microscopy preparation, M.K.G. Høg and Britt Kongstofte for preparation of tissue samples, and L. Amandus and B.L. Kristensen for their support with all aspects of mouse handling. The melanoma patient RNA-seq dataset analysed here is in part based upon data generated by the TCGA Research Network: https://www.cancer.gov/tcga. This work was supported by the European Research Council (ERC-2015-CoG-682881-MATRICAN (R.R., M.N., A.E.M.-G. and J.T.E.)); the Danish Cancer Society (R204-A12454 (R.R.), R146-A9250 (A.L.) and R167-A10618 (S.R.N.)); German Cancer Aid (R.R.); a Hallas Møller Stipend from the Novo Nordisk Foundation (J.T.E.); the German Research Foundation (DFG) (NI 1895/1-1 (D.N.), CRC1114/C02 (S.Z. and R.R.N.), FOR2722/B2 (M.K.) and CRC829 (W.B.)); a PhD fellowship from the Lundbeck Foundation (R286-2018-621 (M.R.)); a postdoctoral fellowship from the Lundbeck Foundation (R250-2017-389 (E.M.S.)); a grant from the Novo Nordisk Foundation (Novo Nordisk Foundation Center for Stem Cell Biology, DanStem, NNF17CC0027852 (E.M.S., B.T.P., H.K. and K.J.W.) and NNF19SA0035442 (B.F.)); the Danish Research Council (DFF-4002-00099 (L.W. and L.B.O.)); grants from the UK Medical Research Council (MR/R005567-1 (T.V.A.) and BHF (PG/15/92/31813 (T.V.A.)); a BHF studentship (FS/15/64/32035 (S.M.)); CANTER Research Focus of the Bavarian State Ministry for Science and Education (L.F., S.K., C.P., S.S. and H.C.S.); a CRUK Centre of Excellence Award to Barts Cancer Centre (C16420/A18066 (E.M.)); a CRUK fellowship (A27947 (O.M.T.P.)); the Ragnar Söderberg Foundation Sweden (N91/15 (C.D.M.)); the Swedish Research Council (2017-03389 (C.D.M.)); Cancerfonden Sweden (CAN 2016/783, 19 0632 Pj and 190007 (C.D.M.)); the Åke Wiberg Foundation (M17-0235 (C.D.M.)); and the Crafoord Foundation (20171049 (C.D.M.)).
Ethics declarations
Competing interests
The authors declare no competing interests.
Additional information
Peer review information Nature Materials thanks P. Mehlen, P. Yurchenco and the other, anonymous, reviewer(s) for their contribution to the peer review of this work.
Publisher's note Springer Nature remains neutral with regard to jurisdictional claims in published maps and institutional affiliations.
Supplementary information
About this article
Cite this article
Reuten, R., Zendehroud, S., Nicolau, M. et al. Basement membrane stiffness determines metastases formation. Nat. Mater. 20, 892–903 (2021). https://doi.org/10.1038/s41563-020-00894-0
Received:

Accepted:

Published:

Issue Date:

DOI: https://doi.org/10.1038/s41563-020-00894-0