A dose threshold of one trillion nanoparticles in mice has been discovered and is shown to be crucial for overwhelming the nanoparticle uptake kinetics of liver Kupffer cells and for ensuring efficient nanoparticle delivery into solid tumours upon intravenous administration.
Access options
Subscribe to Journal
Get full journal access for 1 year
$209.00
only $17.42 per issue
All prices are NET prices.
VAT will be added later in the checkout.
Rent or Buy article
Get time limited or full article access on ReadCube.
from$8.99
All prices are NET prices.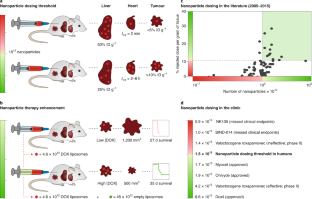 References
1.

Matsumura, Y. & Maeda, H. Cancer Res. 46, 6387–6392 (1986).

2.

Vidal, L. et al. Clin. Cancer Res. 14, 7127–7137 (2008).

3.

Anchordoquy, T. J. et al. ACS Nano 1, 12–18 (2017).

4.

Shi, J., Kantoff, P. W., Wooster, R. & Farokhzad, O. C. Nat. Rev. Cancer 17, 20–37 (2017).

5.

van der Meel, R. et al. Nat. Nanotechnol. 14, 1007–1017 (2019).

6.

Miller, M. A. et al. Nat. Commun. 6, 8692 (2015).

7.

Miller, M. A. et al. Sci. Transl. Med. 7, 314ra183–314ra183 (2015).

8.

Sindhwani, S. et al. Nat. Mater. 19, 566–575 (2020).

9.

Ouyang, B. et al. Nat. Mater. https://doi.org/10.1038/s41563-020-0755-z (2020).

10.

Wilhelm, S. et al. Nat. Rev. Mater. 1, 16014 (2016).
Ethics declarations
Competing interests
The author declares no competing interests.
About this article
Cite this article
Lammers, T. Just dose it. Nat. Mater. 19, 1257–1258 (2020). https://doi.org/10.1038/s41563-020-00855-7